This energizing kale smoothie recipe is a great morning pick-me-up! Banana, peaches, and fresh ginger make it creamy, sweet, and refreshing.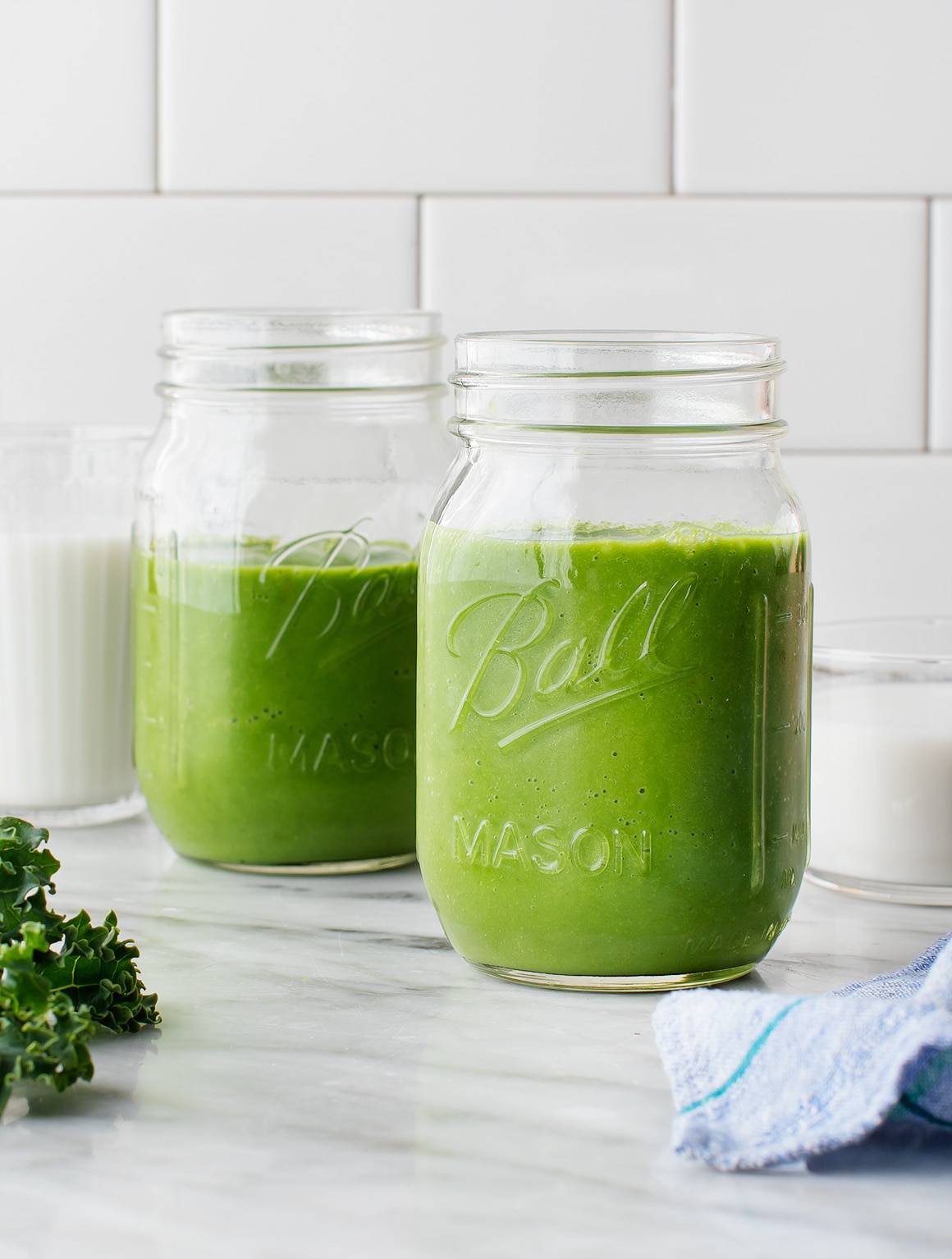 Reading: how to make kale smoothies
Kale Smoothie Recipe Ingredients
Here's what you'll need to make this healthy kale smoothie recipe:
Kale, of course! I often make this recipe with green curly kale, but any variety will work here.
Almond milk – Use your favorite brand of unsweetened almond milk, or make your own.
Frozen banana – It makes the smoothie sweet and creamy.
Peaches – For extra sweetness and peachy flavor.
Ginger – It gives the smoothie a delicious kick! I love how its warm flavor plays off the sweet peaches.
Matcha powder – I blend it into my smoothie for an energizing, antioxidant-packed boost. If you don't have any on hand, feel free to skip it! This recipe is still delicious without it.
And ice cubes – To make the smoothie thick and frosty.
Add all the ingredients to a high-powered blender, and blend until smooth!
Read more: How to make your coffee taste like starbucks
Find the complete recipe with measurements below.
Kale Smoothie Recipe Tips
Freeze the kale. I like my smoothies to be really thick and frosty, almost like soft (and healthy) ice cream instead of a drink. If you do too, I recommend freezing the kale to get an extra-thick texture. And if you're starting with fresh peaches instead of frozen fruit, make sure to freeze them too!
Add the almond milk to the blender first. When you're blending frozen ingredients, it's important that you add the liquid to the blender first. If the blades can't reach the liquid, they'll stall. Frozen fruits and veggies are too icy to blend up on their own.
Taste and adjust. The secret to making a perfect smoothie is adjusting it to suit your tastes. After you blend it together, try a spoonful. Then, add more greens if you like it earthier, more ice if you like it frostier, more milk if you like it thinner, or a drop of honey or maple syrup for extra sweetness. Rinse and repeat until you find a balance of flavors you love!
Kale Smoothie Variations
Like all smoothies, this kale smoothie recipe is super flexible! Adjust it to suit your tastes or to use the ingredients you have on hand. Here are a few ways I like to change it up:
Replace the peaches. For a wintry variation on this kale smoothie recipe, replace the peaches with pears. Frozen mango would work nicely here too.
No banana? No problem. Instead, use a quarter of an avocado to make this smoothie thick and creamy.
Try different leafy greens. Fresh or frozen spinach would be a great substitute for the kale.
Or another milk. If you don't have almond milk on hand, use any type of milk you do have. Homemade oat milk would be great here!
Give it a superfood boost. Pack extra nutrients into your kale smoothie by adding a scoop of chia seeds, flax seeds, hemp seeds, or even protein powder.
Read more: 10 Green Smoothie Recipes for Fatty Liver
Let me know what variations you try!
More Favorite Smoothie Recipes
If you love this kale smoothie recipe, try one of these smoothies next:
Strawberry Banana Smoothie
Creamy Avocado Smoothie
Best Green Smoothie
Cinnamon Coffee Smoothie
Mango Smoothie
Berry Superfood Smoothie Bowl
Or any of these Healthy Breakfast Smoothies!
Read more: How to strain coffee without a strainer
Read more: How to strain coffee without a strainer