Homemade bubble tea is the perfect afternoon pick-me-up! In my recipe, I add a twist by combining three favorites – matcha, latte, and bubble tea. You can make this recipe with any tea, and I'm showing you how. It's a beverage with something for everyone. Just look at those fun bubbles…I promise this tea will make your day that much better!
What is Bubble Tea?
Bubble tea goes by many different names: milk tea, tapioca tea, pearl milk tea, boba, boba tea… The names can be confusing, as bubble tea can, in fact, be made without tea and without bubbles!
Reading: how to make milk tea recipe
The drink itself is of Taiwanese origin and is traditionally made with a base of tea, milk, and sugar with chewy tapioca pearls at the bottom. While most bubble teas are indeed tea-based, they can have a fruit juice or a coffee base also.
Go to a bubble tea shop and you'll see all kinds of wild combinations – honeydew, taro, mango, coconut, lavender, sesame… the tasty flavors are endless!
What is Boba Made Of?
Boba refers to the little chewy balls at the bottom of bubble tea. These are made from tapioca pearls that are boiled in hot water, which makes them slightly enlarge and become chewy.
When served, you usually need a larger than usual straw to be able to drink the boba along with the tea! Flavors can be also be added to the boba to make different types for different tea combinations.
What Tea Should I Use for Bubble Tea?
You can be experimental with the tea you use for your bubble tea! By far the most common teas to use are black tea (like earl grey, chai, breakfast tea), green teas (matcha, jasmine) and oolong teas. If you're new to bubble tea, try a black tea to get you started or my matcha powder version recipe in this post.
How to Make Bubble Tea
Read more: How to prevent tea stains in cups
To make matcha latte bubble tea, here are the ingredients you will need. There's room to customize by swapping in your favorite tea and milk. It works with all kinds of milk such as almond milk, oat milk, rice milk… I have made a version that uses non-dairy milk, but you could substitute with dairy milk if you like.
First you will need to make the simple syrup (combination of sugar and water). I like to use turbinado sugar for the simple syrup. You can also use brown sugar, and the flavor is fantastic. Use in the same ratio, 1:1.
Add the turbinado sugar and ½ a cup of water to a saucepan. Turn to medium heat and stir until sugar is fully dissolved. Remove the pan from the heat and set the sugar syrup aside to cool.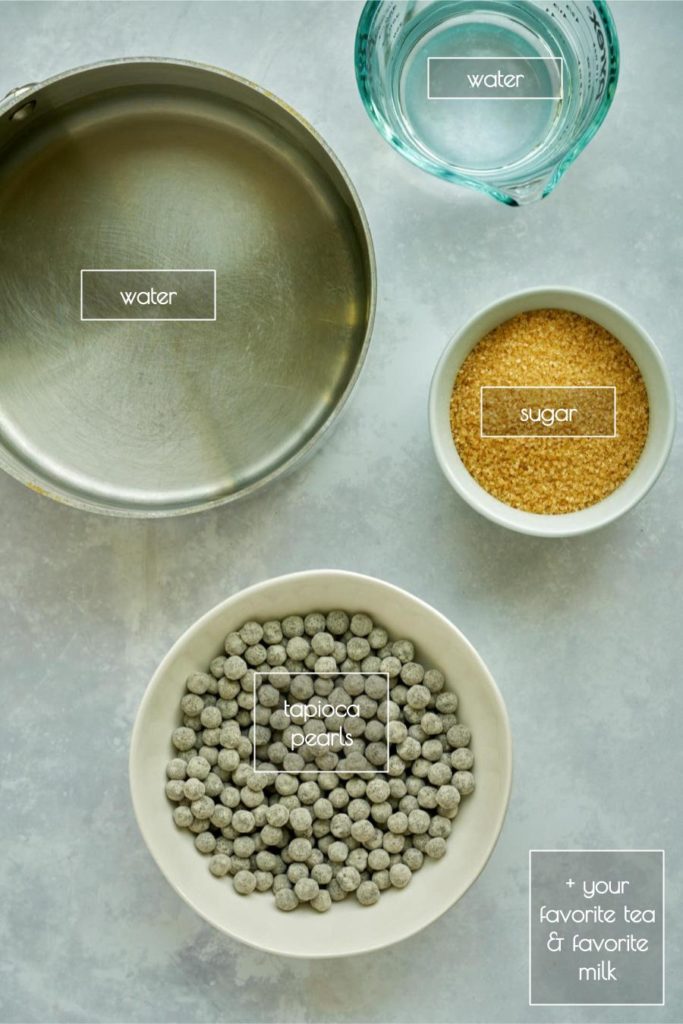 Follow these next steps to make bubble tea by itself, and the steps for turning it into a matcha latte bubble tea will come later. Here is a link to the bubble tea tapioca pearls that I use from Amazon.
Steep your chosen tea in hot water and let the tea come down to room temperature. Separately, bring 4 cups of water to boil over high heat. Add the tapioca pearls (boba or bubbles) and stir until they start floating to the surface (photos 1 & 2). Turn the heat to medium and cook the tapioca for 12 minutes. Remove from the heat, cover them, and let them sit for 12 minutes.
Drain the cooled boba (photo 3) and add to a bowl with the sugar syrup, and leave to cool (photo 4). You can keep the boba in the simple syrup for up to 12 hours, so it's easy to serve later in the day.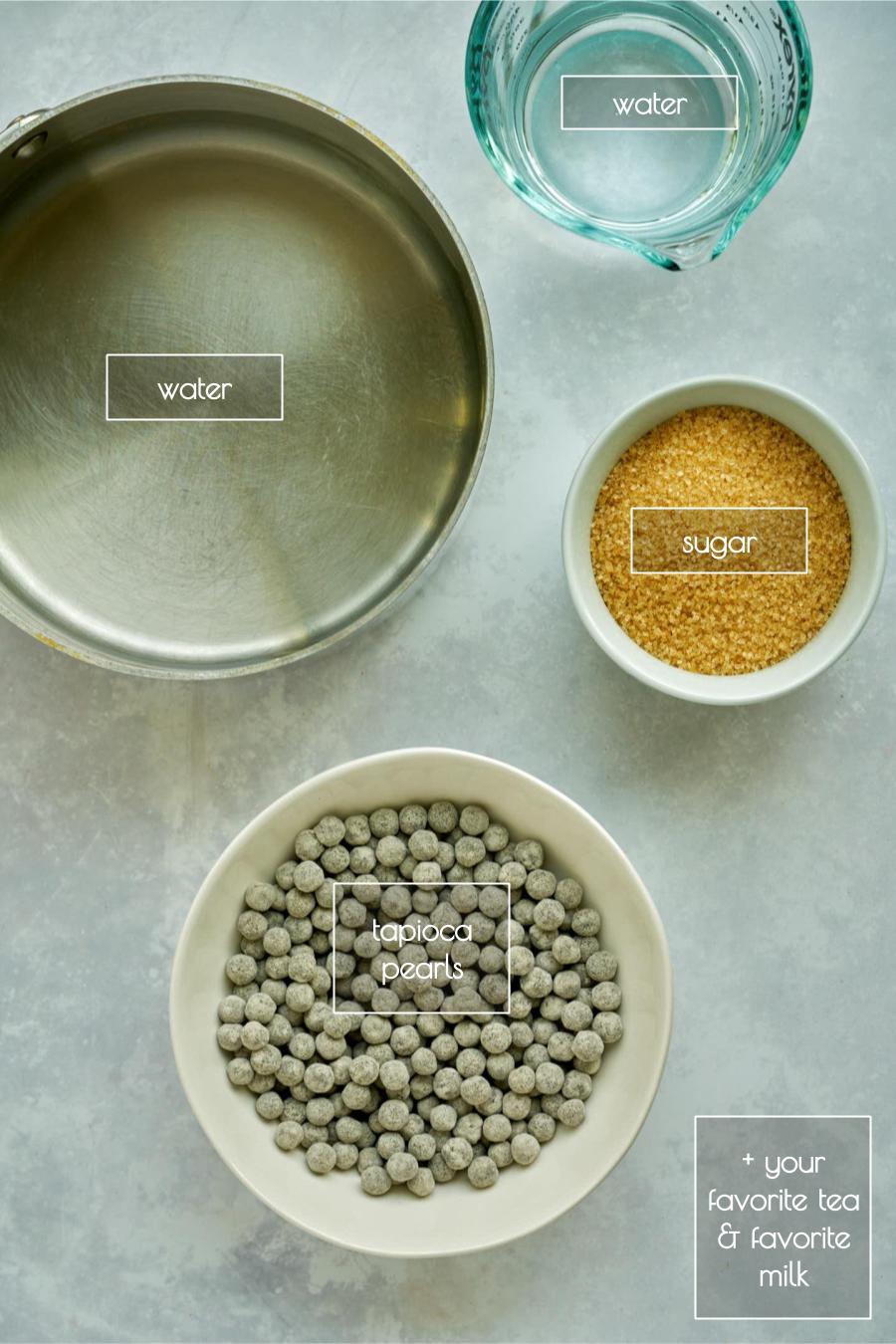 The tapioca pearls do not keep well overnight, so be sure to enjoy them the same day.
Make it a Matcha Latte Bubble Tea
If making bubble tea with matcha powder, wait until just before you're ready to serve the bubble tea before preparing the matcha (so that the matcha leaves do not settle).
Read more: How to make kava tea at home
You have two options: Option 1: Blend 2 tablespoons of culinary grade matcha powder with the 4 cups of room temperature or cold water. Option 2 (and my usual method): Add 2 tablespoons of culinary grade matcha powder to a medium bowl. Add enough room temperature or cold water to barely cover the matcha (photo 1). Then, whisk to remove clumps adding more water if necessary (photo 2). Next, add the rest of the water (4 cups total) and whisk to blend well.
You can also do this one cup at a time with a ratio of 1.5 tablespoons of culinary grade matcha powder per serving and 1 cup of water each.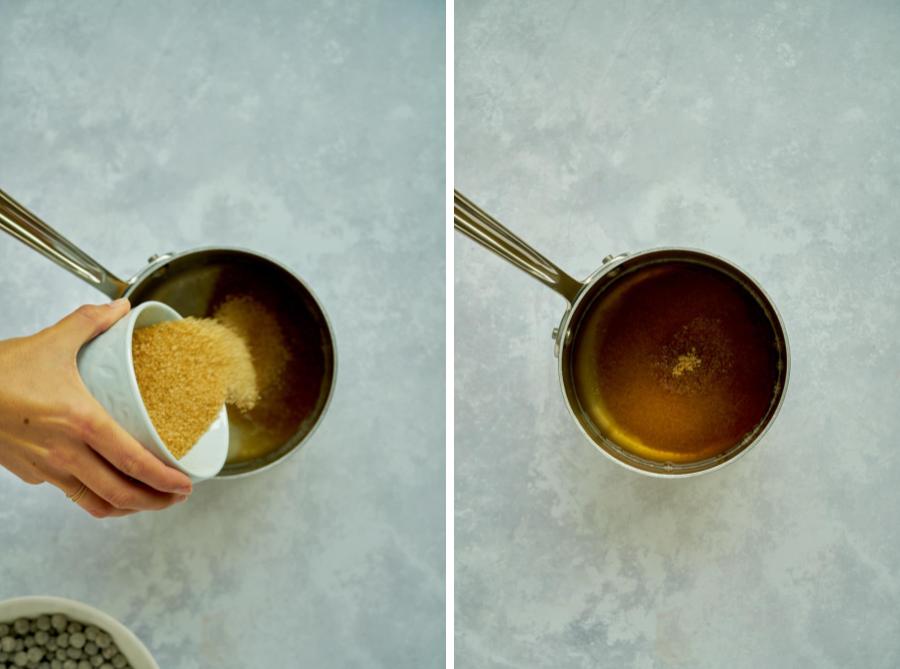 Make it with Any Tea
To serve your finished bubble tea, add ⅓ cup of tapioca pearls to each glass. Top with 1 cup of your chosen tea or the matcha mixture (photo 1), then 1 cup of non-dairy milk or creamer (photo 2). You even make your very own simple nut milk at home.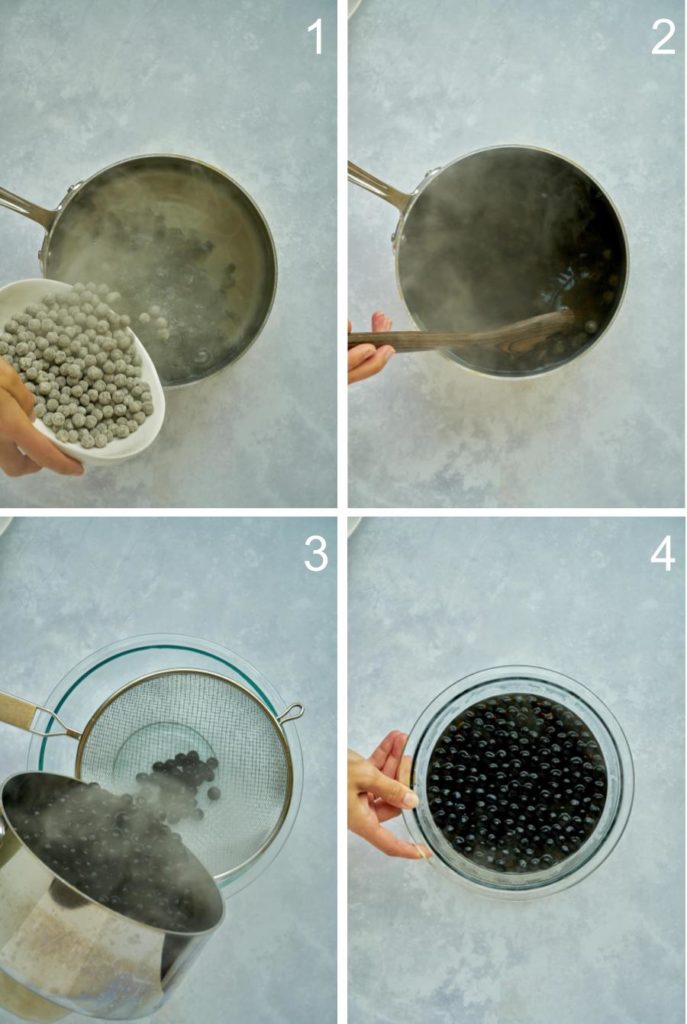 Drink and enjoy! And be sure to get the right straws. These extra-wide glass straws work perfectly. The wide is not wide enough for the large pearls.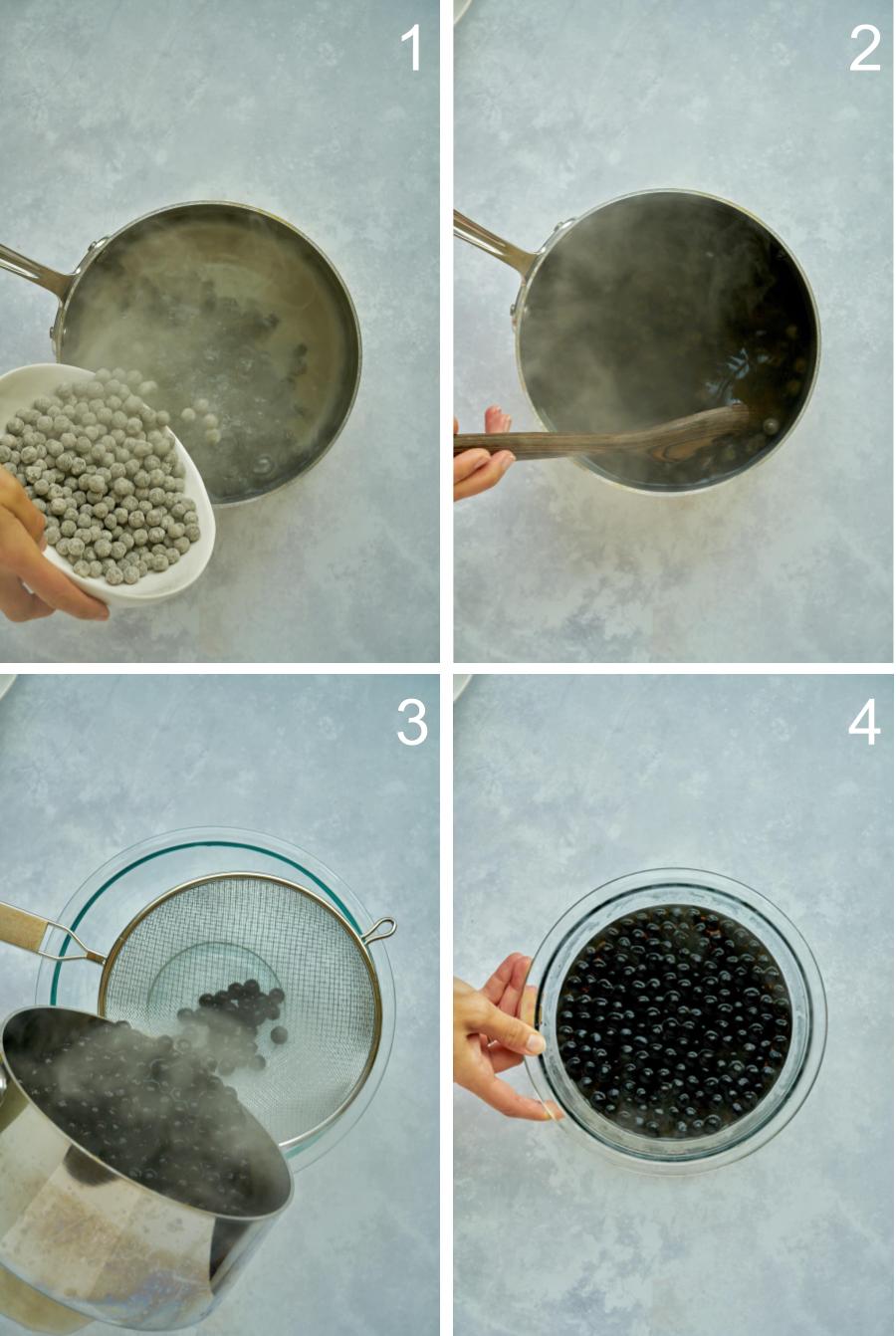 ★ Did you make this recipe? Please give it a star rating below!★
I love hearing from you! You can also FOLLOW ME on INSTAGRAM, FACEBOOK, TWITTER, and PINTEREST to see more delicious food and what I'm up to.
Want to see more of my matcha recipes? Check them out here.
This post was originally published in March of 2017, but was republished with new photos, step by step instructions, and tips December of 2019.
Read more: DIY Frozen Smoothie Packs on a Budget