Creamy white sauce pasta aka béchamel sauce pasta is one of my favorite pasta recipes. It's cheesy and oh so good! Packed with veggies, this is a great way to make kids eat their veggies!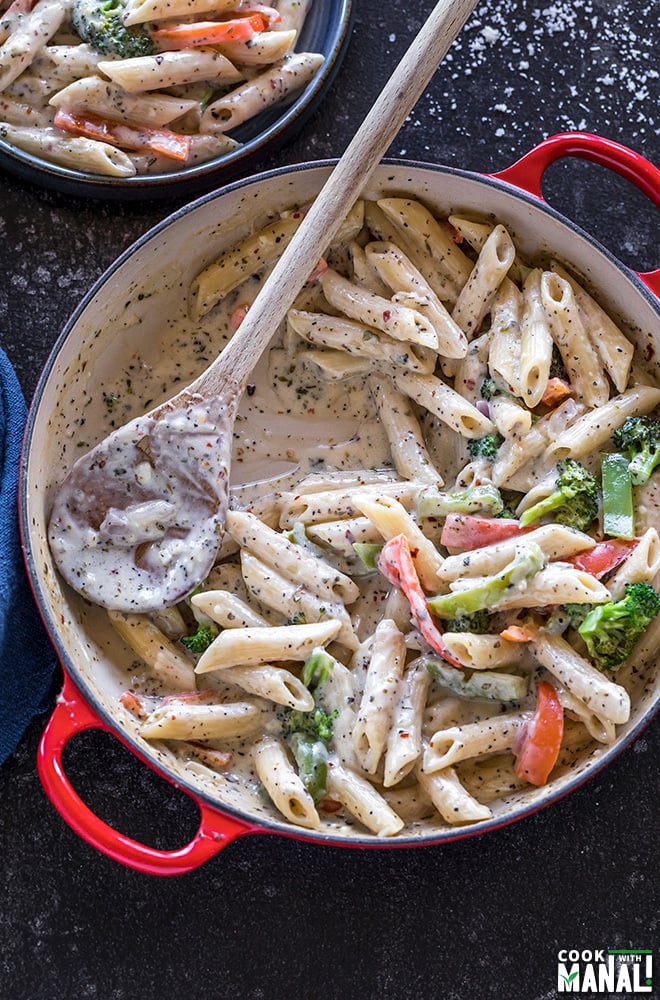 Reading: how to make pasta in white sauce
I can't tell you guys how excited (or relieved !) I am to be finally sharing this recipe here.
The reason is that every time I go to India, I am asked to make this recipe at least 2 to 3 times (even if I am there for only 10 days!) and every time I make it, I am asked if the recipe is on the blog and every time I say no.
Well, not anymore! Now whenever my brother/sisters/friends ask me the recipe for their favorite White Sauce Pasta, I can just give them the link! Hurrah!
The funny thing is that I never made white sauce pasta or Béchamel Sauce Pasta here in the US. But every time I go home, I make it without fail. I never noted down the recipe there and just went with eyeballing the ingredients (or andaaza as we say in India).
This time around when my cousin sister was visiting me, she requested me to make her favorite pasta and I jumped at the opportunity to measure and note down the ingredients this time.
Okay, my bechamel sauce pasta is very creamy and cheesy but I give you tips if you want to make it less rich and not super creamy.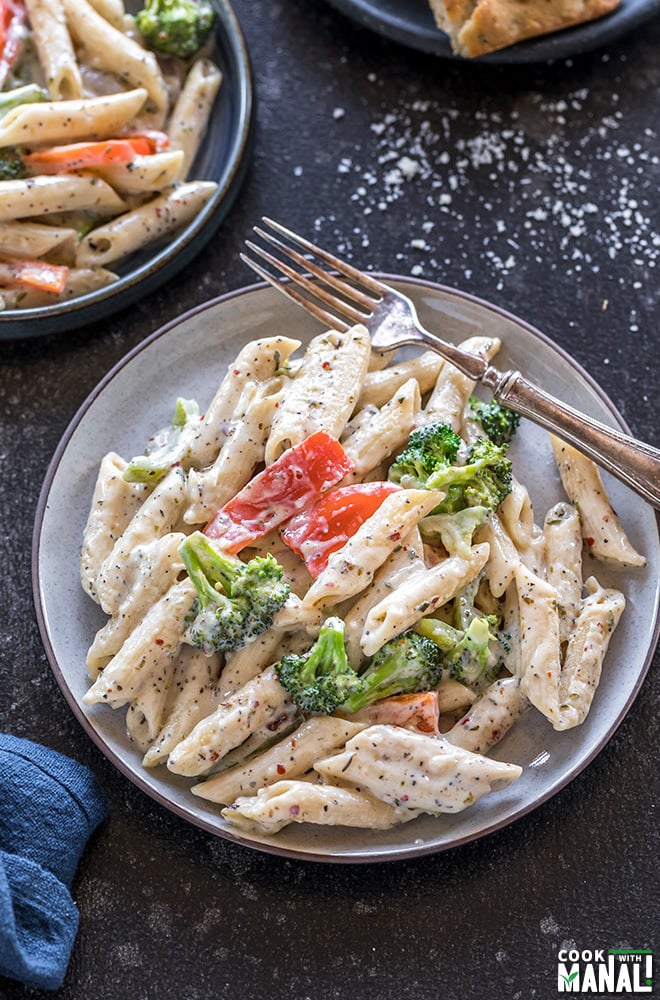 You guys, my brothers & sisters love cream and cheese so no matter how much I add, it's never enough. Since, I have mostly made this pasta for them, it's quite rich. Totally not for you if are watching your calories but makes for a good indulgence especially during the holidays.
This white sauce is also known as béchamel sauce and has it's origin in French cuisine.
Classic béchamel sauce is made with butter, flour and milk. For this pasta, I add cream and this pasta is super cheesy and creamy, just like my family likes it. So this sauce is kind of a mix between alfredo and béchamel.
A bowl of this pasta on a cold day, it doesn't get more comforting than this!
This White Sauce Pasta
✓ is cheesy and creamy
✓ filled with veggies like peppers, broccoli
Read more: how to make honey and mustard sauce for gammon | Family Cuisine
✓ great way to make kids eat veggies!
✓ great for date nights, just pair with a glass of your favorite wine
✓ also good to pack in lunch boxes
You can use any veggies that you like in this pasta – sweet corn, carrots, even green peas. The day I made this pasta, I had peppers and broccoli at home and that's what I used in the recipe.
You can skip broccoli if you are not a fan, my husband would like me to skip it, haha.
I also add a lot of garlic to my pasta because hey that's just me – garlic lover forever!
How to Make White Sauce Pasta
We start with making the classic white sauce with butter, flour and milk. The important thing here is to use a whisk when you add in the milk and whisk continuously until all the flour and milk is mixed well together.
I high recommend using a whisk else you might get lumps in your sauce and that's no fun!
Once you have made the base, you add in the seasonings and cheese (if you like!) and then toss in the veggies and you are done.
I like sauteing my veggies before adding them to the sauce. I only slightly cook them in some butter, this way they remain crunchy and retain their color and crunch when added to the sauce.
The prep work for this pasta takes a bit of time since there's some chopping involved but once you have got everything chopped and ready to go, it comes together pretty quickly.
To make this pasta less creamy: use milk only (no heavy cream) and skip the cheese!
If you want more sauce and less pasta: reduce the quantity of pasta to 1.5 cups or even 1 cup. This recipe doesn't have a lot of sauce so cutting down on the pasta would help if you like more saucy pasta.
Method
1-Boil the pasta according to instructions on the package and drain. Note: use only 1 cup pasta if you like more sauce in your pasta. While the pasta is boiling chop all the veggies.
2- Melt 1 tablespoon of butter in a pan on medium heat. Add all the veggies – onion, peppers and broccoli and cook for 2 minutes. You want veggies to remain crunchy. Remove the veggies from pan and set aside.
Read more: Bottling Your Own Barbecue Sauce | Family Cuisine
3- To the same pan, now add olive oil and the remaining tablespoon of butter. Once the butter melts, add the chopped garlic and cook for 2 minutes until fragrant.
4- Then add in the flour.
5- Whisk the flour continuously, using a wire whisk for around 1 minute. You don't have to brown the flour.
6- Then add the in the milk
7- And also add the cream. You can skip the cream and use only milk here.
8- Whisk to combine. Let the sauce simmer for 2 minutes.
9- The sauce will thicken and coat the back of the spoon.
10- Add oregano, Italian seasoning, red chili flakes (if using) and mix. Also add salt and pepper to the sauce.
11- Let the sauce simmer on medium heat another minute or so and then add the cheese (if using) and mix until it melts. Now turn the heat to the lowest.
12- Stir in the boiled pasta and the sauteed veggies. Toss until the pasta and veggies are coated with the sauce. Taste test and adjust the seasonings at this point.
Serve white sauce pasta immediately with parmesan cheese if needed. Enjoy!
If you've tried this White Sauce Pasta Recipe then don't forget to rate the recipe! You can also follow me on Facebook, Instagram to see what's latest in my kitchen!
Read more: how to make fettuccine alfredo sauce like olive garden | Family Cuisine