This Peanut Noodle Stir Fry is the perfect quick and easy dinner. It's versatile, loaded with flavour and takes just 20mins to make!
This also makes the perfect date night dinner. Mainly because it's quick & easy, but also because you can neatly pair off the prep i.e. one person makes the sauce and one person stir fries the veg. Plus who doesn't love noodles on date night?! If you ain't eating copious amounts of carbs on date night you're doing it all wrong 🤪. Anywho, peanut butter noodles. Follow me…
Peanut Butter Stir Fry Sauce
The peanut butter sauce is the star of the show here. If you haven't guzzled the entire thing before it hits the stir fry you're a better person than me! Let's take a quick look at what you'll need:
Peanut Butter – Crunchy or smooth. I usually go crunchy just for an extra bit of texture.
Soy Sauce – I recommend dark soy sauce. It's got a more intense rich flavour than regular soy sauce. Not a deal breaker though if you've only got regular.
Lime Juice – Lime and peanut is a match made in heaven. This also cuts through the richness/sweetness of the peanut butter.
Sugar – Heightens the sweet tones of the peanut butter.
Ginger & Garlic – Both fresh and preferably both grated/minced. You don't actually cook the sauce before hand so it's important to have the ginger/garlic quite fine, otherwise you'll end up with big chunks of raw garlic in your teeth – not fun!
Chilli Flakes – Adds a nice bit of heat to the stir fry. Work to preference!
Sesame Oil – This is very strong so you won't need much. It enhances the nutty flavours in the sauce.
Water – This thins out the sauce so it doesn't clump up in the noodles.
Can I make the peanut butter sauce ahead of time?
Yep! It's pretty quick to make because you don't cook it, but you can make it in advance if you want to get ahead of the game. Just tightly store in the fridge then bring to room temp before needed (or warm slightly in a pan to loosen up sauce).
Also read: how to make chicken stir fry begginer cooling | Family Cuisine
Process shots: add all sauce ingredients apart from water and whisk together (photo 1), whisk in water until smooth (photo 2).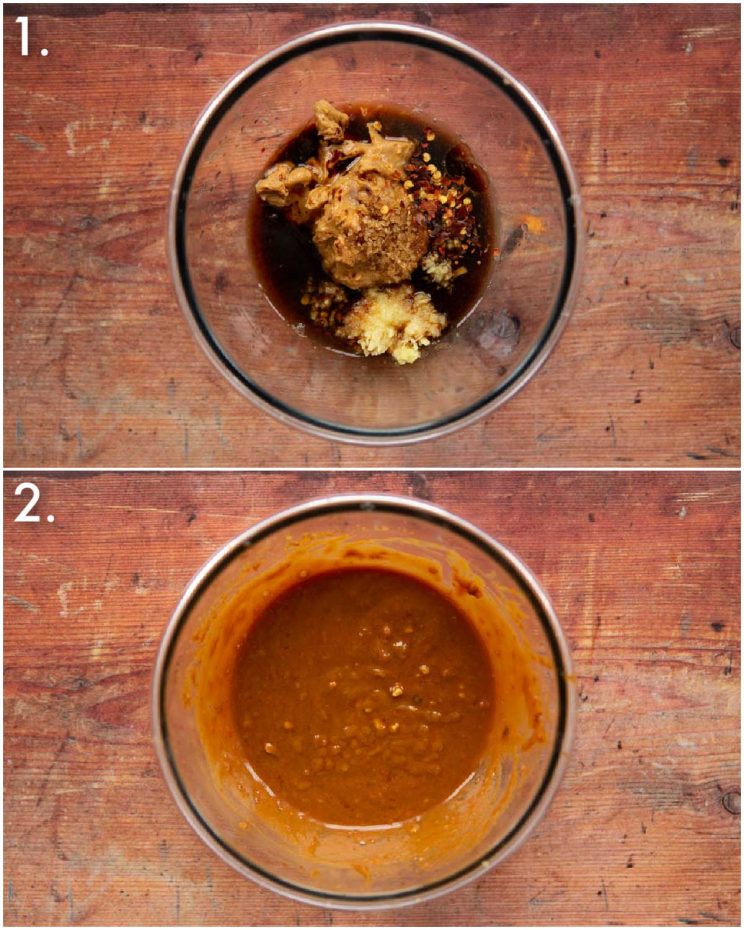 Peanut Butter Stir Fry
Alrighty, peanut butter sauce done and dusted, let's talk stir fry.
Tips for making a great stir fry
Prepping Veg – Make sure you prep all the veg ahead of time, just so it's ready to quickly hit the pan when needed.
Cooking Veg – Stir fries happen over high heat, so make sure the wok/pan is smoking hot before you start adding in the veg. Cooking veg low and slow makes it limp and too soft. You want the veg to be nicely browned and still have a slight bite to it. Only high heat can achieve this!
Order of Veg – Different veg will cook at different speeds, so make sure you add the more dense/firm veg in first (i.e broccoli/carrots) and place the softer veg in towards the end (leafy greens/beansprouts).
Best veg for peanut butter stir fry
In reality you can use most vegetables here! The usual suspects for me are carrots, pepper, spring onions and mushrooms, but cabbage, edamame, onion, broccoli, beansprouts and mangetout all go perfectly!
Peanut Butter Noodle Stir Fry
Sure, stir fries are great, but noodle stir fries are better 😋. Again, most types of noodles will work great here. But I usually go for rice noodles, mainly because that's usually what I've got on hand. You'll want to cook them per packet instruction, which usually consists of soaking in boiled water for a couple of mins.
Also read: how to slice flank steak for stir fry | Family Cuisine
Process shots: add oil to wok/pan (photo 1), once smoking hot add carrot and fry (photo 2), add in pepper, mushrooms and spring onion (photo 3), fry until browned and slightly soft (photo 4), add noodles (photo 5), pour in sauce and green parts of spring onion (photo 6).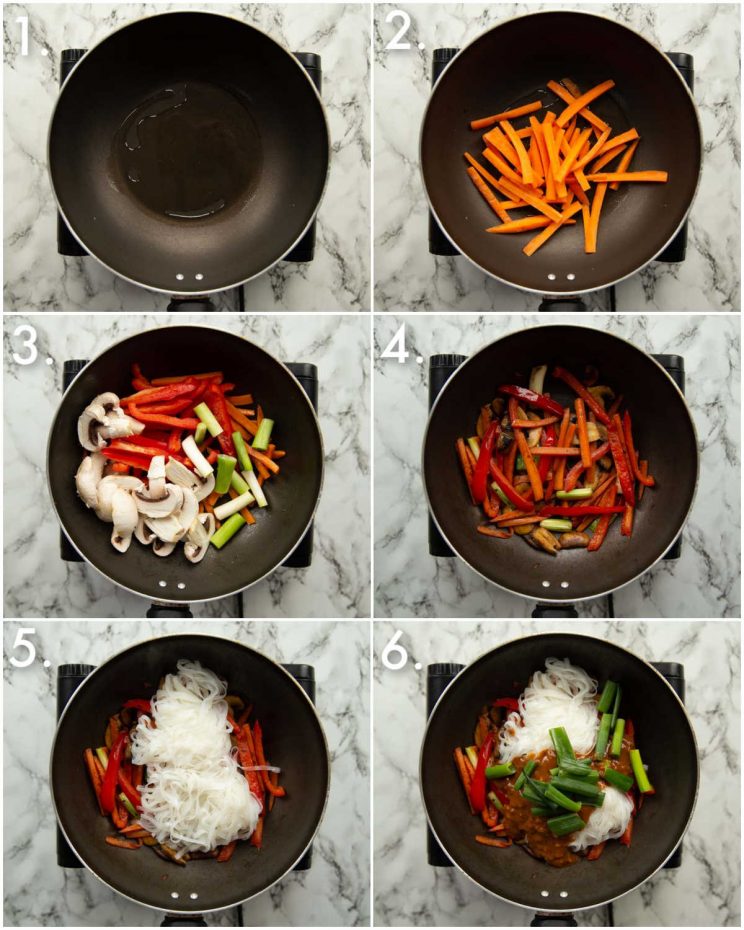 Peanut Stir Fry FAQ
What can I use as garnish?
I usually go for crushed peanuts and sesame seeds. Both lightly toasted. Garnish is optional though!
Can I reheat this?
If there's leftovers just stir fry again with a dash of water to loosen up the sauce.
Do I have to add noodles?
Nope! Just add more veg and/or protein (i.e. chicken or prawns/shrimp)
Also read: Fried Cookie Dough | Family Cuisine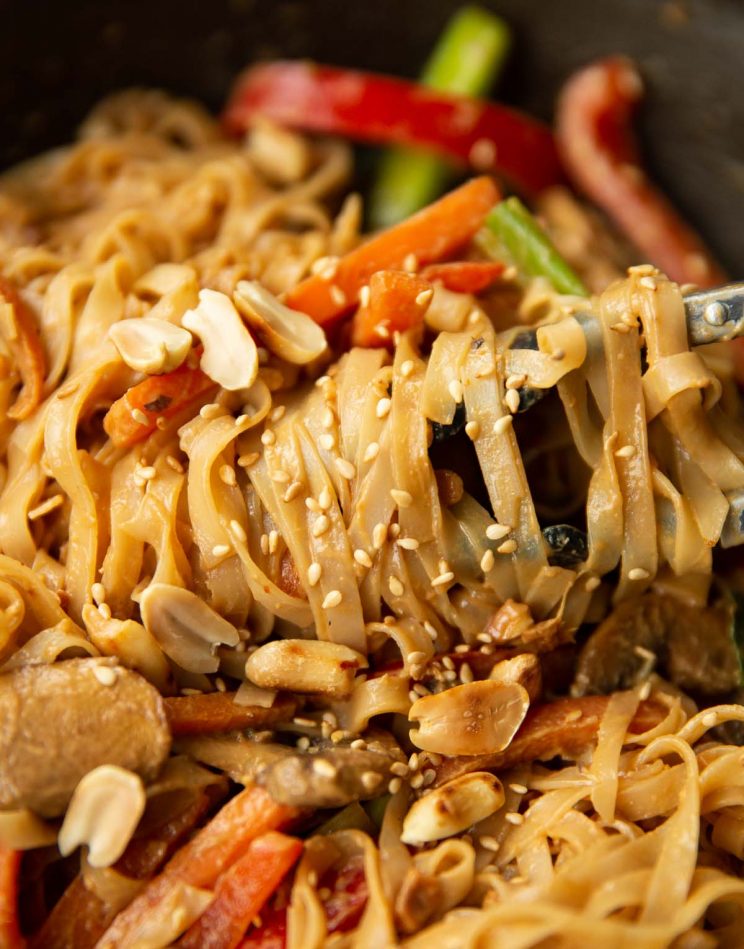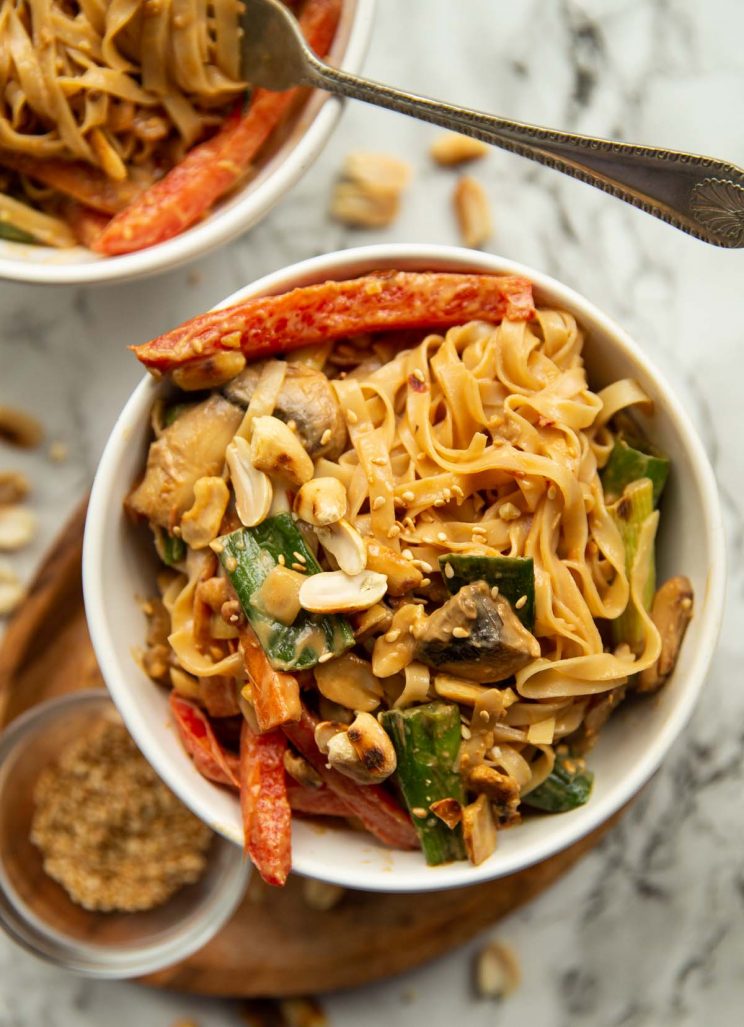 For another delicious stir fry recipe check out my Easy Chicken Noodle Stir Fry!
For more similar recipes check out these beauties too:
Easy Date Night Dinners
Spicy Chicken Pasta
Steak and Mushroom Sauce
Honey Garlic Pork Chops
Baked Gnocchi
ALL DATE NIGHT DINNERS
How to make Peanut Butter Stir Fry (Full Recipe & Video)
If you loved this Peanut Butter Noodles recipe then be sure to Pin it for later! Already made it or got a question? Give me a shout in the comments and pick up your free ecookbook along the way!