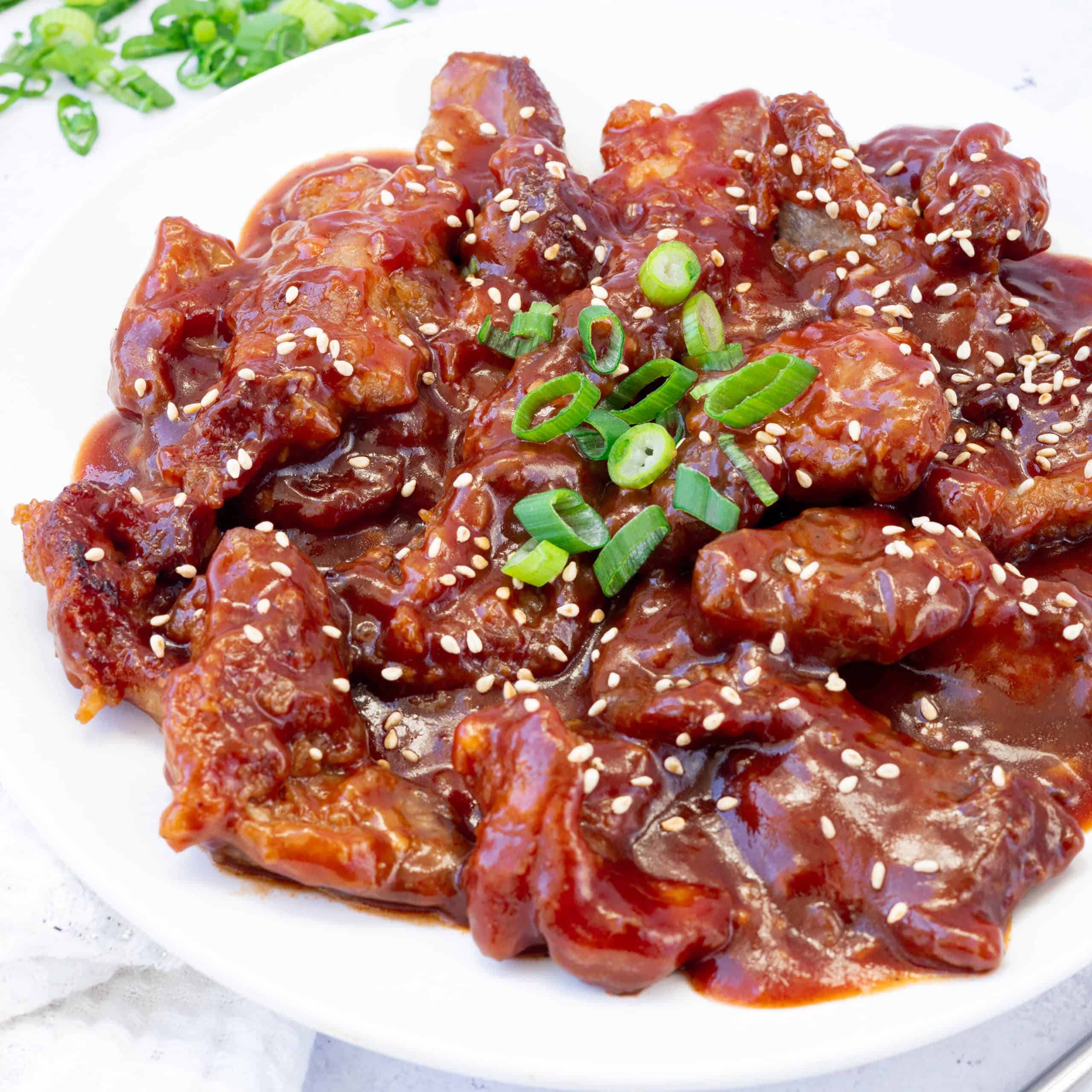 Peking Pork Chops. Juicy tender pork chops smothered in a tangy sweet and sour sauce. Delicious for dinner and great as leftovers. A popular dish found at most Chinese restaurants. Ready in 25 minutes or less at home!
I love tender pork chops especially when they are covered in a delicious sweet and sour sauce. When paired with some white rice and leafy greens, it is a simple yet tasty meal option. Whenever I go to Chinese restaurant, Peking style pork is the number one dish I must order! It is so good, especially when that tangy sauce hits the rice.
Reading: how to make peking sauce
Easy to make!
I love cooking this Peking pork chop dish whenever I'm craving something with a meaty tangy taste, but I really don't want to head out to the crowded busy Asian restaurant. This dish is incredibly easy to make at home and you may have most of the ingredients in your pantry!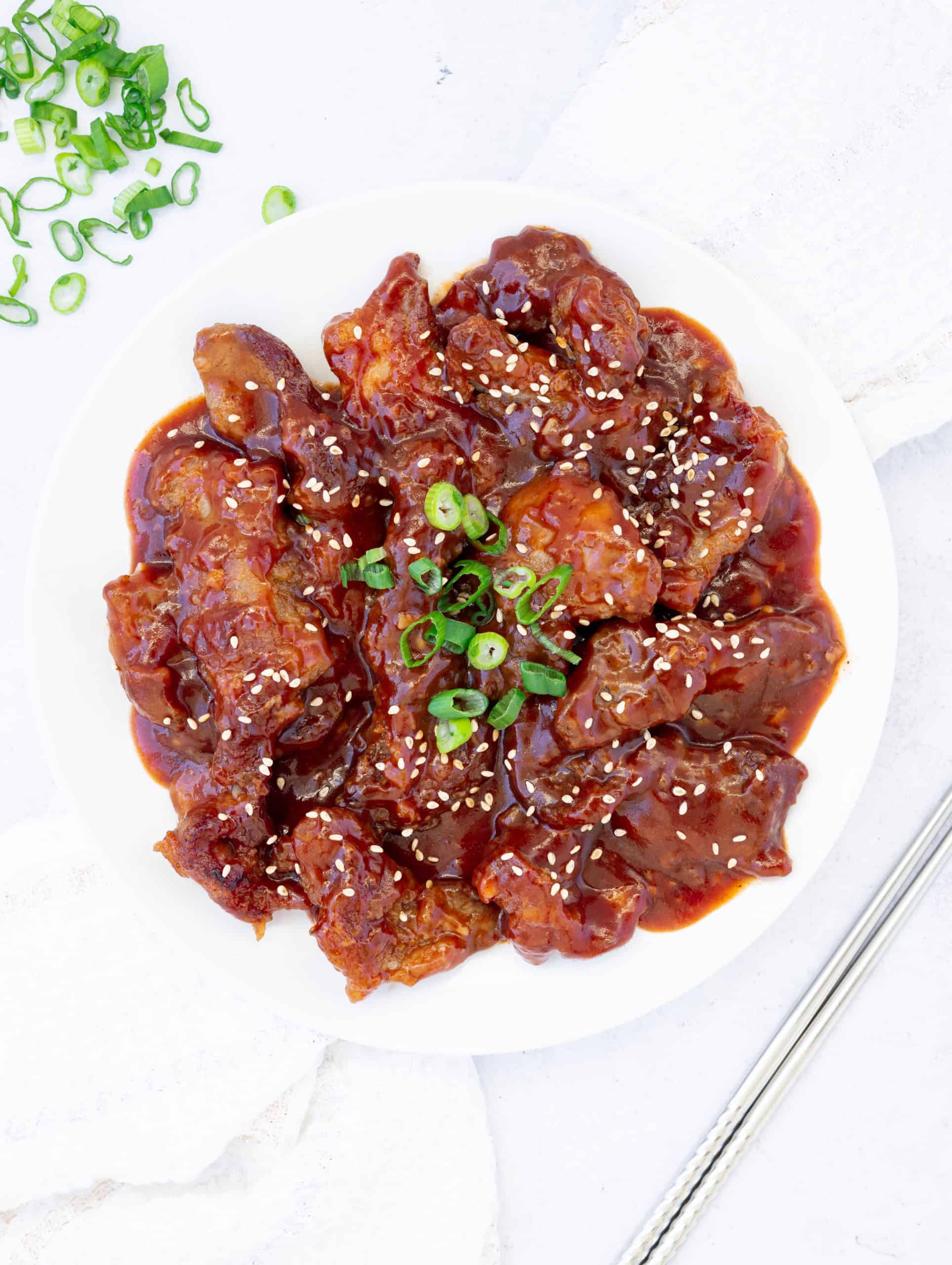 What is Peking pork chop?
They are pork chops that are coated in a flour agent and then fried until crispy brown. Then they are covered in a thick glossy sweet and sour sauce with ketchup and hoisin sauce being the base. It is absolutely delicious and a must try in Chinese cuisine.
How does Peking sauce taste?
It tastes sweet and salty and sometimes tangy. The consistency is thick and smooth.
What Colour is Peking sauce?
It's red and brown but more on the red side.
What is Peking sauce made of?
Traditionally it's made with a sweet bean sauce but to make this Peking pork recipe accessible for all, I've decided not to use this sauce as the base. Sweet bean sauce is not usually an easy ingredient to find.
What does Peking style mean?
It just refers to the sweet and sour cooking method which originates from Nanjing, China.
Other recipes you may like!
Read more: Creamy Tarragon Sauce | Family Cuisine
SWEET AND SOUR CHICKENSWEET & SOUR BATTERED MUSHROOMSMONGOLIAN CHICKENSOY HOISIN CHICKEN THIGHS
For this recipe
You will need the following peking pork ingredients:
0.675 lb pork butt or marbled tenderloin
¼ cup avocado or vegetable oil, for frying
Marinade:
3 tbsp cornstarch
¼ tsp salt
1 tbsp dry sherry wine
Peking pork sauce:
½ tsp garlic minced
⅛ tsp ginger powder
¼ tsp Chinese five spice
2 tbsp brown sugar
1 tbsp Worcestershire sauce
2 tbsp hoisin sauce
½ tbsp white vinegar
4 tbsp ketchup
½ tbsp cornstarch
½ cup water
Optional:
Sesame seeds garnish (optional)
1 stalk Green onions (optional)
How to make Peking pork chops
Slice your pork into strips and tenderize them with a meat tenderizing hammer.
In a mixing bowl, add pork strips, 3 tbsp cornstarch, salt and dry sherry wine. Mix well until pork is well coated in cornstarch. Set aside.
In a small bowl, whisk together your sauce ingredients until well combined.
Then in a hot wok or pan set over medium heat, add avocado or vegetable oil. To test if the oil is hot enough, place a wooden chopstick and look for bubbles. Once you see bubbles, carefully add in your pork.
Read more: How To Make Dashi (Video) だしの作り方 | Family Cuisine
Fry pork until golden crispy brown on each side, about 8-9 minutes in total. You may need to adjust heat as needed.
Remove the pork and place on a paper-towel lined plate to soak up excess grease.
Discard the oil.
In the same pan set over medium heat, pour in your sauce.
Bring this to a simmer and once it bubbles, add your crispy pork back in ensuring every pork chop is covered in sauce.
Transfer to a serving dish. Optional: garnish with sesame seeds and green onions. Enjoy!
Give it a try!
Well, I hope you give my Peking Pork Chops recipe a try! It always excites me when you guys make my recipes and I hope this is one you try.
Thanks for visiting my blog! If you enjoyed this peking pork stir fry recipe, please share it with your family and friends or on social media! Take a picture if you've made my recipe and tag me on Instagram @ChristieAtHome in your feed or stories so I can share your creation in my stories with credits to you!
Made this recipe and loved it?
If you could leave a star rating for the best Peking pork recipe, I would greatly appreciate it 🙂 Thanks so much!
Take care,Christie
Read more: how to make fishball sweet sauce | Family Cuisine
*This post for my Peking pork stir-fry recipe contains affiliate links. As an Amazon Associate I earn from qualifying purchases. I also earn from qualifying purchases through additional affiliate programs
Suggested Products