This homemade pizza sauce with fresh tomatoes is garden fresh, and so easy to make.
Some things just don't need to be complicated. This sauce is all about what's fresh, simple and on hand.
Reading: how to make pizza sauce with fresh tomatoes
Made from fresh, ripe tomatoes, this easy peasy homemade pizza sauce tastes heavenly and is healthy and wonderful for you as well.
Honestly, anything you make with fresh tomatoes is going to be better than canned. Fresh tomatoes almost always have more flavor, and less acidity.
Looking for a yummy crust to go with this? Check out our homemade pizza crust! You can also check out this Caputo flour, with an elastic gluten that's perfect for pizza.
What are the best tomatoes for pizza sauce?
The best tomatoes for pizza sauce are plum or Roma tomatoes fresh from the garden.
Read more: how to make fresh lumpia sauce | Family Cuisine
Roma and plum tomatoes work well because they're a fleshy tomato that cooks well, making a thicker sauce.
You'll also get better flavor in your fresh pizza sauce with homegrown tomatoes, especially heirloom varieties.
I love to use heirloom tomatoes fresh from the garden. These are the same ones I use in our homemade chunky salsa recipe for canning.
That said, any tomato that's fresh and ripe will make a delicious tomato sauce. You just make have to simmer varieties like Early Girl or cherry tomatoes a little longer until they thicken up.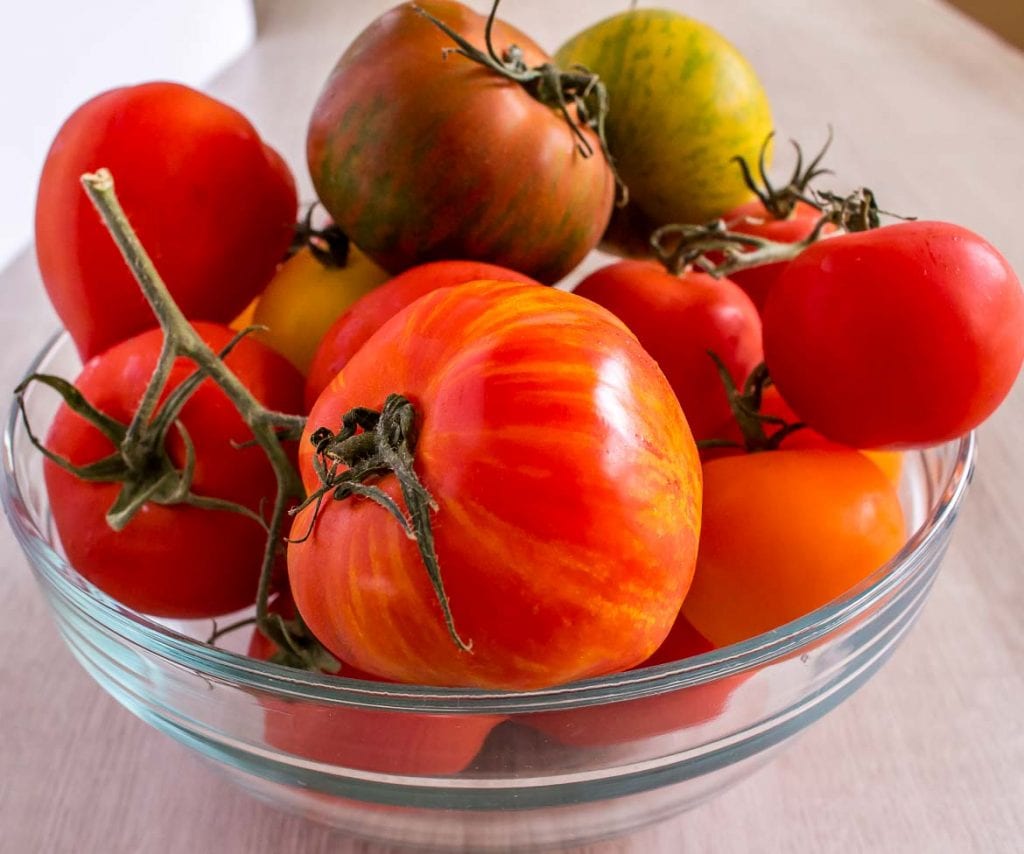 Here's what you'll need for pizza sauce from fresh tomatoes
2 tablespoons extra virgin olive oil
3 minced garlic cloves
5 cups of fresh tomatoes, seeded and cubed
1/2 teaspoon salt
5 fresh basil leaves
1/2 teaspoon dried oregano
pinch of sugar
How to make homemade pizza sauce from garden tomatoes
We don't take the skins off our tomatoes, preferring to have all of that delicious fiber in our sauce. Instead, we use a hand blender to pulverize the skins in the last step.
Heat the olive oil to medium low in a medium pot.
Read more: how to make authentic italian spaghetti sauce from scratch | Family Cuisine
Saute garlic gently for 3 or 4 minutes.
Add fresh tomatoes, salt, basil and oregano to pan and simmer slowly for 30 minutes.
Add sugar halfway through cooking, to taste.
Use a hand blender to mix. This will grind the tomato skins into the sauce.
Enjoy! This sauce is perfect with a margarita pizza with fresh basil baked on a homemade crust.
This recipe will makes enough sauce for four – 12 inch pizzas.
Read more: how much pasta sauce to use | Family Cuisine