This easy mayonnaise based Dill Pickle Potato Salad brings together tender red potatoes, tangy dill pickles, hard boiled eggs, crisp celery, sweet red onion, and fresh chives. It is the perfect accompaniment for all your summer grilling, smoking, and barbecuing entrees.
Grandma's Creamy Dill Pickle Potato Salad is smooth and creamy and is my absolute favorite potato salad. I love to serve it with Balsamic Vinegar Barbecue Ribs, Dry Rub Grilled Pork Tenderloin, and Grilled Marinated Chicken.
Reading: how to make potato salad with dill pickles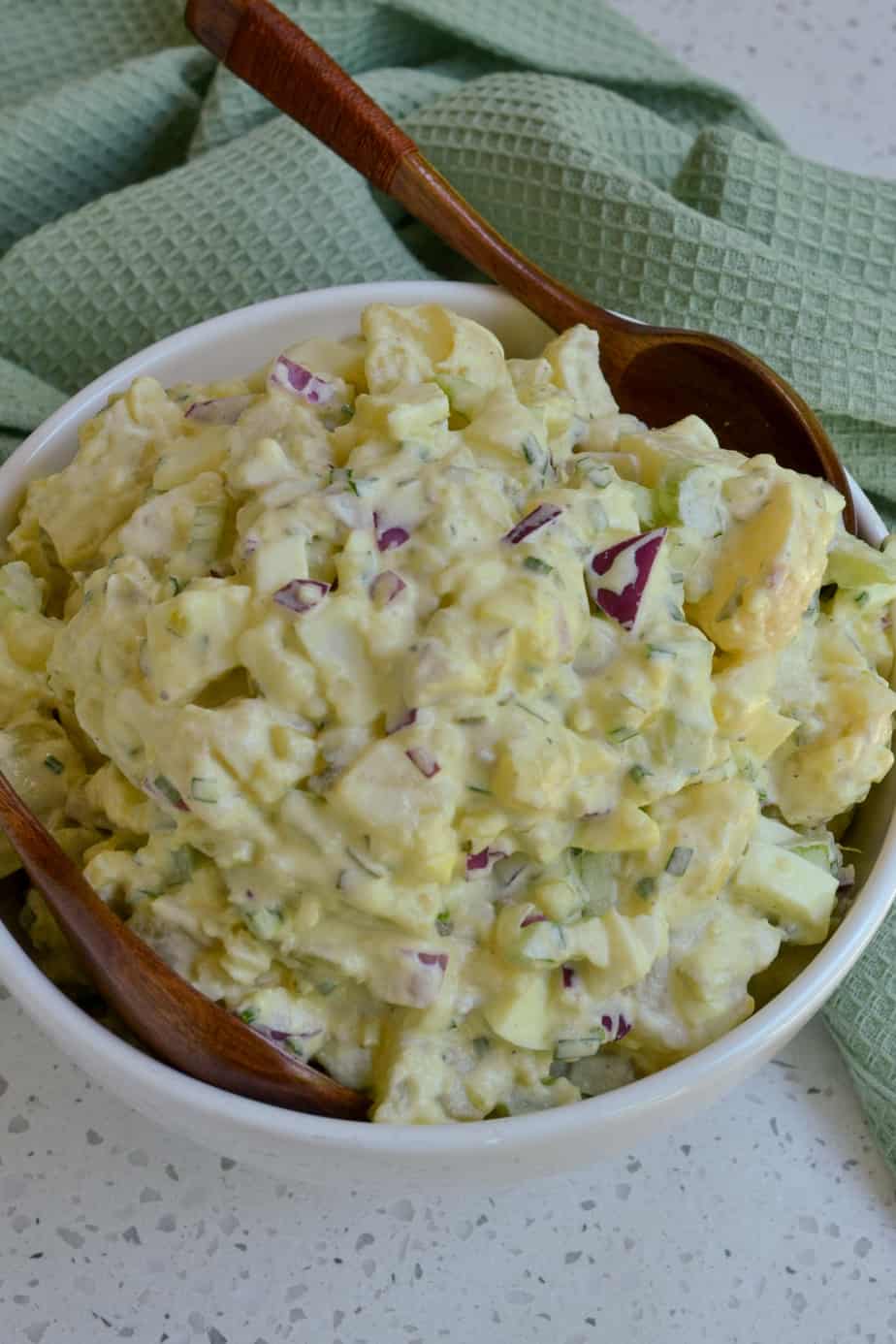 How to make Dill Pickle Potato Salad
Read more: Spicy Garlic Dill Pickles | Family Cuisine
Start by boiling the potatoes until fork tender. Once tender plunge into cold water and let them chill a bit. Then simply use your fingers to remove the skins. Now cut the potatoes into small cubes and combine with the red onion, celery, hard boiled eggs, dill pickles, chives, sour cream, mayonnaise, mustard and pickle juice. Then stir gently to combine. Season with salt and pepper to taste. Chill until ready to serve.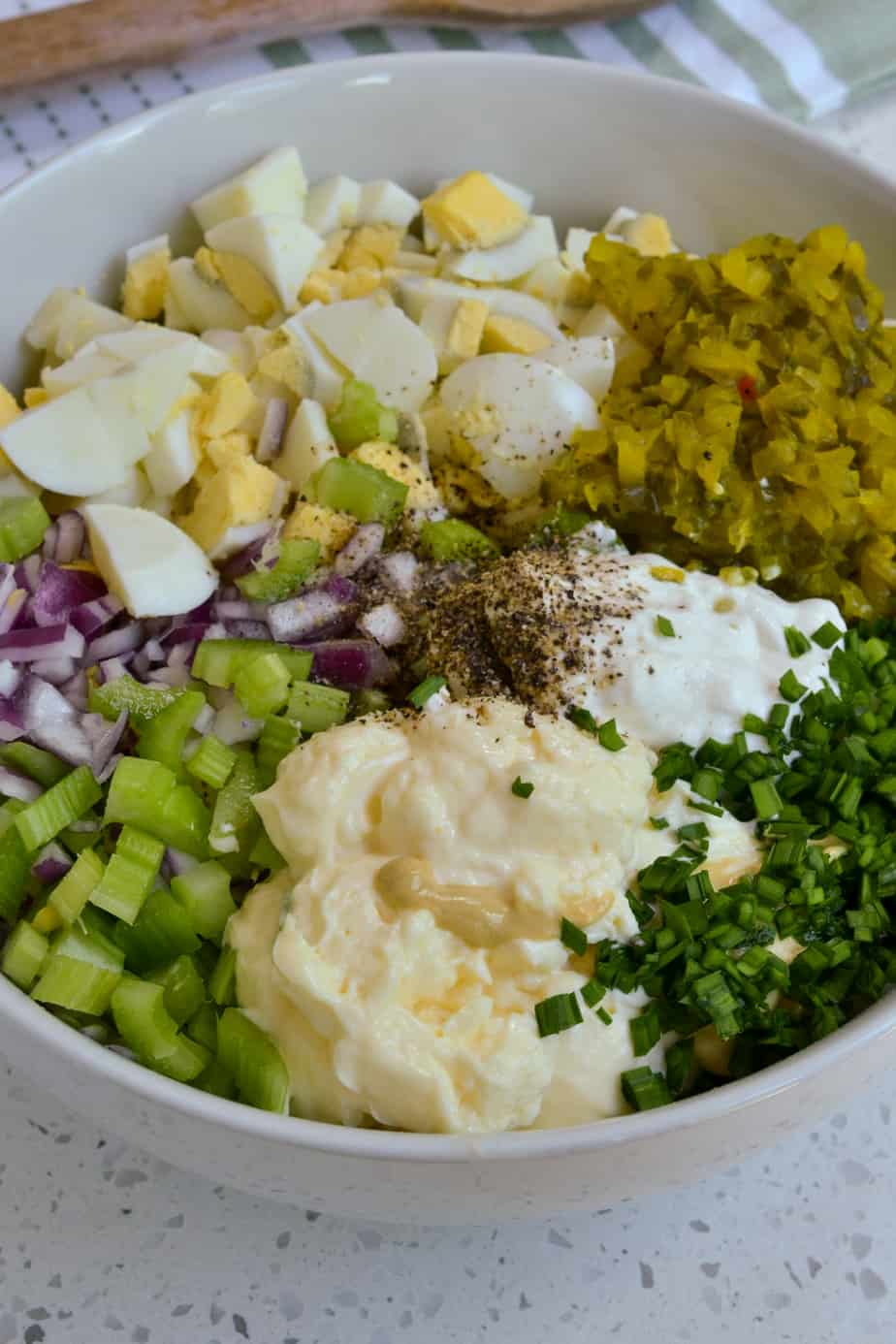 Recipe notes and helpful tips
Red potatoes work best for potato salad as they are a little waxy and do not break down when stirred.
Boil the potatoes with their jackets on. Then simply plunge into cool water for a bit. After they have cooled down simply remove the skins with your fingers. They will easily peel off.
If time permits cook the potatoes in advance and refrigerate for a while before peeling and cubing.
Don't skip the fresh chives. They really take this salad over the top however make sure that you keep them away from pets as they are poisonous to them.
Dukes mayonnaise is my absolute favorite. This is not a paid endorsement I just really think it is delicious.
Dill pickle relish is a great substitute for chopping all those pickles.
Store in an airtight container in the fridge for up to 3 days.
See below for hints on cooking hard boiled eggs. I have the skinny on this.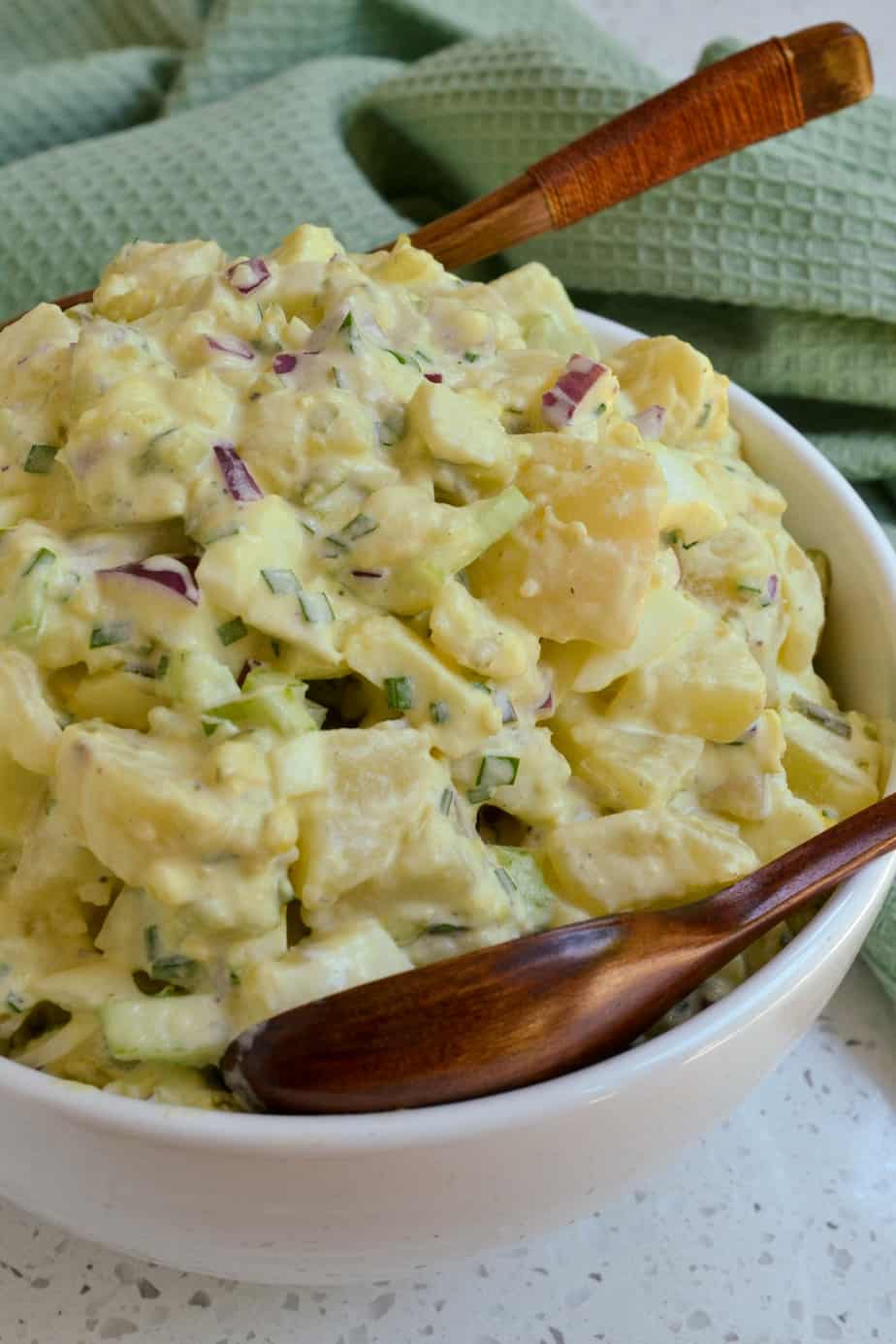 How to cook hardboiled eggs
I have found that the best way to perfectly cooked easy to peel hardboiled eggs is to steam them. It works every time and makes so many of the dishes that I love so much more pleasant to cook like Creamy Egg Salad and Classic Deviled Eggs. Simply add about an inch of water to a pot with a steamer basket in it and place it on the stove. Once the water is boiling carefully add the eggs to the basket. Do not crowd the eggs so the steam can get down and around them and cook them evenly. Steam large eggs for about 14-15 minutes and medium eggs for 11-12 minutes.
Read more: can i make fermented pickles with garlic scapes | Family Cuisine
Then remove from the heat and pour off the hot water. Run the pot under cold tap water until the pot is full of cold water. Add several cups of ice and let them chill for about 20 minutes. Then peel and eat, use in your favorite recipe, or simply store in the fridge for snacks.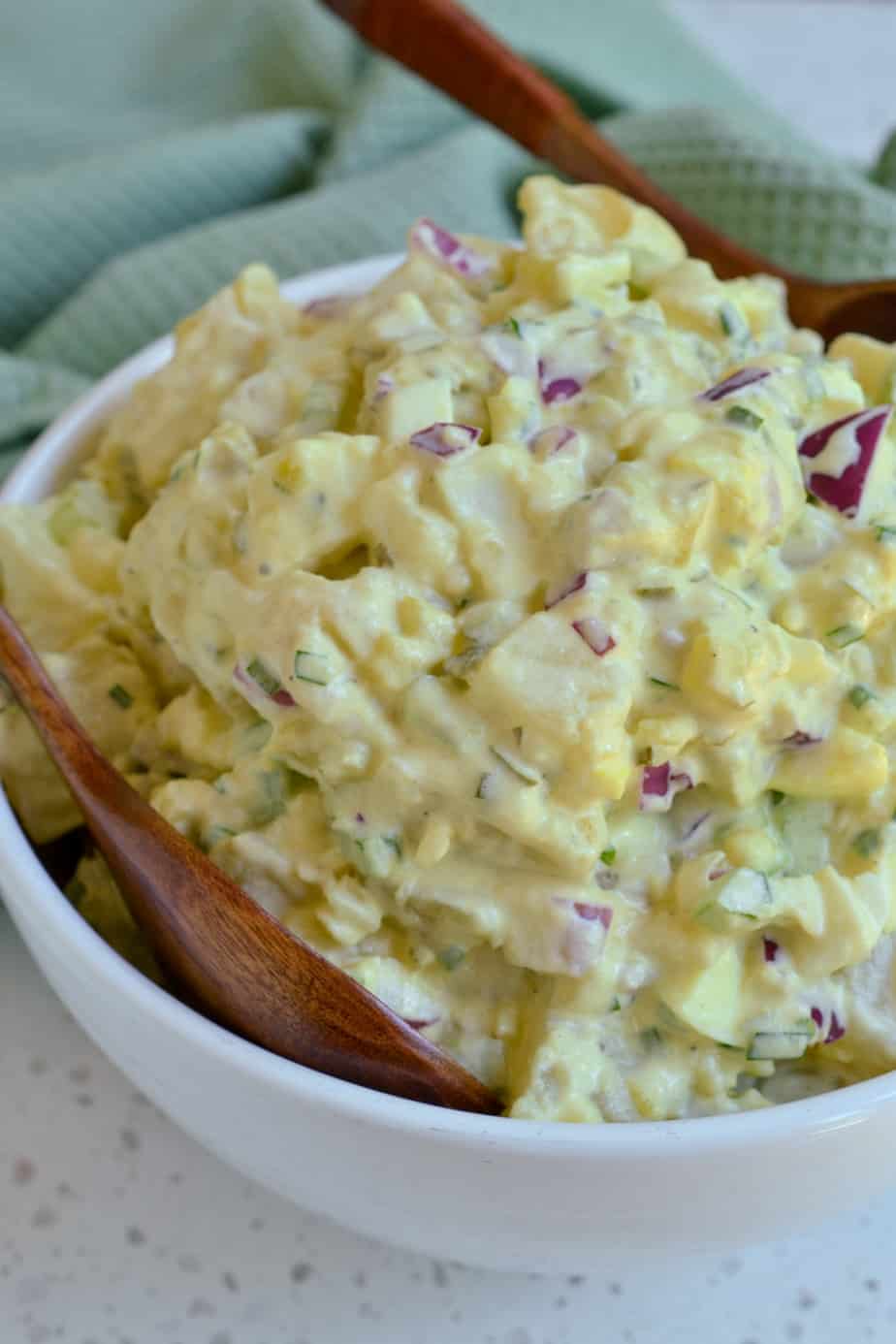 Other potato recipes you will love!
Grilled Potatoes
Air Fryer Baked Potatoes
Easy Fondant Potatoes
Duchess Potatoes
Mashed Sweet Potatoes
Funeral Potatoes
This post was originally published March 9, 2018 and was republished June 7, 2021 with new content and pictures.
Print
On the hunt for more delicious recipes? Follow Small Town Woman on Facebook, Pinterest, and Instagram.
Read more: how to make quarts bread and butter pickles | Family Cuisine
familycuisine.net/wp-content/uploads/2019/05/Beth-1.pdf