A delicious and easy recipe of sweet and spicy lemon pickle made in Instant Pot. A lip-smacking instant lemon pickle made with Meyer and Persian lemons that is perfect for both rice and paratha.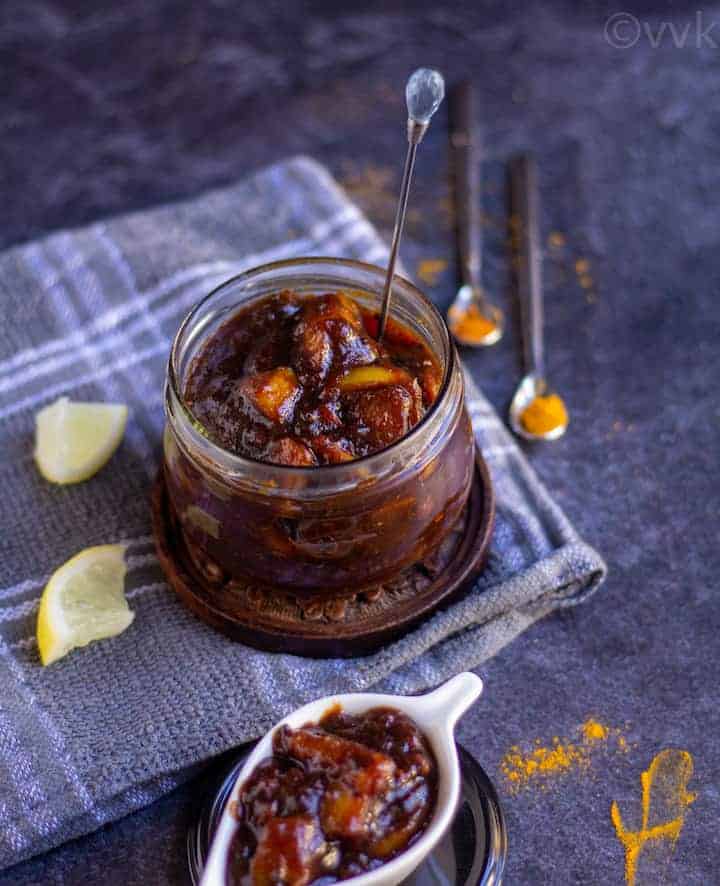 Reading: how to make quick lemon pickles indian style
Pickles are popular condiments in the Indian subcontinent. This lemon pickle is known as "Nimbu ka Achaar" in Hindi, and "Elumichai Oorugai" in Tamil. And it is quite easy to prepare. My mom always makes "Neer Elumichai" – no oil lemon pickle recipe with green chilies and ginger. When needed, she makes the spicy version with the soaked lemons or the neer elumichai.
She also makes an instant version by soaking the lemon in hot water, more like a boiled lemon pickle. That boiled lemon pickle concept is the inspiration behind this recipe of mine.
As much as I like the spicy mango and lemon pickle, I love sweet and spicy ones too, especially for the parathas. So when my colleague gave me a few lemons, I decided to make it a sweet and spicy one this time. I used the spices that we regularly use for pickles in our home but added some jaggery as well. I didn't follow any particular style and gave my spin to this recipe. So this is more like South Indian style lemon pickle with jaggery. 🙂
Nothing can beat the fresh produce, and thanks to my colleague for sharing the freshly picked lemons. I had a mix of Persian lemon variety and Meyer lemon variety. (PS- I am still learning about these hybrid lemon varieties) Both these varieties are not as acidic as the regular ones and are comparatively sweeter. So it was perfect for this pickle. You can make this pickle with either one variety or with the type that you have in hand.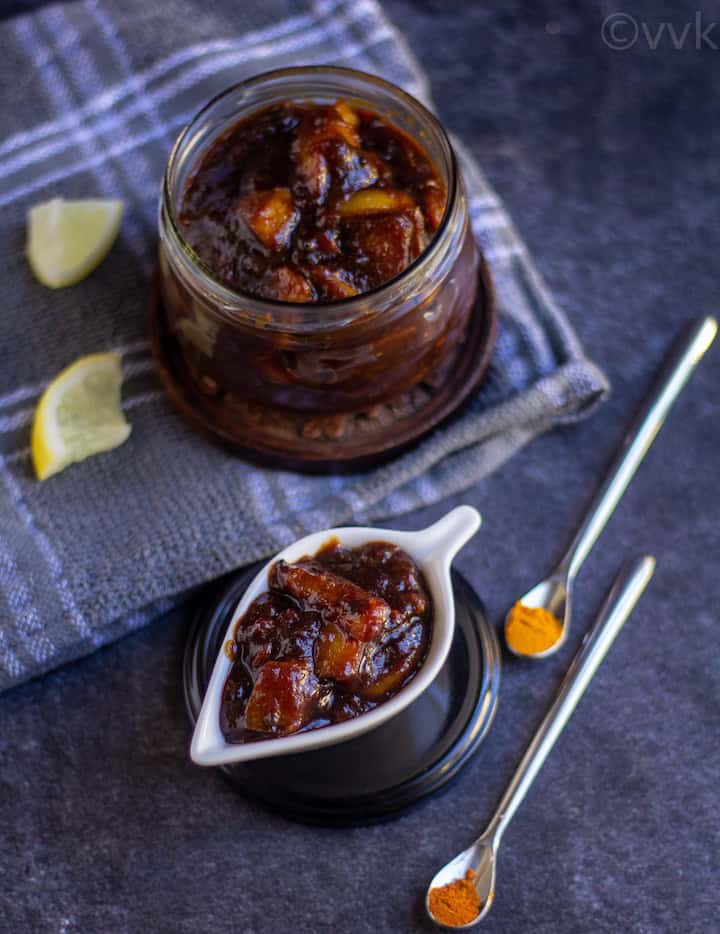 Just taste a drop of lemon juice and see how acidic/sweet it is and adjust the jaggery and salt according to it. You can take my measure as a base for four lemons and adapt accordingly.
Shelf Life & Storage-
Even though this lemon pickle would be ready in less than an hour, I would recommend using it after cooling down. It's not quite an instant pickle like the carrot pickle or the cut-mango pickle. Also, as the pickle ages and marinates more in the brine, it tastes fantastic. This pickle stays good for months in the refrigerator. Make sure to use a clean spoon during every use.
Read more: using dill pickles to make garlic dills | Family Cuisine
These days, I am opting for more dump and go kind of recipes, and this pickle is one such recipe. Please check the recipe notes for the pressure cooker version.
All you have to do is,
Chop the lemons.
Dump into the Instant Pot along with salt and spices and let the IP do its work.
Once the cooking part is complete, we need to add jaggery and let it simmer.
I love to temper my pickle. Not all pickle recipes call for tempering. But I like the texture of tempered fenugreek and mustard seeds in my pickle. So I always add it.
That's it. Not complicated, right?
If you find some fresh lemons, do give this pickle a try. You won't be disappointed.
How to serve the pickle or how to pair it?
An Indian thali/meal plate is incomplete without a pickle. You can serve with yogurt rice, stuffed flat-bread like parathas, dal rice, etc. If you ask my husband, he would say serve pickle with yogurt rice. But if you ask my mom, she would say pair it with anything and everything. She can relish pickle with sambar rice, any variety-rice she can mix pickle with plain steamed rice and enjoy it too.
As for me, I love it with my dal rice, yogurt rice, upma, and of course with parathas. If you are getting acquainted with Indian cuisine, I would recommend relishing it with dal and rice or with yogurt rice.
Now let's see how to make this pickle.
How to make to sweet and spicy lemon pickle in Instant Pot-
Prep-Work-
Trim the edges of the lemon and cut them into bite-sized pieces. Try to remove the seeds as much as you can and discard them.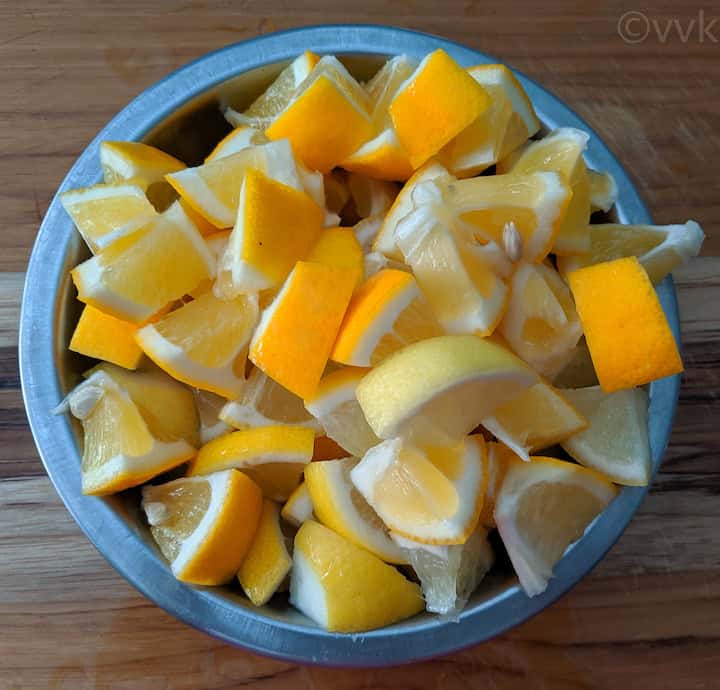 Pressure Cooking the pickle with spices-
Add 2 tablespoon of oil to the inner pot of the Instant Pot and spread it evenly. Evenly coat the bottom of the inner pot with the oil. Now add the cut lemons.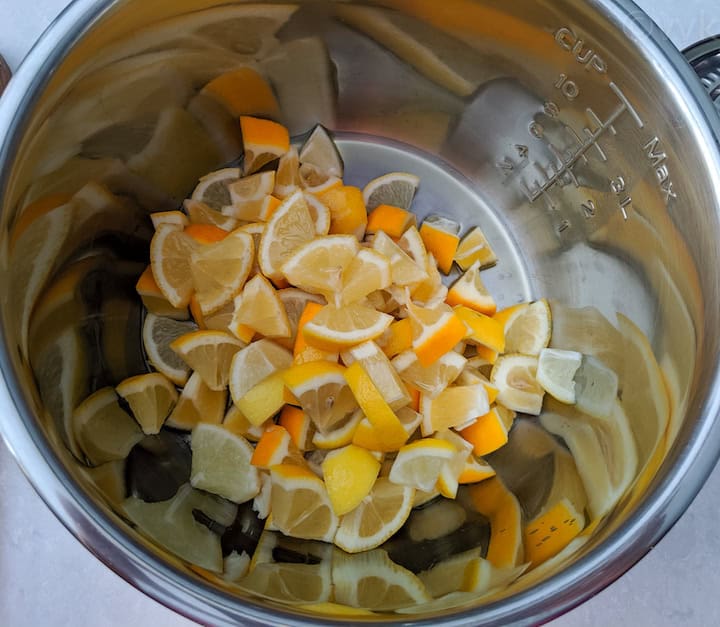 Next, add all the spices one by one – red chili powder, mustard seed powder, turmeric powder, and salt.
Read more: HOW TO MAKE YOUR OWN DELICIOUS BUCKET PICKLES | Family Cuisine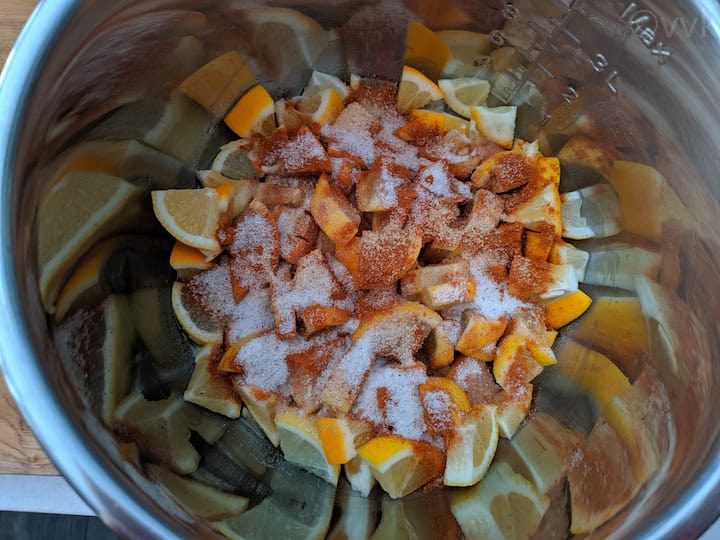 Add the ½ cup of water on top—no need to mix.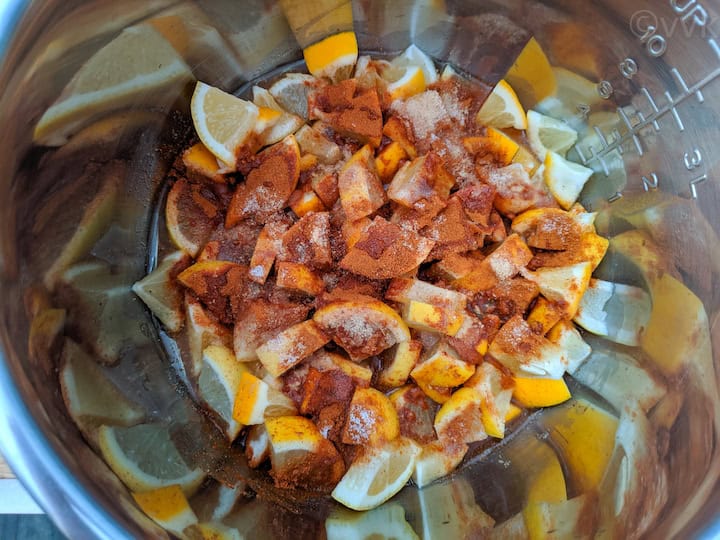 Now close the Instant Pot. Make sure the sealing ring is on, and the vent is in the sealing position. Pressure cook for 20 minutes at a high-pressure setting. Let the pressure release naturally. Open the instant pot and mix the pickle now. It will look watery, and it's ok.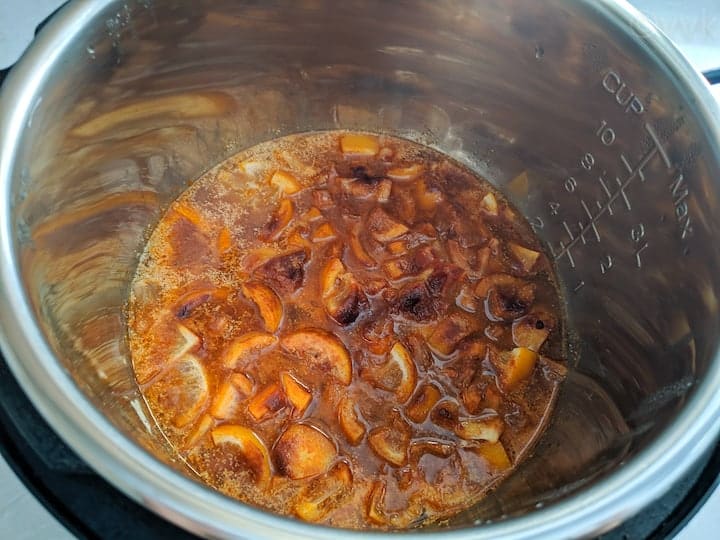 Set the IP in saute mode and add the jaggery. Mix it and let it simmer for about 12 to 15 minutes. Partially cover the IP with a lid to avoid the splashing. Mix in between so that the pickle doesn't get stuck in the bottom.
The pickle will thicken slowly, and as it cools down, it will thicken more. If you like pickle brine, then simmer it just for 7 to 8 minutes. You can use the pickle brine to make pickle pulav/rice or mix with wheat flour and make spicy pickle brine paratha.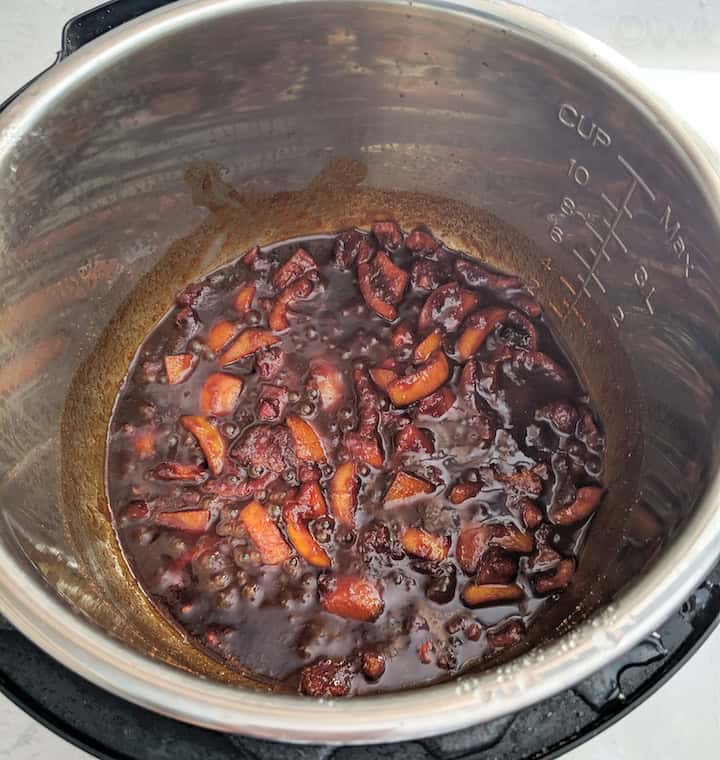 Tempering-
In a separate tempering pan, add the remaining 3 tablespoon oil. When the oil is hot, add the mustard seeds, fenugreek seeds, and hing. Let the mustard seeds splutter.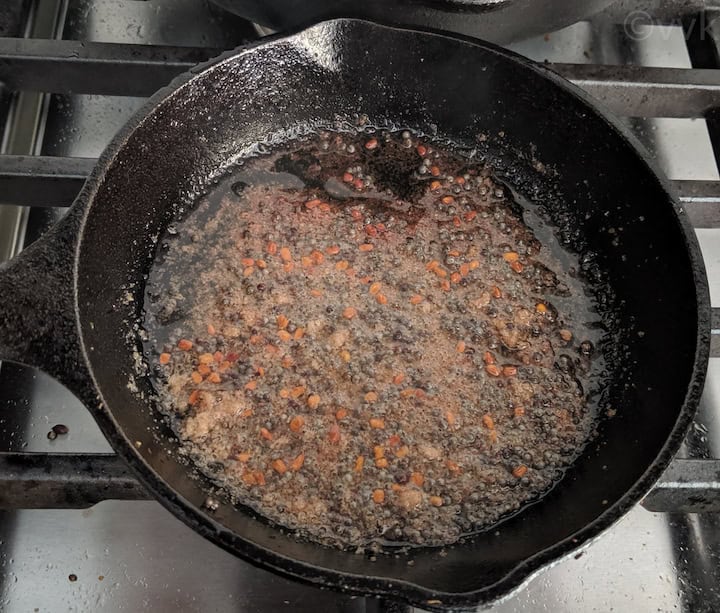 Turn off the heat and add it to the pickle.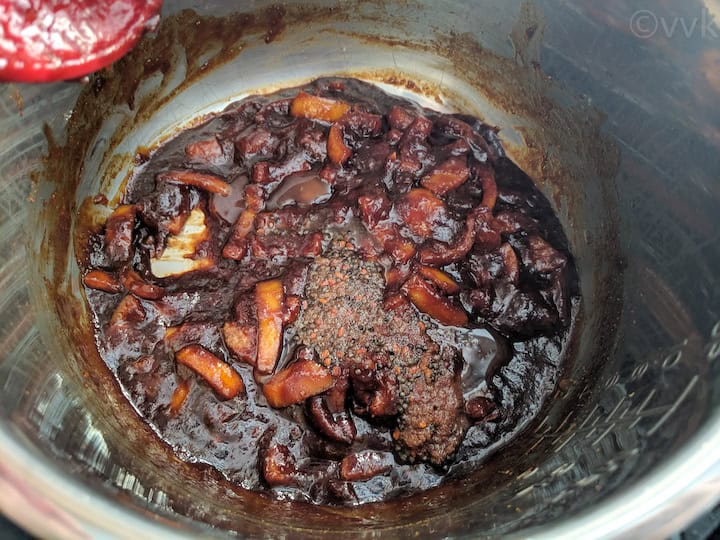 Mix it well and let it cool before storing in an air-tight container.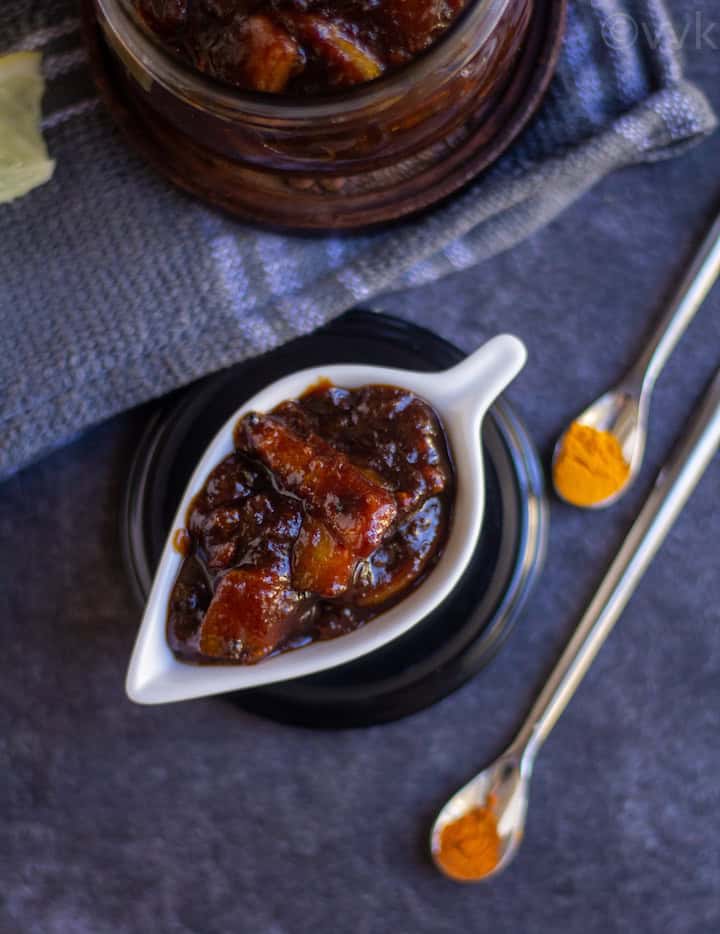 Recipe Notes-
I used gingelly oil/sesame oil for this recipe. That's what we regularly use for pickles, but you can use oil of your choice.
As always, adjust the spices according to your taste plus based on the tartness of the lemons.
I did not add any nigella seeds/kalonji in this pickle. But you can add a teaspoon of kalonji seeds, and it elevates the flavor of the pickle.
I used powdered jaggery for this recipe. You can use grated or shaved ones. If you feel the jaggery may contain impurities, simmer ¼ cup of water and add the jaggery. Once it dissolves, filter it and add this mixture to the pickle.
Twenty minutes of pressure cooking is sufficient for this lemon variety. But if the skin is thick, you can increase the cooking time to 25 minutes but not more than that.
Pressure Cooker Version
You can add oil to the pressure pan or cooker and add the cut lemon. Then add the spices, turmeric, and salt. Add water and mix it and pressure cook for 4 to 5 whistles. Let the pressure subside and open the cooker. Add the jaggery and simmer it over medium-low heat for about 12 to 15 minutes. Then add the tempering and let it cool.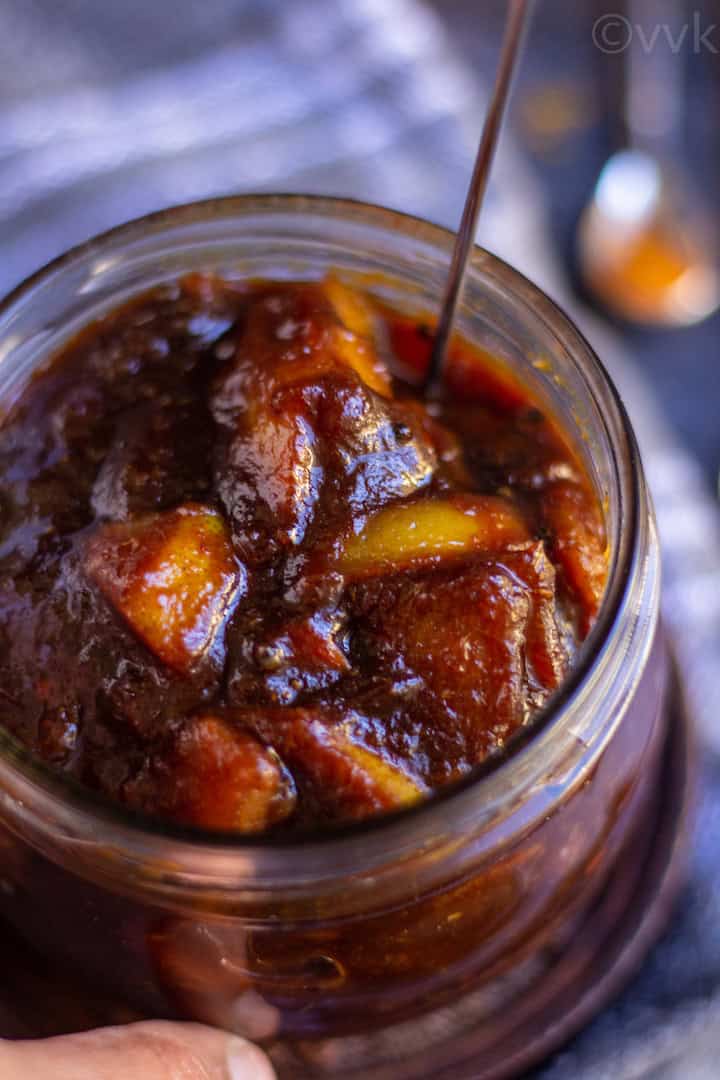 PS: Follow me on Instagram or join my Facebook Group for more gardening and recipe updates. If you try this sweet and spicy lemon pickle, please don't forget to comment and rate this recipe. If you have any questions, please leave a comment, and I will get to it asap. Make sure to follow me on my Pinterest for more healthy and delicious ideas!
Read more: how to make maine mustard pickles | Family Cuisine
If you like this pickle recipe, then check out my other pickle recipes,
Grated mango pickle
Aam chunda
Garlic pickle
Carrot pickle
Cherry pickle
Gooseberry pickle