Okay, so this recipe is pretty expensive. I'll admit that up front. BUT I had almost an entire jar of roasted red peppers leftover from my hummus making extravaganza last week, and due to poor planning, I didn't have another use for the leftover peppers. Yes, I could have frozen them for later use, but I decided to just go ahead and use them up on the spot and not risk losing them to the depths of my freezer. And I think it's important to show ways you can repurpose leftover ingredients to make sure they don't go to waste. So, I made this ultra simple, yet totally decadent Creamy Roasted Red Pepper Sauce, which can be used several different ways.
Creamy Roasted Red Pepper Sauce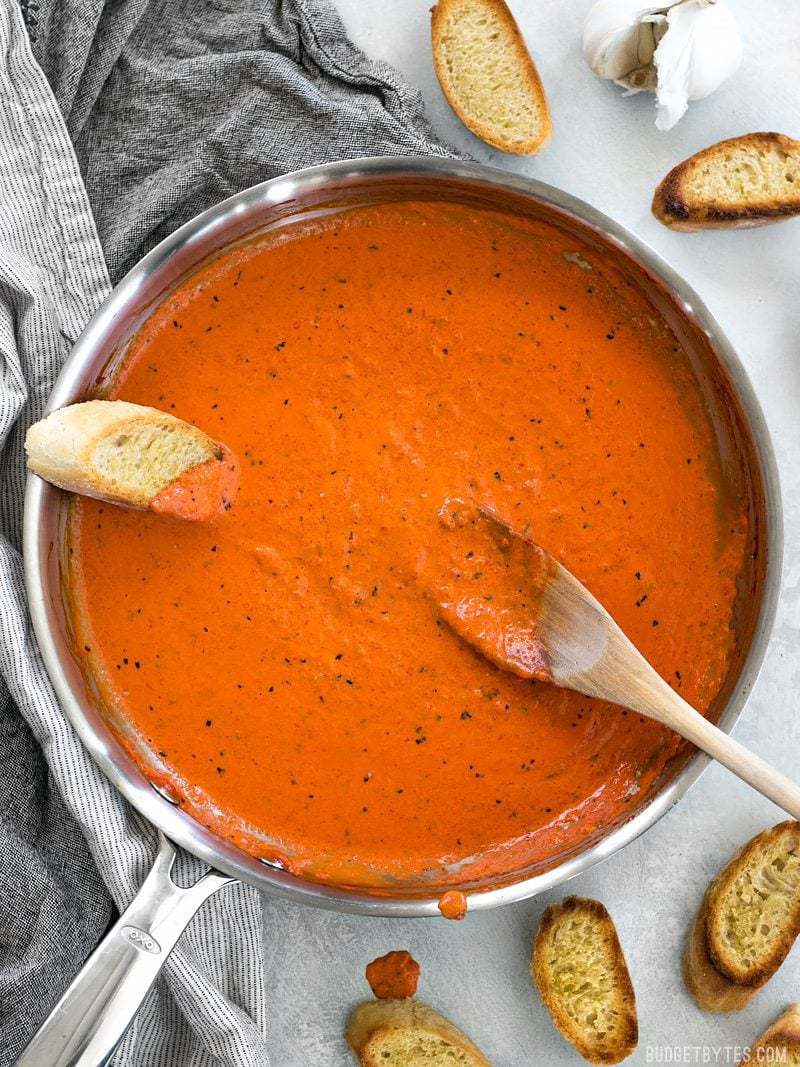 Reading: how to make red pepper sauce
How to Use Creamy Roasted Red Pepper Sauce
The most obvious use for this sauce is as a tomato-free alternative to marinara. It's nice to change things up once in a while and there are a lot of people who can't eat tomatoes, so this is a great way to go. On that note, you could probably also use it on a pizza as an alternative to traditional pizza sauce (it would be amazing on a mediterranean style pizza).
But I think my favorite way to consume this sauce is just as a dip for some really good bread. Either just break off a chunk of your favorite bread and start sopping up the delicious sauce, or slice it, brush it with olive oil, and toast it up in your oven for a little crunch. Either way, this sauce makes a great appetizer or addition to a party tray (try sprinkling a little crumbled feta on there, too!).
So, if you ever find yourself with a jar of roasted red peppers…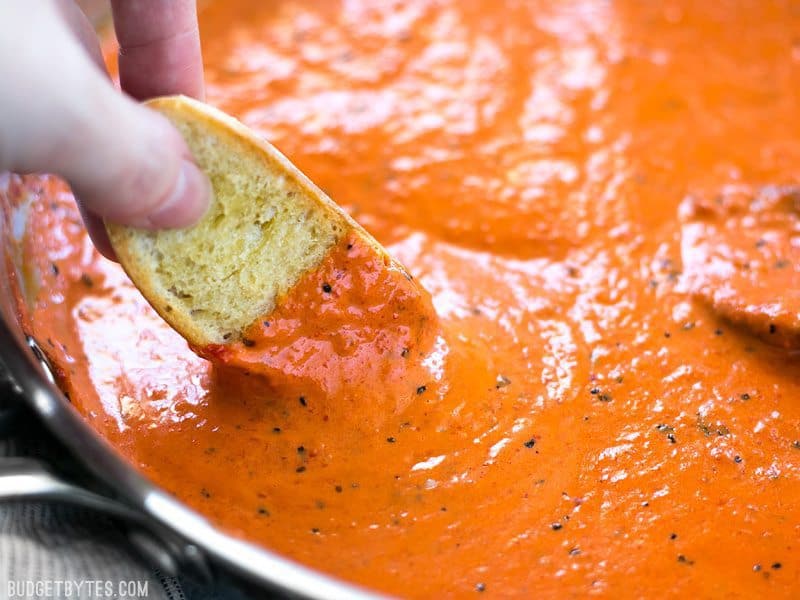 I can't lie. I could just eat a baguette dipped in this sauce as a meal. 😅 Maybe with a little goat cheese, too!

Step by Step Photos
Read more: Kinalas | Family Cuisine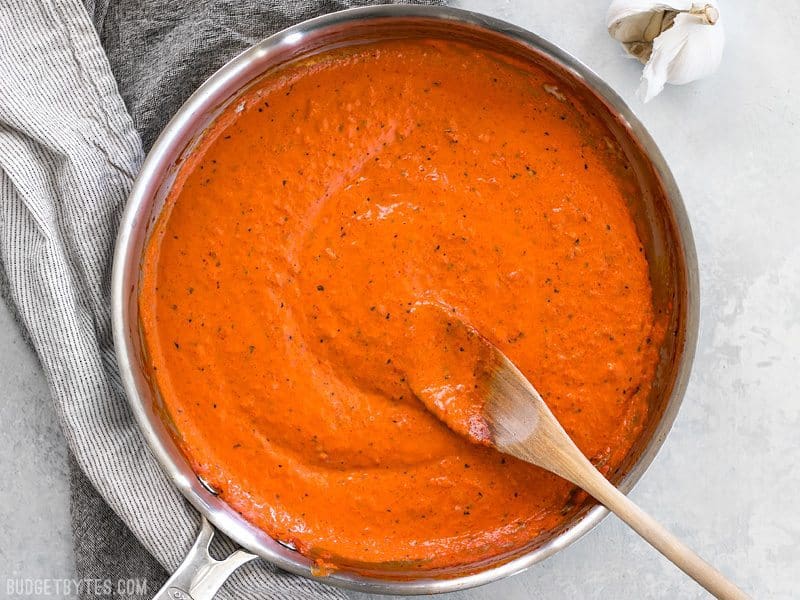 These are the roasted red peppers that I had on hand. They were organic, so you may be able to cut back on the price of the sauce if you can find a better deal (this 16oz. jar was $4.49). You can also use red bell peppers that you've roasted at home, but you may need to add salt to the sauce at the end.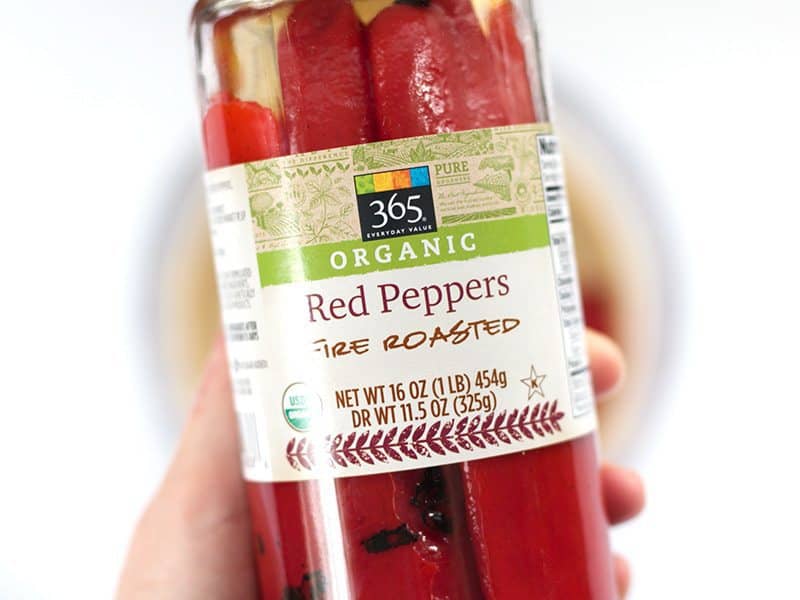 Add the roasted red peppers to a blender, along with a couple tablespoons of the liquid from the jar. Purée the peppers until smooth. If you need more liquid to make them blend properly, add water rather than more liquid from the jar because the canning liquid can be quite acidic. You'll end up with about 1.5 cups of red pepper purée.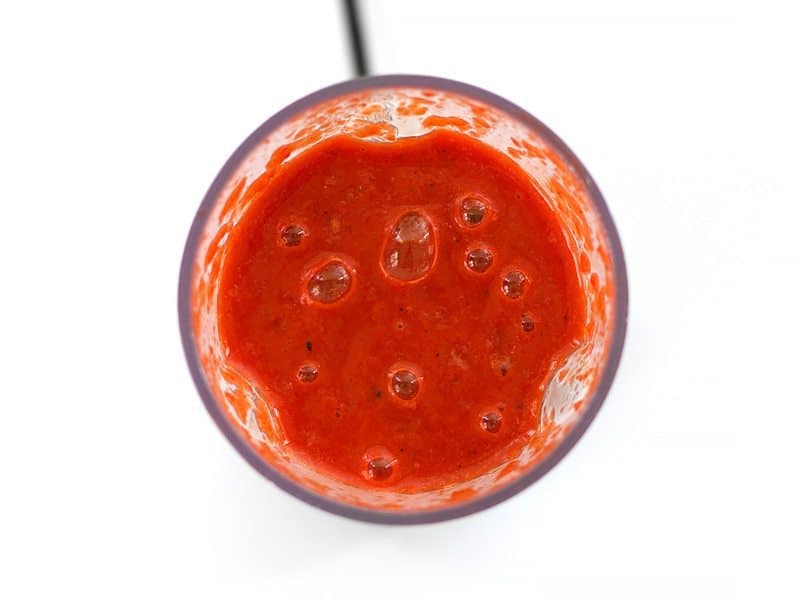 Mince four cloves of garlic and sauté them in 2 Tbsp butter over medium-low heat for about 1-2 minutes, or until the garlic is soft and fragrant, but not browned.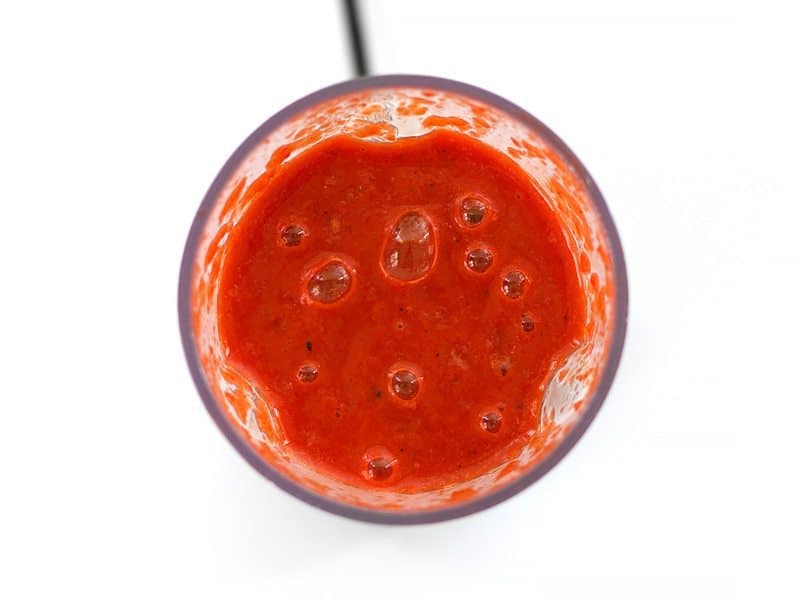 Pour in the Roasted Red Pepper purée.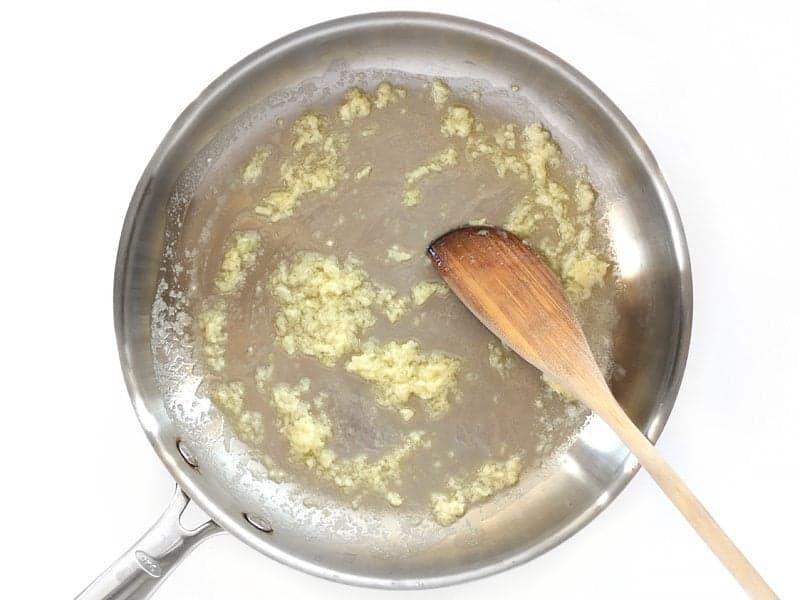 Read more: how to make white sauce for mac n cheese | Family Cuisine
Add 1/2 tsp dried basil and some freshly cracked pepper. Stir to combine and let the sauce come up to a simmer. Turn the heat down to low and let it simmer, stirring frequently, for 10-15 minutes, or until it is thick (see next photo).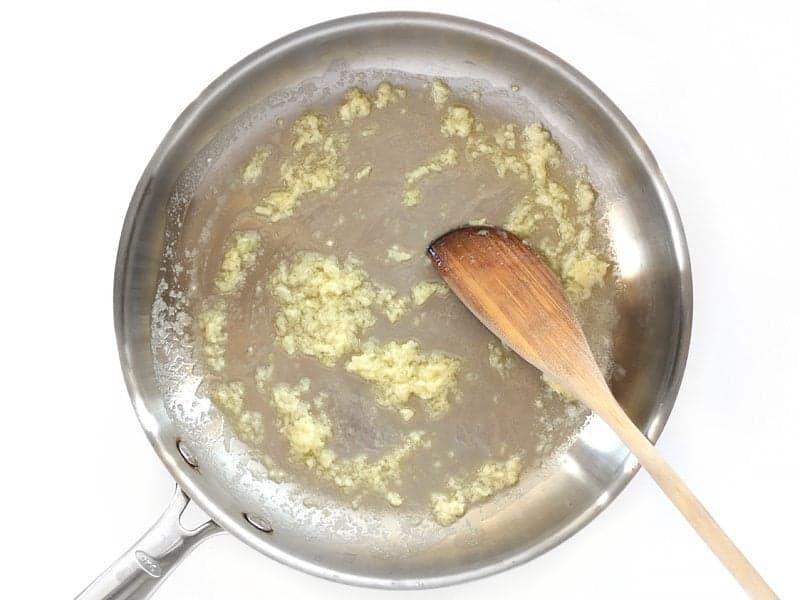 When the sauce is thick enough to leave a blank trail in the skillet when you stir it, it's time to add the cream.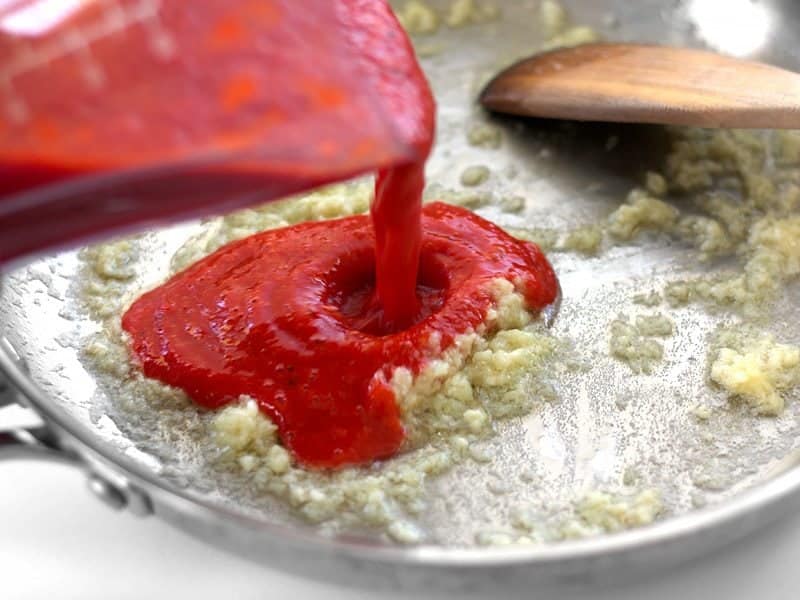 Stir in 1/2 cup heavy cream. Taste the sauce and add salt if needed (I did not add any as the liquid from the jar gave my sauce enough salt). It's ready to eat! You should have about 1.5 cups of sauce, which is enough for about 8oz. of pasta.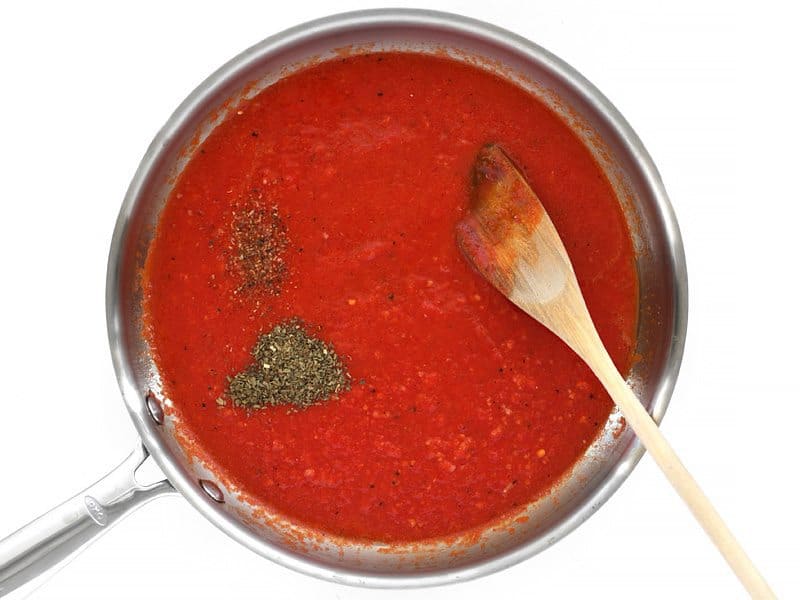 This Creamy Roasted Red Pepper sauce is totally luscious.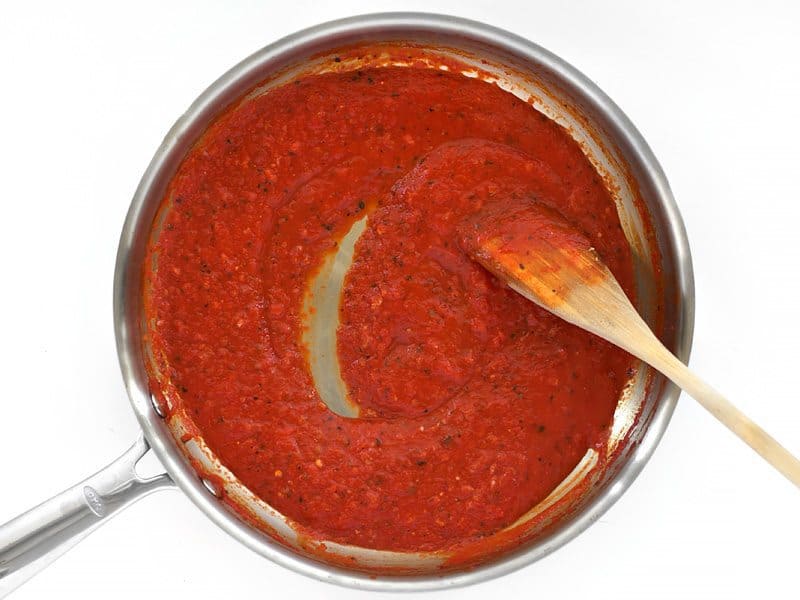 I ended up using it on my leftover rigatoni from the other day, with some sautéed spinach and Italian sausage. PERFECT. (But I would have been just as happy with a loaf of good bread. 😉 )
Read more: how to make tempura sauce street food | Family Cuisine