These no-cook, old-fashioned, homemade, Easy Refrigerator Pickles made with honey, apple cider vinegar and dill are so delicious, quick to make and only have 9-ingredients! They're perfect for snacking, as a garnish on grilled burgers, layered on sandwiches, added to potato salad or served at summer picnics and BBQ's!

OLD-FASHIONED REFRIGERATOR PICKLES ARE THE BEST REFRESHING SNACK FOR SUMMERTIME AND HOT WEATHER!
Reading: how to make refrigerator pickles no sugar
Have you ever tried making homemade refrigerator pickles?
If you've never made no-cook refrigerator pickles before, then you've got to give this easy refrigerator pickles recipe a try! It's so easy to make, plus real food refrigerator pickles contain electrolytes and a high water content – making them a great snack for the hot summer weather.
These quick refrigerator pickles are so simple! They're probably the easiest sliced refrigerator pickles that you can make. Why? These no sugar refrigerator pickles are not traditionally fermented or canned! That means these are no-fuss, no long process, easy to make, real food, naturally sweetened refrigerator pickles with honey. You won't find any artificial dyes, cane sugar, "natural" flavors or fillers in this recipe!
WHAT MAKES THESE EASY REFRIGERATOR PICKLES FERMENTED WITHOUT BEING TRADITIONALLY FERMENTED?
Pickles have been around for thousands of years. The actual meaning of the word "pickle" is salt or brine.
Salty brine is one part of the pickle making process. Canning or fermentation can be another pickle making process – but not for these easy refrigerator pickles!
This small batch refrigerator dill pickles recipe doesn't have a long, several step, fermentation process like other fermented pickles.
What's the secret? REAL apple cider vinegar!
Real apple cider vinegar means a true, raw unfiltered apple cider vinegar that still has "the mother" in it. "The mother" is where some strains of naturally occurring probiotics live.
WHAT ARE THE BENEFITS OF REFRIGERATOR PICKLES?
There are lots of benefits of eating these sugar free refrigerator pickles!
ELECTROLYTES
Refrigerator pickles and pickle juice are known to replenish and restore electrolytes. This refrigerator pickle recipe also uses a healthy salt – a real unrefined mineral salt that isn't processed and unhealthy like most salts. It's an ancient sea salt that contains trace minerals that are known to help support the body, especially when you lose electrolytes (also known as important minerals) through sweat and other bodily fluids.
RAW APPLE CIDER VINEGAR
Read more: make your own fanous dave sandwich pickles | Family Cuisine
These paleo refrigerator pickles give you a nice boost of raw unfiltered apple cider vinegar due to the "quick brining" process in the apple cider vinegar. The apple cider vinegar not only helps restore your electrolytes, but it's also known to help support blood sugar levels, support digestion and so much more!
CUCUMBERS AND PICKLES
Cucumbers are rich in vitamin K, vitamin C and vitamin A. They are also rich in the minerals potassium and magnesium. Plus they're known to be packed with antioxidants! They also contain 95% water content helping you stay hydrated.
GARLIC
Garlic is a rockstar when it comes to supporting the immune system! It's rich in vitamins and minerals like manganese, vitamin B6, vitamin C, selenium, calcium, copper, potassium, phosphorus, iron and vitamin B1. Plus garlic is also high in antioxidants and is known to have antiviral, antibacterial and antimicrobial properties.
HOW TO MAKE THE BEST EASY REFRIGERATOR PICKLES
It's so easy to make your own homemade refrigerator pickles! All you need is 9 ingredients – simple, whole food, real food ingredients!
If possible, to keep these refrigerator pickles as healthy as possible, it's best to use fresh, organic cucumbers for this recipe. Yes, choosing organic cucumbers is important because they are currently listed as #17 on the EWG's Pesticides in Produce Dirty Dozen™ list.
My preference of cucumbers for this refrigerator pickles recipe is Persian cucumbers, English cucumbers or pickling cucumbers.
Gather your ingredients to make your refrigerator sweet pickles – cucumbers, fresh dill sprigs, fresh garlic cloves, raw unfiltered apple cider vinegar WITH "the mother", mild or light-colored raw honey, mineral-rich unrefined sea salt, dill seeds, fennel seeds and filtered water.
Wash the cucumbers and fresh dill, then dry them off.
Grab a cutting board and a knife, then thinly slice the cucumbers, about ⅛ to ¼ inch thick, then set aside. This doesn't have to be perfect, they can be rustic slices. If you prefer your cucumbers to be peeled, peel them prior to slicing.
Next smash or crush your garlic cloves. An easy way to do this when the individual garlic cloves still have their "paper wrapper" skin on them is to use the side of a chef's knife, place it on top of the garlic clove, then use the palm of your hand on top of the flat knife (not blade) to forcefully and carefully smash the clove on the cutting board. This makes removing the skin much easier than trying to peel the skin off on your own. Once you've peeled and smashed your garlic cloves, set aside.
Set a quart-size mason jar on a flat surface, then add the raw unfiltered apple cider vinegar, mild or light-colored raw honey, mineral-rich unrefined sea salt to the jar. Put the lid on the jar and give it several vigorous shakes until the honey is dissolved.
Next, remove the lid on the mason jar and add the fresh dill sprigs, dill seeds and smashed/crushed garlic to the jar.
Then add the sliced cucumbers and pour the filtered water over the cucumbers. Secure the lid on the jar and give it several shakes to distribute the ingredients.
Read more: Fresh Turmeric Pickle Recipe | Kachi Haldi Ka Achar | Haldi Adrak Mirch Ka Achar | Turmeric To Boost Your Immune System
Place the jar in the refrigerator so the refrigerator pickles can chill, brine and marinate for the next 8 to 48 hours. Try and remember to give the jar a few shakes at least 2-4 times during the 8 hour process – and the same amount of shakes if you let them brine or pickle for even longer.
How simple and easy is this recipe?! This recipe is so easy that a toddler can help out with the assembly and add the prepped ingredients to the mason jar. If you have older kids in the home, get them in the kitchen and have them help prep and assemble the entire recipe.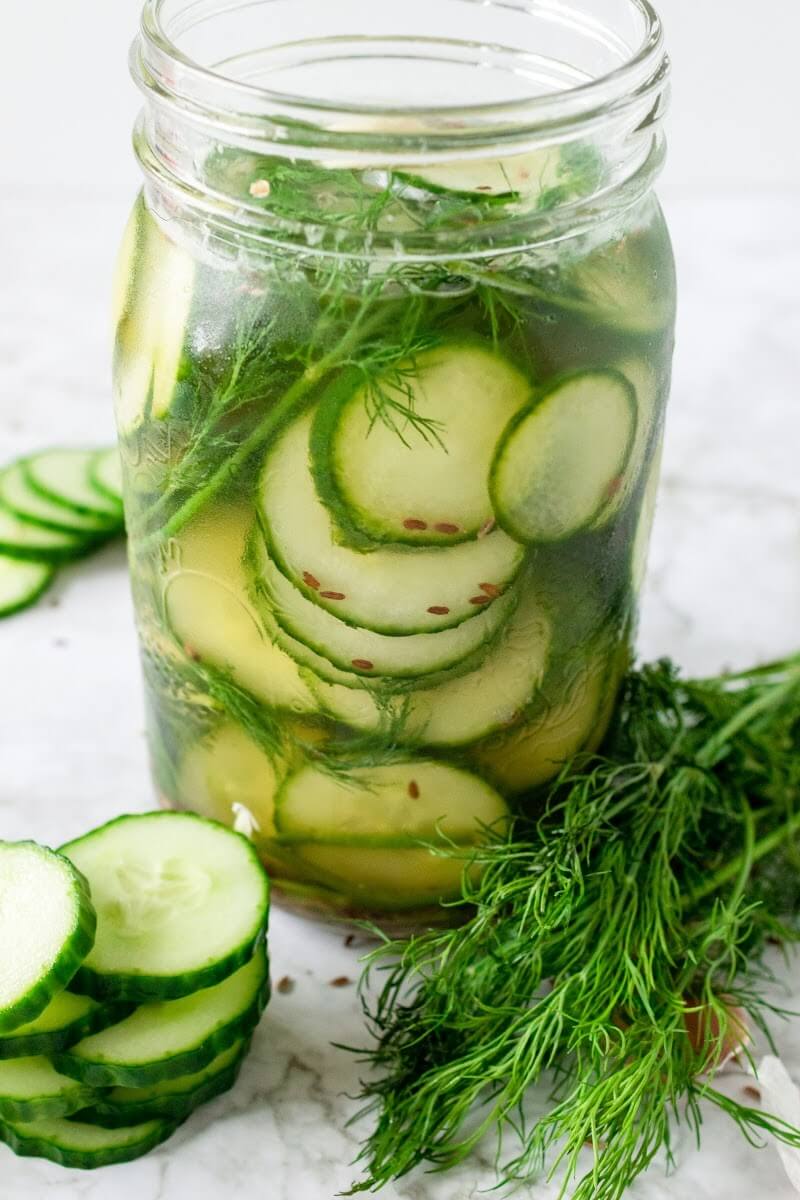 RECIPE FAQS: TIPS FOR EASY REFRIGERATOR PICKLES SUCCESS
Can this refrigerator pickles recipe be doubled? Yes! In fact this easy refrigerator pickles recipe can also be tripled! I highly recommend doubling or tripling the batch if you have a large family or if you plan on having pickles on hand for snacks, to use in recipes or as garnishes on recipes over the next several days.
What variety of pickles are the best to use in this refrigerator pickles recipe? Kirby or pickling cucumbers work great! I also love to use Persian cucumbers or English cucumbers in this recipe because they have less seeds.
When can you eat these easy refrigerator pickles? You can eat these refrigerator pickles after they've started to marinate and chill in as little as 2 hours, however, for the best flavor, they're ideal at 8 hours and the best served at 48 hours.
How long do refrigerator pickles last? These easy refrigerator pickles keep for up to 3 weeks in the refrigerator. Although they never last that long in my home because my kids devour them so fast!
Do you have a favorite honey to use in this paleo sweet refrigerator pickles recipe? Yes! I only recommend using a mild, light-colored, quality honey for this recipe. Honey flavors like orange blossom honey, clover honey, thistle honey or alfalfa honey are known to be the most mild in flavor. This is my favorite raw honey – I love both their orange blossom and "original" honey and I also love using this raw honey, it's easy to find online as well as at grocery stores like Sprouts Farmers Market.
Where do you find organic dill seeds and organic fennel seeds? I can usually find a mini .35 ounce box of the brand Spicely Organic Spices at a local natural foods co-op as well as at Sprouts Farmers Market – they carry dill seeds and fennel seeds. Although, I tend to buy larger 1.9 ounce bottles of organic fennel seeds to have on hand. Dill seeds and fennel seeds can also be found online.
How should you serve refrigerator pickles? Easy refrigerator pickles are best served for snacking, great for on-the-go lunches as a side or in sandwiches, used as a topping on grilled burgers, added to homemade potato salad and used as garnishes or a simple cold side dish. They're also wonderful served at springtime and summertime parties, potlucks, picnics, BBQ's and any social gatherings because they're so easy to make and can be made ahead.
TRY THIS EASY REFRIGERATOR PICKLES RECIPE THE NEXT TIME THAT YOU'RE CRAVING PICKLES OR WANT A FUN AND DELICIOUS SUMMER-INSPIRED SNACK!
IF YOU LIKE THIS EASY REFRIGERATOR PICKLES RECIPE, YOU MAY ALSO LIKE THESE SUMMER RECIPES FROM RECIPES TO NOURISH:
Fresh Real Food Summer Blender Cucumber Salsa
Strawberry Cucumber Lemon Water
Tomato Basil Garlic Butter Sauce (paleo, gluten-free)
Real Food Homemade Potato Salad (no mayo)
Summer Bolognese Gluten Free Spaghetti
Strawberry Ginger Switchel (electrolyte drink, easy ferment)
Blackberry Cheesecake Popsicles (real food, paleo, gluten-free)
Honeydew Lime Agua Fresca (honey sweetened)
Instant Pot Stuffed Peaches (paleo, gluten-free)
Real Food Homemade Fudgesicles
Slushy Blended Watermelon Lemonade
Sugar Free Stevia Sweetened Mint Lemonade
Easy Refrigerator Pickles
Are you on Pinterest? I pin lots of yummy real food recipes + more there. Come follow along.
MORE RECIPES YOU MIGHT ENJOY
Strawberry Cucumber Lemon Water
Blackberry Honey Ice Cream
Fresh Real Food Summer Blender Cucumber Salsa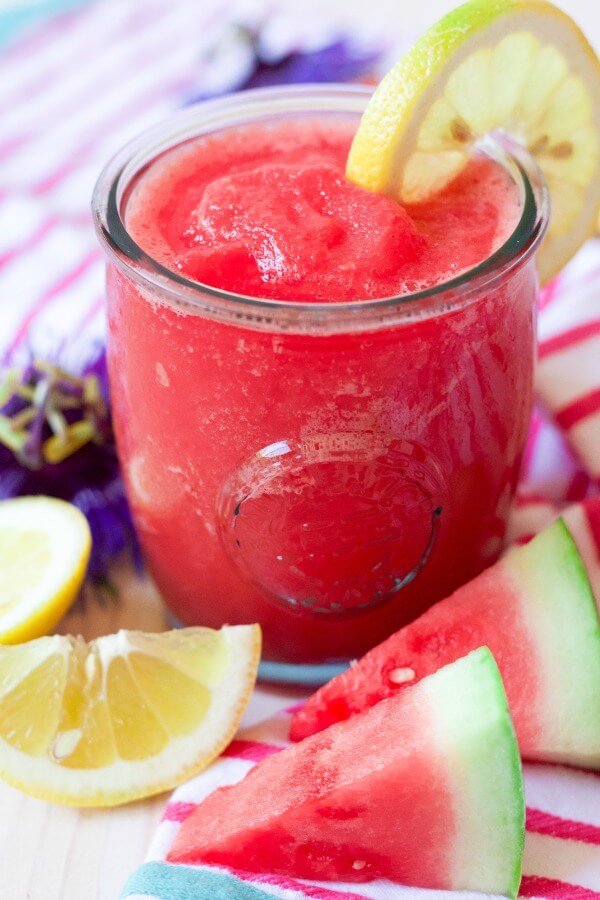 Slushy Blended Watermelon Lemonade
Real Food Instant Pot Peach Crumble