Have you ever heard of Chicken Saltimbocca? During my restaurant days, it was one of my favorite dishes to prepare. It contained different components that came together in a symphony of flavors that truly did "jump in your Mouth", at least according to the literal translation!
When I first started working in an Italian kitchen, Saltimbocca was made with veal, but these days chicken has replaced veal in just about every dish it used to be made with.
Reading: how to make saltimbocca sauce
What do I need to make chicken saltimbocca?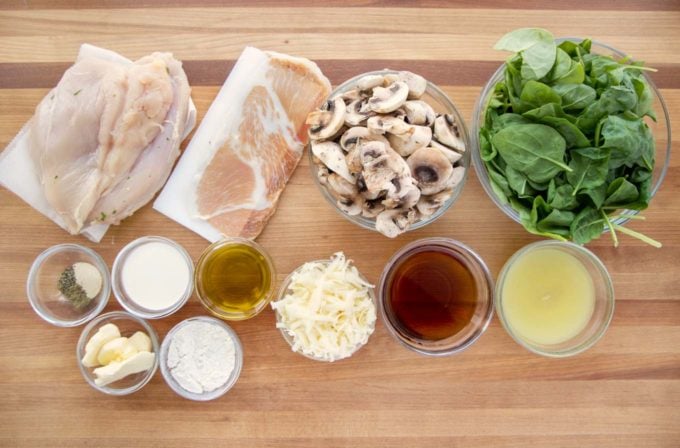 Let's start by gathering the ingredients we need to make a Chicken Saltimbocca. In Chef Speak this is called the Mise en Place which translates into Everything in its Place.
Not only does setting your ingredients up ahead of time speed the cooking process, but it also helps ensure you have everything you need to make the dish.
Do I Need to add mushrooms to Chicken Saltimbocca?
No, you don't. This is your dinner and you should always make it with ingredients you enjoy eating.
Some of the ingredients we use in restaurants have very specific purposes, while others are fillers used to bulk up a dish without bulking up the cost. Mushrooms have always been a favorite of mine for this purpose, and pasta, rice or grains take up a lot of room on the plate and can a meal much more enticing.
What type of Marsala should I use?
The first thing to remember when looking for Marsala wine to cook with is if you have a choice between dry or sweet, always choose sweet. The wine is not actually sweet but adds a more complex flavor profile.
This is going to go against everything you read from other chefs and publications. But this is the reason my Marsala Sauce is so much better than the rest.
Read more: how to get skin off tomatoes for sauce | Family Cuisine
My favorite Marsala will always be Pellegrino, my other recommendations are:
Pellegrino
Cribari
Florio
Taylor
If you can only get dry, don't worry. The sauce will still be delicious.
The first step is to lightly coat the chicken breasts in flour seasoned with sea salt and black pepper. Add olive oil to a hot pan and saute the breasts on one side for 2-3 minutes then turn to the other side.
When you turn the chicken breasts over, add the slice mushrooms to the pan. If you need additional olive oil add it now.
**mushrooms will soak up the oil as they cook.
When the mushrooms are fully cooked and both sides of the chicken have been seared, move the pan off the heat and add the Marsala. This is a good time to add the seasonings to the pan.
This will deglaze the pan, unsticking all the delicious little bits that have stuck during the cooking process.
The next step is adding the chicken stock and cream to the pan. Simmer over medium heat for 2-3 minutes. The sauce will begin to thicken.
Read more: how to make vegan oyster sauce | Family Cuisine
While the sauce is reducing, saute (or steam) the spinach in another pan.
The next step is to add the beurre manie (softened butter rolled in flour). This will help thicken the sauce.
Once the sauce has thickened, turn the heat down to low and top each chicken breast with two very thin slices of prosciutto and shredded (or sliced) Fontina cheese.
Cover the pan to allow the cheese to melt.
Do I have to use prosciutto in the Chicken Saltimbocca?
No you don't. It does enhance the flavor of the dish, but If you don't like prosciutto leave it out.
Can I use another cheese in this dish?
Yes you can. Traditionally Fontina is used, but another soft mild flavored cheese could be used. Here are some suggestions.
Gruyère
Emmental
Provolone
Gouda
Place a portion of the sauteed spinach on a plate and cover one edge with the finished chicken breast.
Add a splash of marsala to the sauce to bolster the flavor and spoon the mushrooms and sauce over the chicken breast.
**If the sauce is too thick or looks oily add a little water (or stock) to the pan.
Read more: how to make marinara sauce for cheese sticks | Family Cuisine
More Chicken Recipes You'll Love!
Chicken Marsala
Chicken Parmesan
Grilled Chicken Alfredo
Chicken and Shrimp Pepperoni