This super easy Shrimp Fried Rice is filled with tender rice, plump shrimp and veggies then tossed in a perfectly balanced sauce.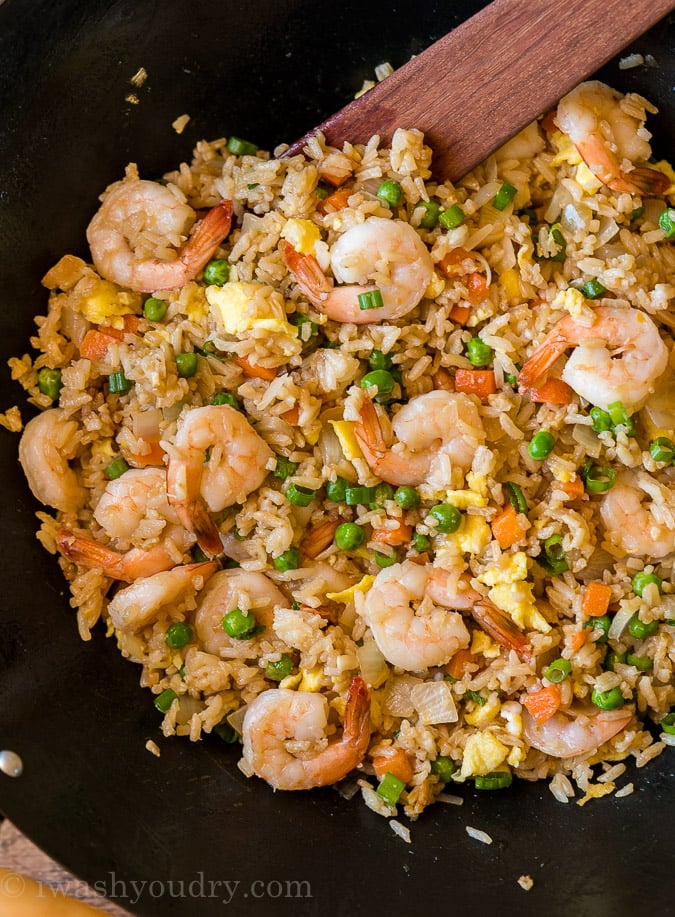 One of my favorite things to make is my Quick and Easy Brown Fried Rice. I can't even begin to count the amount of times I've made it for my family.
Reading: how to make simple shrimp fried rice
When I want to make the simple side dish into a complete meal I will fill it with plump shrimp or shredded chicken. This shrimp fried rice usually takes the win because I always keep a few bags of shrimp in my freezer.
How To Make Shrimp Fried Rice From Scratch
You're going to start by cooking up your shrimp in a large skillet or wok along with some sesame oil. Cook the shrimp just until opaque and the tails start to curl in on themselves.
In the same skillet you'll scramble two eggs, then set those aside.
Again to the skillet you'll cook up some diced onion until tender and then set those aside.
Finally, you'll add sesame oil, ginger and garlic to the skillet and then toss in your frozen veggies (I like to use carrots and peas).
Toss in your cooked (and cool) white or brown rice and stir fry in the skillet until lightly browned. Add in the shrimp, onion and egg, then pour in the sauce and toss to combine and heat through.

While I show this meal made with the shrimp tails still attached, you'll most likely want to remove them when you make the dish. It's a pretty presentation with the tails on, but eating it this way just isn't realistic.
Fried Rice Sauce
Read more: how to chop king oyster mushrooms for stir fry | Family Cuisine
To get the perfect flavor of fried rice, it comes down to the sauce. It's not just soy sauce that you're looking for, but a combination of soy sauce and oyster sauce.
WHAT IS OYSTER SAUCE?
Oyster sauce is a dark, thickened sauce that's a little sweet and nutty. It's made with oyster extracts, sugar, salt and thickened with cornstarch.
You can find oyster sauce in the Asian aisle of your local grocery store or on Amazon.
When in a pinch, you can use hoisin sauce in place of oyster sauce, or extra soy sauce and a touch of sugar.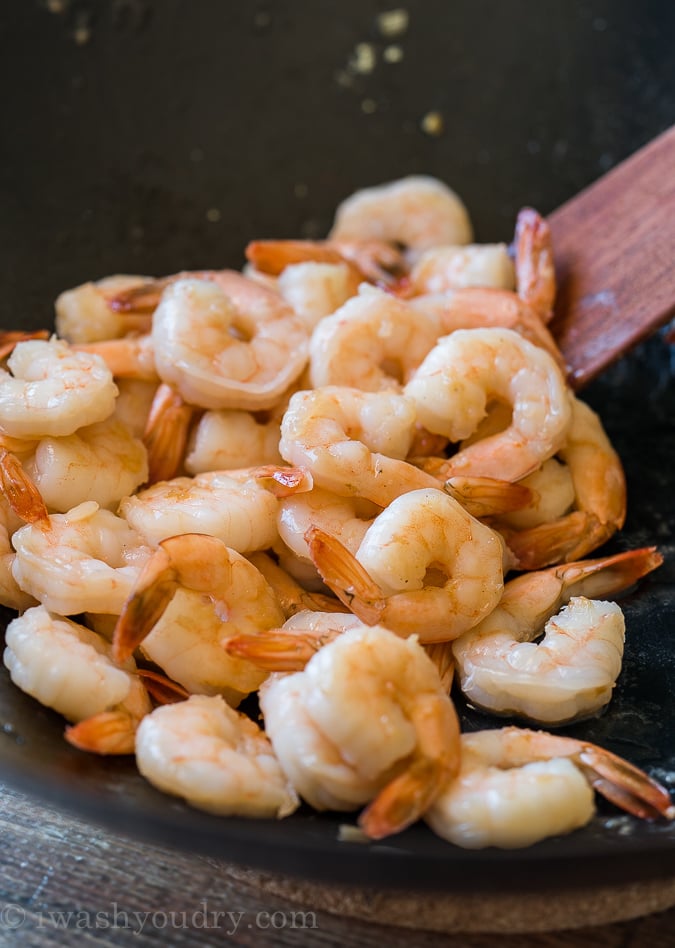 Best Pan For Fried Rice
My favorite way to make this Shrimp Fried Rice is in a large wok.
The sides of the wok are thin, allowing a lot of heat to hit the pan and give the rice a good fry in the sesame oil. It's also plenty deep to hold lots of rice and veggies, plus it easily wipes clean when finished.
If you don't have a wok, you can also use a large skillet with deep sides.
Read more: Southern Fried Potatoes | Family Cuisine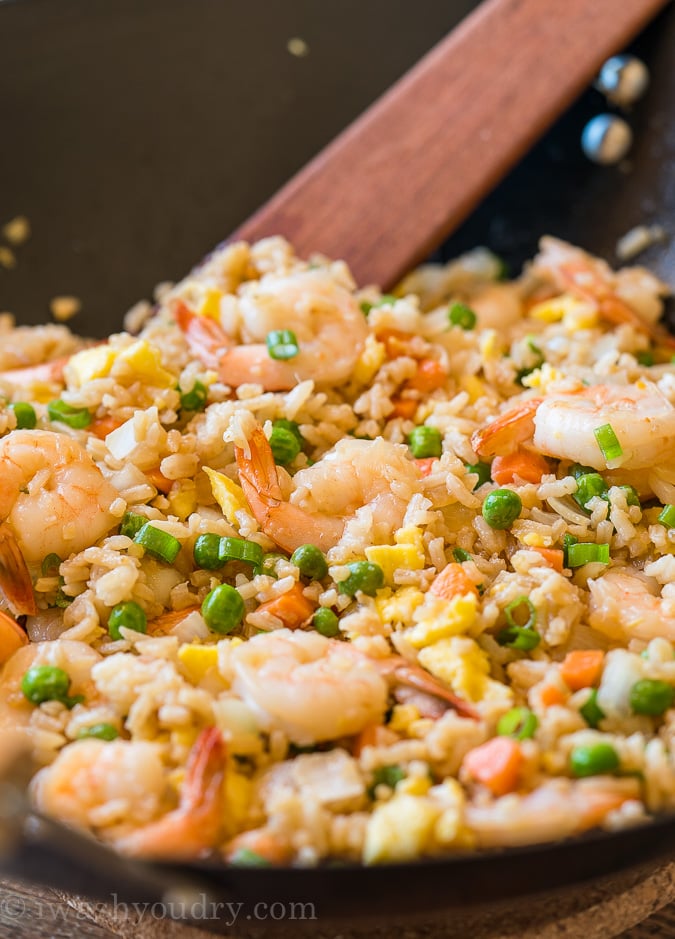 What To Serve with Fried Rice
You really can't go wrong with any of my Asian recipes, but here are some of my go-to recipes that I love to pair with fried rice.
Egg Drop Soup
Crispy Chicken Egg Rolls
Easy Mongolian Beef
Copycat Orange Chicken
I'm confident you'll love this super quick fried rice recipe better than takeout and you'll be making it over and over again!
HELPFUL PRODUCTS TO MAKE THIS RECIPE:
Make sure you don't miss a thing! Follow I Wash You Dry here: FACEBOOK | PINTEREST | GOOGLE+ | TWITTER | INSTAGRAM | BLOGLOVIN
PIN THIS IMAGE TO SAVE THE RECIPE: