Boiled Potatoes don't get nearly enough attention. Often under-cooked and under-seasoned, it's easy to write off such an underwhelming side dish and trade it for something a little more flavorful. What if I told you it didn't have to be this way? That you could have creamy, perfectly-cooked boiled potatoes smothered in garlic and butter ready and on the table in just 30 minutes.
Today I'm sharing my favorite Garlic Butter Boiled Potatoes Recipe, including how to properly boil potatoes each and every time.
Reading: how to make soft boiled potatoes
Buttery Boiled Potatoes
I didn't learn to appreciate the beauty of a boiled potato until I lived in Germany. Long story short, I ate a lot of boiled spuds during my time there. Sometimes they were served as a side for heavy meat-filled stews, while other times, they were simply boiled, peeled, and served plain.
Unfortunately, these simple, plain potatoes were never my favorite. I was more accustomed to creamy, cheese-filled potato recipes like mashed potatoes or potatoes au gratin.
Fortunately, it's easy to turn boring boiled potatoes into an intensely satisfying side dish by adding just three simple ingredients: salt, butter, and fresh garlic.
Not only is this easy recipe delicious, but it's also:
Ready in just 30 minutes
Gluten-free
Versatile
Require no fancy equipment
Vegetarian
No pre-peeling needed
Delicious leftover and reheated
How Long to Boil Potatoes?
The total cooking time will vary depending on the size of your potatoes.
Baby potatoes (approx. 1-inch): 12-15 minutes
Small potatoes (approx. 2-inch): 15-20 minutes
Medium-sized potatoes (approx. 3-inch): 20-25 minutes
Large potatoes (approx. 4-inch): 20-25 minutes
Extra-Large potatoes (approx. 6-inch): 30+ minutes
How will you know when your potatoes are finished cooking?
Read more: Instant pot beef stew this old gal
Cook the potatoes until they are fork-tender and the skin is just starting to split from the potato flesh.
Best Potatoes for Boiling
Technically, all types of potatoes can be boiled. Depending on the recipe or method of cooking, some types of potatoes work better than others. However, when it comes to boiled potatoes, waxy potatoes are your best bet.
Starchy Potatoes: Low in moisture, but high in starch, these are great baking potatoes (and mashing potatoes). The best example is russet potatoes. Should you boil starchy potatoes, plan to use them to make soups or mashed potatoes.
All-purpose Potatoes: These potatoes are somewhere in between starchy and waxy potatoes. Examples include Yukon-gold potatoes, white-gold potatoes, and purple potatoes.
Waxy Potatoes: Low-starch, but high in moisture, these potatoes hold their shape even after cooking. Best suited for boiling, roasting, and baking preparations or in casseroles, gratins, potato salad, soups, and stews. Examples include New potatoes, Fingerling potatoes, Red potatoes, baby potatoes, and creamers.
RELATED >> Potato Types: A Guide to Popular Types of Potatoes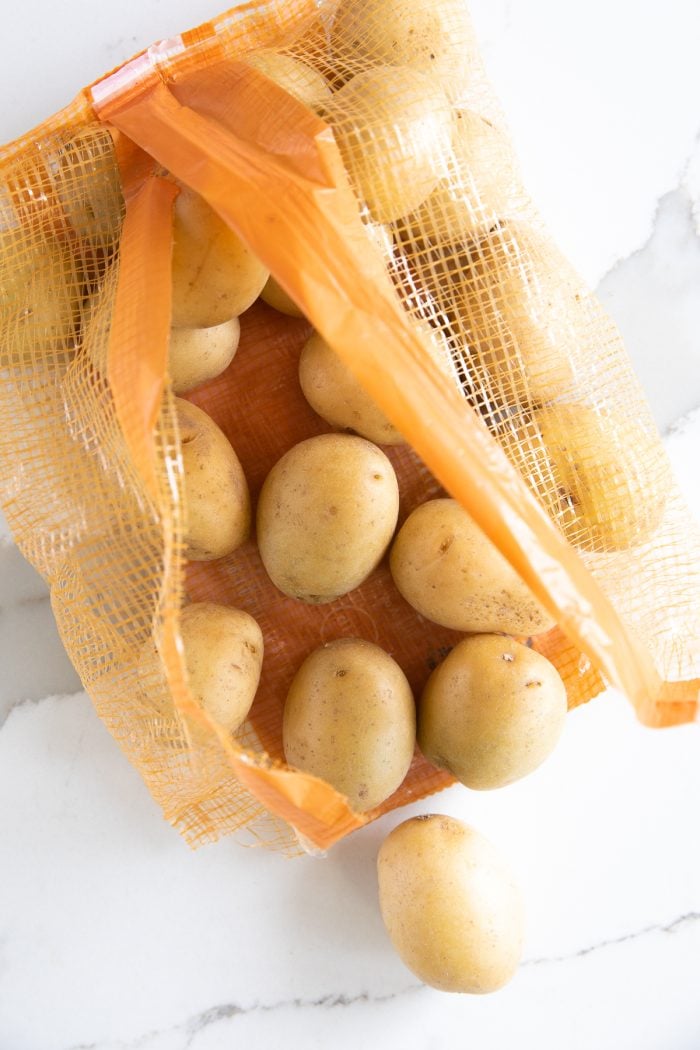 How to Make Garlic Butter Boiled Potatoes
Wash and scrub the potatoes gently under running water to remove any surface debris.
Gently place potatoes in a large saucepan or large pot and cover with cold water by at least 2-inches. Add 1 teaspoon salt to the water.
Set over high heat. Once the water reaches a boil, reduce heat to low heat, cover, and maintain a gentle simmer. Cook the potatoes until they are fork-tender and the skin just starts splitting from the potatoes – total time will vary depending on the size of your potatoes.
Note: these baby potatoes took approximately 18 minutes to cook after the water came to a boil.
Drain potatoes into a large colander. Immediately return the pan to medium heat. Melt the butter and add the olive oil (if using), fresh garlic, and a generous pinch of salt and black pepper. Mix thoroughly to combine. Stir continuously for 1 minute.
Tip – if your potatoes are on the larger side, or you'd like more surface area for the garlic butter to penetrate the potatoes, halve each potato before moving on to the next step.
Return the warm potatoes back to the saucepan. Mix well to coat in the garlic and butter sauce and season with additional salt and black pepper, to taste.
Read more: how to cook smoked picnic half boiled | Family Cuisine
Optional additions:
Red chili flakes
Fresh herbs (parsley, cilantro, dill, thyme, etc)
Bacon
Tips and Tricks
Add your potatoes to a pot filled with cold water and then bring it to a boil. This helps ensure even cooking and helps prevent your potatoes from being soft and cooked on the outside, but uncooked and crunchy on the inside.
Try to cook potatoes that are approximately the same size so that they cook in the same amount of time.
Do not peel your whole potatoes before boiling.
Resist over-boiling potatoes. Yes, it's true, you can over-boil your potatoes (even the waxy kind). So, keep an eye on them. If you can easily slide a paring knife through the center, your potatoes are cooked.
More Potato Recipes,
Easy Twice Baked Potatoes Recipe
Baked Sweet Potato (How to Bake Sweet Potatoes)
Classic Scalloped Potatoes Recipe
Garlic Roasted Potatoes
Instant Pot Chicken with Potatoes Recipe
If you try making this easy Boiled Potatoes Recipe, please leave me a comment and let me know! I always love to hear your thoughts.
REMEMBER TO SUBSCRIBE TOTHE FORKED SPOON NEWSLETTER FOR FREE AND RECEIVE WEEKLY RECIPE NOTIFICATIONS DELIVERED STRAIGHT TO YOUR INBOX!
Read more: how to cut hard boiled eggs for deviled eggs | Family Cuisine