You don't need to travel to Munich to eat this traditional German spaetzle dish called Jägerspätzle! This Bavarian classic is often served at the Oktoberfest and makes for a seriously exciting (but simple!) family dinner.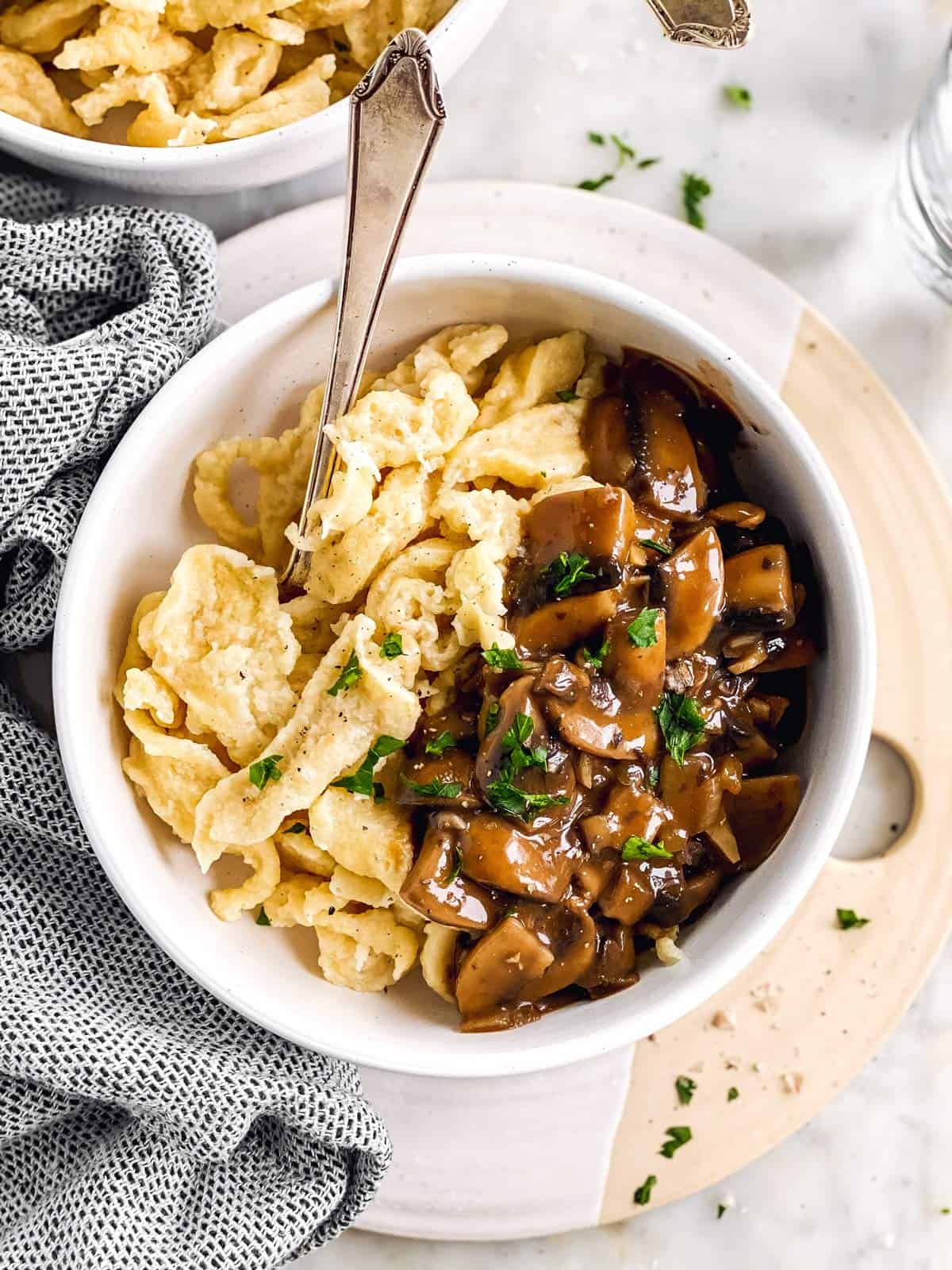 Have you ever made spaetzle before? They are small dumplings made from flour, eggs and milk. and Jaegerspaetzle come with a delicious rich mushroom gravy, perfect for fall and winter! It's one of my childhood comfort food memories I adore – the same goes for my Crock Pot Beef Stew, my Shepherd's Pie and my Mashed Potatoes!
Some may know Spaetzle as German noodles. It's a bit more work than throwing pasta into the waterbut the extra effort is absolutely worth it!
Ingredients you'll need
Here is a visual overview of the ingredients in the recipe. Scroll down to the recipe at the bottom for quantities.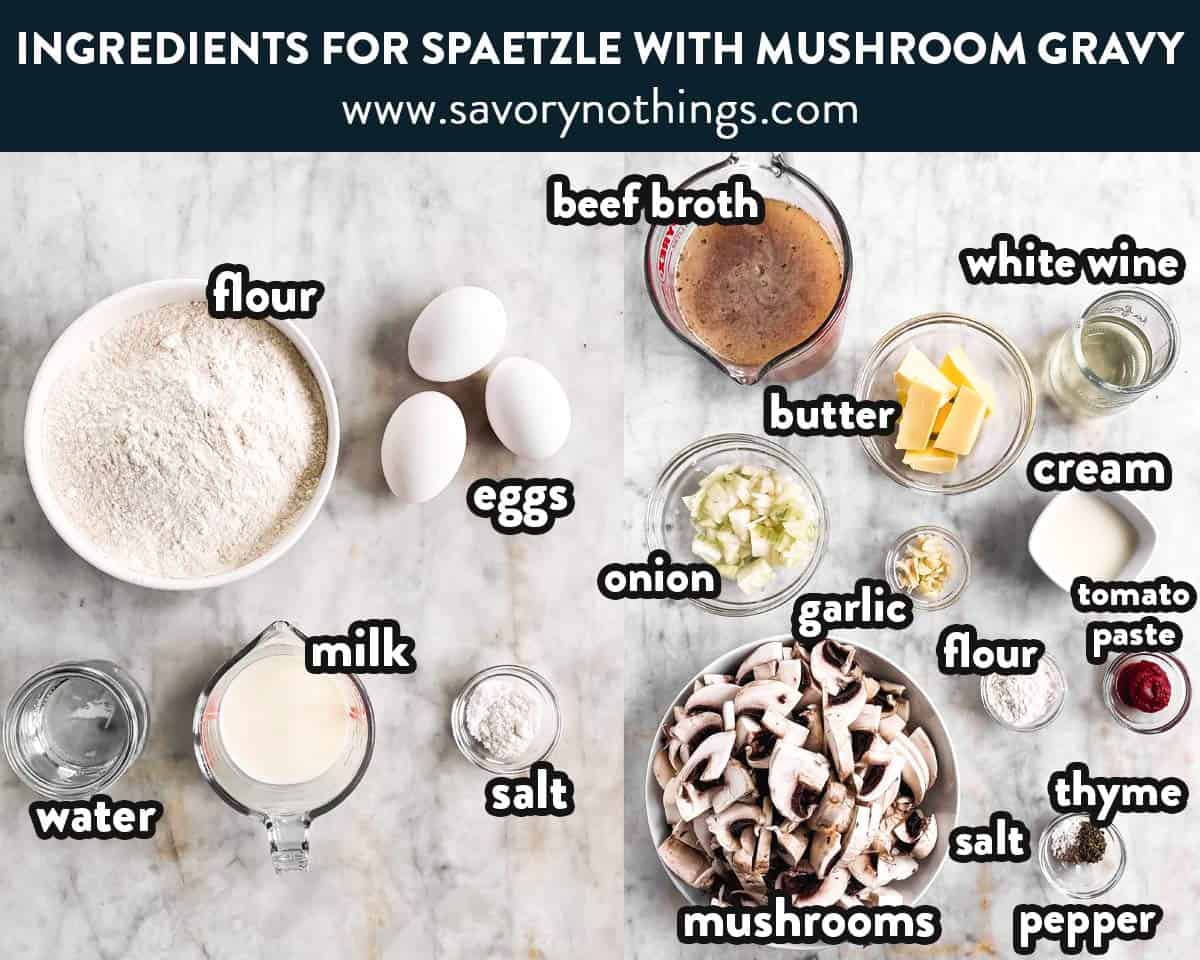 Ingredient notes
For the spaetzle
Flour: The spaetzle work great with regular all-purpose flour. If you want to go super authentic, substitute ½ cup of semolina for ½ cup of flour. This adds more bite to the spaetzle.
Milk: I use 2% milk. Any fat content can work, although skim milk may make the batter more difficult to work with.
Water: Use all milk for richer spaetzle. I prefer using half milk and half water though, because all milk can make them a little sweet.
For the gravy
Mushrooms: White or brown button mushrooms are my favorite for the gravy.
Broth: I very strongly recommend using beef broth for the best look/flavor of the gravy. Chicken can be used as a substitute. If you're making this vegetarian and use vegetable broth, the gravy may need an extra tablespoon of flour to thicken (due to the collagen in animal-based broth).
Cream: This is optional for a richer taste.
White wine: I recommend a dry white wine, such as a Pinot Grigio, Sauvignon Blanc or unoaked Chardonnay. Please do not use white wine vinegar in place of the white wine. Red wine can work, but alters the taste. You can also just use another ¼ cup of broth.
How to make Jaegerspaetzle
The batter for spaetzle is extremely simple! Flour, salt, milk, water and eggs are all you need to make it. The important part is how to make it:
1. Whisk the flour and salt together in a bowl.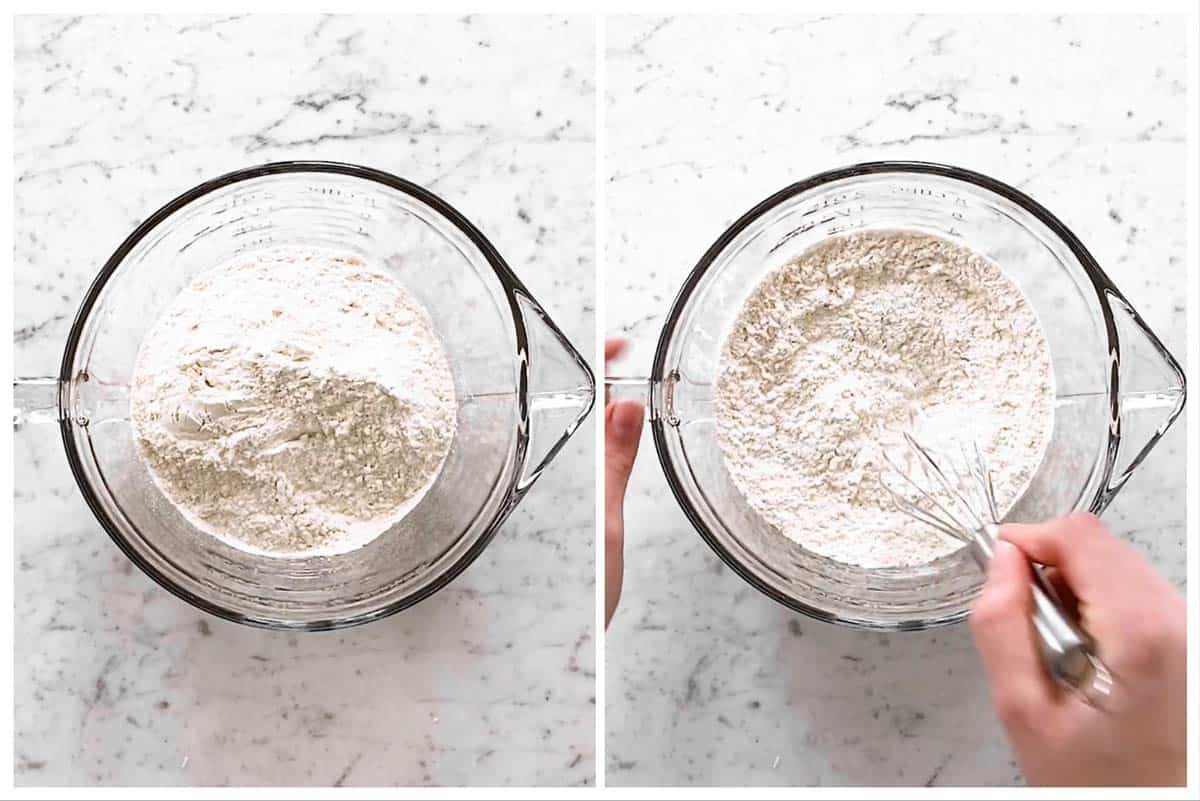 The milk, water and eggs you'll whisk together in a separate measuring jug.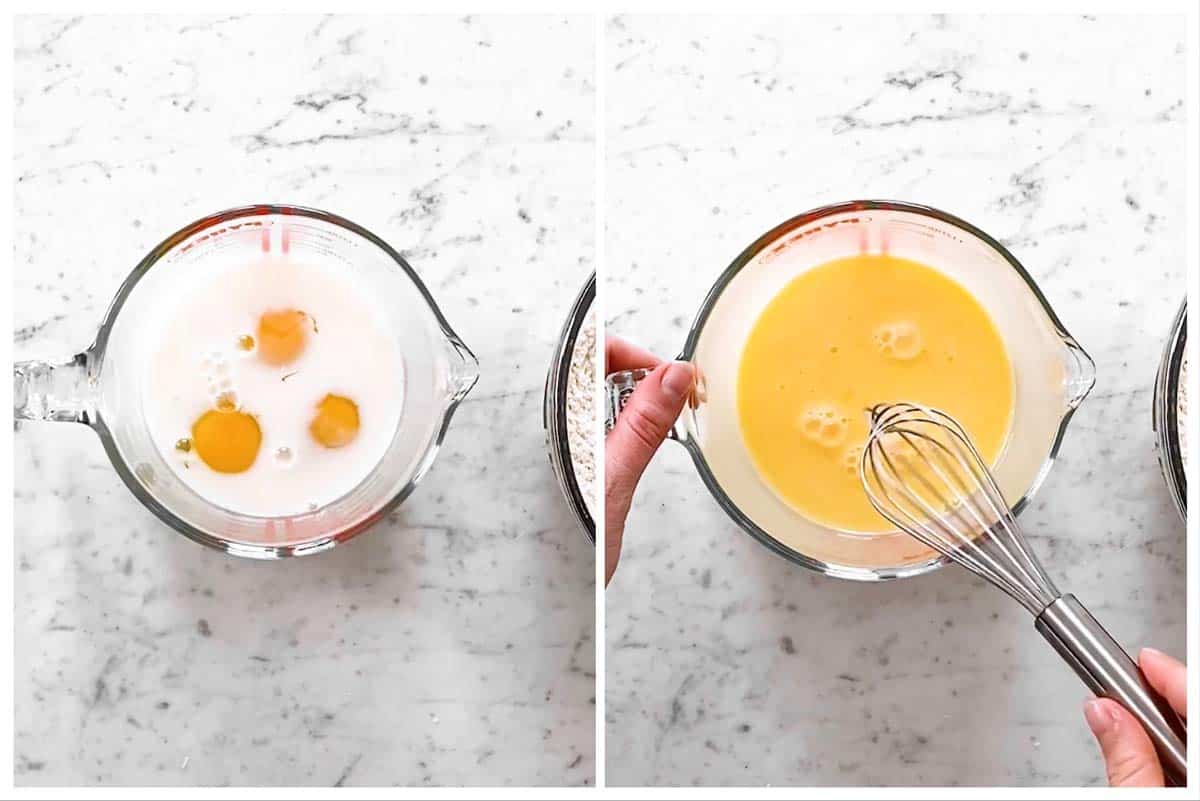 2. Then pour the egg mixture into the bowl with the flour and salt.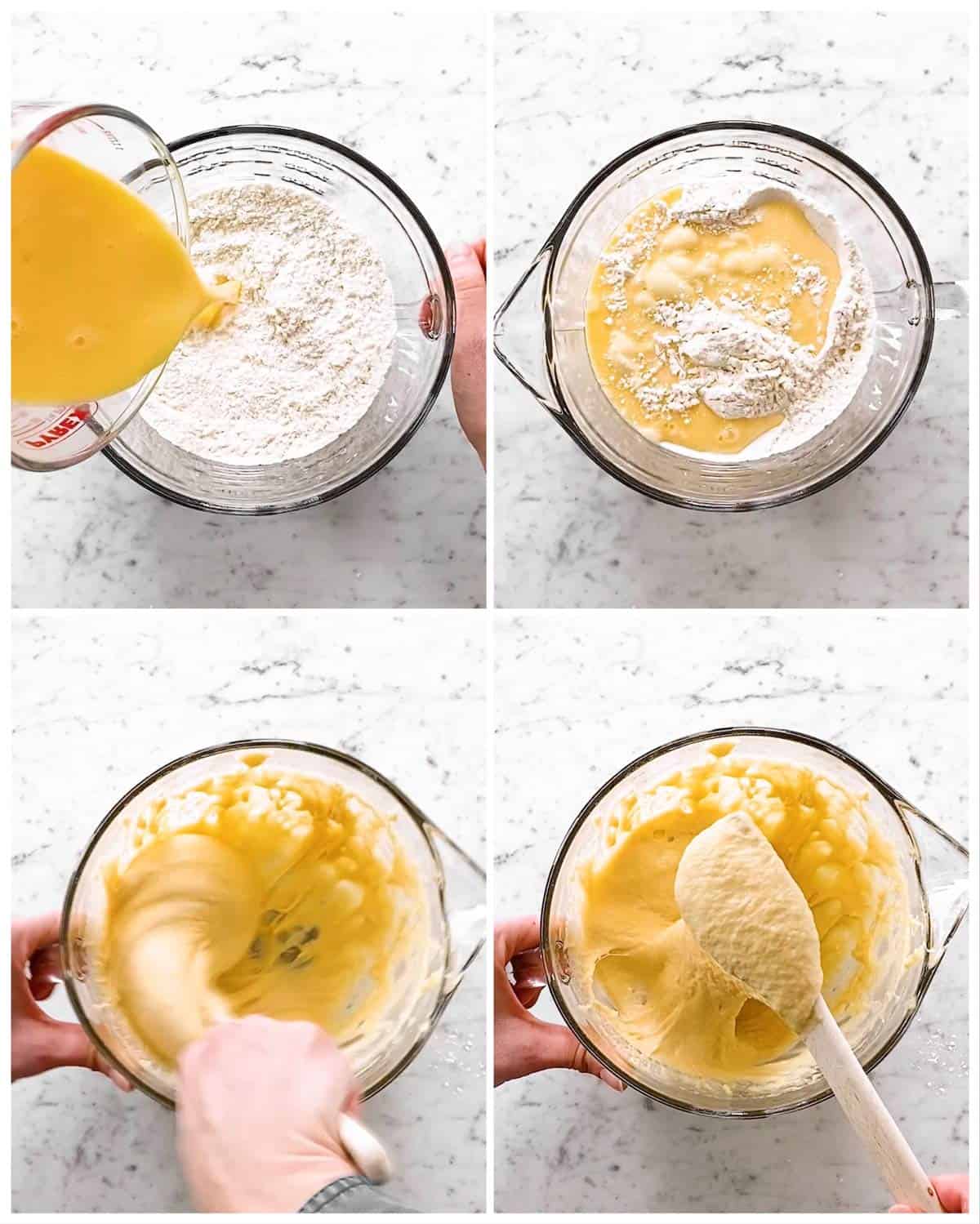 Using a cooking spoon (preferably a wooden one with a hole in the middle – but that's nitpicking here), beat the batter vigorously (in Germany they say you need to break a sweat for goo spaetzle batter, so don't hold back 😉).
You'll want the batter to be shiny with small bubbles forming when it rests. When you scoop it up with the wooden spoon, it should "rip off". The consistency is thick and sticky, like wallpaper paste.
Also read: how to make sauce for meatballs with grape jelly | Family Cuisine
Then, the batter needs to rest for 30 minutes. This is mandatory and cannot be skipped!
3. While the batter rests, you'll make the gravy. Cook the mushrooms, onion and garlic in butter in a large skillet (mine is a deep 12 inch skillet) until the mushrooms have fully softened and cooked down (this will take some time- 5 to 10 minutes).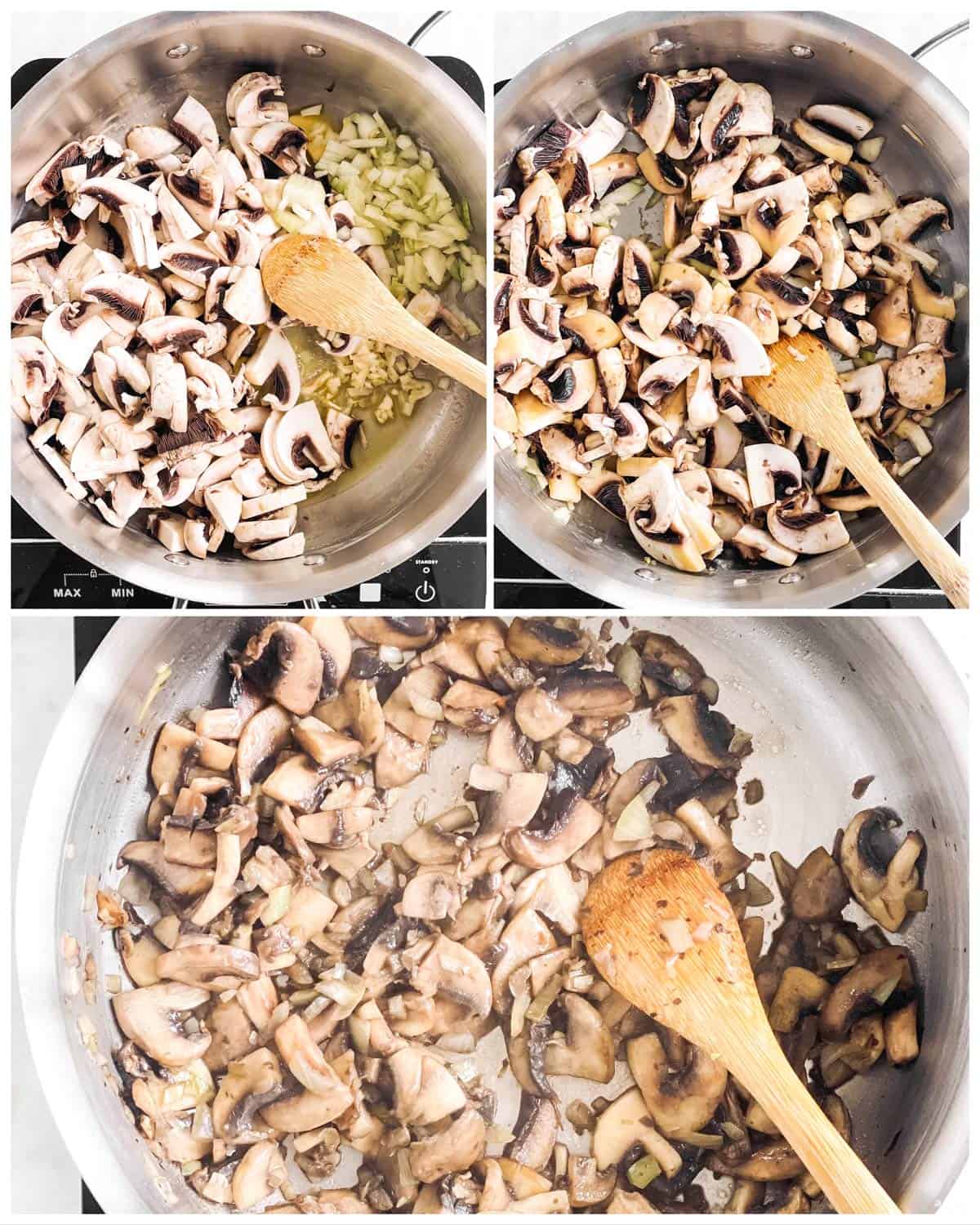 4. Then, sprinkle the mushrooms with the seasoning and with the flour. Stir very well, then stir in the tomato paste.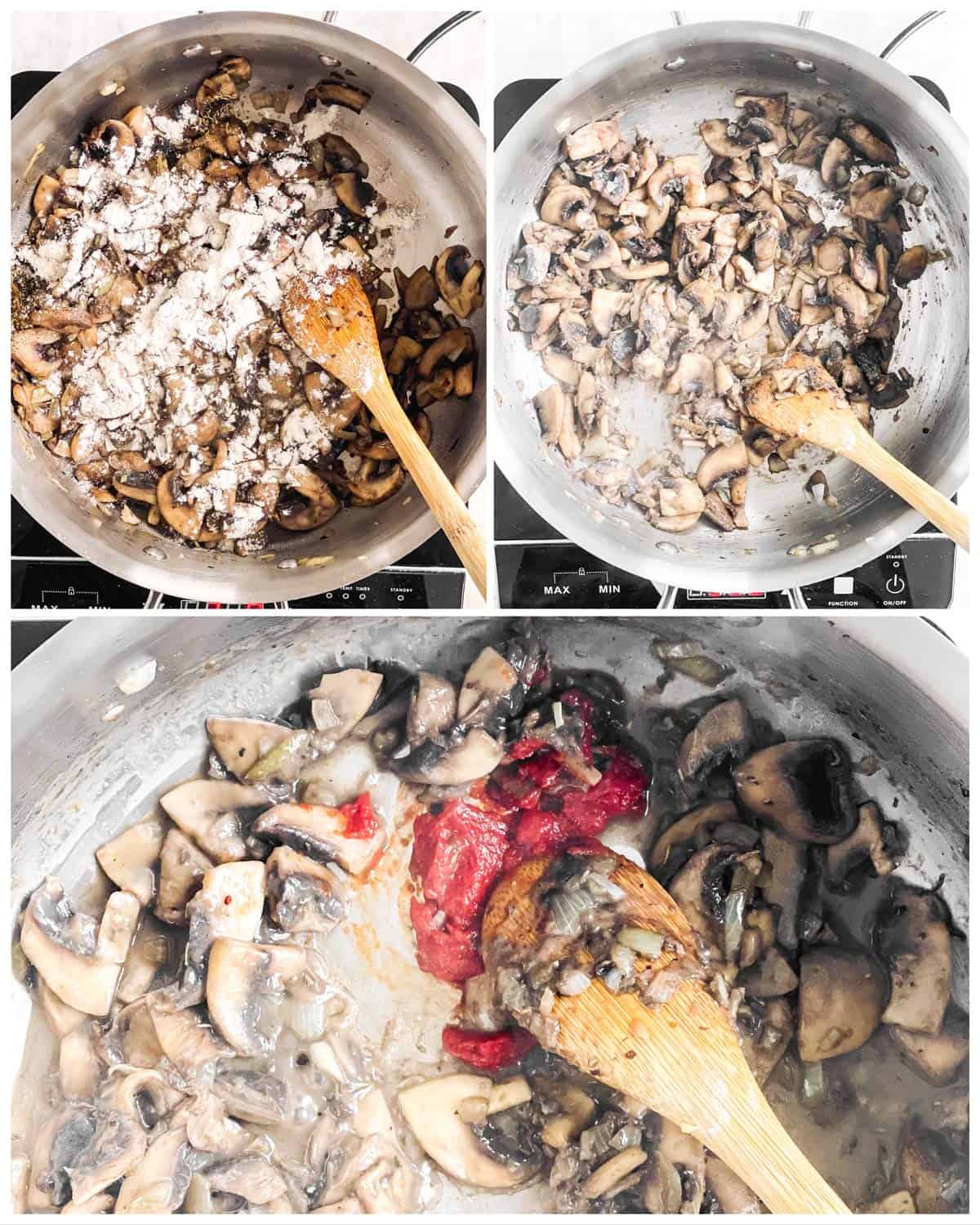 5. Now pour the white wine into the skillet, scraping any browned bits off the bottom of the pot. Cook down the wine over medium-high heat, until the mushrooms look glossy.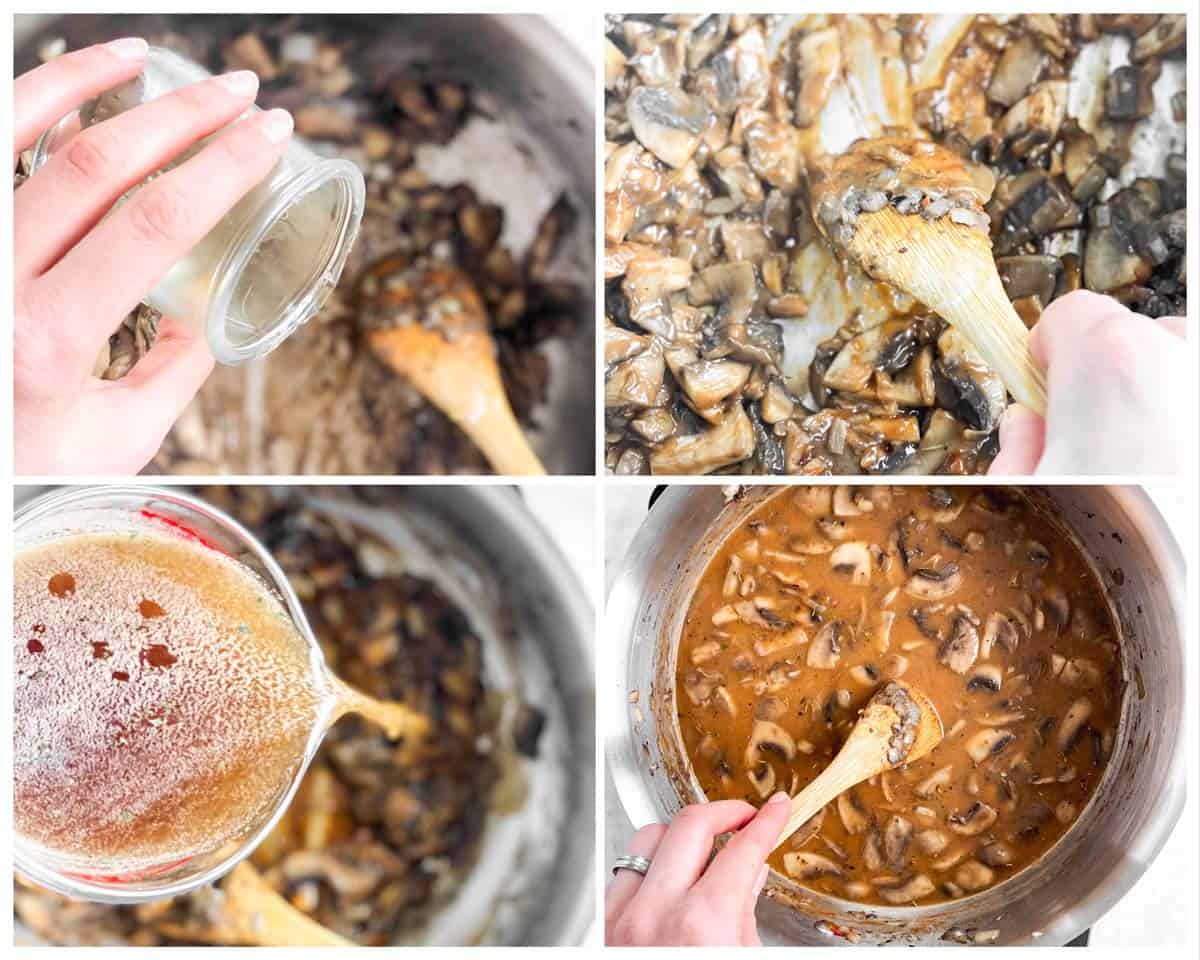 Then, stir in the beef broth. Now you'll need to bring the gravy to a boil, then reduce the heat to a simmer and cook the gravy until it has thickened. This will take around 10 minutes – you can't rush it or the flavor won't be as rich! But you can cook the spaetzle as the gravy simmers.
6. To cook the spaetzle, bring a large pot of water to a boil. Salt it well (like pasta water), then reduce the heat to a good simmer. The water shouldn't be boiling like crazy, but you still want it bubbling.
Place a large wooden chopping board over the pot and scrape about ½ cup of batter onto the board. Using a blunt knife, scrape bits of batter into the simmering water. It helps to dip the knife into the boiling water from time to time to keep the batter from sticking.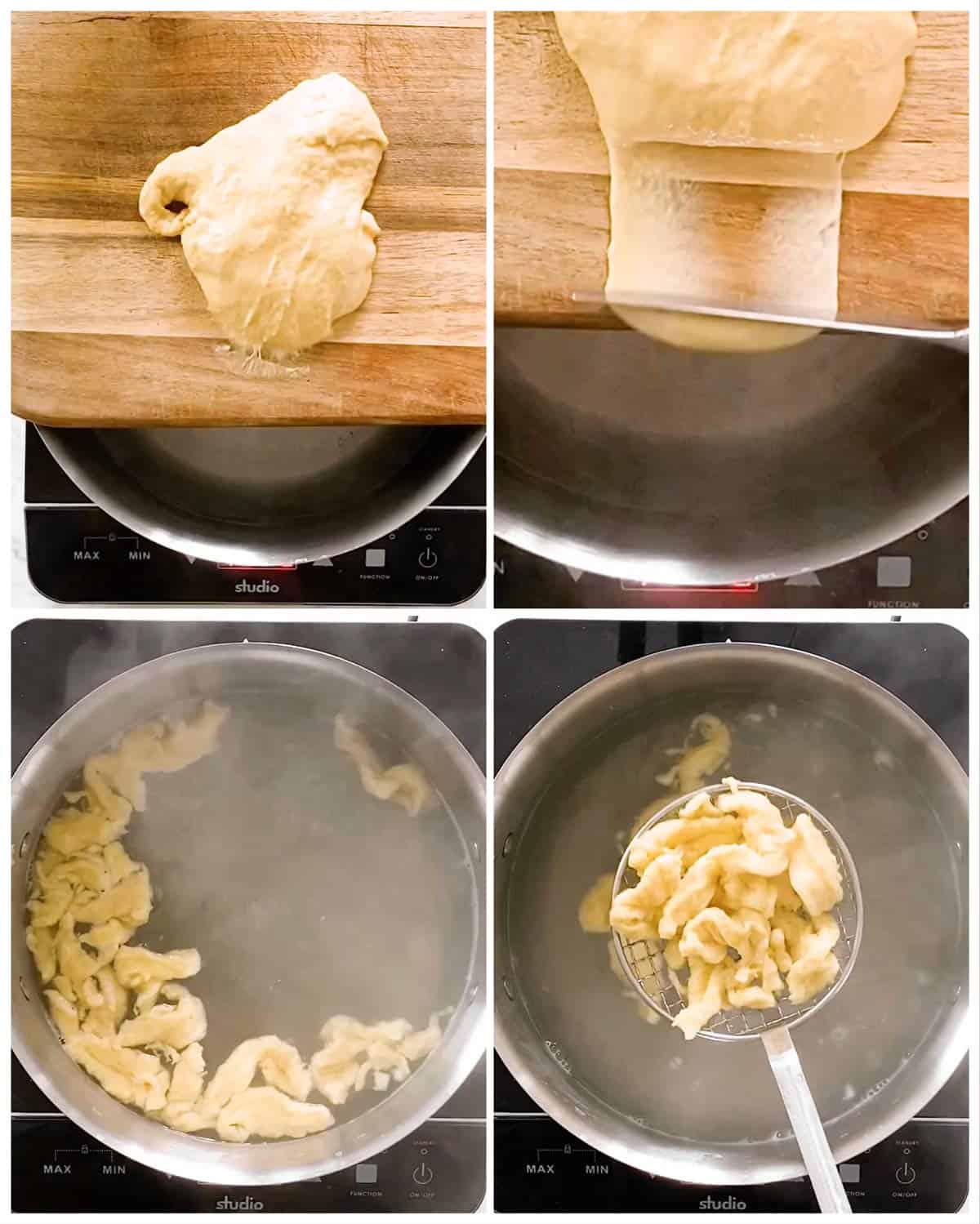 Simmer the spaetzle until they come to the surface. If they stick to the bottom of the pot, gently release them. Remove the spaetzle with a slotted spoon and place them in a buttered dish to keep warm.
Continue until all of the batter has been used.
7. To finish the gravy, stir in a few tablespoons of cream.
Then serve the gravy over the spaetzle!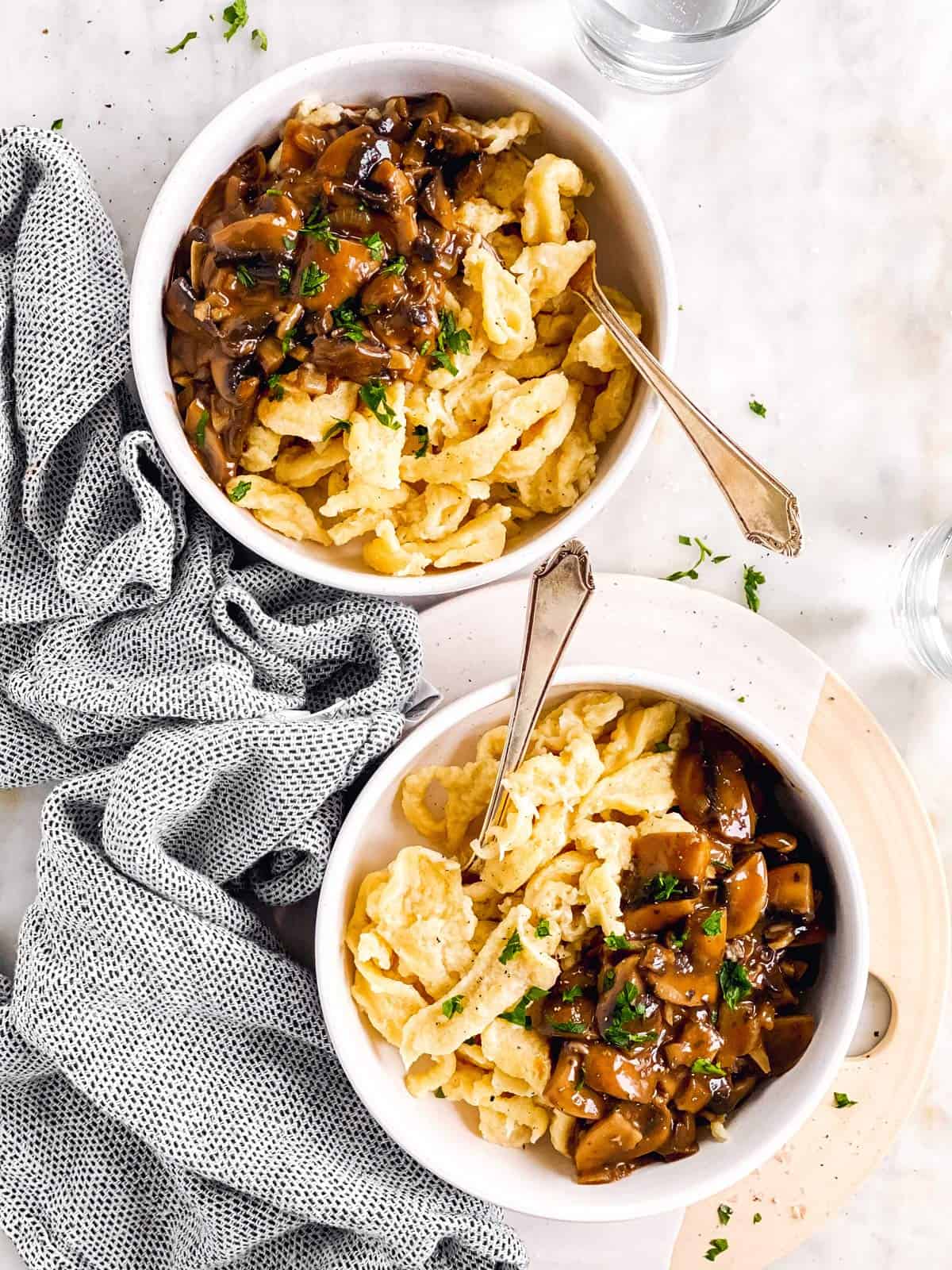 Recipe tips
Also read: how to make caramel sauce for coffee | Family Cuisine
Beating the batter
The batter really needs to be beaten vigorously, for about 4-5 minutes. It needs some arm strength, but it's worth it.
You can use a stand mixer with the paddle attachment for this if you cannot beat the batter by hand. I recommend using medium-low speed, and do not overdo it. Stop and scrape the bowl often and stop mixing once the batter is shiny, forms air bubbles and falls off the paddle attachment in large, sticky chunks.
Batter thickness
This really is a very thick batter. Like wallpaper paste! Definitely much thicker than pancake batter.
To get an accurate flour to liquid ratio, please do not scoop the flour with the measuring cup. Instead, use a spoon to pile the flour into the cup, then level it off with the back of a knife.
If you measured your flour correctly, please do not add any extra liquid. If too much water/milk is added to the batter, the spaetzle will come out mushy.
Resting
Do not skip resting the batter. The gluten in the flour needs this time to develop the right structure.
Spaetzle press
Scraping the spaetzle batter off a chopping board can take a little practice, The easy method is using a smart gadget that turns spatzle-making into a quick and easy ordeal.
Also read: how to make mint sauce with dried mint | Family Cuisine
There are different systems, but this one is very popular. (This is an affiliate link and I make a commission for purchases made after clicking through).
Work in batches
Don't drop more than that 2 cup of batter into the pan at once or the Spätzle will immediately start sticking together. If your pot is on the small side I suggest reducing that amount to ¼ cup.
Cooking temperature
Do not use vigorously boiling water to cook the spaetzle. This can make them fall apart. You need to bring it to a boil, then slightly reduce the heat until the water is still at a good simmer, but not at a vigorous boil.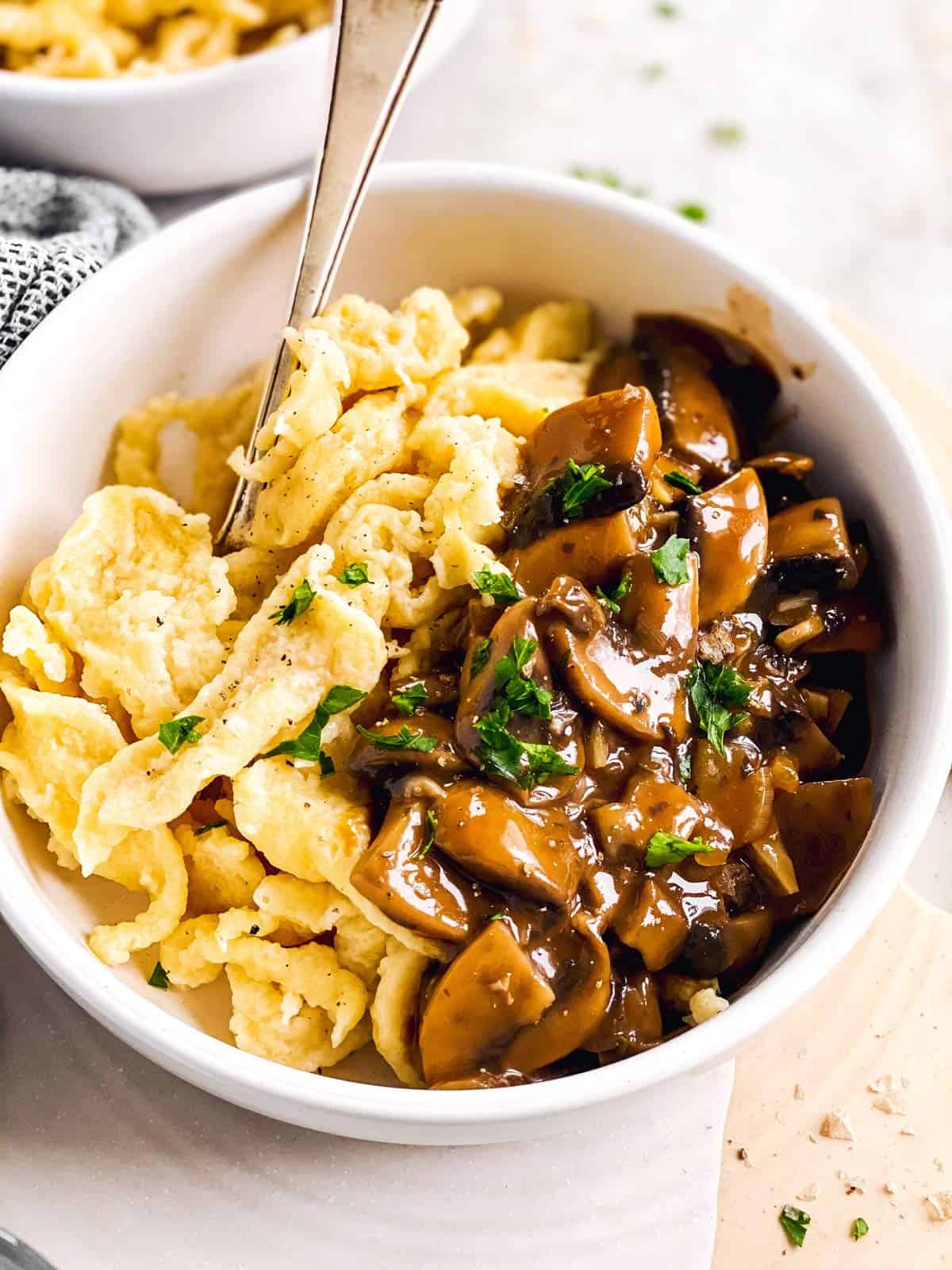 Serving suggestions
We usually have this by itself as a meat free main, but also enjoy it with a protein.
You can add pork chops, bratwurst, baked chicken thighs or even a Bacon Wrapped Meatloaf here.
But you can also leave out the mushroom gravy, and serve the spätzle with something like Instant Pot Sour Cream Pork Chops or these brats and onion gravy!
More German recipes
My recipe was handed down to me by my Bavarian grandmother, so it's 100% authentic. Here are some more tasty German recipes I received from her
PS If you try this recipe, please leave a review in the comment section – I appreciate your feedback! Follow along on Pinterest, Facebook or Instagram. Sign up for my email list, too!
Recipe first published in 2014. Updated on 01/15/2021 with new photos, better instructions, more tips and a better gravy recipe!
More mushroom recipes