This simple homemade strawberry banana smoothie is so creamy and made with just 3 ingredients! An easy plant based smoothie made without yogurt and without dairy. A healthy real fruit smoothie for the whole family! Vegan, gluten free, paleo, dairy free.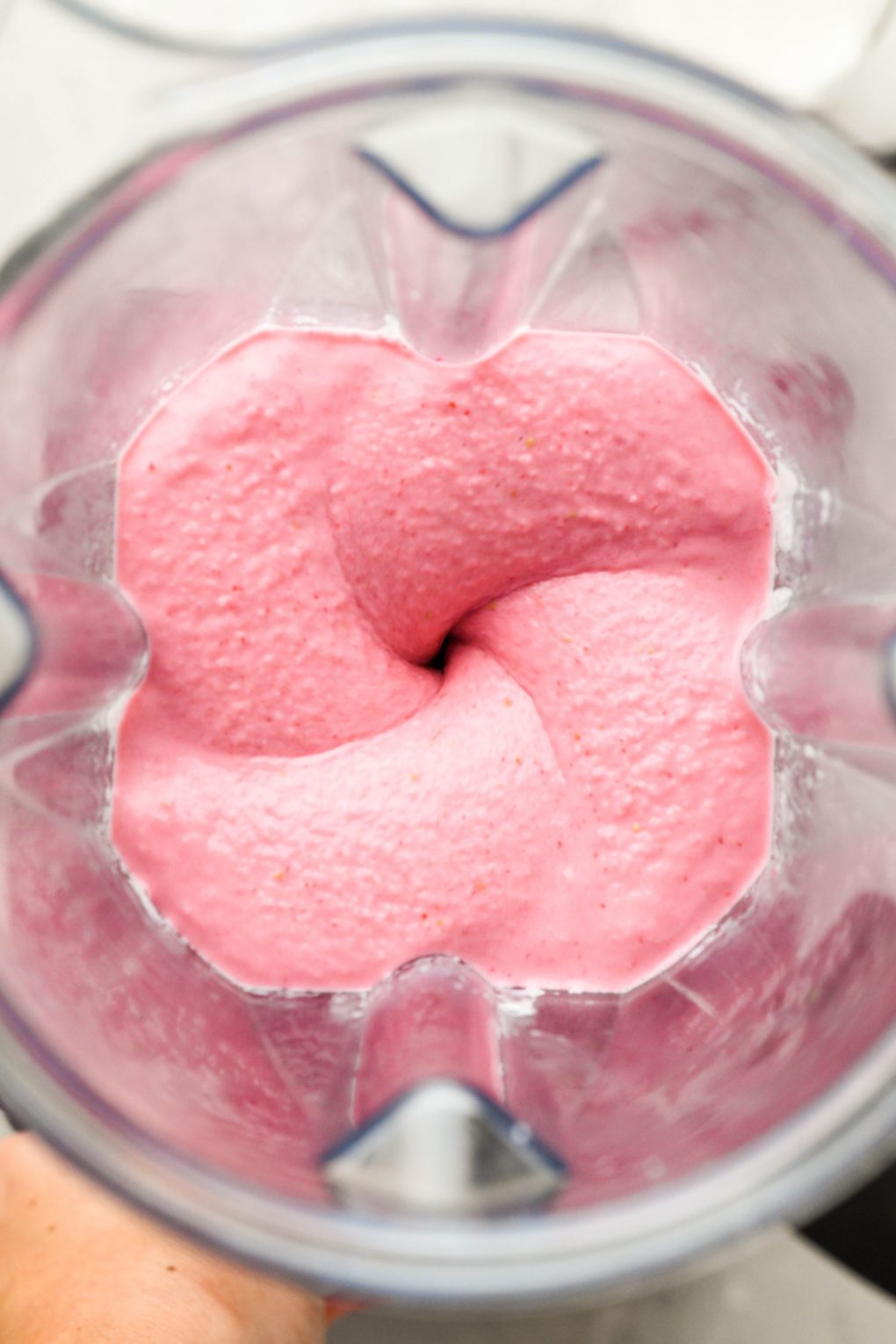 Hands up if you love making easy real fruit smoothies at home! 🙋🏼‍♀️
Reading: how to make strawberry banana smoothies without yogurt
I am a firm believer that homemade smoothies > store bought smoothies.
I love that you can control the ingredients, how thick they are, what fruits you add, and what liquid you use to blend it all up! Often smoothie shops rely heavily on juice or milk as the base to make smoothies and I'd just rather not have that extra sugar and dairy.
Making smoothies from scratch is also SO easy! Once you get the hang of ratios and which ingredients work best you'll be blending up delicious smoothies every single day.
And the options of what you can put in a smoothie are truly endless! Fruit, veggies, nuts, seeds, herbs, collagen, etc are all fair game.
But today we're going back to the basics with a classic strawberry banana smoothie recipe.
It's creamy, healthy, made with fresh ingredients, and it's a favorite among kids and adults alike!
Why you'll love this strawberry banana smoothie
Read more: How to make iced coffee with keurig elite
This healthy smoothie is:
Made with real fruit
Creamy
Dairy free / vegan / plant based
Simple and easy to make
Perfect for kids and toddlers (no added sugar!)
Thick
Refreshing
SO yummy!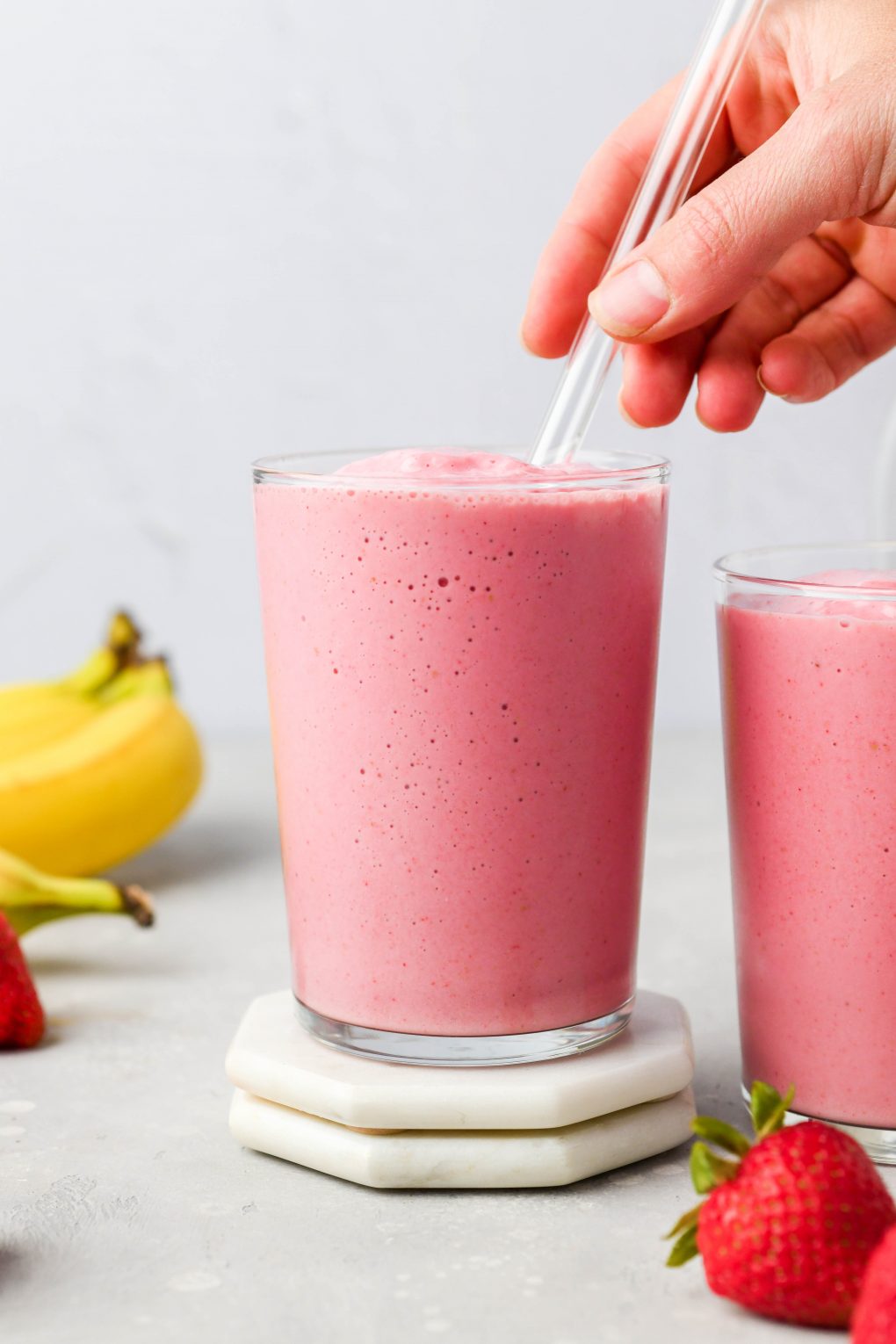 Strawberry banana smoothie ingredients
Okay so besides the fact that this smoothie is soooo delicious, it's also pretty amazing because it's made with just THREE ingredients! I don't think it gets much easier than that.
And believe it or not these healthy smoothies are made without yogurt, without dairy, and without juice. WOO! 🥳
So what do you need to make a strawberry banana smoothie?
A large banana – I typically use a fresh (not frozen) banana, but if you want an even thicker smoothie, or if it's all you have on hand you can absolutely use a frozen banana. I like my strawberry banana smoothie to be a bit more strawberry forward in flavor so this recipe only calls for 1 banana to make 2 smoothies. If you want more banana flavor you can add a second banana!
Frozen strawberries – Frozen strawberries are what make this smoothie THICK. If you don't have any frozen strawberries you can substitute fresh in a pinch but you'll want to add a handful of ice to your smoothie to cool it down and thicken it up.
Non dairy milk of choice – Almond milk, oat milk, cashew milk, and hemp milk are all fantastic options. Remember – the creamier the plant based milk the creamier your smoothie will be!
And of course – a blender! My Vitamix is my best friend in the kitchen but any powerful blender will work.
Because this smoothie recipe is made with just 1 banana for two smoothies it's not super duper sweet. If you prefer your smoothie sweeter you can either add a second banana or a bit of honey / maple syrup to sweeten it to taste!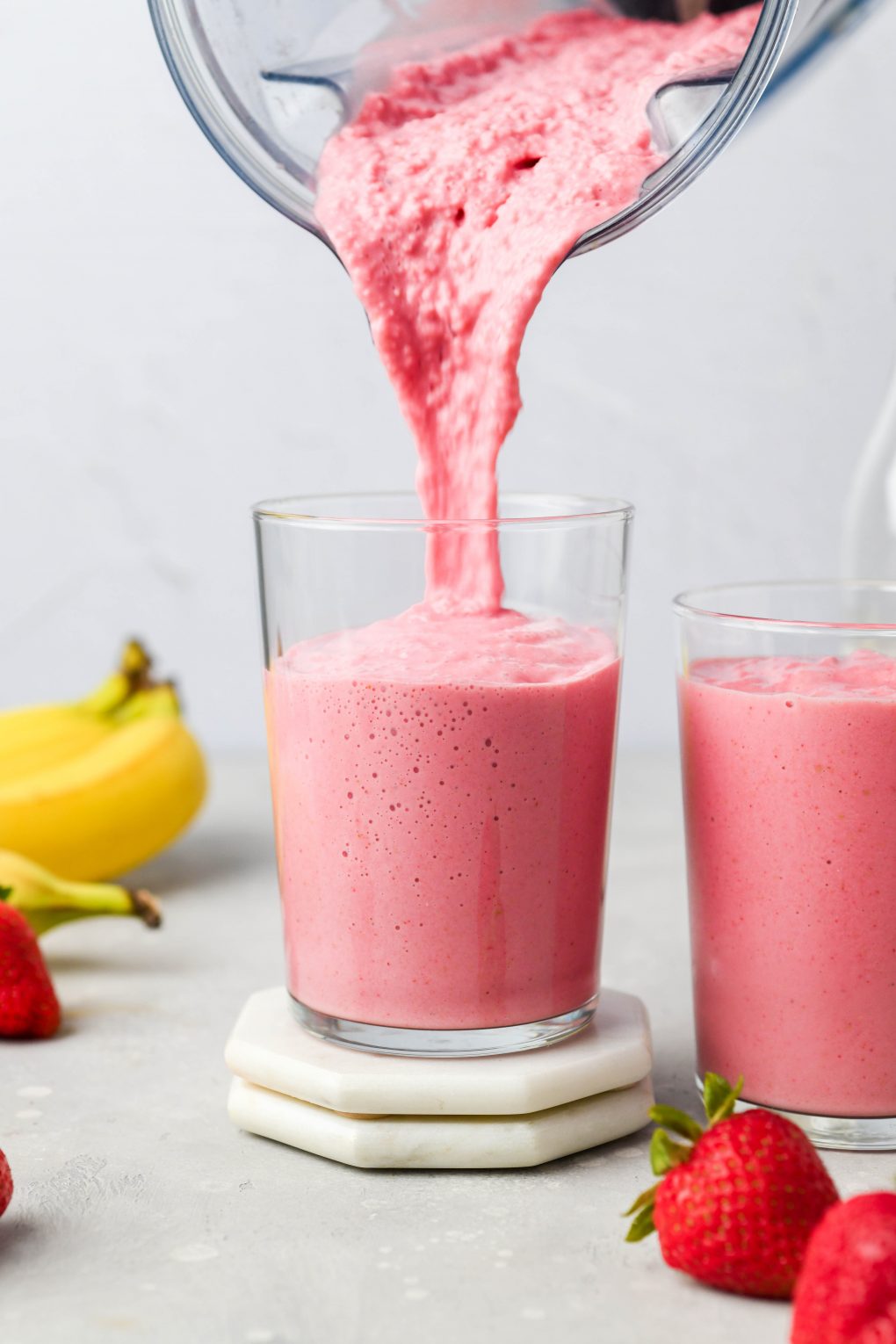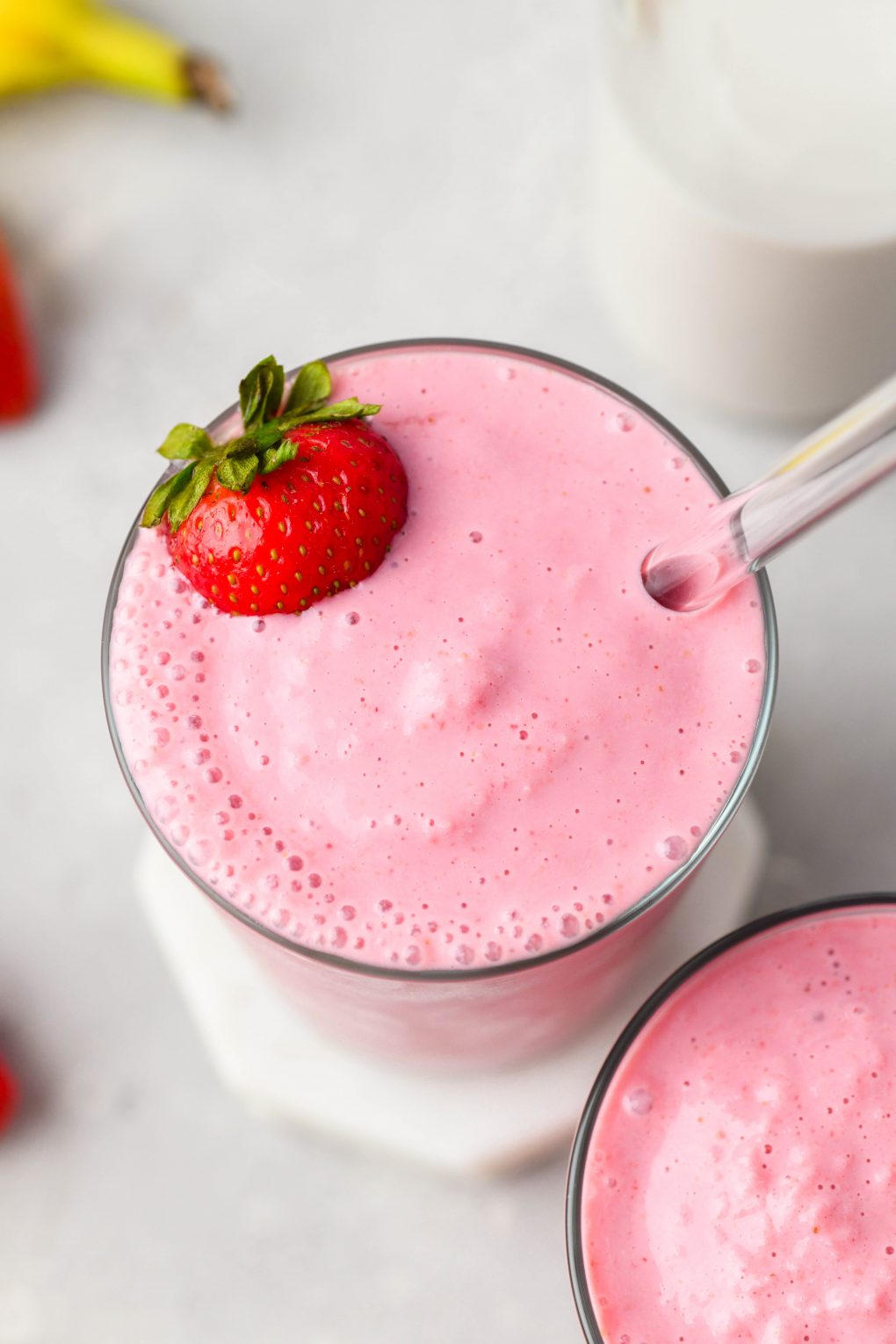 How to make a perfect strawberry banana smoothie
Making a perfect smoothie is all about getting the right ratio. Not so thick that you can't actually blend the smoothie, and not so thin that it drinks more like milk that tastes like fruit than a smoothie.
The ratio should be just right for this easy smoothie recipe, but the nice thing about it is that it's easy to adjust if you'd like it a little thinner, or a little thicker.
To make it thicker you can do 2 things:
Use a frozen banana instead of a fresh banana.
Add more frozen strawberries or a bit of ice and blend again until you reach your desired consistency!
Read more: How to make black coffee less bitter
To make it thinner all you have to do is add a bit more liquid (either dairy free milk or even water) until it's thin enough for the perfect sip.
But backing it up, let's go over the step-by-step of how to make this smoothie:
Starting with 1 ¼ cups dairy free milk, add all ingredients to a blender and blend on high until smooth and creamy. If the smoothie is too thick to blend freely use your blender's tamper or add a little more milk at a time until desired consistency is reached.
If you'd like your smoothie a little bit sweeter you can add a bit of honey or maple syrup to taste.
Divide between two glasses and enjoy!
What makes this strawberry banana smoothie healthy
Healthy looks different for everyone, but this smoothie is relatively healthy compared to lots of other options out there!
First of all it's dairy free (made without yogurt or cow's milk), made with real fruit, and made with no artificial ANYTHING – gums, fillers, flavors, or sweeteners.
On top of that strawberries are rich in Vitamin C, antioxidants, fiber, and essential minerals. Bananas sometimes get a bad reputation but they actually contain many important nutrients! They are a good source of potassium, Vitamin C, antioxidants, and phytonutrients.
And both bananas and strawberries are prebiotic foods – which is a food that provides food for the good bacteria in your gut – or probiotics.
Additionally, because this smoothie is lower in sugar it's perfect for kiddos and toddlers. And so creamy it honestly could pass as a strawberry milkshake for the little ones 😉
A few more notes on this recipe
You could easily substitute another frozen fruit for the frozen strawberries. Frozen raspberries, blueberries, mango, peaches, or pineapple would all be delicious.
If you're using only fresh fruit make sure to add a handful of ice to cool the smoothie down and thicken it up!
If you're using only frozen fruit you may need to add a little extra liquid to make sure the smoothie will move freely through your blender blades.
This smoothie could be made ahead of time and stored in the refrigerator. It won't be as thick if you drink it later but it will still be delicious!
If you want to add some extra nutrients to this smoothie feel free to throw in some add ins! Chia seeds, hemp seeds, almond butter, and collagen would all be good.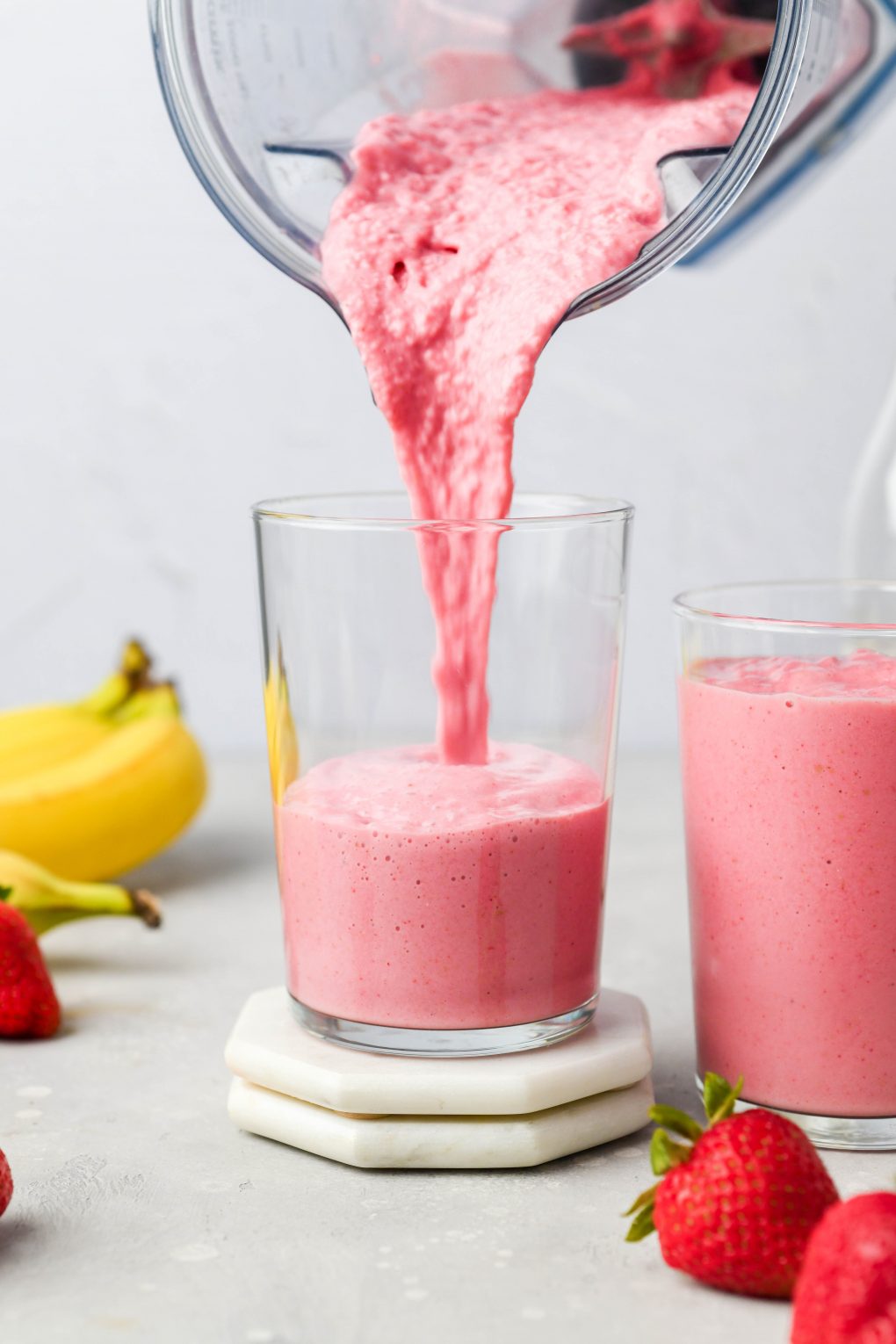 Love this healthy smoothie recipe? Here's some other simple fruit smoothie recipes to try!
The Best Tropical Green Smoothie
Beet and Berry Smoothie
Mango Coconut Smoothie with Turmeric
Raspberry Mango Healthy Gut Smoothie
Watermelon Strawberry Quencher
If you love this strawberry banana smoothie recipe please take 5 seconds to rate this recipe below – we really appreciate it! 🙏🏼
For more NK recipes sign up for our newsletter and follow along on Instagram, Pinterest, and Facebook! And if you make a recipe be sure to snap a picture & tag @nyssas_kitchen on social media – I LOVE seeing what you're making from the blog!
Read more: can beet juice make your poop red
Print