This easy homemade strawberry milk tea is made with real strawberries for the most refreshing summer drink! Fresh strawberries are boiled into a sweet simple syrup that is then mixed with milk and tea to create a delicious strawberry boba tea. With instructions for a vegan and dairy-free option, everyone can enjoy this drink!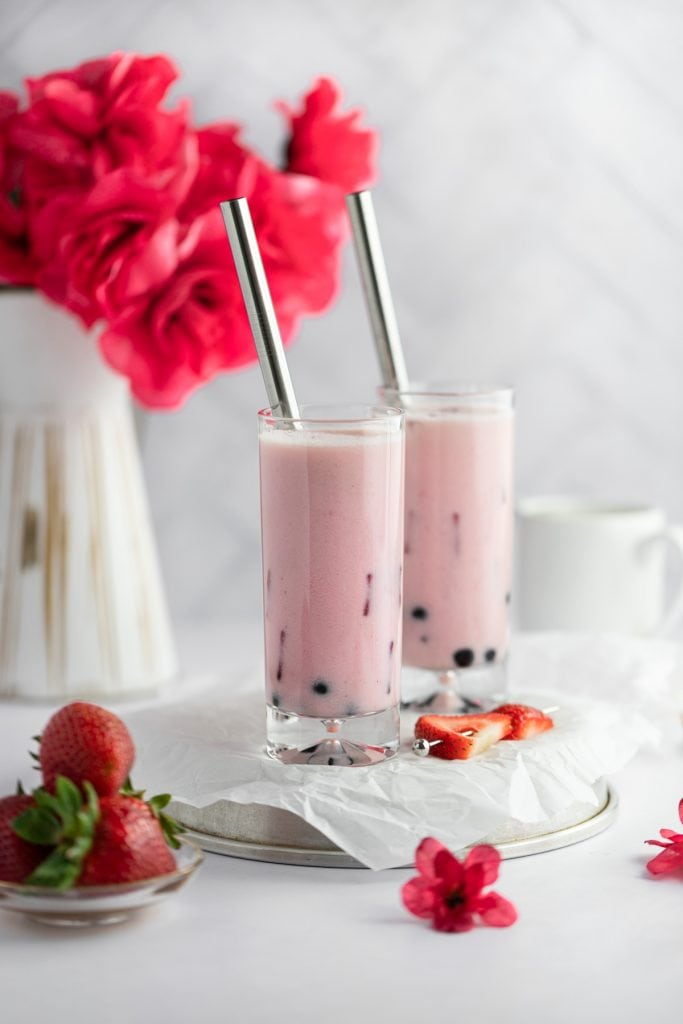 Why this is the best strawberry bubble tea recipe:
Real Strawberries: We have all tasted that store bought strawberry milk, which has a more artificial taste. If you love this type of strawberry milk you can use it here, but I strongly prefer using real strawberries as it adds a much more authentic, fruitier and summery taste.
Strawberry Simple Syrup: Some recipes make strawberry milk by blending strawberries into a purée and mixing that into milk. The problem with this method is that it ends up as a thicker mixture which tastes more like a smoothie than a milk tea. Instead, in this recipe, strawberries are boiled into a simple syrup that is then stirred into the milk tea. This gives the same intense strawberry taste and keeps the thinner consistency that is characteristic of a milk tea.
Easy to Find Ingredients: The only ingredient you may have to do a bit of searching for is the boba, but this is pretty easy to find at any Asian supermarket or online. There are strawberry flavored powders that exist for boba tea, and the bubble tea stores may actually use this in the teas they sell. However, because strawberry flavored powder is not as common as some other flavors, it can actually be very difficult to find without paying excessive prices for shipping. Making this drink with real strawberries saves you money and time trying to find a specific powder.
What does strawberry milk tea taste like?
This strawberry bubble tea tastes like fresh strawberries with a dash of creaminess from the milk and a subtle tea flavor. The tea is not too strong in this recipe, but helps balance out the sweetness from the strawberry syrup. There is not too much milk so overall the drink is light and refreshing without being overly heavy or creamy.
Reading: how to make strawberry milk tea
Is strawberry milk tea caffeinated?
Read more: how to make canned apple juice
Yes, but not a lot. There is caffeine in the tea, which is steeped in a smaller amount of water than usual to make a strong, concentrated tea. However there is much less caffeine overall than compared to a regular cup of coffee. If you want to make this drink completely caffeine-free, you can replace the tea with milk, and it will just be an extra milky strawberry bubble tea.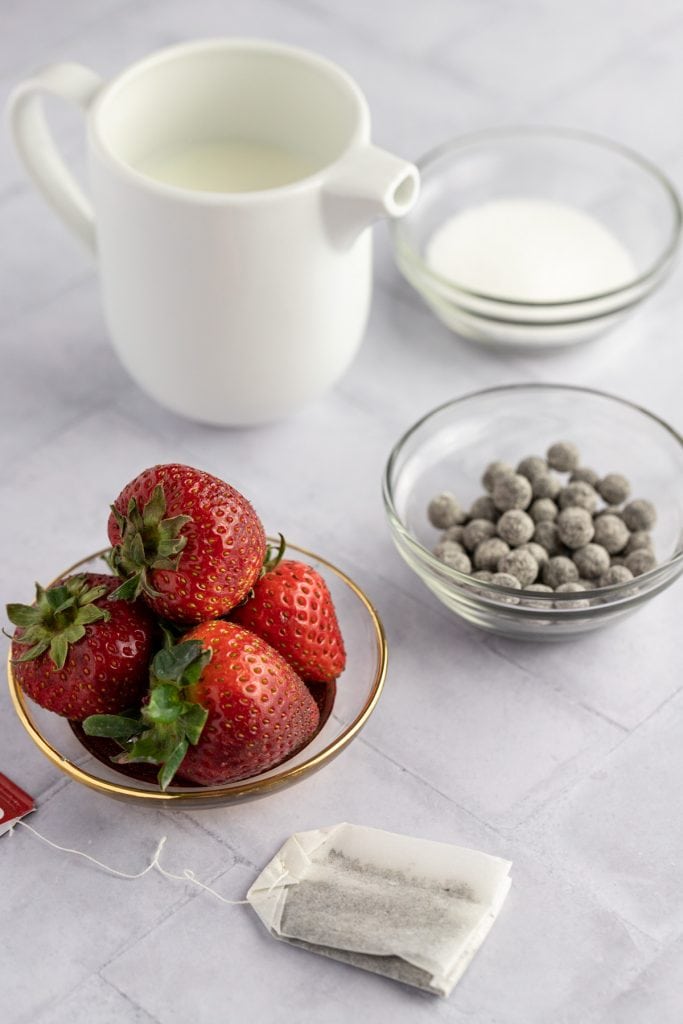 Ingredients:
Strawberries: Use fresh strawberries if they are in season and you can find them. If not, you can use frozen strawberries. For frozen strawberries, thaw them first and drain out the excess liquid.
Green or Black Tea: You can use either type of tea for this recipe, both will go well.
Milk: Regular 2% milk is all you need. If you are looking for a vegan or dairy-free option, use almond or oat milk instead.
Sugar: Granulated sugar is needed to make the strawberry syrup. Sugar, water and strawberries are heated on a pan and reduced to a syrup that is used to flavor and sweeten the drink.
Boba: All milk teas need boba! You'll get the best price for boba at any Asian supermarket, but you can also easily find boba on Amazon. If you are able to find strawberry boba (which are not very common) this is the perfect tea to use them in! Try to find quick cooking boba, which cook much faster and save a lot of time.
Instructions:
Steep the tea: Steep the tea bag in a ½ cup of water for 5 minutes. Using less water than normal when making tea means the tea will be more concentrated and have a stronger flavor. Let the tea cool to room temperature and then chill in the fridge.
Make the strawberry simple syrup: On a saucepan over medium heat, heat the sugar, strawberries and water, stirring occasionally. As the strawberries are heated, they will begin to break down. Use a fork to gently mash all the strawberry pieces as much as possible. Continue to simmer the sauce for about 10 minutes as it thickens up. Remove it from the heat and set aside to cool to room temperature.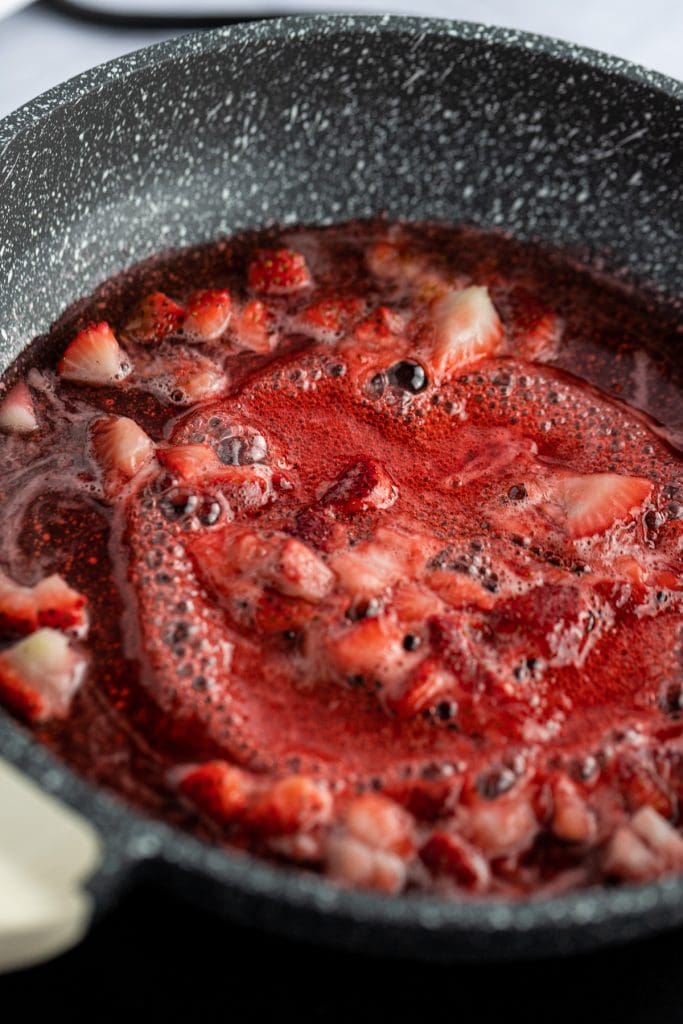 Read more: Low-Carb Strawberry Smoothie
Strain the syrup: Strain the syrup using a fine mesh sieve to remove all the small strawberry pieces. You will have to use a fork or back of a spoon to really press the syrup through the sieve. Make sure you separate out all the syrup. You should end up with about a ½ cup of strained syrup.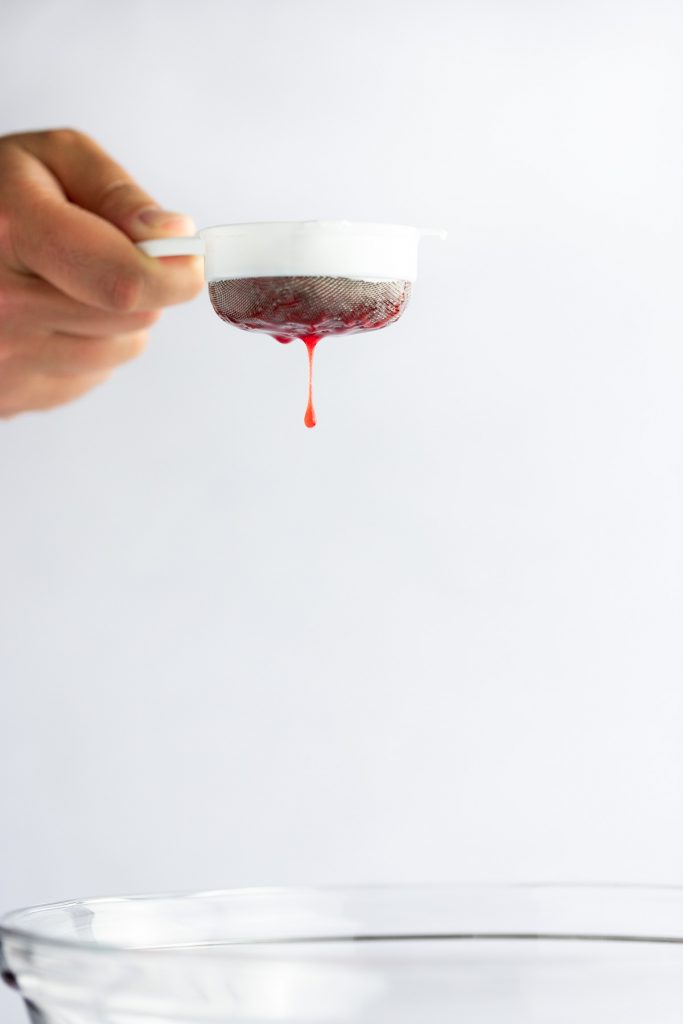 Cook the boba: Bring a small pot of water to a boil on the stovetop. Add in the boba and cook for 5-10 minutes. Strain the boba and run them under cold water for a minute to cool down. Immediately add them to the strawberry simple syrup.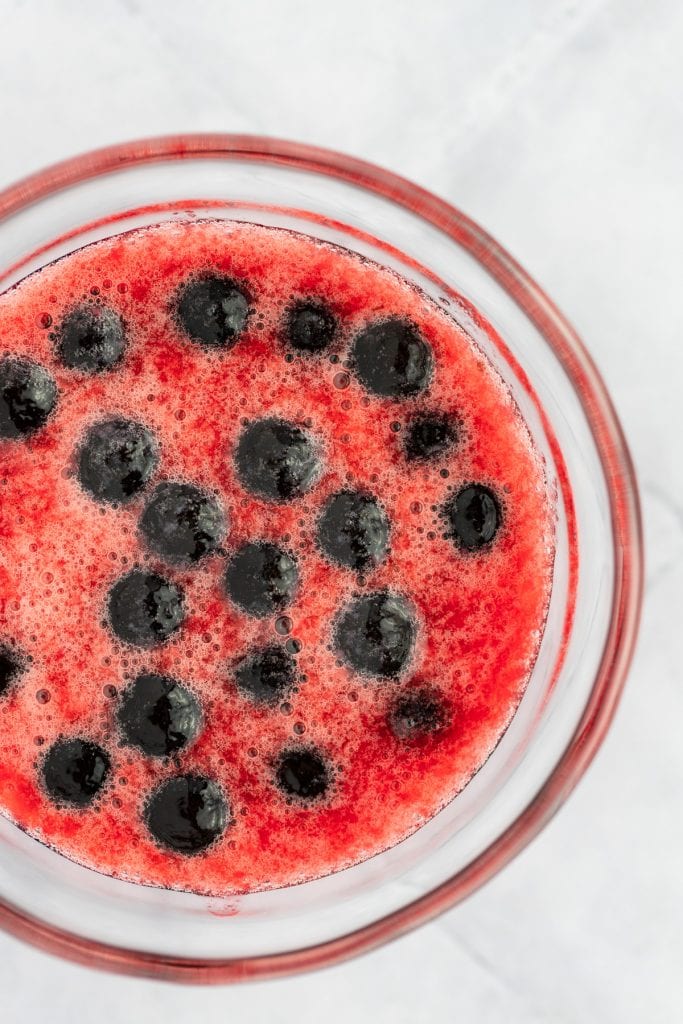 Make the milk tea: Stir the chilled tea, milk, and strawberry syrup and boba mix together in a glass. Add in a handful of ice and serve.
Read more: How to use an italian coffee maker
Tips & Tricks:
Make the boba fresh: You can make the rest of the tea in advance, but make the boba right before you serve the drinks. Boba only stays fresh for a few hours once cooked.
Soak the boba in the syrup: As soon as the boba have cooled down after rinsing under cold water, make sure to stir them into the strawberry syrup. If you leave the boba sitting out, they can get sticky and clump together.
Adjust the sugar: Increase or decrease the amount of sugar added to the syrup by 1-2 tablespoon depending on how sweet you want the boba tea to be.
Save the strained strawberries: The mushed strawberry pieces that you separate out of the syrup are perfect for mixing into plain greek yogurt!
Stir your milk tea! This drink does separate a tiny bit, so make sure to give the milk tea a really good stir before drinking.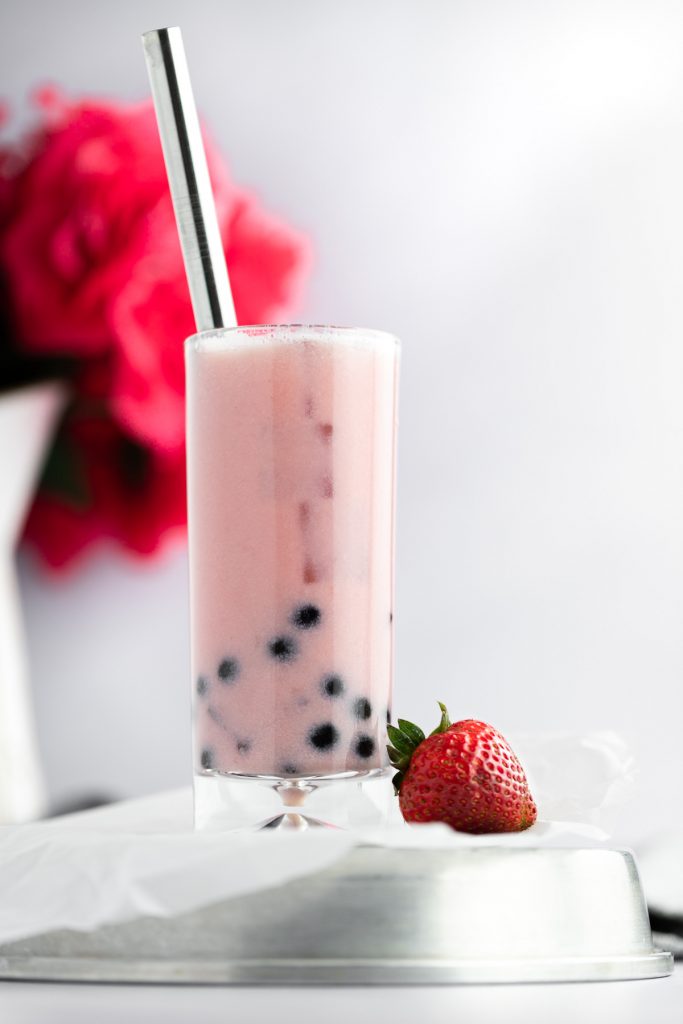 Other bubble tea recipes you may like:
Print