Meet my new favorite pickle. Spicy Sweet Refrigerator pickles can be made in just minutes. Slice, brine, refrigerate, EAT! The result is a crunchy and flavorful bread and butter pickles kicked up a notch with a Habanero pepper.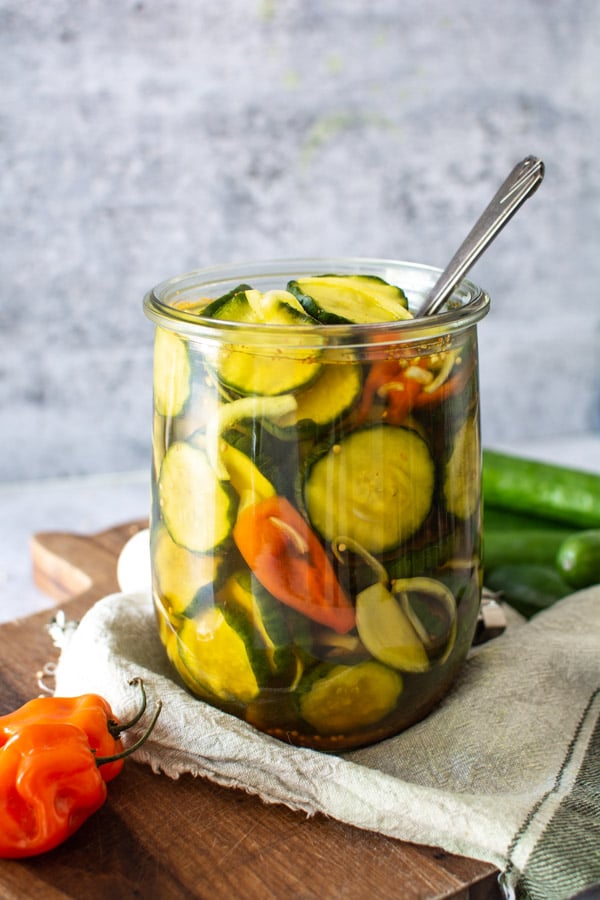 Reading: how to make sweet hot pickles refrigerator
Read more: how to make sugar free sweet pickles | Family Cuisine
I can't tell you how many jars of these pickles I have made in the past few months. They have become our new favorite condiment. Not only are they amazing on a burger they brighten up the flavor of almost everything! Want to brighten up the flavor of a Buddha Bowl or add a kick to tacos? A few spicy-sweet pickles chopped will do the trick.
Read more: how to make anerobic cauliflower pickles | Family Cuisine
How To Make Perfect Pickles Every Time
Measure and chop all ingredients.
Be sure to sprinkle salt on the cucumbers and allow to sit for at least an hour to release extra water. Rinse the salt from the cucumbers and drain on layers of paper towels or a clean dishcloth. This will ensure the pickles will be crisp and crunchy.
Have a clean jar with a tight-fitting lid ready to fill.
The brine consists of vinegar, sugar, salt, and turmeric. This brine will give your pickles their "punch" of flavor. Heat the vinegar enough to dissolve the sugar and salt. Turmeric will give the pickles their beautiful bright color. If you like a sweeter pickle, more sugar can be added but I like less sweet. It's a personal preference.
Layer cucumbers, onions, and habanero in a jar then add the mustard seeds. The layering effect is beautiful and will distribute flavors to the pickles evenly. Feel free to omit the Habanero if spice isn't your thing.
Refrigerate overnight for flavors to blend. Pickles will last for a good month in the fridge…I think. I have never had a jar last longer than a few days.
What cucumbers work best for refrigerator pickles?
I generally use what I have in my refrigerator. My favorite cucumbers to use are Persian or English cucumbers or any pickle with fewer seeds. Pickling cucumbers, of course, will be just as good. I have four different varieties growing in my garden I can't wait to try them all.
Let's Make Spicy Sweet Refrigerator Pickles
Gather and measure ingredients.
Slice cucumbers into 1/4-inch slices, slice 1/2 of sweet white onion.
Place onion and cucumber slices in a large colander. Sprinkle with 1 tablespoon Kosher salt. Place the colander in a large bowl to catch the liquid that will drain out. Refrigerate for at least an hour.
Rinse cucumbers and onions in water to remove the salt.
Lay the cucumbers and onion slices on a clean dry dishcloth. Let drain for a good hour.
Meanwhile, combine both kinds of vinegar, brown and white sugar, kosher salt, mustard seeds, and ground turmeric to make the brine mixture. Heat and stir the mixture just until sugars dissolve. Remove from the heat. Cool slightly.
Carefully slice habanero pepper. Discard seeds and cut out the small veins from the inside.
Layer, drained cucumber and onion slices, with habanero and mustard seeds.
Pour warm vinegar over the top of cucumbers.
Fill jar leaving 1/2-inch headspace.
Place a tight lid on the jar and give the jar a shake to distribute ingredients evenly. Refrigerate overnight. The longer the pickles have been refrigerated the stronger the flavor will be.
Read more: how to make anerobic cauliflower pickles | Family Cuisine
Big Batch Pickles
Because refrigerator pickles will last for at least a month in the fridge It's easy to double or triple a batch of pickles so they are always on hand. I would not recommend bottling pickles with this recipe.
You May Also Love
Cool Off With More Summer Treats
Read more: Spicy Garlic Dill Refrigerator Pickles | Family Cuisine