Schezwan fried rice recipe with easy instructions to make your own schezwan sauce for rice. This spicy schezwan fried rice is a breeze to whip up in just 20 minutes with the best homemade sweet, sour and hot sauce. Made with everyday ingredients, it is insanely flavourful & delicious!! This recipe is vegetarian, but you can easily add the protein of your choice. Easily customize it to your taste and add the choice of veggies or even egg.
About schezwan fried rice
Schezwan fried rice is a popular fried rice variety from the Indo chinese cuisine. It is quite popular & is most ordered in Indo-Chinese restaurant. Unlike the regular fried rice, schezwan fried rice is hot & spicy with bursting flavors of ginger, garlic, soya sauce & red chilli paste.
Reading: how to make szechuan fried rice
This is an easy recipe to make better than restaurant quality schezwan fried rice. It is so much flavorful, delicious and super simple to make with pantry staples.
Schezwan rice is made by frying rice along with schezwan sauce which is a unique blend of sauces cooked together. In this post I have also shown how to make the sauce from scratch & use the same for your schezwan fried rice.
Usually bottled Schezwan sauce from the stores contain additives & preservatives. So that keeps me away from using them most times. This homemade sauce is much flavorful & superior in taste that the ready made one. So do try the simple sauce I have shown here.
The Schezwan fried rice served in most restaurants in India do not have Sichuan peppers since it is already included in the store bought sauce they use.
The unique aroma actually comes from the sichuan peppers. However if you do not have then just skip them. Your dish will still turn out amazing.
To make schezwan sauce, red chilles are soaked in warm water and then blended to make red chilli paste. But if you do not have red chilies or do not want to blend them, then just use red chilli powder the same way I have used in this post.
But do note that the taste of the red chilies is much superior to the red chilli powder in the sauce. If you want to make your own sauce & store it then you can check this Schezwan sauce recipe.
How to make schezwan fried rice (stepwise photos)
Preparation
You can cook rice in whatever way you like. It has to be grainy and not mushy. Here I have shown how I do.
1. Rinse and soak 1½ cups basmati rice for 20 to 30 minutes. Bring about 10 cups water to a rolling boil in a large pot. When the water begins to boil, drain the water from the rice and add it to the water. Also add 1 teaspoon oil to the water. Cook rice on a medium high flame till al dente. It must be grainy, almost cooked and not mushy.
2. Drain the rice immediately to a colander. To avoid drying, cover and keep the rice.
Preparation for Schezwan sauce – skip this section if you have the sauce.
Read more: how to make southern fried chicken in the oven | Family Cuisine
3. Soak about 8 to 10 deseeded red chilies in little warm water for 15 minutes. Later make a fine paste in a blender jar along with little water. I like to use red chili powder just to skip the lengthy process of soaking and blending.
To make that, add good quality Kashmiri red chili powder to a small bowl. Then pour very little water. Stir and make a fine paste.
Making sauce for schezwan fried rice
4. Pour 1½ tablespoons oil and heat it. Fry ½ tablespoon ginger and 1 tablespoon garlic until it turns aromatic.
4. Next add 1 medium onion chopped.
5. Fry until the onions turn golden. If using celery add 2 tbsps chopped celery. I do not use it. Saute for 2 to 3 mins.
If you already have the sauce and want to use it, skip to 11.
6. Next stir in 1½ tablespoon soya sauce, 1 tablespoon red chilli paste, 1 tablespoon ketchup (optional), ½ tablespoon sugar, vinegar and ½ teaspoon salt. To make red chilli paste, stir together ¾ to 1 tbsp red chilli powder with 3 tablespoons water.
7. Add ¾ to 1 teaspoon crushed Sichuan pepper or half teaspoon crushed black pepper. Please note you have to crush the Sichuan peppers well. If using them in ground form, cut down to half.
8. Saute furthermore till the sauce thickens.
9. Pour water and stir again. Cooking further brings out the flavor of onions and pepper.
10. Cook until it thickens. Set the sauce aside until needed. To the same pan, add 1½ tablespoon more oil and proceed to the next step.
making schezwan fried rice
11. Regulate the flame to high. Pour 1.5 tablespoons oil. When the oil turns hot, add spring onion whites, carrots, french & beans. Stir fry chopped veggies until half cooked yet crunchy.
12. Add capsicum. Stir and fry until they are half done but not soft.
Read more: how to stir fry bok choy without a wok | Family Cuisine
13. Add the spring onion greens and Schezwan sauce.
14. Add cooled rice. I added a bit of oil at this stage. Gently mix to coat the rice with sauce.
15. Stir fry further for 2 minutes. If making for later use or for packing in lunch box, then just mix and do not fry longer. Rice becomes harder. Taste test and add more salt and sauce if needed.
Serve hot and spicy veg schezwan fried rice with any Indo Chinese side dish.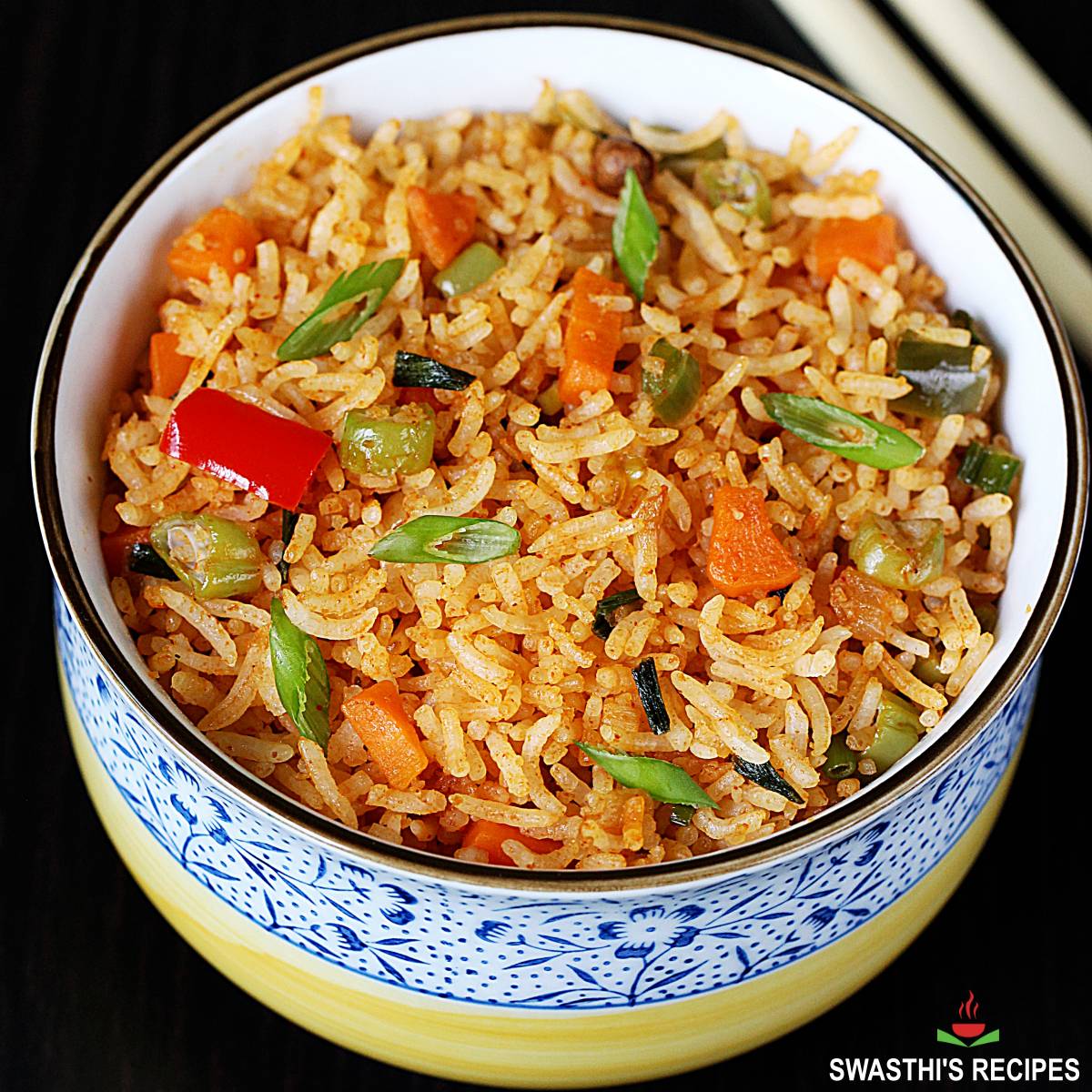 Servings suggestions
Serve Schezwan fried rice with any Indo chinese appetizers or sides likeveg manchurian paneer manchurian chilli paneer
Pro Tips
Cool Rice: Always use only completely cooled grainy rice. Either you can cook freshly and cool it while you make the sauce. Or just use precooked rice. Avoid using mushy rice or sticky rice.
Store bought sauce: If you do not want to make your own schezwan sauce, you could just grab a bottle of schezwan sauce from the nearest Indian or Chinese store or buy online.
Wok or a skillet: To make the best schezwan rice, use a wok if you have. Even a cast iron skillet works great.
Fry on a high heat: To get a smoky aroma always fry the veggies at the highest flame. You can also skip the veggies in the recipe. I have seen many restaurants serving the schezwan fried rice plain without any veggies added to it.
Variation: Since this is a vegetarian recipe I have used only mixed veggies but you can also stir in some beaten eggs or your choice of meat like chicken or shrimp.
If using chicken just boil it first until tender & then fry it before adding the veggies. Same with shrimp. If using egg then fry the veggies first & then the eggs.
Make ahead: You can make the sauce ahead & refrigerate it. When needed you can just stir the sauce in some hot oil and fry the rice together.
More fried rice recipesVeg fried riceMushroom fried ricePaneer fried riceEgg fried riceChicken fried rice
Related Recipes
Read more: how to make hibachi steak and fried rice | Family Cuisine
Recipe card