This recipe for easy homemade taco sauce is a copycat recipe for Ortega brand taco sauce and can easily be made with a can of tomato sauce plus a few spices!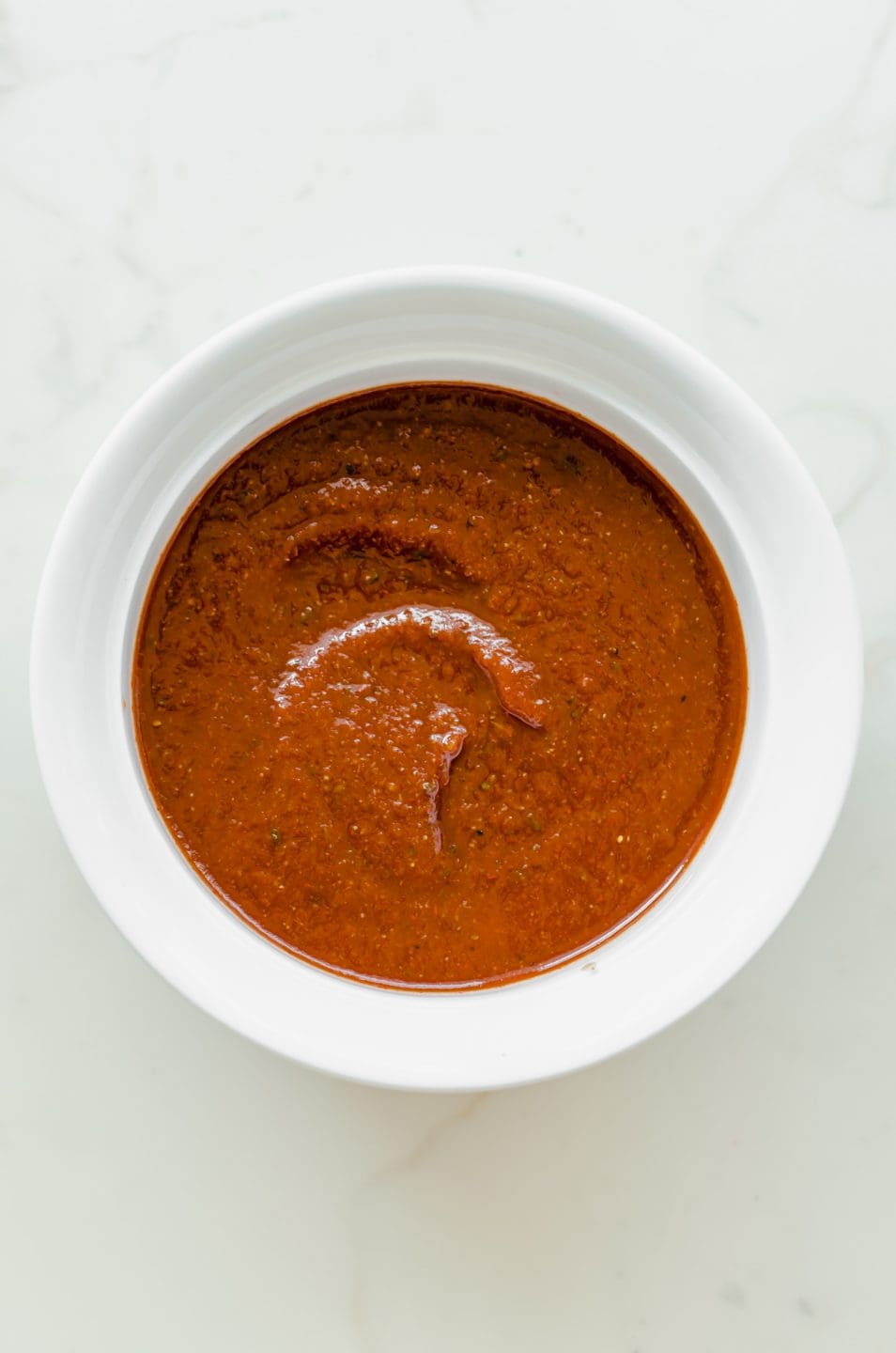 Jump to:
Ingredients
Instructions
Serving Suggestions
Similar recipes to enjoy
Recipe
Comments
I love Ortega and Taco Bell-style taco sauce. You know, that tangy, salty, vinegary brownish-red stuff that tastes so good on Old El Paso-seasoned ground beef stuffed into a crunchy shell and topped with shredded lettuce, cheese, and diced tomato. That is is THE stuff of Americanized "Taco Tuesdays." My favorite weeknight dinner as a kid. And I'm still HERE FOR IT.
Reading: how to make taco sauce
However, truth be told, I never seem to have any taco sauce on hand when I need it because of TOO MANY CONDIMENTS. I can't seem to fit any more condiment staples into the shelves of my refrigerator door. And taco sauce just isn't on the priority list for taking up space in my fridge right now.
So I came up with a solution – why not just have a recipe for easy homemade taco sauce for whenever the craving hits? And we are doing it, friends – today is the day! Let's make some taco sauce.
Ingredients
Taco sauce is simply made of a tomato base – usually tomato puree – vinegar and sugar for flavor balance, and dried spices. My version uses ingredients that I'll bet you already have on hand:
Canned tomato sauce – no need for anything fancy here. Just a simple, 8 ounce can of plain tomato sauce. No salt added if you can find it! That way, you can control the amount of sodium added to this recipe.
Ancho chili powder – this chile powder is actually made from poblano peppers that have been dried and ground. It's brick red color and subtly smokey flavor give taco sauce that deep, brownish-red color.
Regular chili powder – we use two types of chile powder in this recipe. The ancho is more for color and the regular chili powder for that recognizable taco sauce flavor.
Cumin, garlic powder, oregano, cayenne pepper – each of these spices are very traditional in Mexican cuisine, and each plays an important role in contributing to the overall flavor of your taco sauce. I always have each of these in my pantry, as they are common in so many recipes!
Sugar, salt, pepper – a little bit of sweetness plus some salt and pepper help to balance and round out the flavor of your sauce.
Lime juice – I love a hint of lime in any Mexican condiment, and freshly-squeezed lime juice really helps this sauce taste very special and "homemade."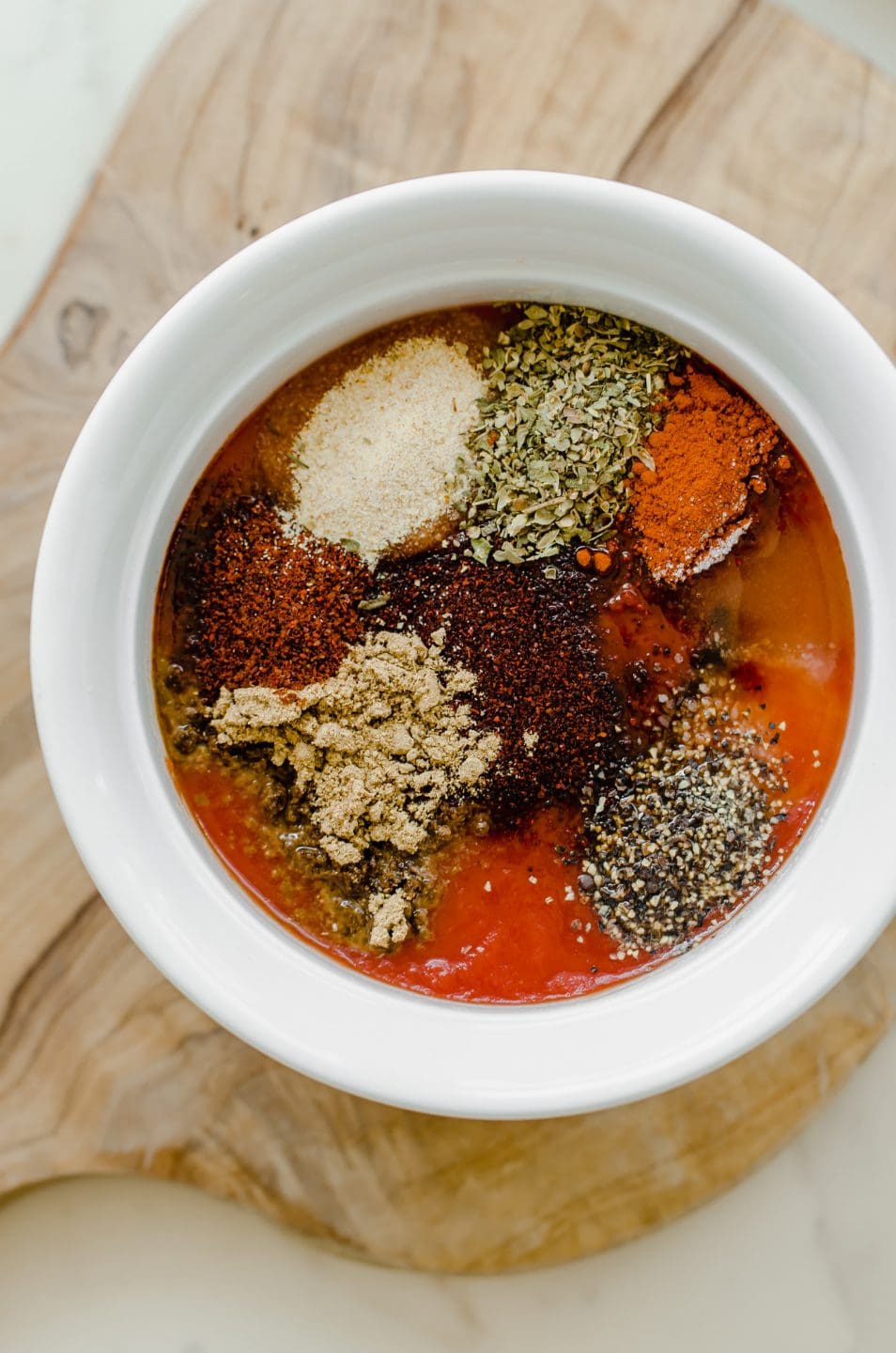 Instructions
Read more: how to make homemade carbonara sauce | Family Cuisine
Making taco sauce from scratch is VERY simple. Let me prove it to you:
You just stir everything together in a small saucepan (except for the lime juice), heat it for 10 minutes or so, and badda bing, badda boom, TACO SAUCE.
Cool it down, jar it up, and enjoy! Hence the name, EASY and HOMEMADE!
You can store homemade taco sauce in the fridge for up to 2 weeks, or freeze it in an airtight, freezer-safe container for up to 6 months.
To thaw frozen taco sauce, simply place it in the fridge overnight, or thaw it under warm running water for a minute or two, stirring as needed to break up any frozen chunks.
Serving Suggestions
On scrambled eggs and omelets, like Migas with Chorizo
As a topping on a taco salad bar and Chicken Tacos
On taco filling-stuffed baked potatoes
Swirled into Ranch dressing for a yummy dip!
In a 7-layer taco dip
Tossed with a can of Healthy Refried Black Beans
As a marinade for chicken, steak, or shrimp fajita meat
As the sauce base for a taco pizza!
Read more: how to make a lemon sauce | Family Cuisine
And I'm sure you can think of many other fun options!
If you are a condiment lover like me, be sure to check out my easy recipes for homemade Classic Red Enchilada Sauce, Roasted Poblano Smother Sauce, and homemade 5 Minute Pizza Sauce.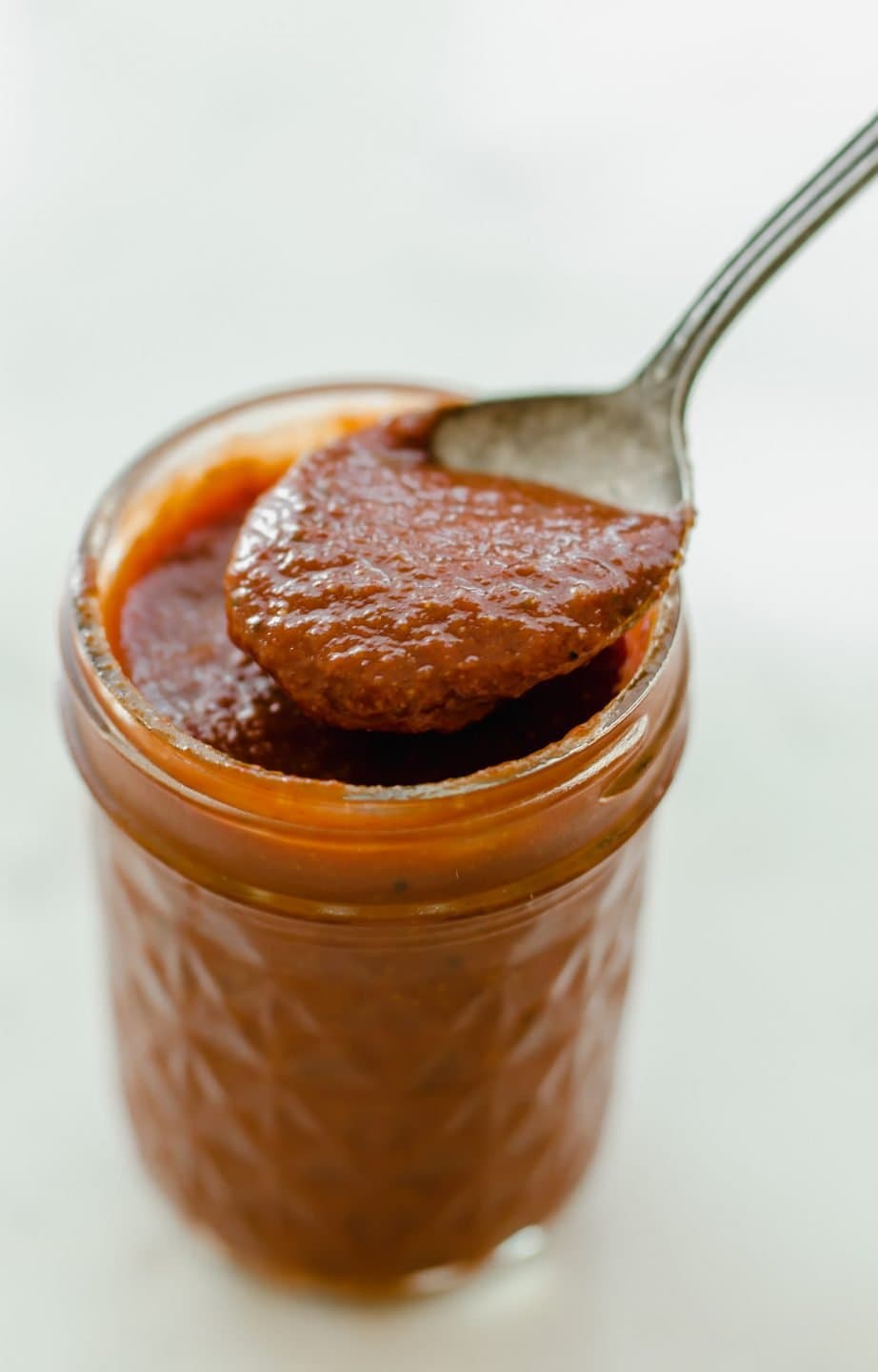 Are you ready to make this Easy Homemade Taco Sauce? I'm so excited for you to try this recipe. Once you get the chance to make it, please let me know how it turns out for you!
Leave a comment and rate the recipe below. This will help me with the creation of future recipes!
I'd also love to feature your creation in my weekly newsletter, so you can upload a photo to Instagram with the tag @sweetcayenne5 to be featured! Quick and easy recipe videos are available on my YouTube channel, and lots of menu inspiration on my Pinterest boards. Catch my Taco Sauce Story for a quick overview of the recipe.
Read more: how to make creamy cheese sauce for mac and cheese
Similar recipes to enjoy
Recipe