Homemade teriyaki sauce doesn't come much easier than this! Skip the store bought teriyaki sauce which can be high in sugar and contain wheat and/or soy. Give this one a try instead!
Homemade sauces and seasonings are so much better than store bought. Wouldn't you agree!? This easy homemade soy-free teriyaki sauce is ready in less than 10 minutes. Store bought teriyaki sauce can contain sugar, wheat (an issue if you are gluten-sensitive), soy, or added flavors or preservatives.
Reading: how to make teriyaki sauce without soy sauce
This soy-free teriyaki sauce is made using coconut aminos (a healthier alternative to soy sauce) and is perfect as a marinade or sauce.
What Is Coconut Aminos?
Coconut aminos is made from the fermented sap of the coconut palm tree. The fermented sap is blended with sea salt to create this healthy alternative to soy sauce. What is fermentation, you ask? It's the process in which the sugar (sap) is turned into an alcohol (aminos).
Coconut aminos is a common substitute for soy sauce. It has a nice, deep, sweet flavor; a little savory, but not as salty as soy sauce. And don't worry, it tastes nothing like coconut. In addition, it is typically organic/non-GMO, low-sodium, and gluten-free.
And if I'm feeling lazy, I'll just use coconut aminos over some sautéed veggies and brown rice stir-fry noodles, as opposed to full-on teriyaki sauce, and call it a day.
Read more: how to make parmesan cheese sauce | Family Cuisine
We love Coconut Secret Coconut Aminos – it can be found at Target, Whole Foods (and most other grocery stores) by the soy sauce.
How To Make Easy Homemade Soy-Free Teriyaki Sauce
Add coconut aminos, garlic, ginger, rice vinegar, sesame oil, and honey to a sauce pan. Whisk ingredients over medium-low heat and bring to a simmer.
In a separate small bowl, add tapioca (or arrowroot starch) and water. Mix until combined. This creates a "slurry" which is needed for thickening the sauce. Pour slurry into pan with teriyaki sauce and continue to whisk sauce (over low heat) until desired thickness is reached. Ideally you want the sauce to coat a spoon when dipped. (note: typically I thicken if I'm using it as a sauce, but if you want it as a marinade you don't need to thicken it.)
Remove from heat and add to your favorite stir-fry, chicken, or whatever your heart desires.
Is Soy Sauce Bad For Me?
Well, that depends who you ask. The main ingredient in soy sauce is soybeans, and there is a lot of controversy on soy these days. Some studies say soy is bad, and some say it's not so bad after all.
According to an article by Dr. Mark Hyman, most studies claiming all the negative effects of soy are based on studies where consumption of soy was much greater than the average person would consume. He also states that if you are going to eat soy, you should just make sure that it is organic (non-organic soy is most likely genetically modified and is sprayed with glyphosate – an herbicide that is linked to cancer) minimally processed, and/or fermented (ex: tempe, tofu, miso).
You can however buy organic soy sauce that is brewed and fermented from whole beans (keep nutrients and is closer to it's natural state), but soy can be problematic for many. And since coconut aminos are in general a safer, healthier option, I use it instead of soy sauce.
This is the reason why I opt for coconut aminos, which is used in this teriyaki sauce recipe.
Substitutions
Coconut Aminos – as mentioned, this is a much cleaner alternative to soy sauce. However, if you have soy sauce you can easily swap it for the coconut aminos. You can also swap with liquid aminos.
Fresh spices – the recipe calls for fresh ginger and garlic, but ground/jarred garlic and ginger can be used too. See the recipe for specific amounts.
Read more: All-Purpose Chinese White Sauce | Family Cuisine
Honey – completely optional to add in some sweetness to this homemade teriyaki sauce. You can omit it all together, or sub maple syrup or coconut palm sugar.
Sesame oil – this adds in some nice flavor, but if you don't have any on hand, you can skip it. It will still be tasty, I promise!
Tapioca or arrowroot starch – this is used to create the slurry and thicken the sauce. You can sub corn starch for the tapioca or arrowroot starch.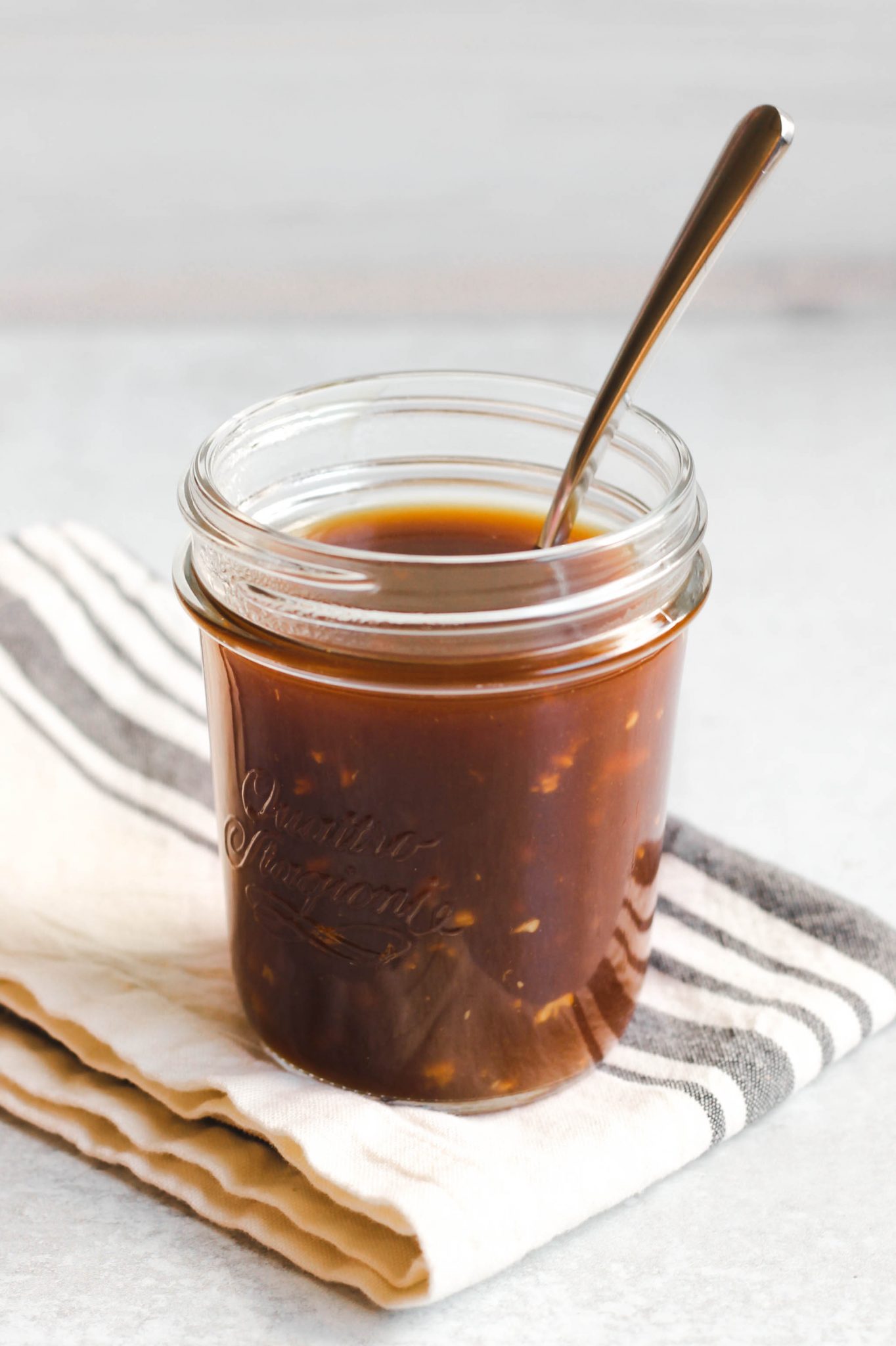 What to Use Homemade Teriyaki Sauce For
Brush it on some chicken or kabobs before and during grilling (would be great on shrimp too).
Use it as a marinade on chicken or shrimp prior to cooking. If using as a marinade, no need to add in the slurry to thicken.
Use as a glaze for grilled or baked salmon.
Saute some stir-fry veggies (peppers, carrots, broccoli) and cook up some brown rice for an easy stir-fry. Add sauce to cooked veggies and put over cooked brown rice (brown rice is a whole grain compared to refined white rice, so I recommend brown rice to keep it as a whole food).
How to Store Teriyaki Sauce
This teriyaki sauce can be stored in the fridge for up to one week (in an airtight container). Note that the sauce will thicken when in the fridge, but will thin back out once heated.
Love a good homemade sauce or seasoning?
Be sure to check out my Easy Homemade Taco Seasoning, Creamy Cilantro Lime Dressing (dairy free), and Kale Pesto (dairy-free).
If you make this easy homemade teriyaki sauce, please let me know what you think! Leave a comment below and/or share a photo on Instagram and mention @CleanPlateMama!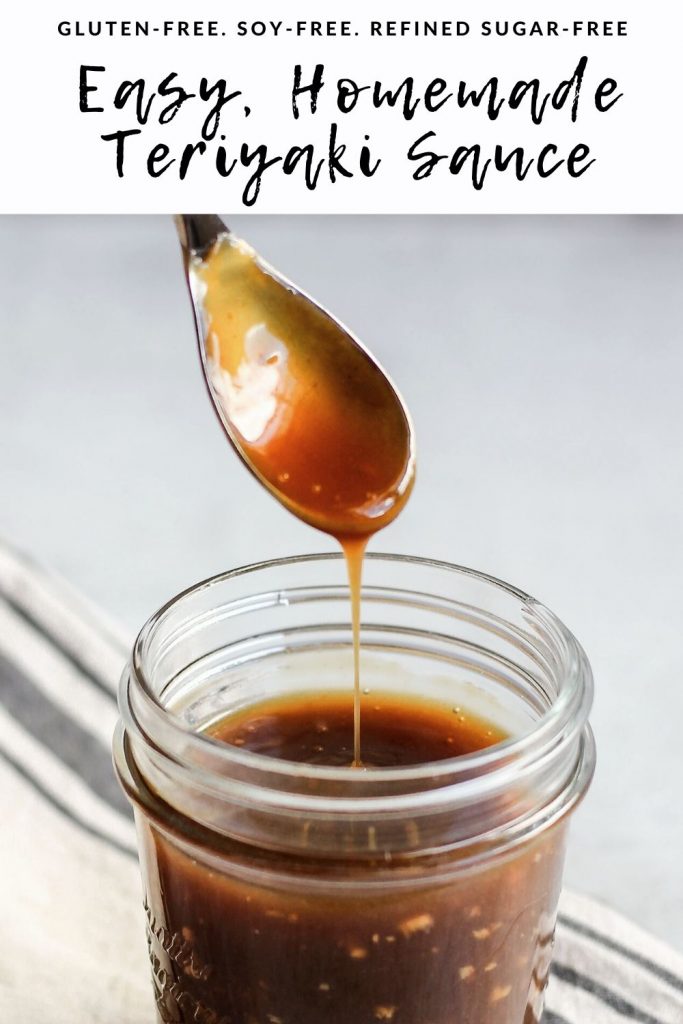 Read more: how to make sauce for pasta at home | Family Cuisine