If you have ever wanted to know how to cook prime rib, you can find out right here. Our family has been making this for years, and there are many ways to make this holiday classic. This is one of our most requested Christmas dinner recipes.
Whether you like your beef rare, or well done, we will show you how to make it just the way you like it!
Jump to:
How to roast it
What you need to make this
The different grades or cuts
Bone-in or boneless
How to season prime rib
Two ways to roast it
How to use the leftovers
Realted recipes:
📖 Recipe
Comments
How to roast it
This is a meat lover's post. If eating meat offends you, then please, skip this one.
If however, you or someone close to you enjoys a sublime cut of beef now and then, this is a post you will want to take a closer look at.
The different grades or cuts
When you look for a one of these to buy, you may see that there are two grades to choose from.
Prime Grade

"Prime" is the highest grade and the most expensive, about 25% higher in price than the choice grade.
The prime grade of this cut of beef is heavily marbled with streaks of fat to make it more tender and flavorful.

Choice Grade

"Choice" grade of prime rib is the second-highest rating and indicates beef that has less marbling.
This is the type most often served in restaurants.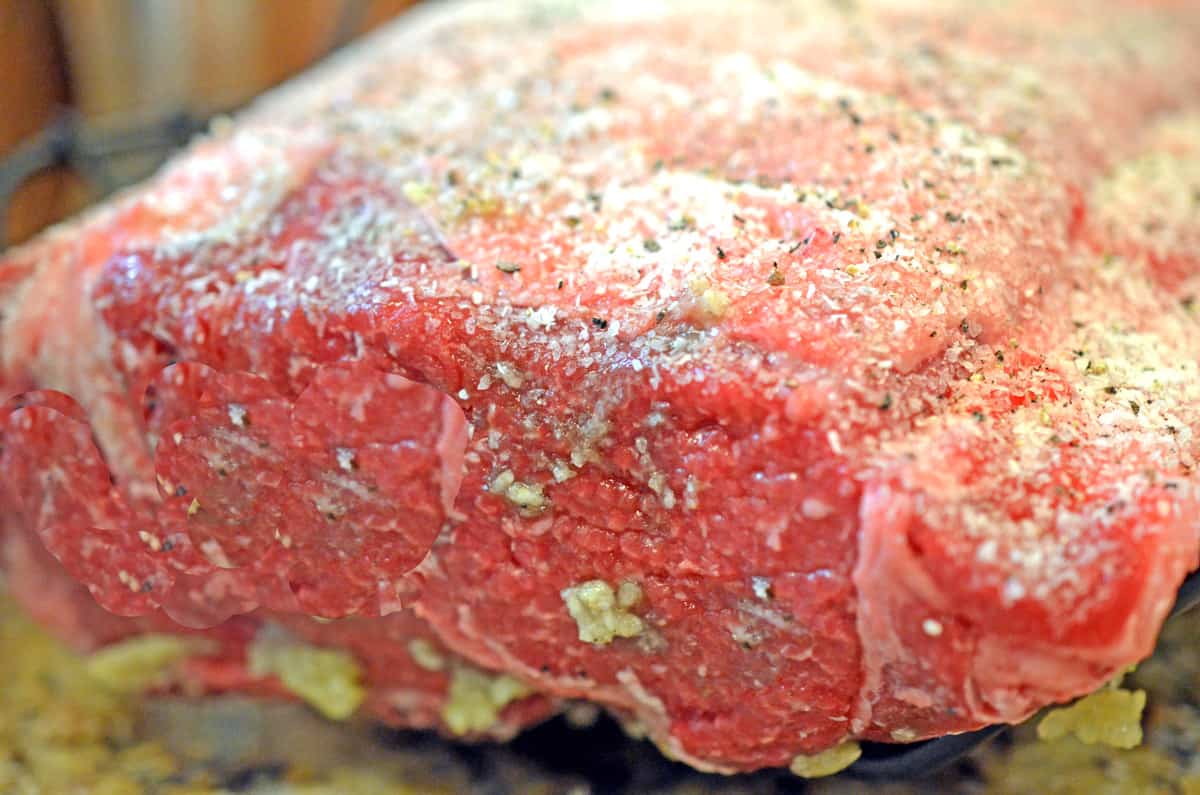 Bone-in or boneless
When making your selection, besides choosing how to season it, you also have the option of "bone-in" or boneless. I don't believe there is any difference in the flavor between the two.
Bone-in

Bone-in prime rib can be more challenging to slice.
Figure on a pound per person with a bone-in roast.

Boneless

Easier to cut for serving.
Figure on about ½ pound for each person.
If you choose bone-in, the roast should be placed in the roaster, with bone on the bottom.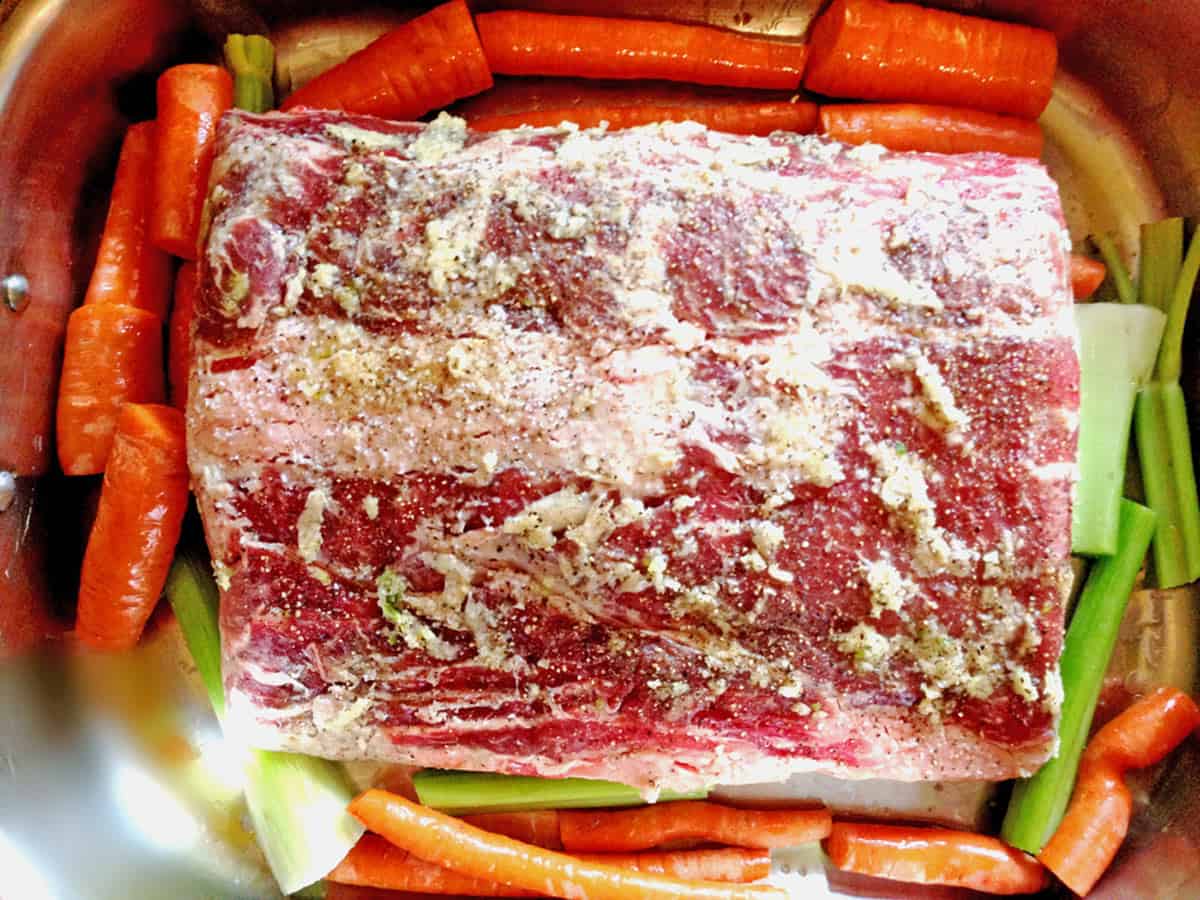 Start at Room Temperature
Take the meat out of the refrigerator a couple of hours before you place it in the oven. Allowing it to reach room temperature before roasting helps ensure that it roasts evenly throughout.
How to season prime rib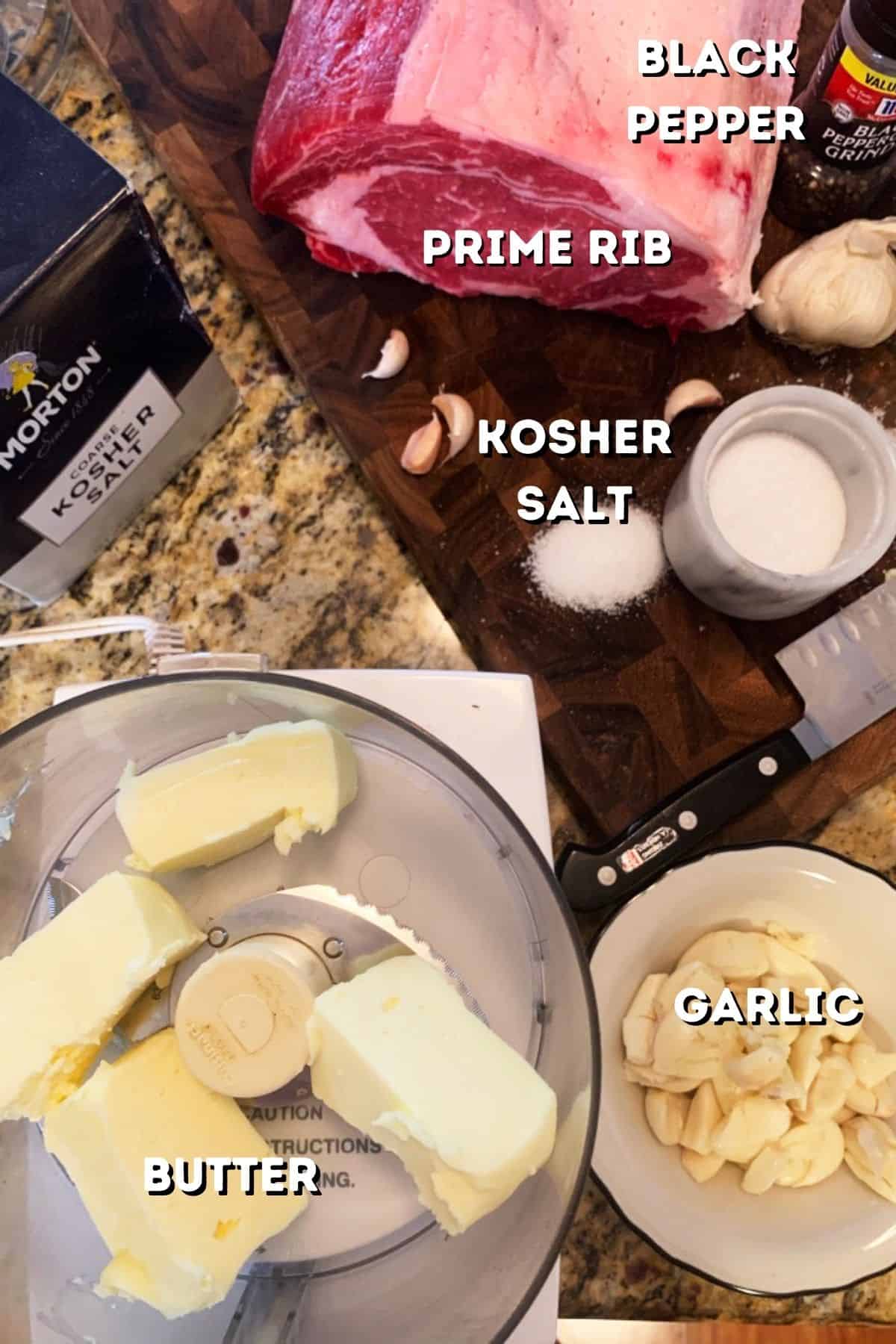 For the best prime rib, all you need to season it with is garlic, salt, and pepper.
Garlic

Chop or mince the garlic and then use your hands to apply an even coat around the meat.

Salt

Apply a generous layer of salt around the entire roast.
I prefer to use kosher salt for it's larger crystals.

Pepper

Sprinkle a generous layer of fresh ground black pepper around the entire beef roast.
Allow the seasoning to flavor the meat for an hour or two while it sits on your counter-top.
The Fat Cap
A standing rib roast will have a fat cap that insulates the meat while it cooks and adds some nice flavor under high heat.
Score the fat pad (without cutting into the meat), to allow some of the seasoning to penetrate the meat for added flavor and rendering.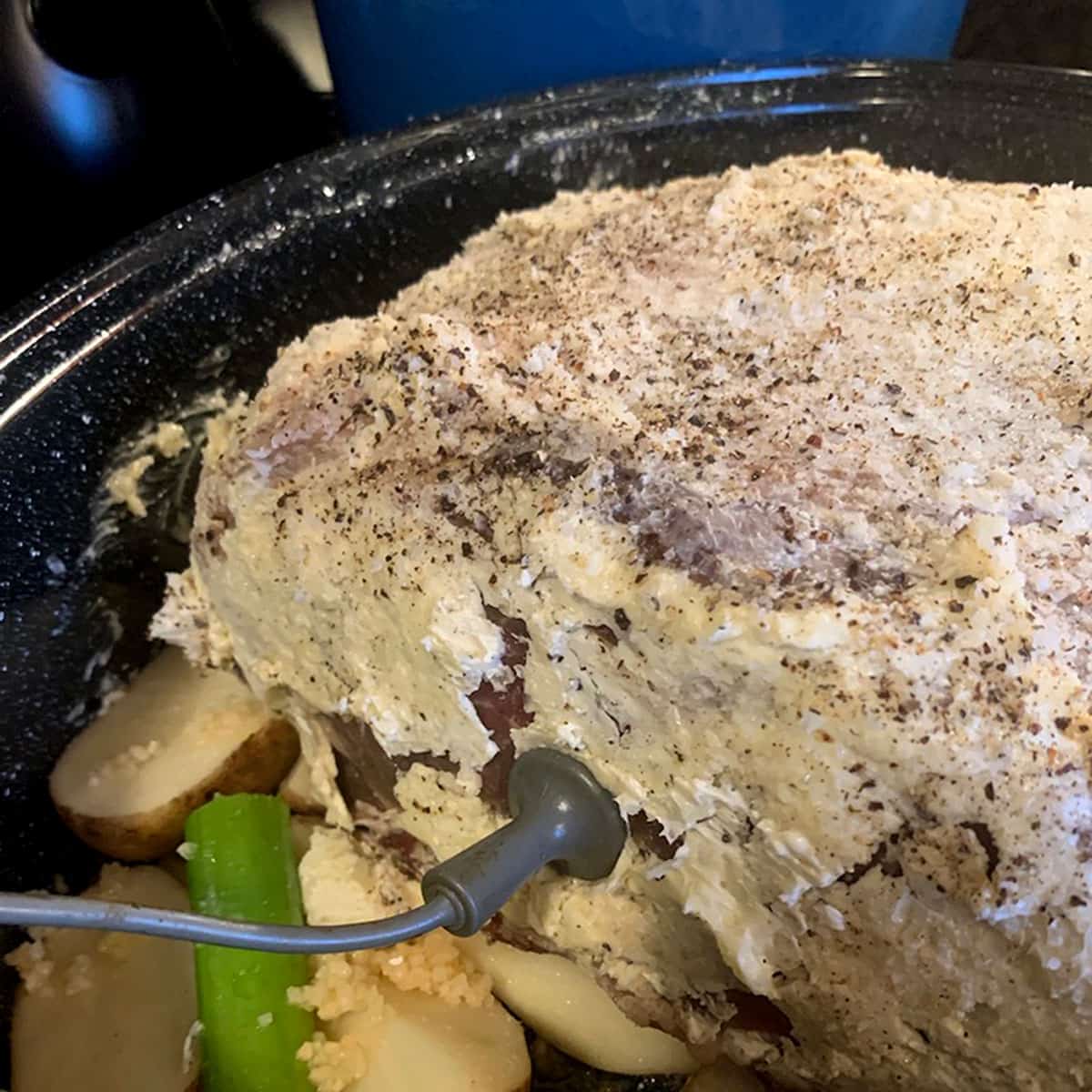 Using Garlic Butter as a Seasoning
In the above photo, I compounded about a half-pound of butter along with a head of minced garlic. I rubbed this garlic butter compound all over the meat and then added the kosher salt and pepper.
In addition to the extra flavor, the butter provides a nice crispy finish to the exterior surface of the meat.
Two ways to roast it
I use two methods of making a standing rib roast; both give me the same excellent results.
One method is temperature-based; the other is all about time. Both methods have a couple of things in common:
Both start with a high oven temperature, which is lowered.
Both use "carryover cooking, which is when the meat continues to cook after it is removed from the oven.
Let's take a look at both of these methods.
Temperature-Based Method of Making This
Remove the roast from the refrigerator a few hours before placing it in the oven to allow it to come to room temperature.
Season all sides of the beef as shown above.
Preheat oven to 400° F.
Place in oven.
Reduce heat to 300°
Keep prime rib in the oven until it is 5-7°F less than this temperature guide below.
Remove from oven and tent loosely with foil, for 15 minutes to allow for carryover cooking.
Time-Based Method
This method is a bit simpler as there is not temperature measuring involved.
Same as step one above.
Same as step two above.
Same as step three above.
Reduce heat to 375° when you put your roast in the oven.
After one hour, turn the oven off (do not open door).
An hour before you want to eat, turn the oven back on to 375°.
Roast for an hour at 375° and then remove from oven, tent the meat loosely with foil and allow to rest for 15 minutes before carving.
For Both Methods:
Place rib on a few stalks of celery or some potato wedges (slathered with olive oil or melted butter.
The celery will give the au jus some nice flavor, and the potatoes are a great one-and-done side dish!
If you want to treat yourself to something special and delicious, consider learning how to roast prime rib.
Although you can season an oven-roasted prime rib with anything, I use just three or four ingredients in my seasoning:
Fresh garlic
Kosher salt
Fresh ground pepper
Sometimes butter
How to use the leftovers
Prime Rib Phyllo Pot Pie

Savory and simple comfort food that is the perfect home for any leftovers.
Leftover Prime Rib Enchiladas

A versatile and delicious leftover recipe the whole family loves.
Leftover Beef Tacos

This easy recipe for tacos and versatile and can be made with leftover beef, chicken, or pork.
Give this recipe a try; chances are if it is your first time this luxurious meal, it will not be your last.
Realted recipes:
Bacon-Wrapped Smoked Beef Tenderloin
Braised Beef
How to Debone and Roll a Standing Rib Roast
This post is dedicated to my sister Ann, who we lost far too early. One of the funniest and smartest people I have ever known, I miss you every day and will always be thankful for the love, the laughter, and the incredible food you fed me and the many lessons on how to roast prime rib.
👨‍🍳 Tried this Recipe? Please leave a ⭐⭐⭐⭐⭐ rating in the recipe card below and leave a comment. We love hearing from our readers!⏩ Stay in touch with us on social media by following us on Facebook, Pinterest, Instagram, and YouTube!📬Get our Recipes delivered to your inbox for FREE!
📖 Recipe
For more information please see the list of Prime rib in roaster oven
Detail: 🔗