Photo Credit: Shutterstock
By using this site, you agree to our Terms of Use. This post may contain affiliate links. Read our disclosure policy.
Follow us on Instagram for more fun food ideas for kids!
Find out why this Green Goddess went crazy viral on TikTok and the ingredients you'll need to make it at home!
Healthy eating goal or not for 2022, this salad has been viewed on TikTok over 19 million times! It is a must-make! It's especially convenient because the ingredients are simple and it's that time of year when some of us have set healthier eating resolutions, so why not try this one! We can't resist a good TikTok viral recipe and of course, are adding this one on top of our list next to Baked Feta Pasta and TikTok Salmon Rice.
This Green Goddess Salad recipe is from Melissa Ben-Ishay, best known as Baked By Melissa and as TikTok user @bakedbymelissa. It's a healthy blend of ingredients and the most dippable of them all.
What is Green Goddess dressing?
According to Wikipedia, Green goddess is a salad dressing that commonly contains mayo, sour cream, chevril, chives, anchovies, tarragon, lemon juice and pepper. The green herbs obviously give it its green namesake.
The TikTok Green Goddess salad that went viral, however, has a different salad composition. The green comes from basil and spinach and the dressing is actually vegan and made with olive oil.
You could probably try both versions and it would taste just as good depending on your dietary preference!
What is the viral TikTok Green Goddess Salad?
Although @bakedbymelissa originally introduced this salad to the TikTok world in September 2021, it's gone far beyond just the app. With finely chopped salad ingredients, which by the way is music to my ears as she chops away in the original video, you'll most likely have no trouble getting in and out of the grocery store in a just a few minutes. The salad ingredients are healthy bunch of green cabbage, chives, green onions, scallions and a jalapeno if you like your salad spicy.
Mix the above with the amazingly delicious dressing and then all you have to do is choose your favorite dipping chip and dig in! Melissa's favorite is Zack's Mighty Tortilla Chip for this dish.
Even better, it's vegan and customizable if you should choose or have substitute ingredients already on hand. Nuts, greens and veggies can be easily substituted for other varieties. For example, pumpkin seeds are a great substitute if you have a nut allergy. The texture of the salad is definitely like a slaw and fortunately very forgiving because you can sub ingredients.
My advice, make it exactly as the recipe states at least the first time so you know what the hype is all about. After that, if you feel the need to substitute or want to adjust the flavors a bit, more power to you! Don't forget, Super Bowl Sunday is coming up next month and this would be the perfect Super Bowl food addition to the menu.
TikTok Green Goddess Salad Ingredients:
green cabbage
baby cucumbers, or 1 large cucumber
cup chives
green onions or scallions
Optional: a jalapeño
Green Goddess Dressing Ingredients:
basil leaves
spinach leaves
garlic
shallot
lemons
olive oil
nuts of your choice (walnuts, cashews or both)
nutritional yeast
himalayan salt
rice vinegar
chives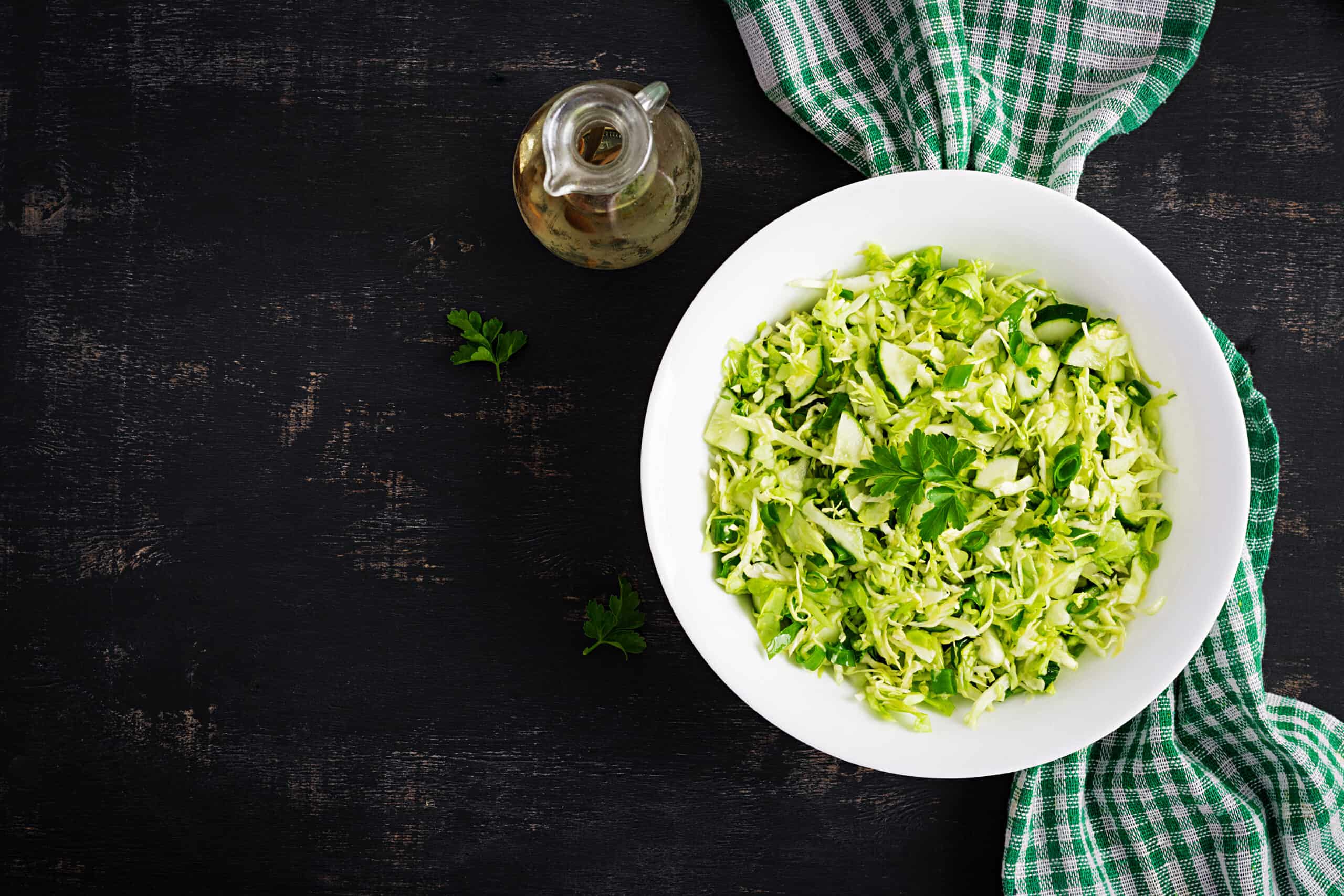 Photo Credit: Shutterstock
How to make the Green Goddess Salad
Wash and chop/finely dice all of the salad ingredients, place in an x-large bowl and mix well. The smaller the chopped pieces, the easier it will be to dip. Set aside.
Add all of the liquid salad dressing ingredients to the blender first. You'll add them in this order as they blend so much easier (lemon juice, rice vinegar, olive oil) and then add all of the remaining dressing ingredients on top. Blend until smooth and until it reaches a dressing consistency. If it's too thick for your liking, add more olive oil 1/2 tablespoon at a time.
Once the dressing is combined, pour it over the chopped salad base ingredients and mix well. Dip your favorite chip and enjoy!
Head to @bakedbymelissa's TikTok to see how she makes it and the Green Goddess Recipe here.
Here is how our version turned out!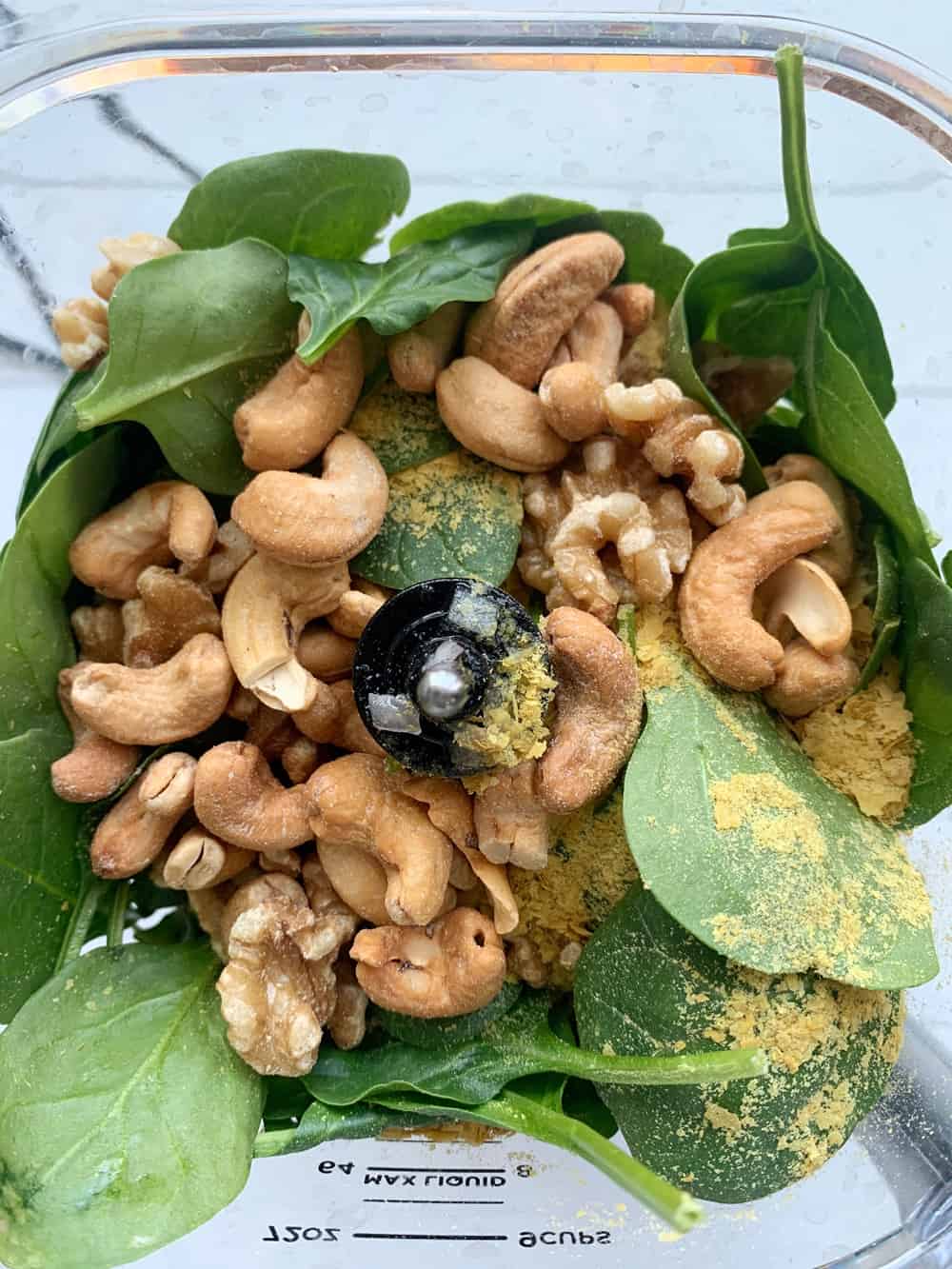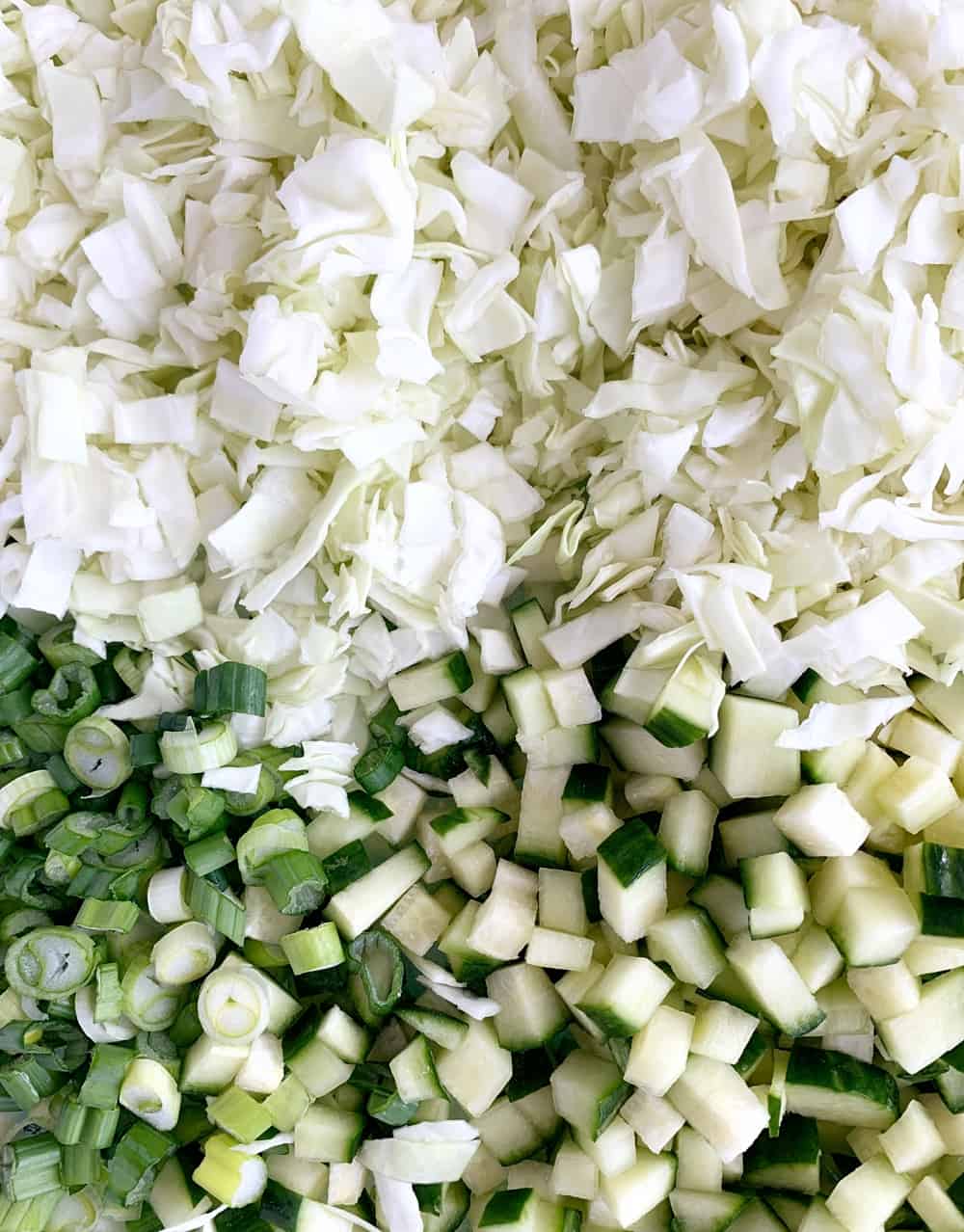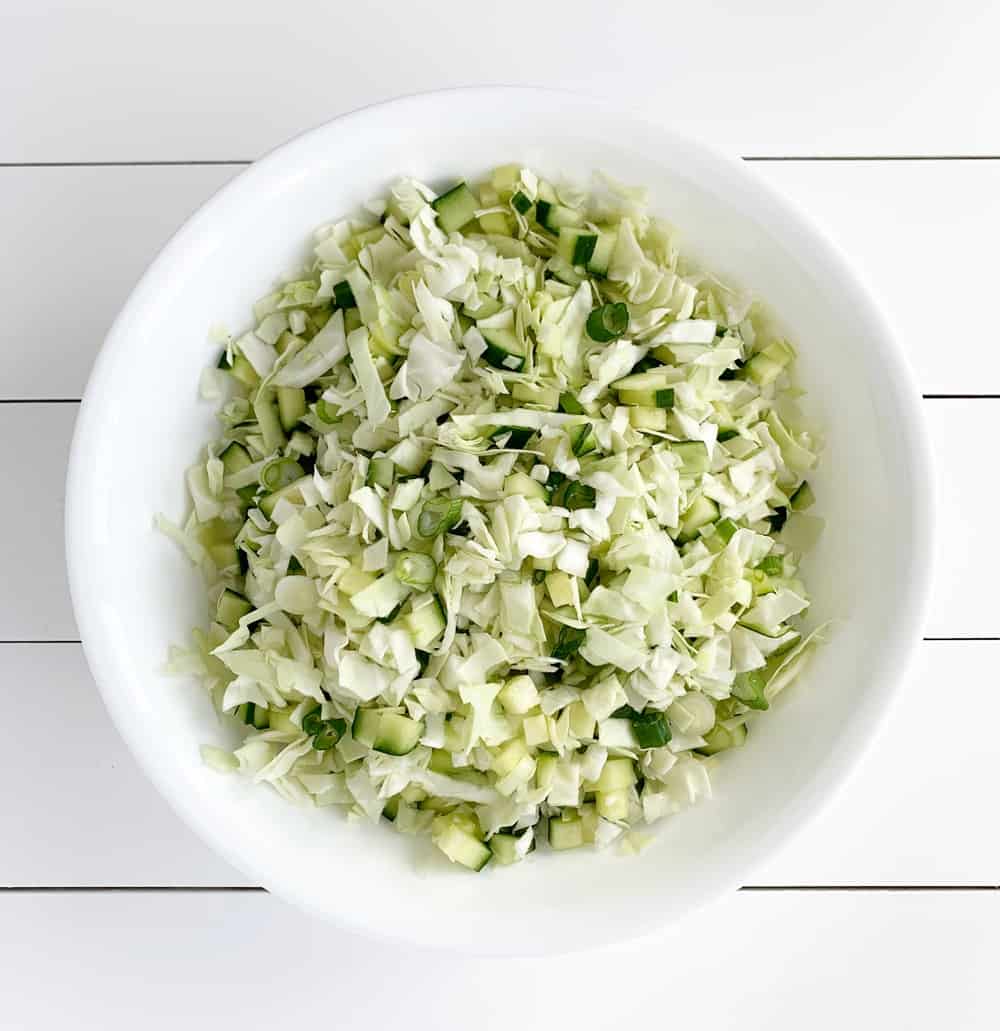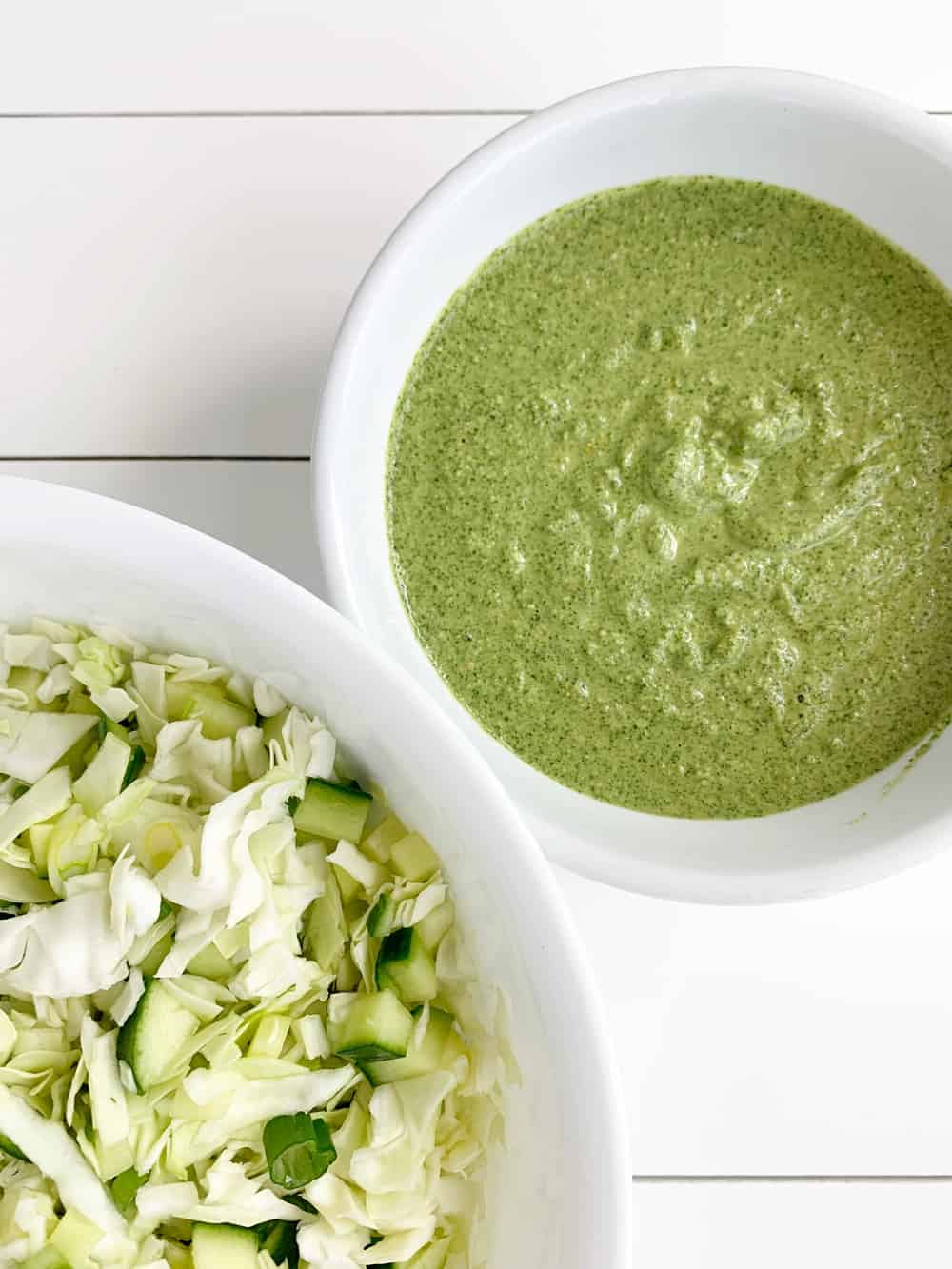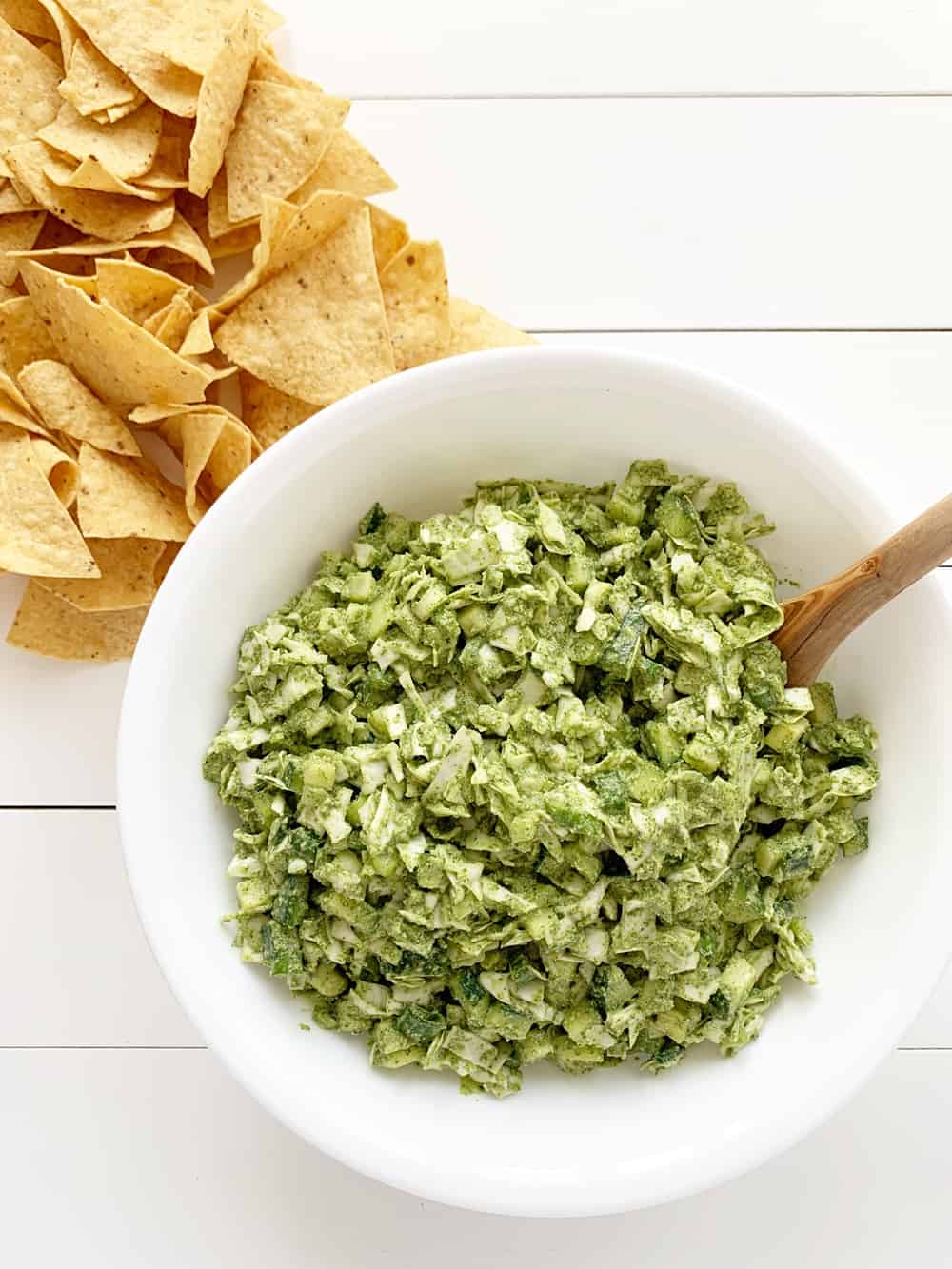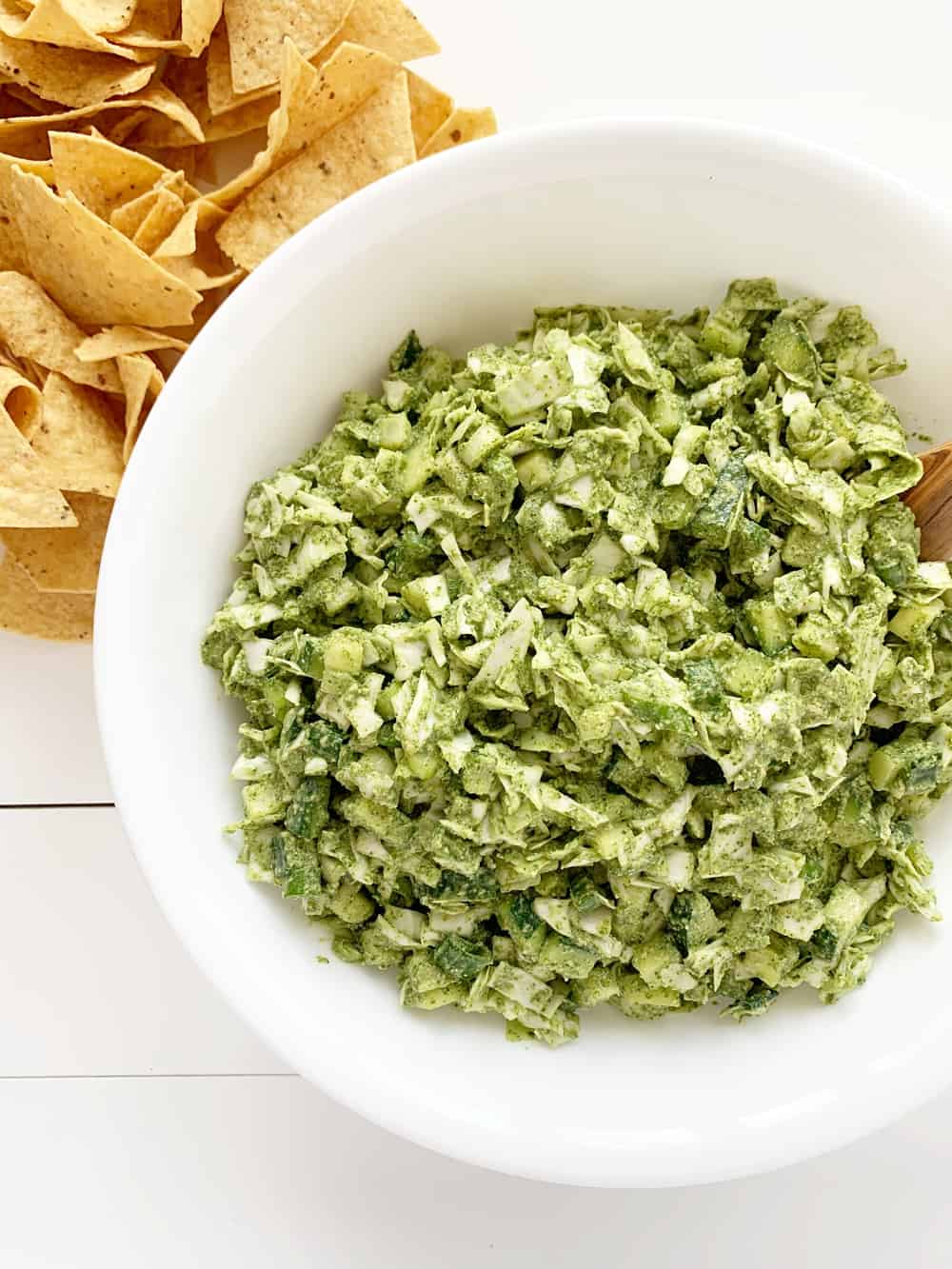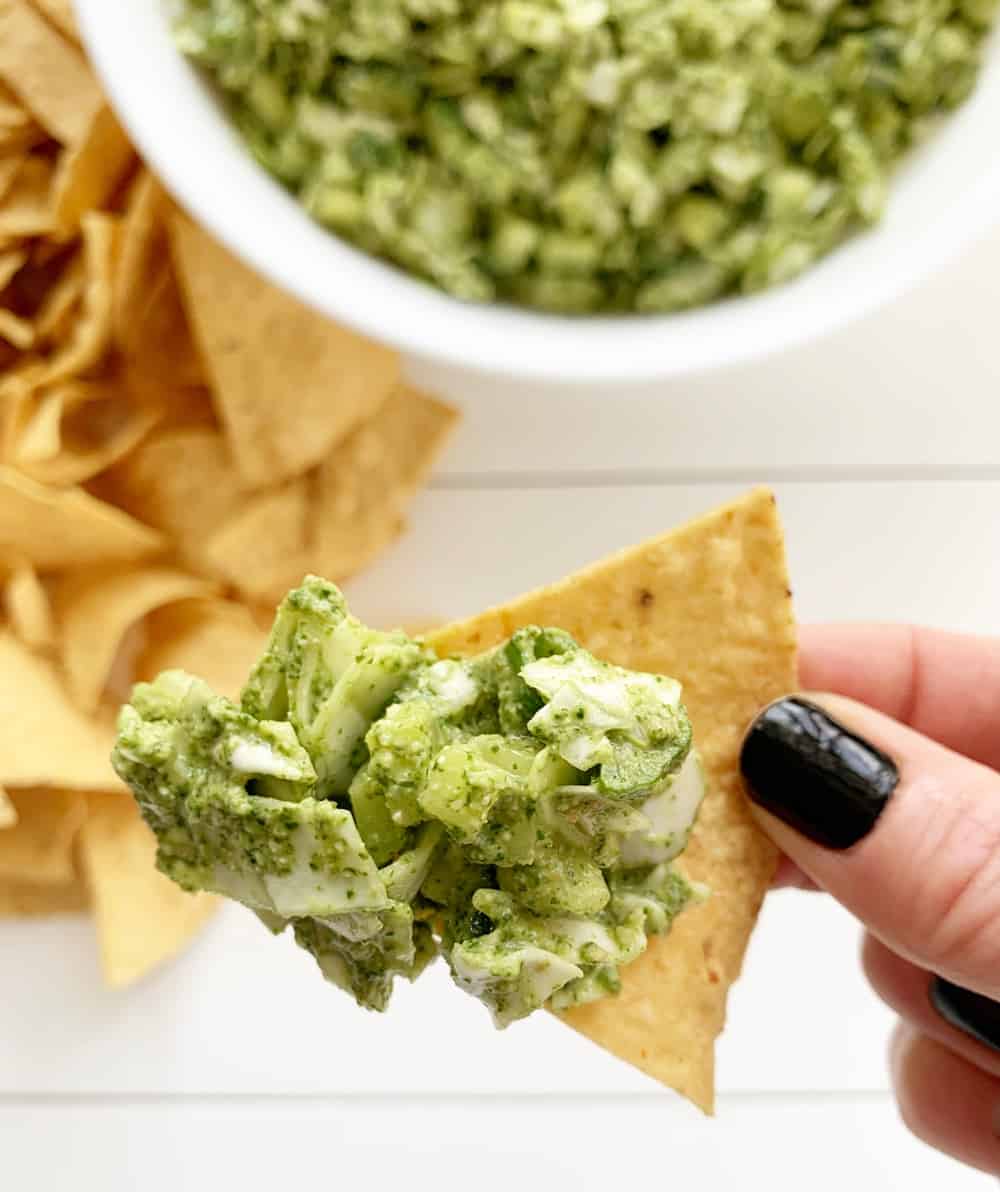 Here are some other fun TikTok Recipe Hacks to try!
TikTok Yogurt Custartd Toast
TikTok Mac and Cheese One Pan
Boursin Baked Tomato Soup
For more information please see the list of Green goddess salad tiktok recipe
Detail: 🔗