Sharing is caring!
Easy and unique pasta sauces are a staple item in my house. It elevates dinner and makes just a regular old pasta night turn into a gourmet pasta night. That's exactly what you'll get with this Alfredo Tomato Sauce. Alfredo sauce with tomato is an interesting spin on the traditional white Alfredo sauce we're all used to. The added tomato sauce to the Alfredo helps cut through the heaviness and lighten the sauce up a bit. It's robust, hearty, and filled with warm and comforting flavors.
I've also referred to this previously as Blush Alfredo Sauce, but I feel that title doesn't really tell you what this is. Also, the color really isn't pink. It's more of a cross between orange and maybe slightly pink. So, with this new version of the I worked on I also decided to change the name to Alfredo Tomato Sauce.
Do you know what the secret ingredient is to make perfect Alfredo sauce?
Nutmeg.
Yes! Nutmeg is what you need to add to Alfredo sauce to get that warm deep flavor. Nutmeg will set the sauce apart from just being a cream sauce to making it into Alfredo sauce. Trust me on this! Do not skip the nutmeg. Taste the cream sauce first before adding the nutmeg, then add it and taste again. You'll see why I'm so adamant that it needs to be added to get that extra layer of flavor that will impress your taste buds.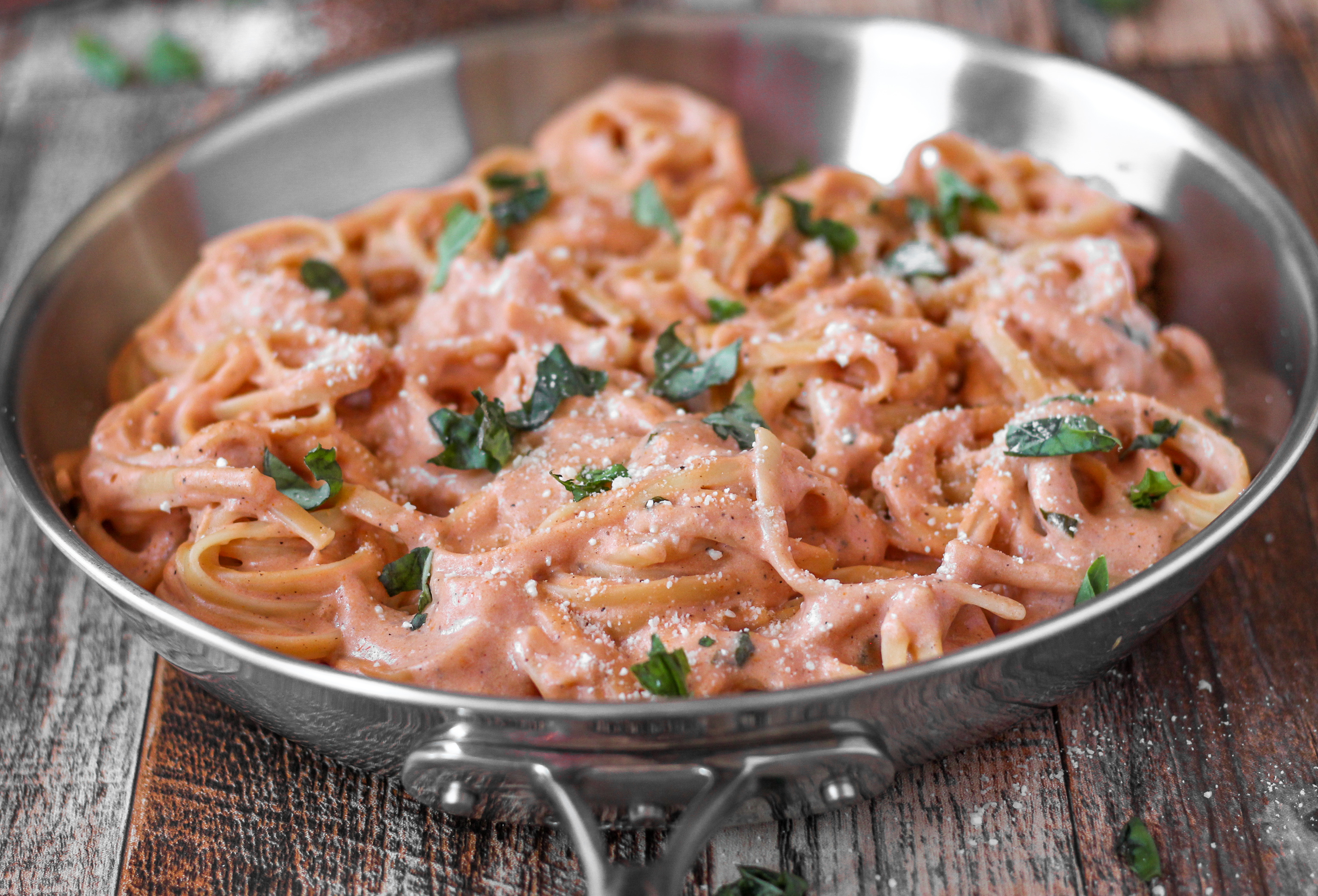 Look at those perfect mounds of swirled pasta! You'll notice I chose linguini pasta noodles for this instead of fettuccine. I actually don't really like the thickness and width of fettuccine noodles, I also didn't want this dish to be just a different version of fettuccine Alfredo. So, linguini noodles it is! Linguini is a flat noodle, but not as wide as a fettuccine noodle. They hold onto the sauce without being overly starchy or competing with the sauce.
Like pasta dinners? Check out some of my other recipes you might like:Marsala Cream Sauce PastaEasy Pesto Pasta
Print