Chutneys & Pickles are heart & soul of Indian kitchen and can jazz up any boring meal. Fresh Turmeric pickle Recipe or Kachi Haldi Ka Achar is a simple recipe prepared with fresh Turmeric, Ginger, Green chillies, mixed with few spices & a little oil and marinated for a day before consuming it.
Reading: how to make tumeric pickles
About Turmeric:
Turmeric, or "Indian saffron," is a gift from Nature and has numerous health benefits. It has powerful anti-inflammatory, anti-fungal and anti-bacterial properties and is used in Ayurveda medicine in India….Turmeric is considered a super healthy and curative herb.
Turmeric comes from a root that looks a lot like ginger since they are from the same family. Although it is easiest to buy it in powdered form, you can find the fresh root mostly during winters. Turmeric is an essential ingredient in Indian curries that gives curry its yellow colour, with its taste described as bitter and peppery. It has been used in India for thousands of years as a spice and medicinal herb.
Turmeric has been used for thousands of years to treat stomach ailments, ulcers, liver problems, fever and as an antiseptic for wounds and sore throats. It is widely regarded as anti-inflammatory. Turmeric contains curcumin, a substance with powerful anti-inflammatory and antioxidant properties.
Apply turmeric to wounds, and it's believed to fight infection. Mix it with milk and drink, the mind calms down. Tint the entrance of new homes with a paste to welcome prosperity as Turmeric is considered auspicious. Pure turmeric is considered safe for most people. However, turmeric powders may sometimes be adulterated with cheap fillers, such as wheat starch and some food colorants. They may even contain lead. So, prefer to use organic turmeric.
Does Turmeric boost your immune system?
If there is a spice that should be added to your cold and flu prevention regimen, it's Turmeric as it is a natural way to help boost the immune system. So, try adding extra turmeric into your diet during flu season to help give your immune system a little boost. Apart from Turmeric, also include ginger, garlic and pepper in your diet as they are immune boosters…our Grandma's home remedies and Simple tricks to boost your immune system may not hurt!!…..Now you know the magical power of our own delicious Rasam!!
Coming to today's Fresh Turmeric pickle Recipe, I think this is absolutely the best way to consume a decent quantity of turmeric without limiting oneself to the misery of eating the otherwise unpalatable turmeric. You can enjoy the fresh turmeric pickle the way you want it….with rice, Indian breads, rice, curries, pappads, salads etc.
Steps to follow for Turmeric Pickle:
For this fresh turmeric pickle recipe, I'm using 100 grams of turmeric root, 50 grams of fresh ginger and few green chillies(6) and some garlic pods(6). Increase or decrease green chillies to suit your taste. You can also use mango ginger instead of regular ginger.
????Now, let me warn you to wear gloves while handling turmeric as the hue is so strong that it will stain your hands.
1- Wash, rinse and clean all the ingredients with water. Dry them completely with a tissue or a kitchen towel leaving no moisture.
Read more: how to make quarts bread and butter pickles | Family Cuisine
2- Peel out the skin of turmeric root and slice them into julienne. Similarly work with ginger and cut into thin strips. Slice a few green chillies. Peel garlic and slice them into thin pieces. Spread them on a tissue paper to remove any excess moisture.
3- Transfer cut pieces to a glass bowl. Add in half a cup of lemon juice.
4. Add 1.5 to 2 tsp of salt or as required and mix well. Set aside while we prepare the spice powder mix.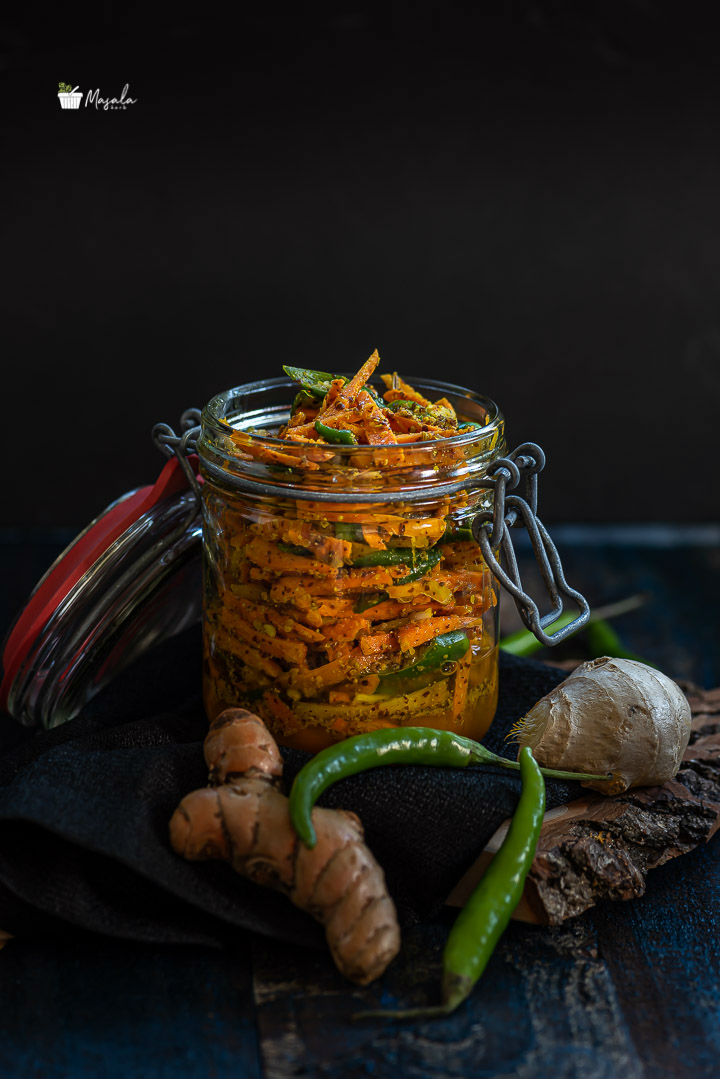 Prepare Spice Powder Mix:
5- Into the mixer jar, add in 3 tsp Mustard Seeds, 1/4 tsp Fenugreek Seeds, 1 tsp Fennel Seeds, and 1/4 tsp Asafoetida.
6- Grind the spices to a coarse powder and set aside.
7- Heat a pan with 2 tbsp Mustard oil. You can also use sesame seed oil aka gingely oil.
8- Once the oil is hot enough, add in the spice powder mix.
9- Turn of the heat immediately and give it a nice mix.
10- Transfer this into the cut turmeric mix. Mix very well so that the spices and nicely coated.
11- Close with a lid and set aside for few hours. Give it a nice mix after few hours and adjust salt if needed.
12- Now, transfer the pickle to a glass jar. Try to use a glass or ceramic container to store the pickle.
Read more: how to make kool aid pickles | Family Cuisine
13- You can leave the pickle for a day or 2 at room temperature on your kitchen counter and then refrigerate for longer use. Remember to stir the pickle once a day for a couple of days so that all the juices released will be mixed evenly. This will also help to keep the pieces soft. The pickle keeps good for about 3 to 4 weeks.
Serving Suggestions:
This delicious tangy pickle is a good accompaniment to pappad, naan, roti, paratha or with rice.
Turmeric pickle also goes very well with curd rice!!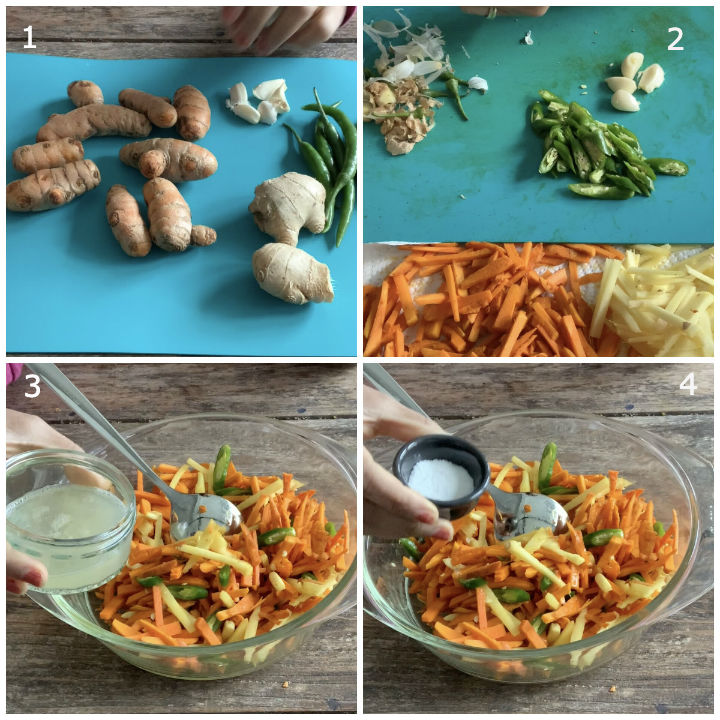 Do check out other Pickles & Karam Recipes and other Chutney Recipes from blog!!
Other popular Pickle Recipes on blog:
Mango Pickle
Amla Pickle
Chicken Pickle
Many more to come!!…..STAY TUNED!!
Hungry for more? Never miss a recipe!!…Subscribe to MasalaKorb and have posts delivered straight to your inbox! And connect with me on Facebook, Google, Twitter, Instagram and Pinterest for all of the latest updates.
Do subscribe to my YouTube Channel for latest video alerts!!
If you cook this dish, be sure to tag your photo with this hashtag: #masalakorb
Happy Cooking
Cheers!!
Padma.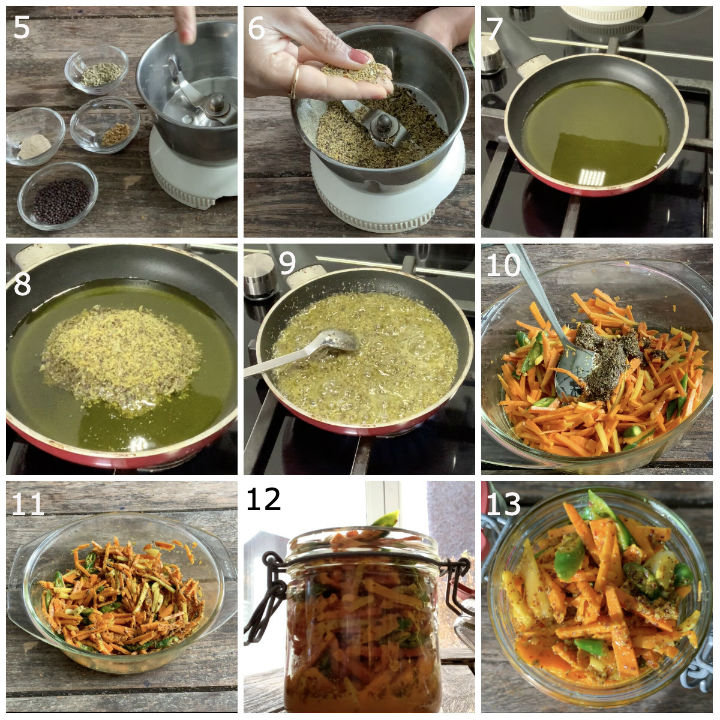 Read more: how to make pickles using hot sauce | Family Cuisine