This V8-style tomato vegetable juice is a great way to preserve your garden harvest. It is a blend of tomatoes, carrots, celery, peppers, onion, and parsley. Salt is optional for flavor. You can leave it out for a lower sodium beverage.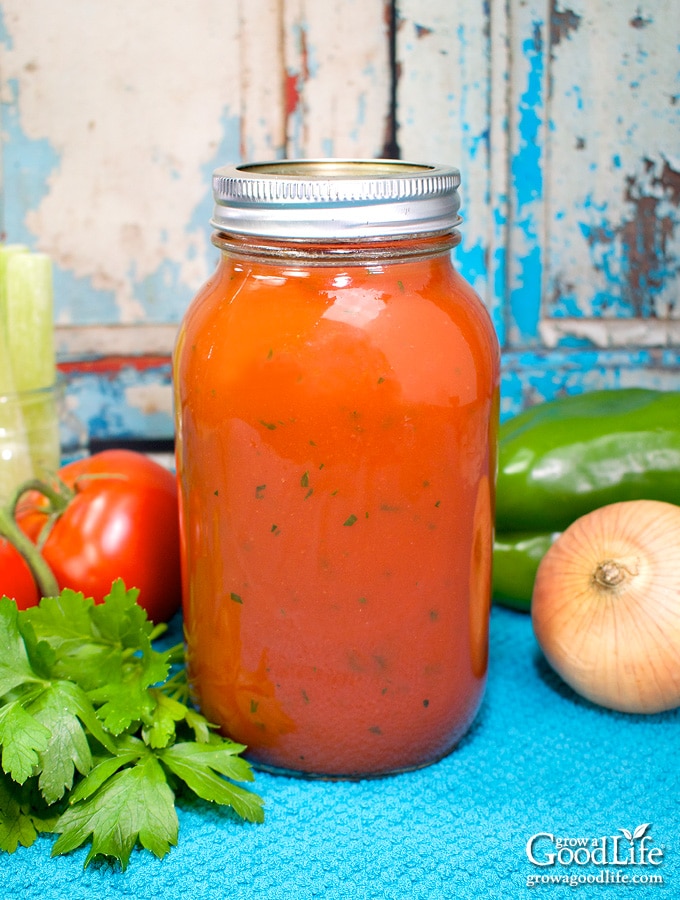 Reading: how to make v8 juice for canning
I have always loved the idea of drinking a glass of vegetable juice as an easy way to get more vegetables in my diet. However, the typical store bought bottles contain lots of sodium and questionable ingredients.
Luckily, there is a V8-style vegetable juice that uses freshly harvested garden ingredients that is safe for water bath canning. Make this homemade vegetable juice knowing exactly what goes in it. No artificial colors, preservatives, mystery flavorings, or lots of sodium like you'll find in the commercial brand.
Helpful Tips for Canning Vegetable Juice
If you are canning tomatoes and vegetables, is important to follow a recipe that has been tested for safe home canning. This recipe is in both the Ball Blue Book Guide to Preserving and the USDA Complete Guide to Home Canning has this recipe. Ball's recipe includes fresh parsley, which adds nice flavor to the vegetable juice.
According to the UDSA's recipe, you can adjust the amounts of carrots, celery, peppers, onions, and parsley, but do not go over 3 cups of total chopped vegetables for 22 pounds of tomatoes.
Skinning and Seeding the Tomatoes
After simmering, use a food strainer or food mill to strain out the tomato skins and seeds and squeeze the cooked vegetables into juice.
If you don't have a vegetable strainer, or an easy way to remove the skins and seeds, you can peel and seed the tomatoes before cooking.
To peel the tomatoes, bring a large saucepan of water to a boil and fill a large bowl with ice water. Cut an "X" on the ends, and dip the tomatoes into the boiling water until the skins loosen – about 30-60 seconds.
Remove the tomatoes from the pot and place in the bowl of ice water to cool. Discard the water and peel your tomatoes once they are cool enough to handle. Cut the tomatoes into quarters, and scoop out the seeds. Simmer the tomatoes and vegetables, let it cool slightly, and then blend the mixture in a food processor.
Measuring the Vegetables
Peel, seed, dice or chop your vegetables as described in the recipe before measuring using a measuring cup. You can also weigh your vegetables using a kitchen scale. If you are measuring by weight, you won't have to worry about the size of the pieces because they get juiced after cooking. I have included both cup and weight measurements in the recipe below.
Make a Spicy Hot Tomato Vegetable Juice Variation
Do you ever wonder what makes spicy hot V8 taste spicy? There is nothing spicy in the ingredient list. With this canning recipe, you can replace the sweet bell pepper with any type of pepper as long as the amount used is the same. Try using habanero, jalapeño, cayenne, or your favorite hot chile pepper for added kick.
Read more: Cinnamon Date Smoothie
You can also add your favorite dried spices, such as black pepper, red pepper flakes, oregano, cayenne, or other dried chile powder.
Don't Skip the Acid
When canning tomatoes, an acid must be added to your jars before filling to prevent the growth of botulism bacteria. Add bottled lemon juice or citric acid to each jar before filling as directed in the recipe.
Steps for Making and Canning Tomato Vegetable Juice
If you are new to canning or haven't canned in a while, it may be helpful to review this article on water bath canning at the National Center for Home Food Preservation website.
A more detailed and printable recipe can be found at the bottom of this article, but these are the general steps for making and canning a tomato garden juice blend:
Step 1: Prepare the canning equipment
Gather your canning equipment. You'll need:
Water bath canner and canning rack
7 quart sized canning jars (or 14 pint sized jars)
Canning lids and bands
Canning tools: lid lifter, jar lifter, canning ladle, funnel, and bubble popper
Kitchen scale
Plus basic kitchen supplies such as a large sauce pot, small pot, towels, knife, large spoon, and a cutting board.
Place the water bath canner with the canning rack on a large burner of your stove. Wash your jars, place them in the canner, add water and boil the jars for 10 minutes to sterilize.
Heat your canning lids in a small pot over low heat. Keep the canning jars and lids warm until they are ready to use.
Step 2: Prepare the vegetables
Wash your tomatoes well under running water, trim out the core and any bruises or bad spots. Cut into quarters and add to a large saucepan.
Scrub the carrots, peel, rinse again and dice. Weigh out 3 ounces using a kitchen scale, or measure out 3/4 cup and add to the pot.
Wash the celery, trim off the ends and chop into small pieces. Measure 3/4 cup, or 3 ounces and toss into the pot.
Rinse the pepper, cut in half, remove the stem, seeds and membrane, and chop into small pieces. Weigh out 3 ounces or measure 3/4 cup and add to the pot.
Peel and chop the onion, measure 3/4 cup or 3 ounces and add to the pot.
Wash the parsley well under clean running water, separate the foliage from the stems, and chop. Add 1/4 cup of the foliage to the pot.
Read more: New York Sour | Family Cuisine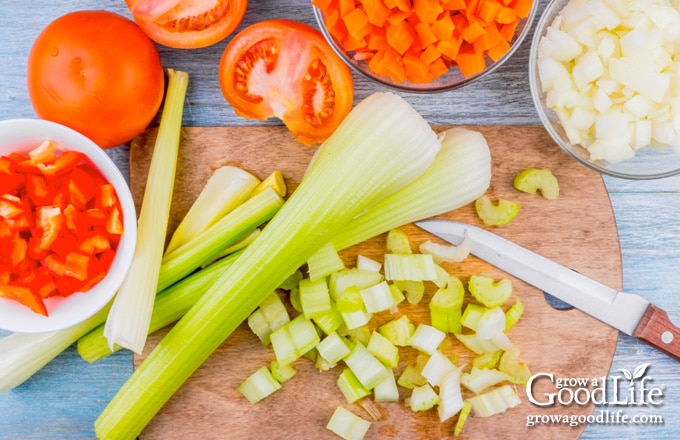 Step 3: Simmer the Vegetables until Soft
Stir to combine the vegetables, and bring the pot to a slow simmer over medium heat. It can take a while for the pot to achieve a simmer, while it is heating, stir the vegetables frequently and squish the tomatoes to help release liquid.
The pot has reached a simmer when you see some movement in the liquid and gentle bubbling activity. Once the pot is simmering, continue to simmer until the vegetables are soft, about 20 minutes. Stir occasionally to prevent scorching.
Step 4: Strain the Vegetable Mixture
Once the vegetables are soft, turn off the heat and allow the mixture to cool. Run the cooled vegetables through a food strainer or food mill to remove skins, seeds, and to smooth out the juice.
Return the juice to the saucepan, add salt (if using), and heat the juice to a simmer over medium-low heat. Do not boil. High heat will cause the juice to separate.
Step 5: Can the tomato vegetable juice
Remove the warm jars from the canner, drain, and add the citric acid or lemon juice.
Ladle the juice into the jars, cover, and process in a water bath canner. Let the jars cool, test the seals, label and date the jars, and store the canned tomato vegetable juice in a cool, dark location.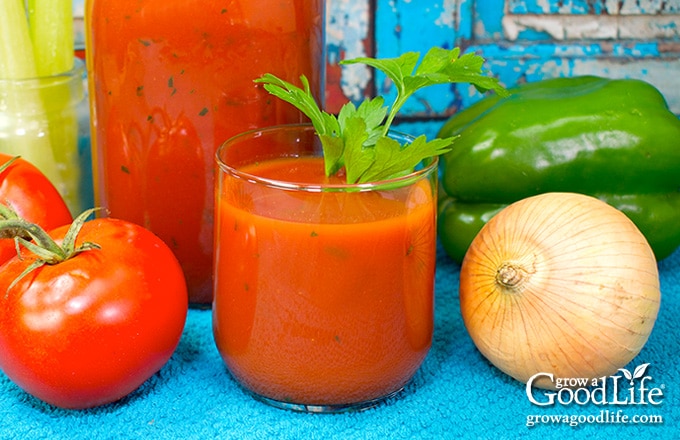 You May Also Like:
Seasoned Tomato Sauce Canning Recipe
Tomato Salsa Canning Recipe
How to Make Sun Dried Tomatoes
Other Ways to Preserve the Harvest
Good planning is key to a successful vegetable garden
Whether you are new to growing your own food or have been growing a vegetable garden for years, you will benefit from some planning each year. You will find everything you need to organize and plan your vegetable garden in my PDF eBook, Grow a Good Life Guide to Planning Your Vegetable Garden.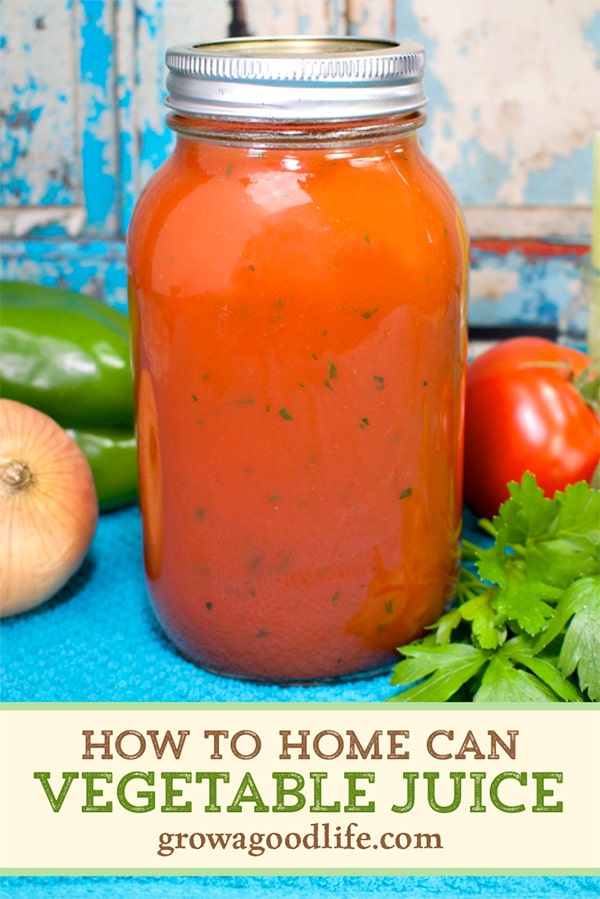 Read more: How to do lemonade braids on yourself