Making Tomato Vegetable Juice in the Ninja Blender-AKA: DIY V8
I had a question in the comments section last week about the ability of the Ninja Blender to make tomato juice. And while I was very confident that the Ninja could produce tomato juice with ease, I thought I'd do a little demonstration for you. And, to make it more interesting, I decided make a tomato blend.
We've all heard the advertisement, "Could've had a V8," pushing the impression that choosing a V8 is a "healthy" choice and a smart way to get your vegetables. Marketers are savvy, you know, and they do their best to appeal to our desires to live healthy lives. (Hey, I am one, so I can say this. I just don't happen to market food!)
Instead of,"Could've had a V8," I ask, should you have a V8?
Eh, I really don't think so.
There are lots of varieties of V8 these days, but, I'm just focused on the "original" V8, which, for an 8 ounce serving has the following ingredients and nutritional information: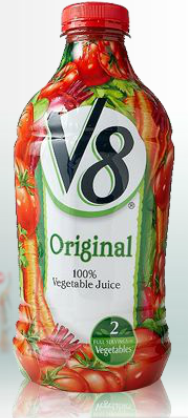 Ingredients: Tomato Juice from Concentrate (Water, Tomato Concentrate), Reconstituted Vegetable Juice Blend (Water and Concentrated Juices of Carrots, Celery, Beets, Parsley, Lettuce, Watercress, Spinach), Salt, Vitamin C (Ascorbic Acid), Flavoring, Citric Acid.
Calories: 50
Total Fat 0g
Sodium 620mg
Dietary Fiber 1g
Sugars 8g
Protein 1g
While this ingredient list doesn't look terrible, in reality, there are far better ways to get your vegetables. And, if you want to have juice as part of that, I'll show you how you can easily whip up your own tomato juice blend in your Ninja Blender.
When it comes to juice, we all know fresher is better, and the quality of the juice starts to degrade not long after it's been juiced. But, when you're dealing with concentrated and reconstituted juices that have sat on a shelf for potentially months, who cares about freshness issues? (I kid, I kid.)
Also read: How long to steep fresh ginger tea

The bottom line is that V8 juice is not fresh, it's made in a factory, and it's packed with salt to make sure you like it. 620 mg per 8 ounces of juice is HUGE. That's 25% of your RDA in a small coffee-cup sized serving. Who cares if you're getting "two servings" of vegetables in the little cup, you're also getting 1/4 of a teaspoon of salt to go with it!
While price isn't really part of the overall discussion, when I went to the store to buy the ingredients for this juice, they ironically had the V8 front and center. Original V8 was $1.59 and Spicy was $1.89, for a 12 ounce bottle. I should note that this was at an Albertson's in the Seattle suburbs. Not terribly expensive in the juice world, but then again, it's not "fresh'" like a more expensive fresh-squeezed juice that you'd buy at a natural market.
All that said, what if you like V8 juice and you want to make your own? Well, it is easier than you might think if you have a high-powered blender (or a juicer). I don't have a juicer, so, let's talk about how to make this in your Ninja Blender (or similar). The end result is refreshing, with no added sodium, and you can really tailor to your tastes.
I have provided a framework below of a juice that I like, but, oh wait, what's that you say? You don't like beets? Well then, just leave it out. Prefer more celery because you have a lot sitting around? Go to town. You get the picture – you can completely customize to your tastes.
In all fairness, I should really call this a "V5 Juice," because I didn't use all 8 ingredients, but I'll give you suggestions for how to get the full 8 from the original, should you wish.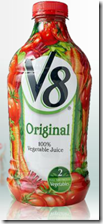 Ingredients:
2 tomatoes
1 celery heart, bottom cut off
1 small beet, peeled
1 handful parsley
1 generous handful spinach
16 ounces filtered water
If you don't want to strain your juice because you want the pulp, add 6-7 ice cubes and skip the water (or start with only 4-6 ounces)
Also read: How to whiten clothes with baking soda
If you want the full "V8," also add: 2 carrots, peeled, 1 handful lettuce of your choice, and a bit of watercress to your discretion.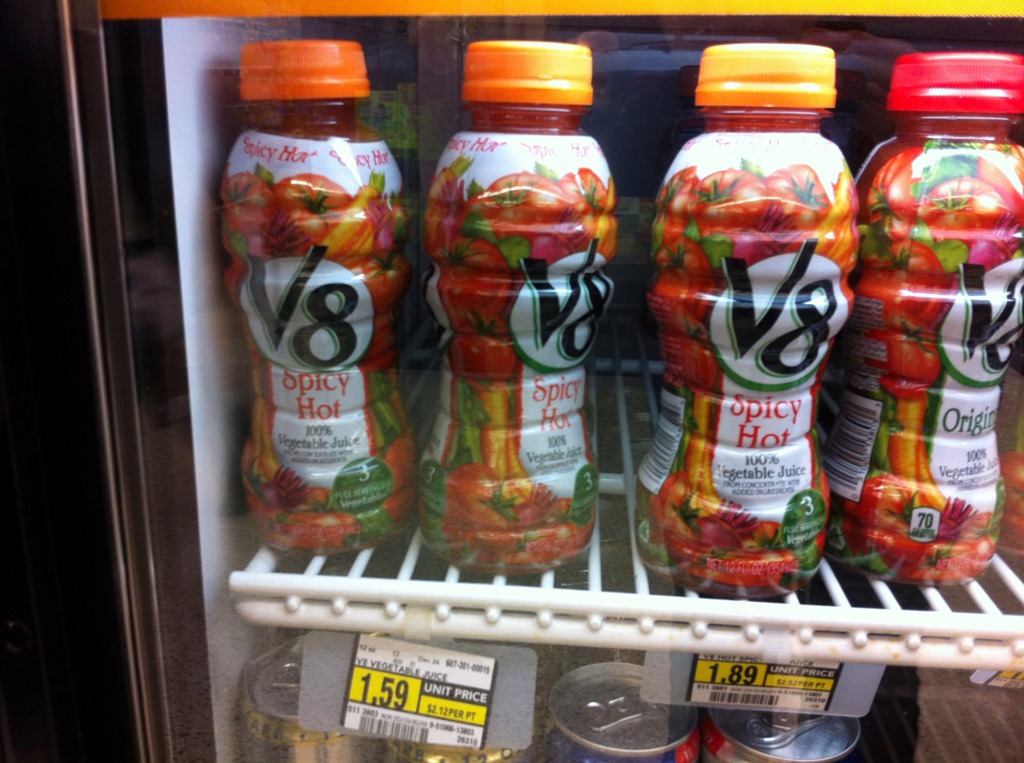 You can see that I have roughly chopped everything, and this is mostly to ensure it will all fit in the pitcher. I did not seed the tomatoes.
Method:
Add all ingredients to the 72 ounce pitcher of your Ninja Blender. If you have a Ninja Pulse, I would make two batches, or split the volume of ingredients in half.
Pulse 7-8 times to incorporate all the ingredients.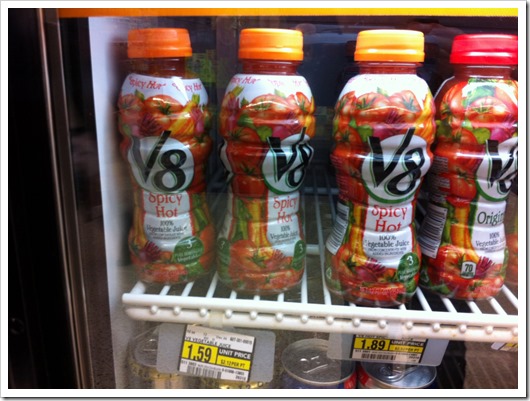 Then, blend on "3" for 30-60 seconds until well incorporated.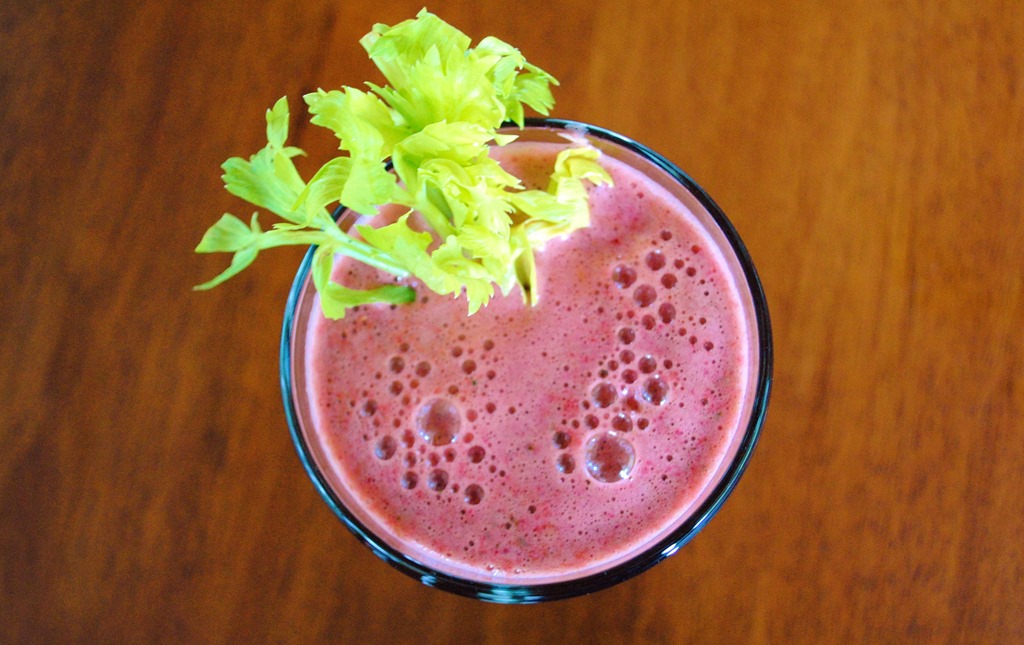 Also read: how to make green juice in a blender
If you didn't add ice and prefer no pulp (the way I'm illustrating), strain using your preferred method. I use a mesh strainer over a bowl. Many people have found success with nut milk bags as well.
Then, enjoy!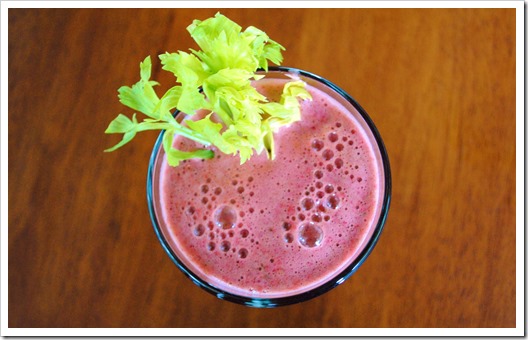 This recipe yields about 24-28 ounces of juice and 2 cups of pulp, depending on how aggressively you strain.
Don't throw away the pulp! You can make pulp crackers with the leftovers!
I drank this before a bike workout, and I have to say, I had one of my best workouts this spring after it.
Cheers!