This Vegan Fried Rice is better than take out and ready in 20 minutes! A great way to use up leftover rice and the perfect weeknight dinner when you barely have time to cook. No eggs!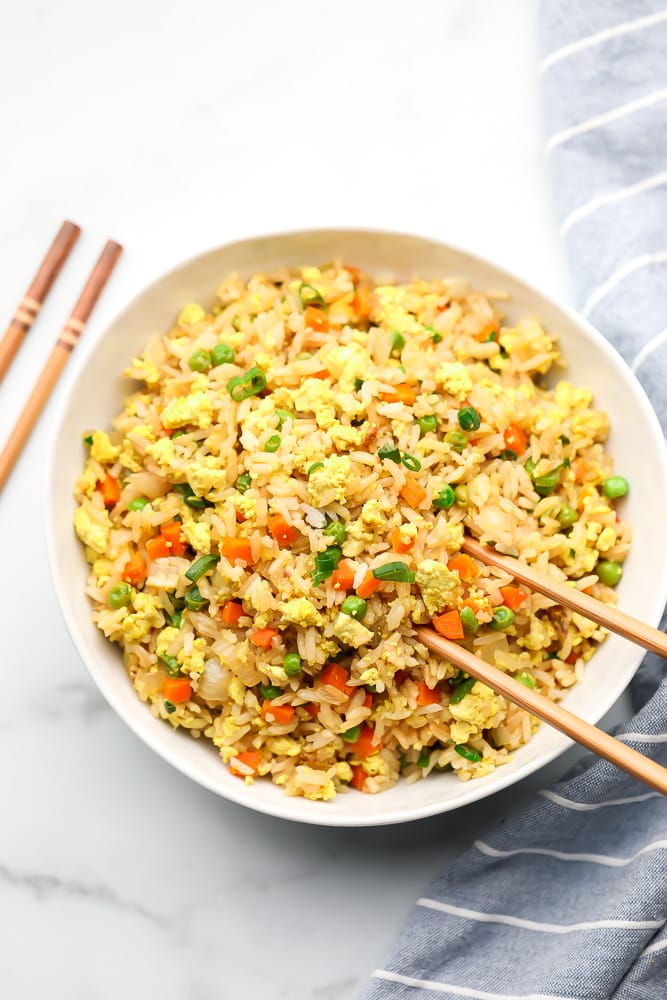 Reading: how to make vegan fried rice
Vegan Fried Rice is hearty enough to serve as the main dish, but can also be served on the side of Orange Tofu, Kung Pao Tofu or General Tso's Tofu.
Or make it go further by adding more vegetables, some Marinated Tofu or Vegan Chicken!
Read more: how to make fried rice like panda express | Family Cuisine
What I love about fried rice is how versatile and quick it is to make. Make extra rice one night so you are ready to make this easy dish the next!
Ingredients for fried rice
Olive oil – Or you could use vegan butter, for sautéing. May use water if needed, for oil-free.
Tofu – You will need one block of firm or extra-firm tofu. This is for making the tofu scrambled "eggs".
Nutritional yeast
Salt
Turmeric
Diced onion AND green onions – May omit the chopped onion if you want, but I like the added flavor.
Diced carrots – Or use a frozen pea and carrot mix.
Frozen peas
Cooked and chilled rice – White or brown are both fine to use, but I prefer white for a more traditional taste.
Low sodium soy sauce – If using regular soy sauce, use a bit less, to taste. For gluten free, use tamari instead.
Toasted sesame oil – This takes the fried rice to the next level! You only need a teaspoon for big flavor.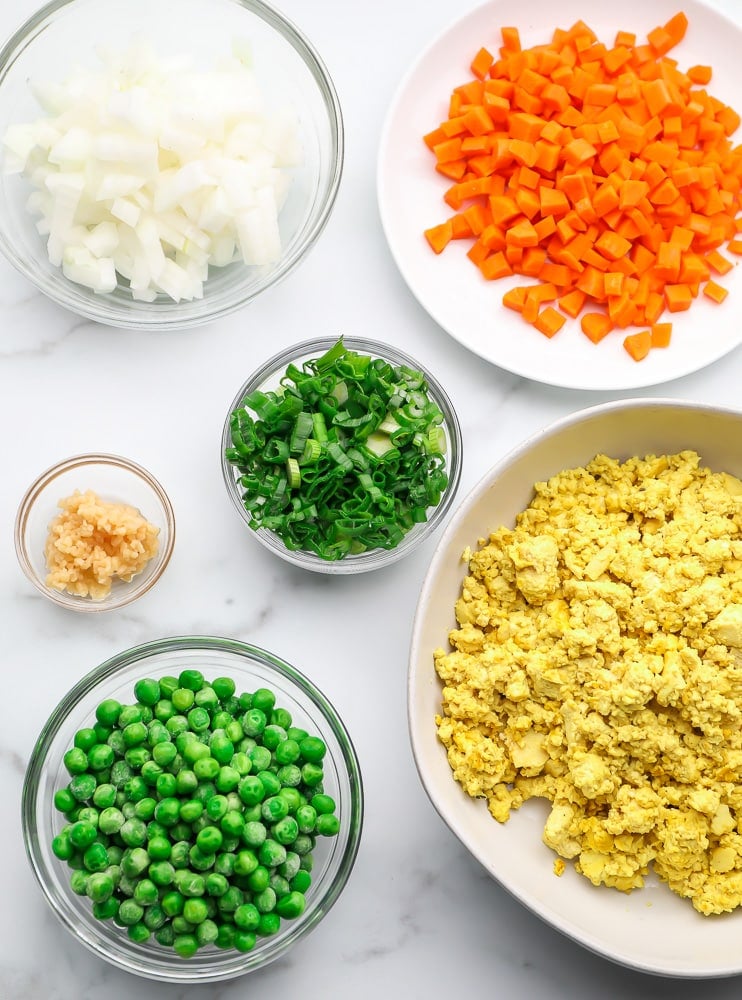 Overview of how to make fried rice
Make your tofu scrambled "eggs". In a large pan, crumble in the tofu and cook for a few minutes until most of the water is gone. Then add the nutritional yeast, salt and turmeric and stir constantly, cooking for a few minutes. Transfer to a pan and set aside.
Back to the pan, add the onion, garlic, carrots and peas and sauté for a few minutes until softened.
Now add the cooked and chilled rice, green onions and soy sauce. Fry for 3-4 minutes, stirring frequently.
Stir in the tofu scramble. Remove from heat and stir in the sesame oil, and add more soy sauce to taste. That's it!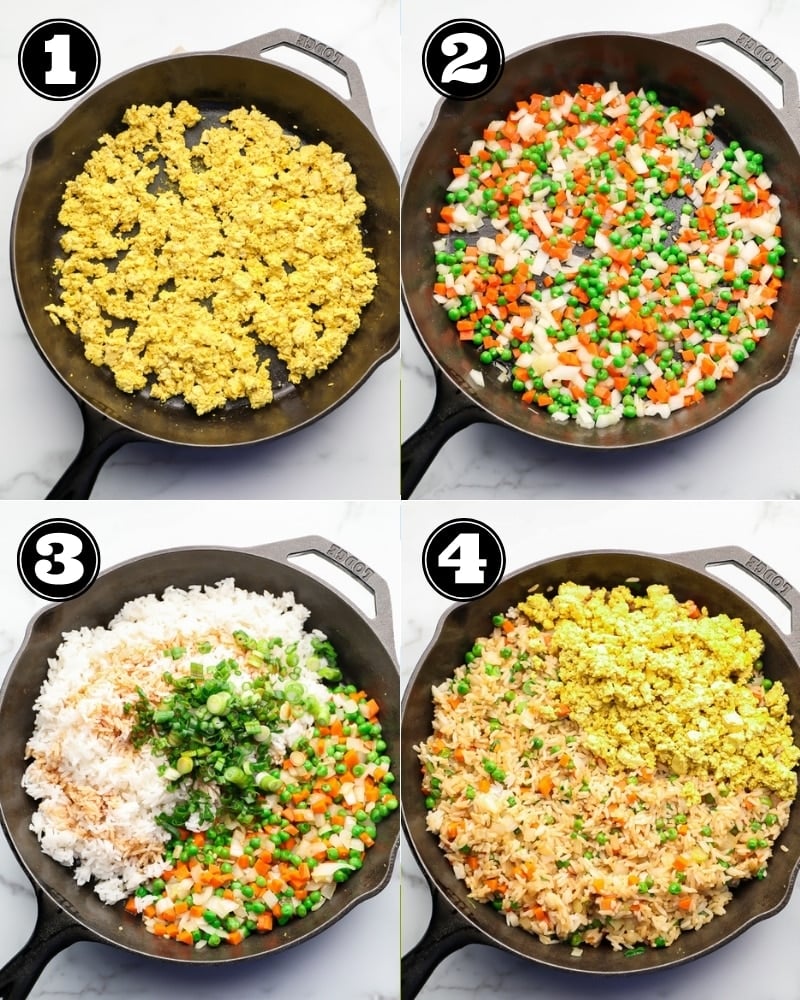 Frequently asked questions
What can I use instead of tofu? Another great option is to use a bottle of Just Egg! All you need to do is cook them in the pan as you would scrambled eggs, then set aside on a plate and continue with the recipe, stirring them back in at the end.
Should I use white or brown rice? I prefer white, but brown works just as well!
Does my rice need to be chilled first? The recipe will work better with chilled rice, but if you must use warm rice, it's okay. Make sure it's not really soggy, rice on the drier side will be better here.
How can I make sure it's gluten free? Use gluten free tamari for a totally gluten free dish.
Can I add more vegetables? Yes, use what you have! Chopped broccoli, cauliflower, sliced zucchini, bell peppers, chopped kale or spinach are all good choices. Cook them along with the peas and carrots until softened.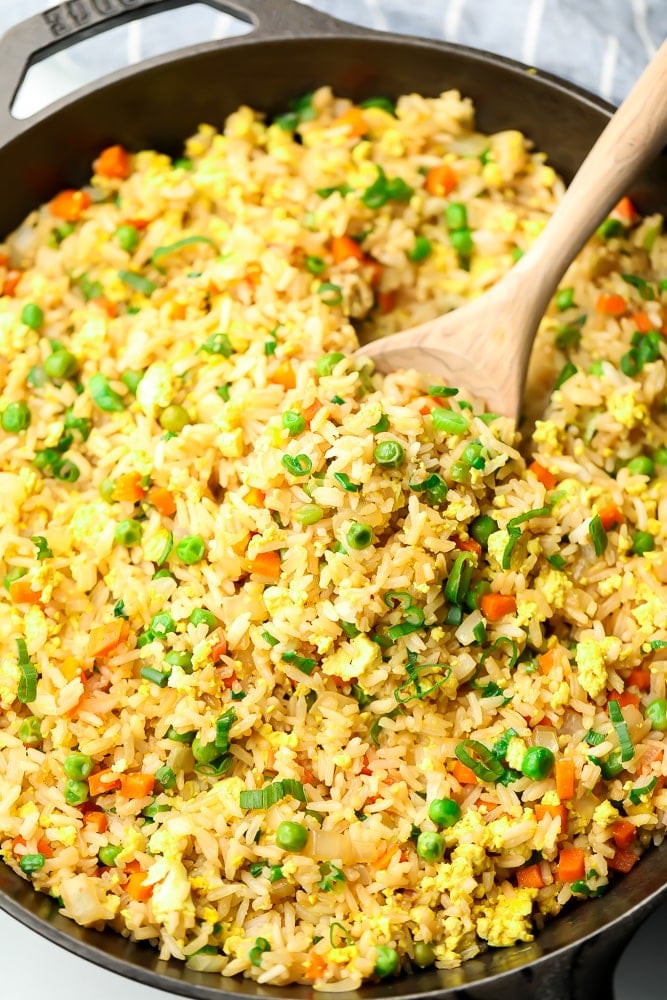 How to store leftovers + freezing
Read more: how to make a lean ground beef stir fry | Family Cuisine
Leftover fried rice will keep for 3-4 days. Store in a covered container in the refrigerator, then re-warm either on the stovetop in a pot, or in the microwave.
It can also be frozen in a freezer friendly container. Let it thaw overnight if possible before reheating and serving.
How many people will it serve?
This recipe makes 4 large servings, but if you are having it on the side of another dish it will likely serve around 8-9 people.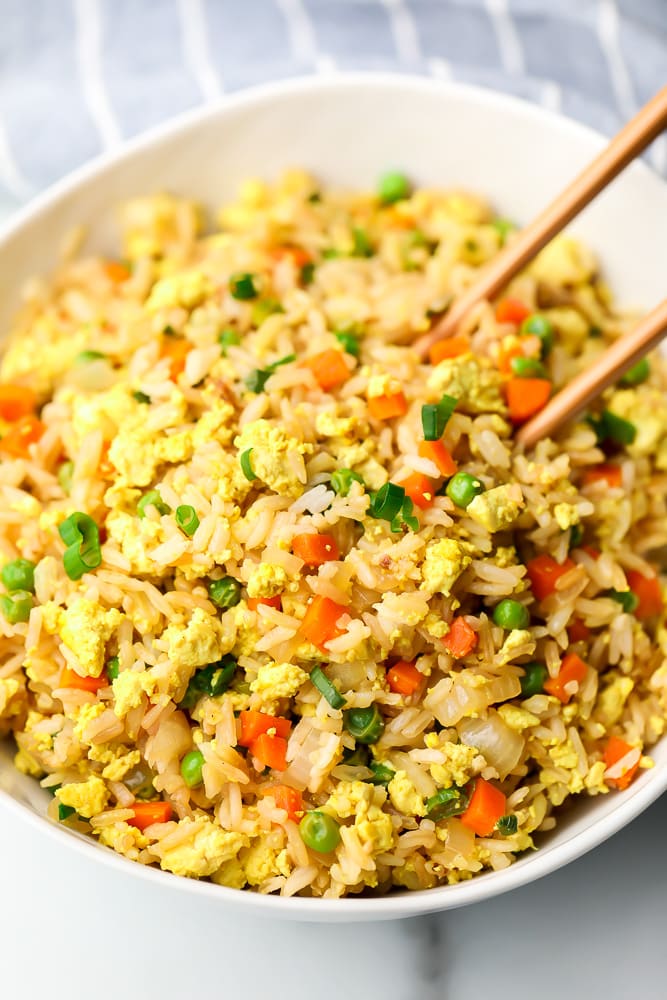 Want more super quick weeknight meals?
Chickpea Curry
Cheesy Vegan Quesadillas
The Best Vegan Mac and Cheese
10 Minute Skillet BBQ Tempeh
We are a participant in the Amazon Services LLC Associates Program, an affiliate advertising program designed to provide a means for sites to earn advertising fees by advertising and linking to familycuisine.net. Read my full disclosure here