Super Crispy Fried Chicken made with buttermilk, chicken, hot sauce, and seasoned flour is crispy on the outside and tender on the inside, PERFECT for dinner or to bring to a potluck or picnic!
We love homemade comfort food, and sometimes a fried dish just hits the spot like these Fried Cheese Curds, Crispy Fried Calamari, and Beer Battered Fish.
Reading: how to make very crispy fried chicken
SUPER CRISPY FRIED CHICKEN
Super Crispy Fried Chicken is one of my all-time favorite go-to chicken recipes, made with juicy chicken coated in buttermilk and all purpose flour, then fried to perfection. You can make this chicken more or less spicy using cayenne pepper or red pepper flakes in the flour.
Or just use the buttermilk and flour with some salt and pepper for a mild flavor. Either way, this is restaurant quality, and you'll want to make fried chicken at home from now on!
Read more: how to make chinese fast food stir fry vegetables | Family Cuisine
First things first, you need to menu plan. Side Dishes are a great place to start:
WHAT TO SERVE WITH FRIED CHICKEN?
Easy Cole Slaw (Coleslaw)
Easy Macaroni Salad
Best EVER Baked Beans
Baked Mac and Cheese
Potato Salad
You can also serve Ultimate Cornbread, Belgian Waffles, or Perfectly Easy Dinner Rolls if you're looking for a starchy side.
WHAT IS THE BEST OIL FOR FRYING CHICKEN?
Personally I like to go with canola oil, because it has a higher smoke point, meaning it can take more heat before it starts burning. You can also use peanut oil, coconut oil or lard to make this fried chicken recipe.
HOW DO YOU MAKE CRISPY FRIED CHICKEN?
I recommend using a real cast iron skillet or dutch oven for any frying recipe. The heat conducts better, keeping a steadier oil temperature.
Add a tablespoon of corn starch to the flour to make the chicken extra crispy.
Place your chicken on a cooling rack over a baking sheet. You can line the baking sheet with paper towels to catch the oil. This lets the chicken cool while the oil drips off.
HOW DO YOU MAKE CRISPY OVEN FRIED CHICKEN?
You can make this fried chicken recipe in the oven if you want to cut down on the oil and calories. Just coat the chicken as usual, then place on a parchment lined baking sheet, leaving room between each piece.
Read more: Skillet Pork Steak | Family Cuisine
Coat with cooking spray on each side, then bake at 425 degrees F for 25 minutes, turn over and bake another 25 minutes or until crispy. If you want extra crispy, turn the broiler on for a minute, watching carefully so it doesn't burn.
HOW LONG WILL FRIED CHICKEN KEEP?
Fried chicken will keep in the refrigerator for 3-4 days in an airtight container, but it may not be as crispy when reheated. You can also freeze this, then reheat in the oven at 350 degrees F for 10-15 minutes, or until warmed through.
TIPS FOR MAKING FRIED CHICKEN
You can buy a whole chicken and take apart the pieces, or you can just make drumsticks and thighs, depending on your preference.
Make the seasoned flour mixture ahead of time and store it in an airtight container for anytime you want to make this recipe!
I recommend using a thermometer to measure your oil temperature, which will take a lot of the guess work out of the process!
I like to make this with the skin on, but you can make it with boneless skinless chicken, too.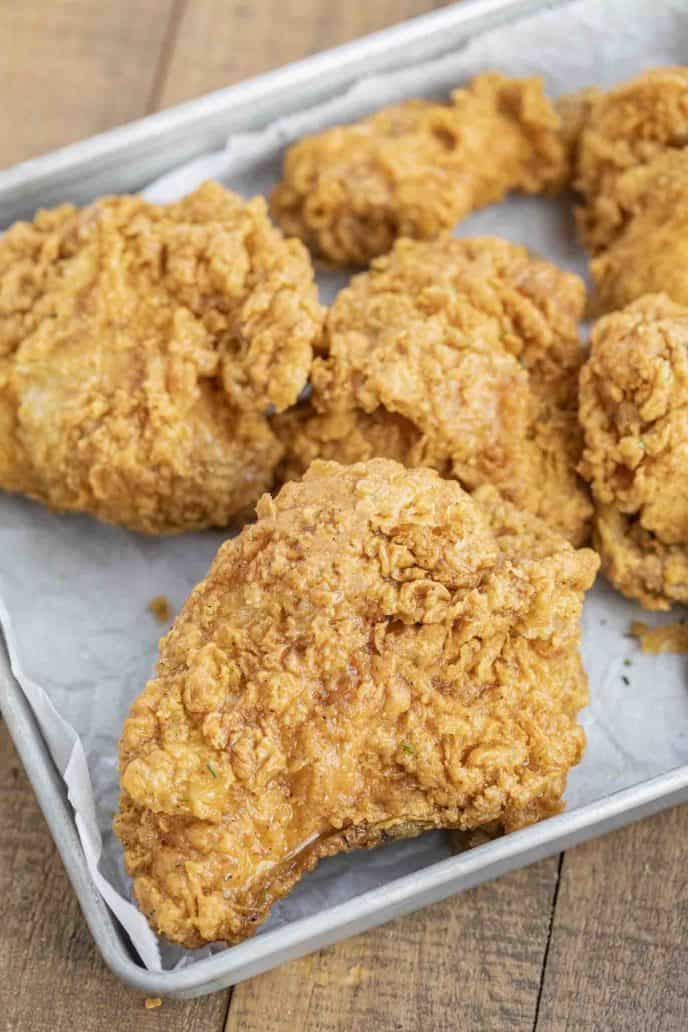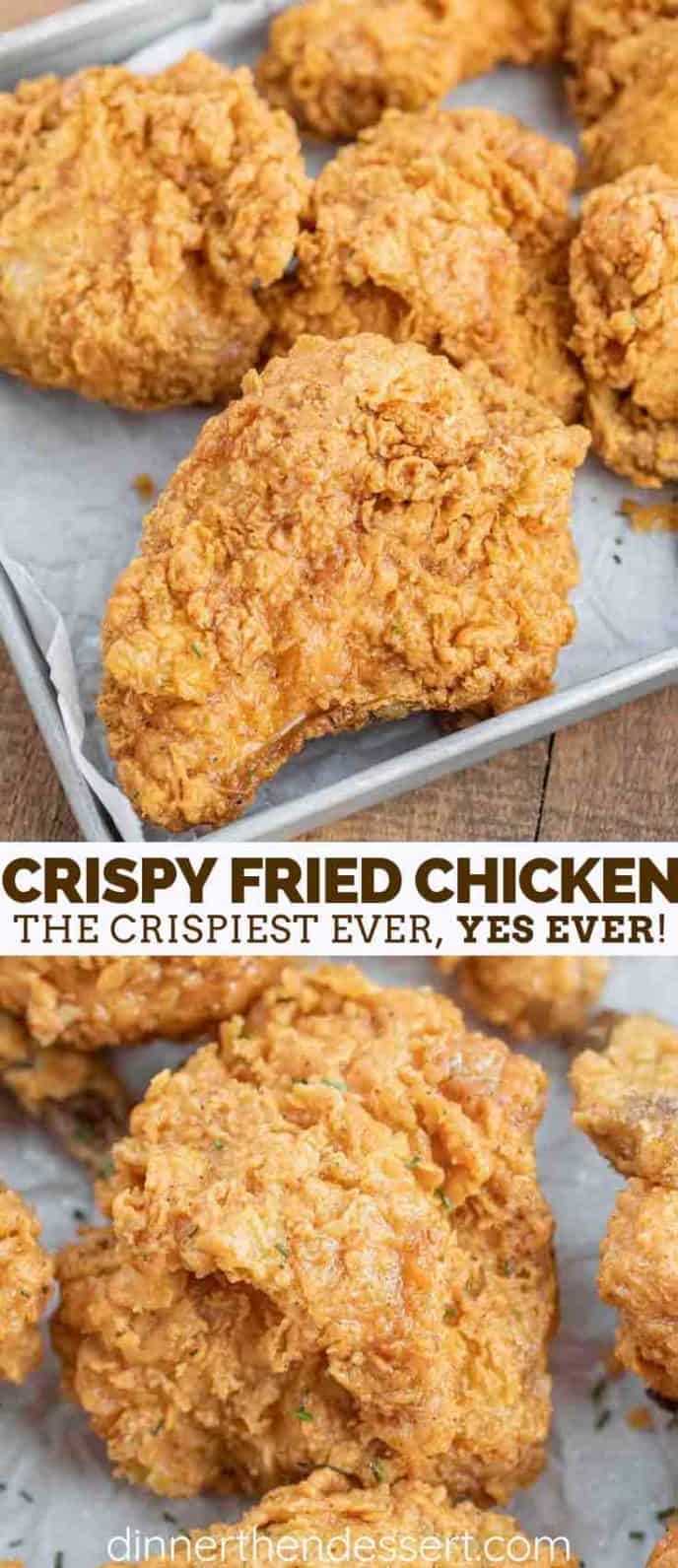 Read more: how to chop king oyster mushrooms for stir fry | Family Cuisine