This buffalo sauce requires only 5 simple ingredients and 5 minutes to make. It's delicious on chicken, shrimp, pizza, sandwiches, or for dipping!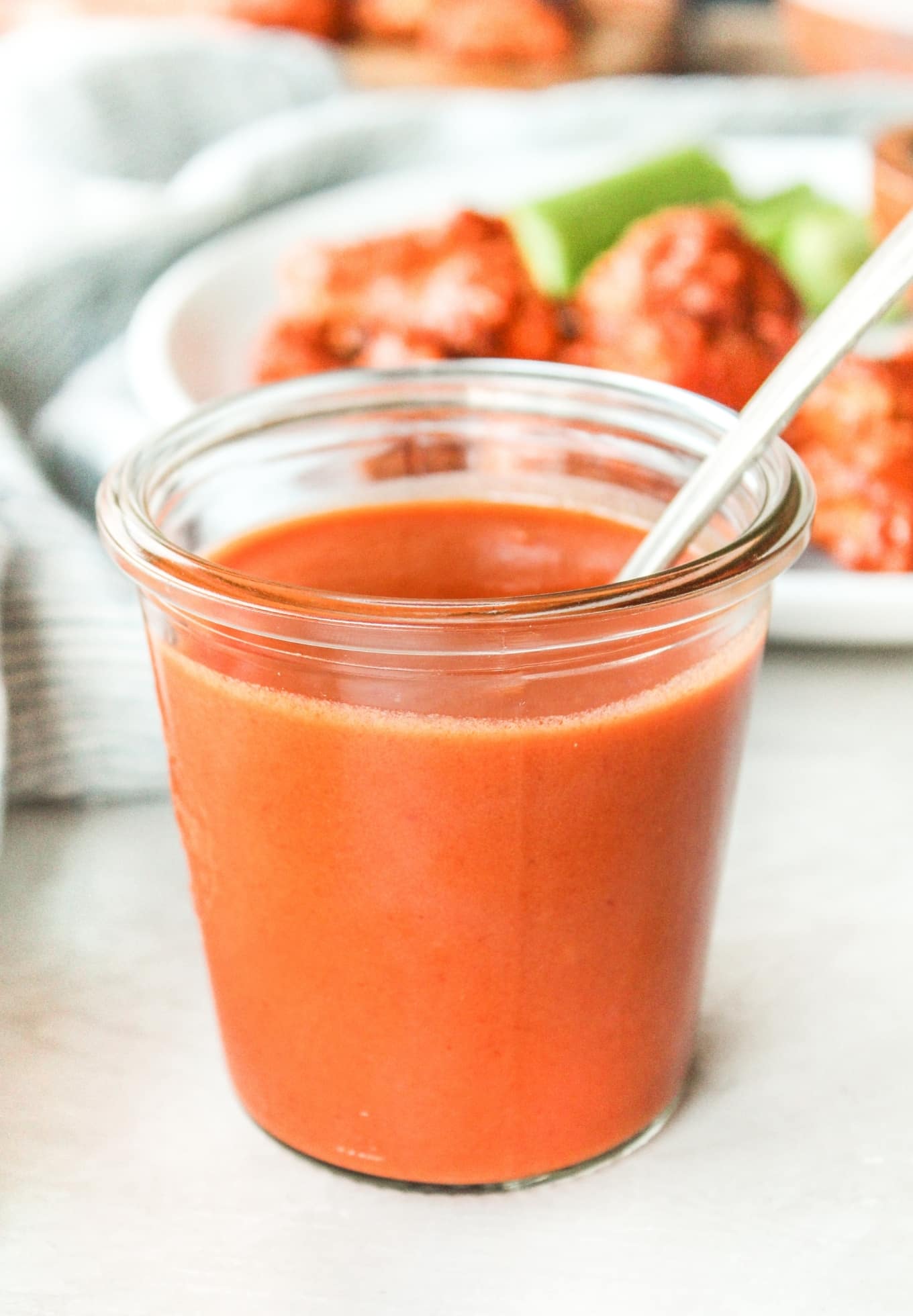 Update: This recipe was originally published in 2018 and has been republished with all new photos and updated recipe instructions.
Reading: how to make your own buffalo sauce
My husband and son use buffalo sauce on everything. My dad is the same. So I've spent a lot of time around the stuff and a few years ago I set out to make my own.
Our favorite way to serve buffalo sauce is on chicken – either wings or tenders. I also love adding a drizzle to a salad with ranch dressing. There's just something about that flavor combo, right?
For this recipe you'll need (full list of ingredients and instructions are in the recipe card below):
Frank's Red Hot Original Sauce
Ghee or butter
Apple cider vinegar
Minced garlic
Ground cayenne pepper
I prefer preparing this simple sauce on the stovetop. Just add all the ingredients to a small soup pot and simmer until ghee (or butter) is melted and everything is warmed.
Read more: how to make tomato alfredo sauce | Family Cuisine
In a rush? You can skip the cooking! I've done it a few times and it's no problem at all. Just melt the ghee (or butter) in the microwave. Then stir everything together! So if you find yourself in a hurry and don't need it hot, you're welcome to do without the cooking part entirely.
Why is homemade buffalo sauce better than store-bought?
The store-bought version often has completely unnecessary ingredients and lower quality ingredients to bring down their cost to produce it. For example, many store-bought version use oil instead of butter or ghee plus a thickening agent. If you use actual butter or ghee you're going to easy achieve that creamy texture you want! Plus this is so ridiculously simple to make, it's really just an easy decision.
Can you use a different hot sauce?
I personally recommend sticking to Frank's Red Hot Original Sauce. While I'm a huge fan of several other hot sauces, I've found that Frank's does best when creating a buffalo sauce. It's not too spicy or the heat isn't too highly concentrated for what we want here.
What's the difference between hot sauce and buffalo sauce?
Hot sauce is ingredient in buffalo sauce, but buffalo sauce has a richer flavor and tends to be thicker. The key difference is the addition of melted butter (or ghee).
Is this buffalo sauce Whole30 compliant?
Yes, just use ghee instead of butter.
Is this buffalo sauce dairy free and vegan?
Yes, just use a vegan butter instead of ghee or regular butter.
Read more: how to make balsamic sauce for salad | Family Cuisine
More buffalo flavored recipes:
Buffalo Chicken Bites
Baked Buffalo Chicken Wings
Dairy Free Buffalo Ranch Chicken Dip
Buffalo Chicken Twice Baked Potatoes
Buffalo Ranch Chicken Casserole
Share the Love:
Read more: how to make papa john garlic sauce | Family Cuisine