This authentic Italian tomato sauce is so quick, and easy to make that it's ready before the pasta is finished cooking! Read the reviews; when you make this once, you'll never go back to those inauthentic, sugar-filled jar sauces or inauthentic American recipes. Buon appetito!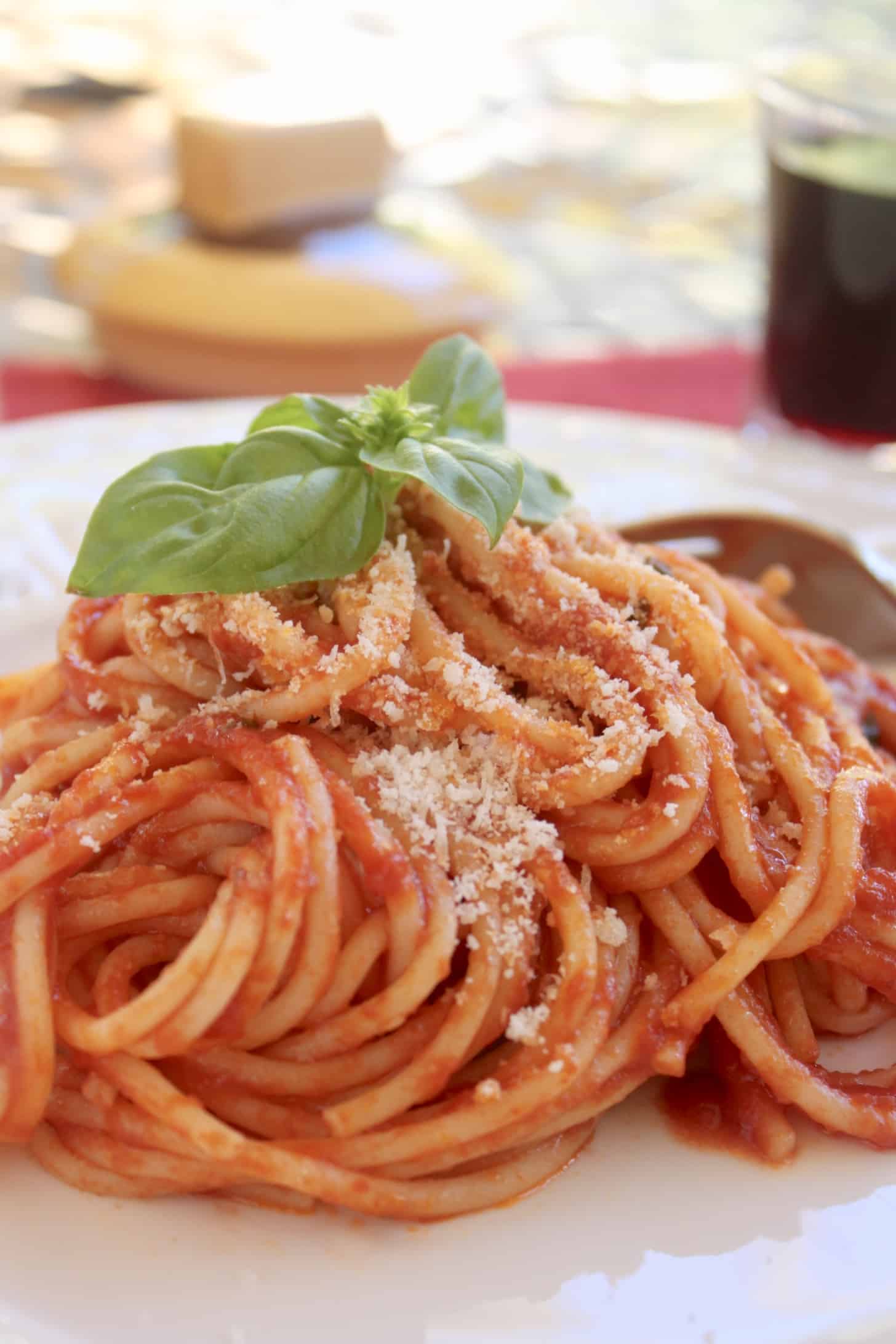 Reading: how to make your own tomato sauce for pasta
As promised, here is my own "how to make tomato sauce" post. This is continued from my last rant (here) where I dissected BuzzFeed's attempt to write a recipe for making "the best" tomato sauce, explaining why it was all wrong.
As an Amazon Associate I earn from qualifying purchases.
Actually, this is not "my" recipe—this is a basic recipe that millions of Italians have used for ages to make one type of Italian pasta sauce. It's the equivalent to posting a recipe for a basic hamburger in the US.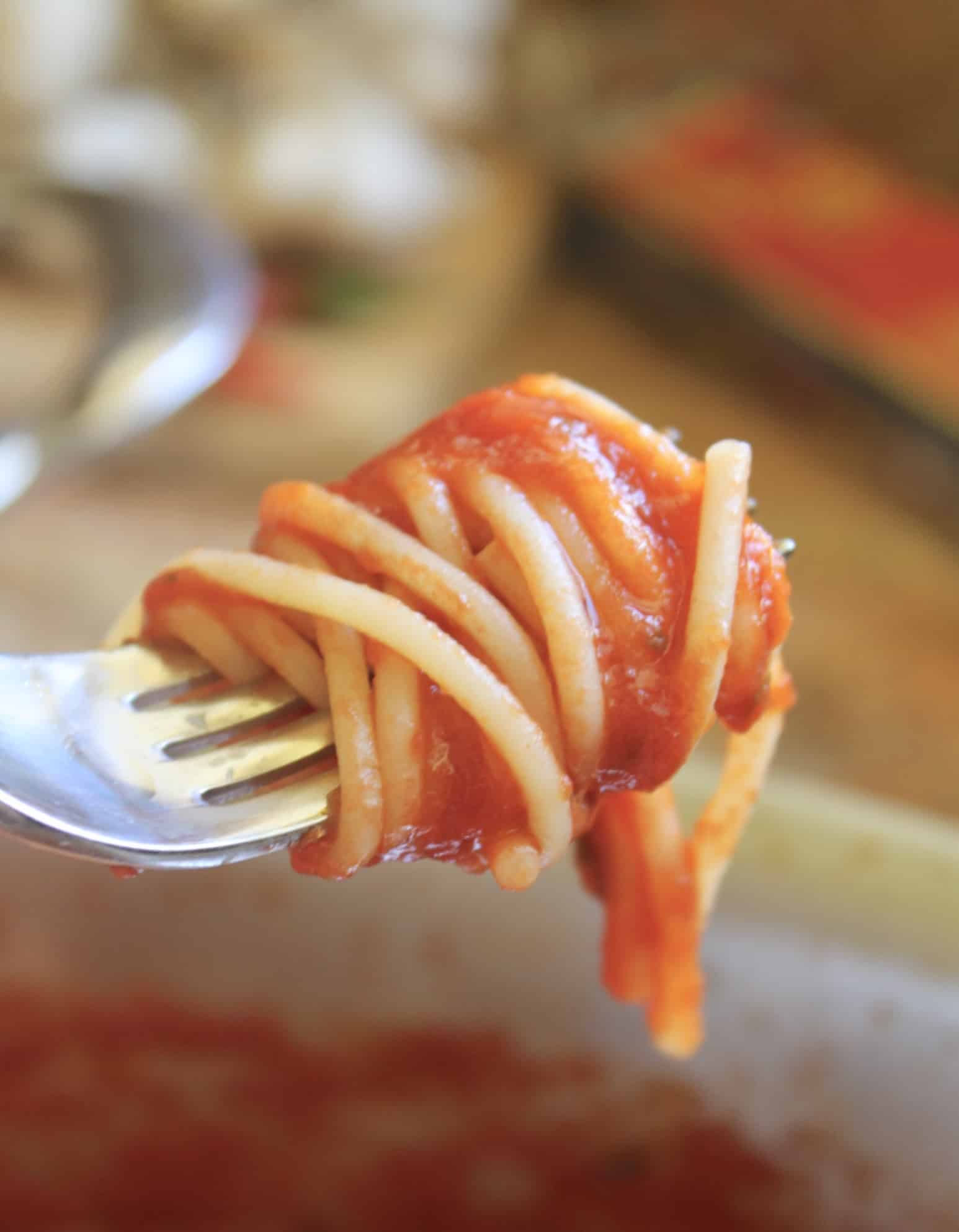 It's not an actual copyrighted recipe, and of course there are variations, but almost everyone knows how to make a hamburger. However, many Americans ask…
How do you Make Fresh Tomato Sauce for Pasta?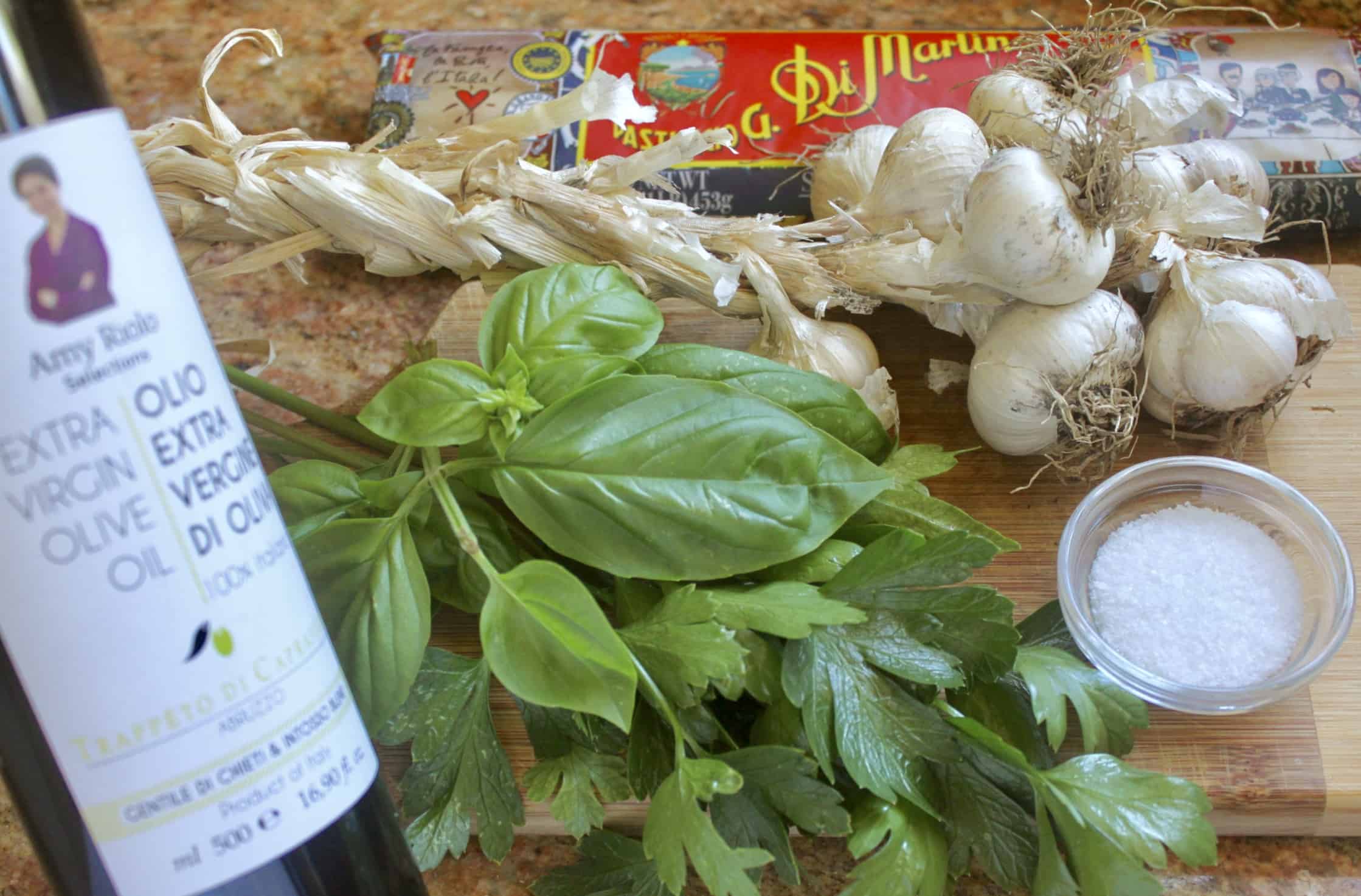 It's not difficult at all, and you'll be so happy with the results (just read the reviews below).
This is a super quick Italian pasta sauce recipe which is actually ready by the time the pasta is done (usually it's ready before then). You can choose to make a smooth or chunky sauce according to the tomatoes you use. Just remember, there should be no need to add any sugar, not even a pinch! Yes, it cuts the acidity, but if you use the right tomatoes, there is no acidity!
You may also like to make homemade gnocchi and serve it with this sauce.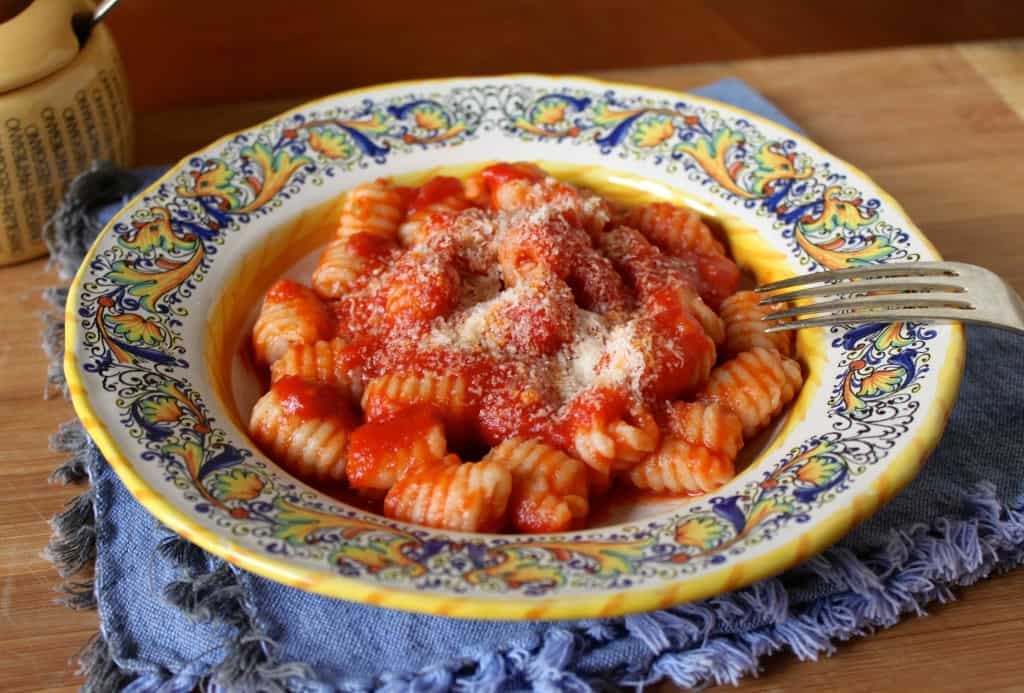 This is also a base for many other types of sauces, including penne alla vodka and penne arrabbiata.
CAVEAT: If you substitute any of the ingredients which I list, or alter any of the directions, you must realize that you will not have the same outcome, or the same flavor as the sauce that I describe here.
Cooking your pizza sauce? You're doing it wrong!
It's how they make it in Naples, and takes less than 5 minutes to stir together!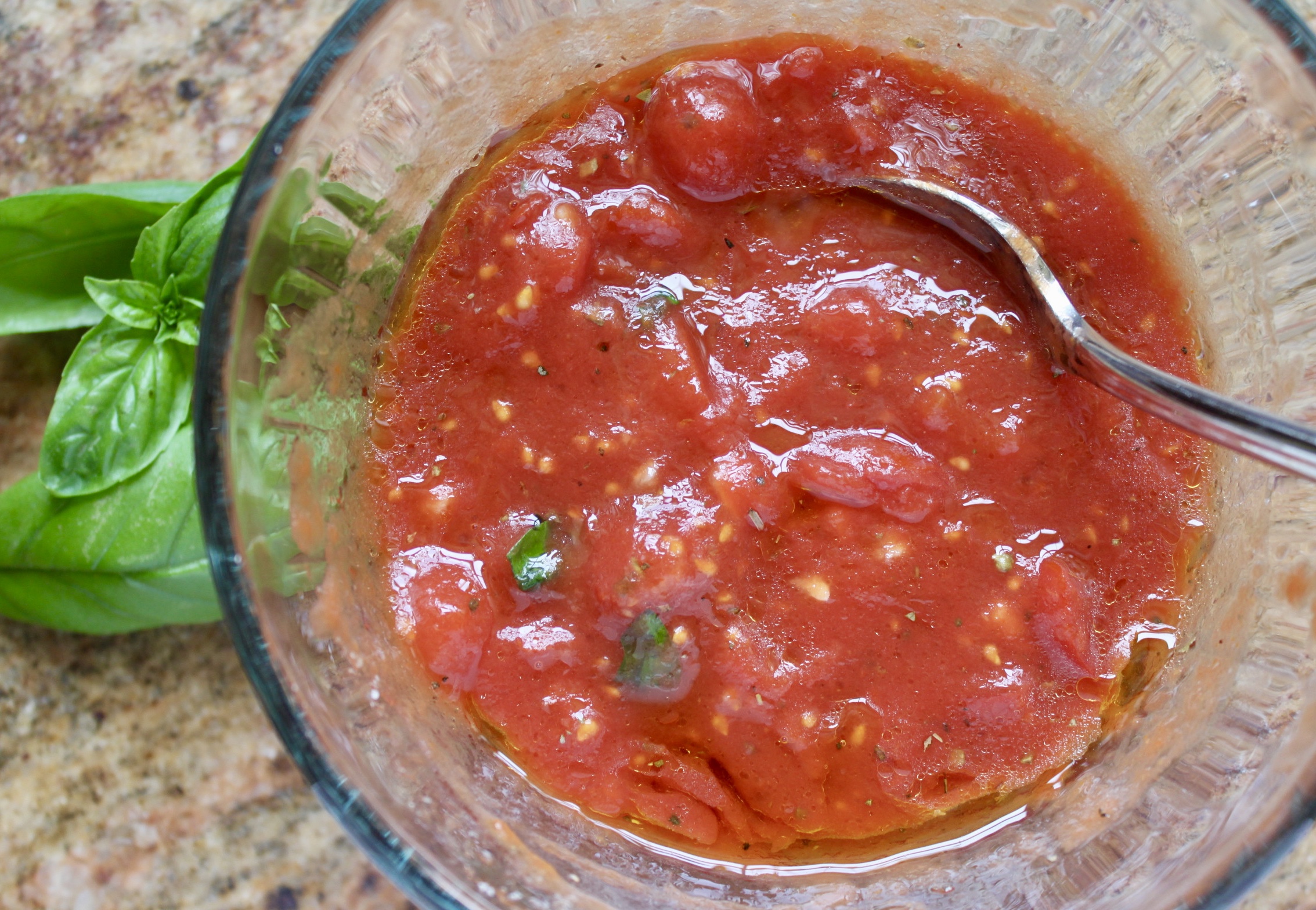 Once, I gave a friend a recipe with instructions on which specific ingredients to use. The friend made the recipe and then told me, "It didn't taste as good as yours." After a brief investigation, I realized that she had substituted inferior quality ingredients. If you want the best results, use the best ingredients!
If you'd like to make a spaghetti sauce with meat, I've just added this recipe (4/2021)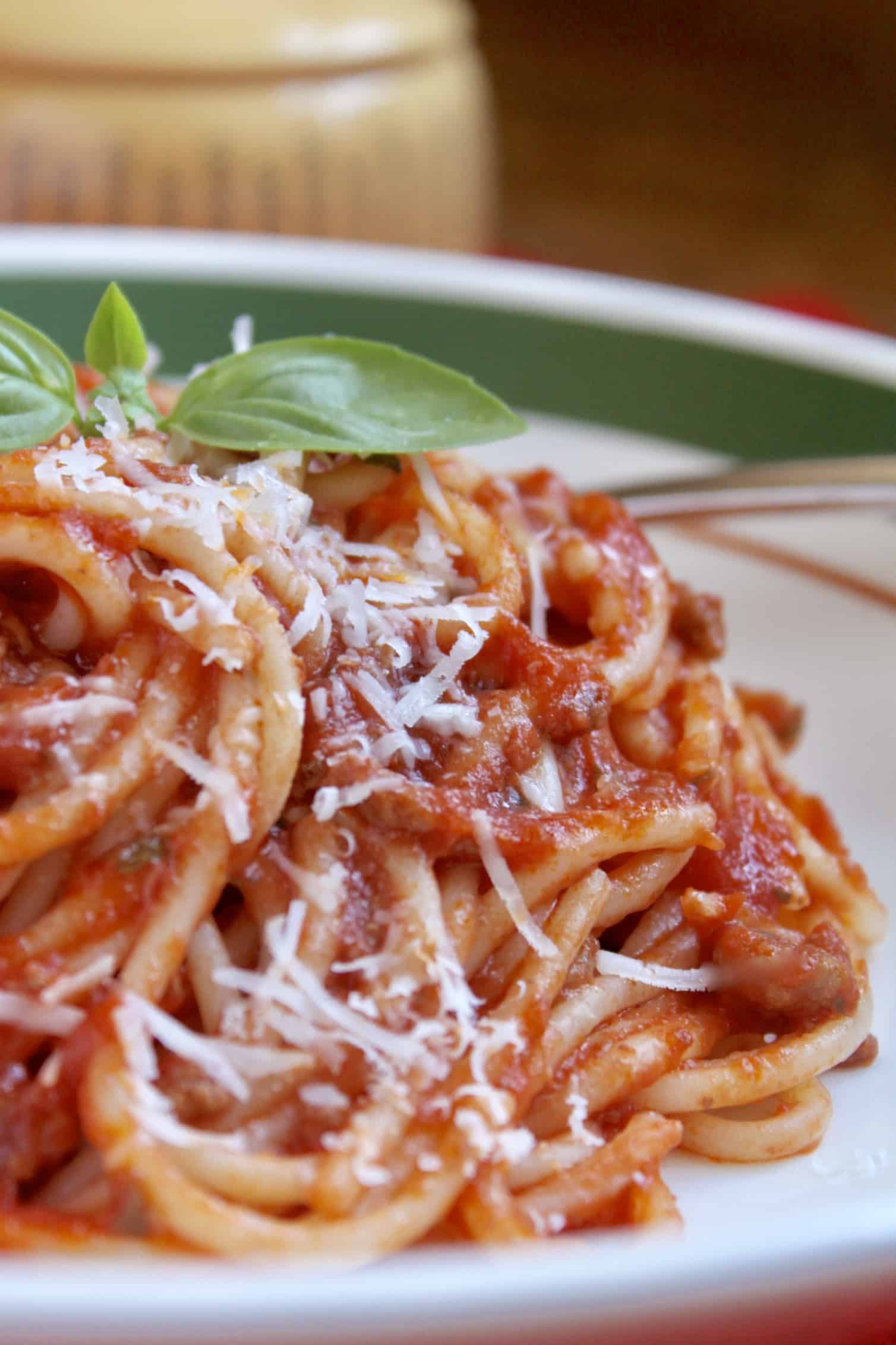 UPDATED July 7, 2016: eating authentic Italian pasta as part of the Mediterranean diet, can actually aid in weight loss according to a recent study.
How to Check Whether Your Canned/Jar/Box Tomatoes are Good Quality.
Read more: Honey Mustard Recipe | Family Cuisine
Want a tip on testing if your choice of canned tomatoes are top quality? First, read the label: tomatoes from Italy are usually very good, but do check the ingredients. You do not want anything added other than tomatoes, salt, basil or citric acid.
The best product is just tomatoes (I prefer the ones from a glass jar). I've also seen news stories where tomatoes were brought from China, then canned in Italy so they could say "made in Italy". They added color and all sorts of nasty things, so don't just rely on the label.
UPATE (Oct. 2019) I am now collaborating on a campaign called The Greatest Tomatoes From Europe, with ANICAV.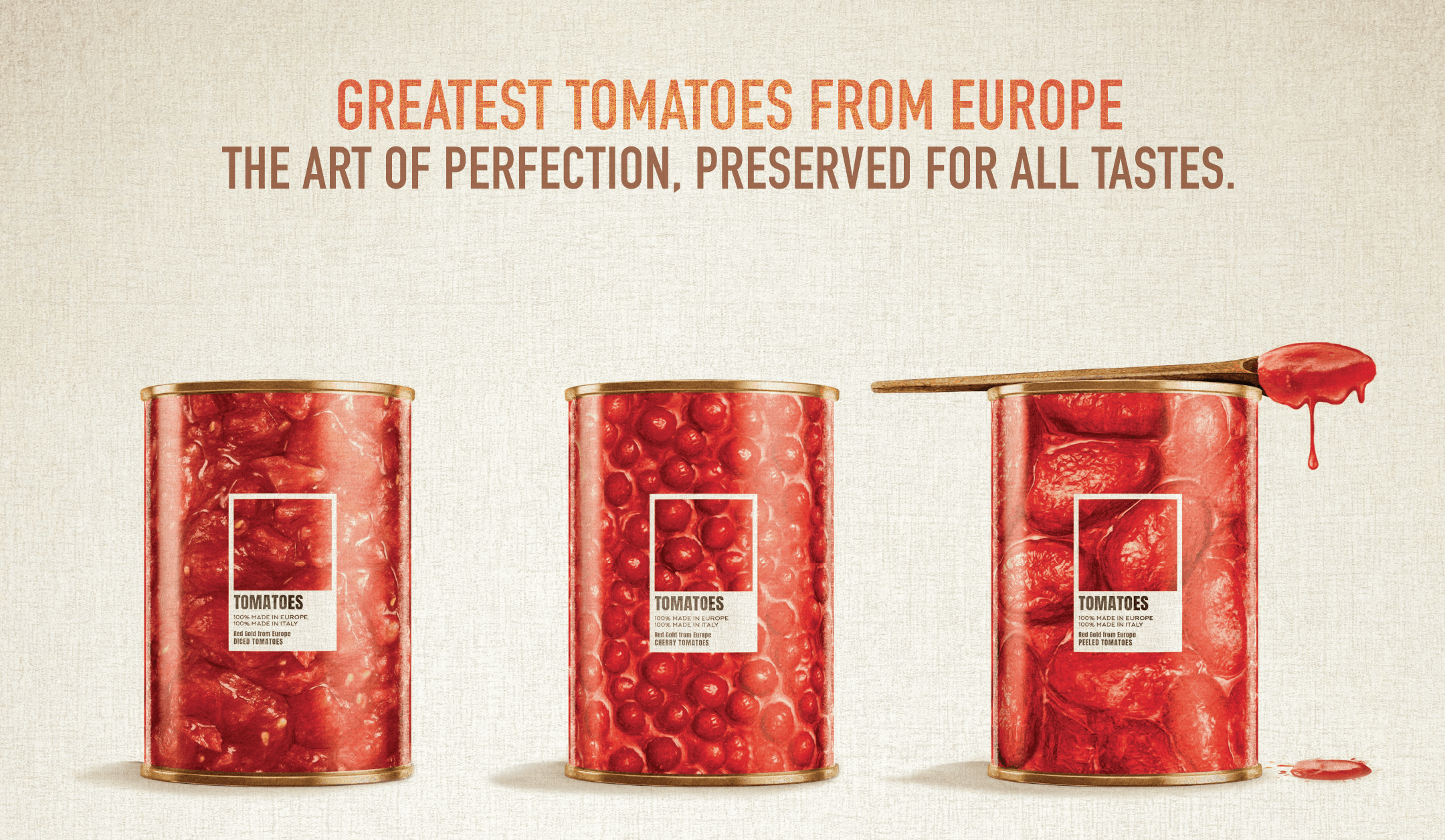 Once you decide to purchase said tomatoes, here's the second test: open the can/jar/carton and dip your fingertip into the tomatoes or puree.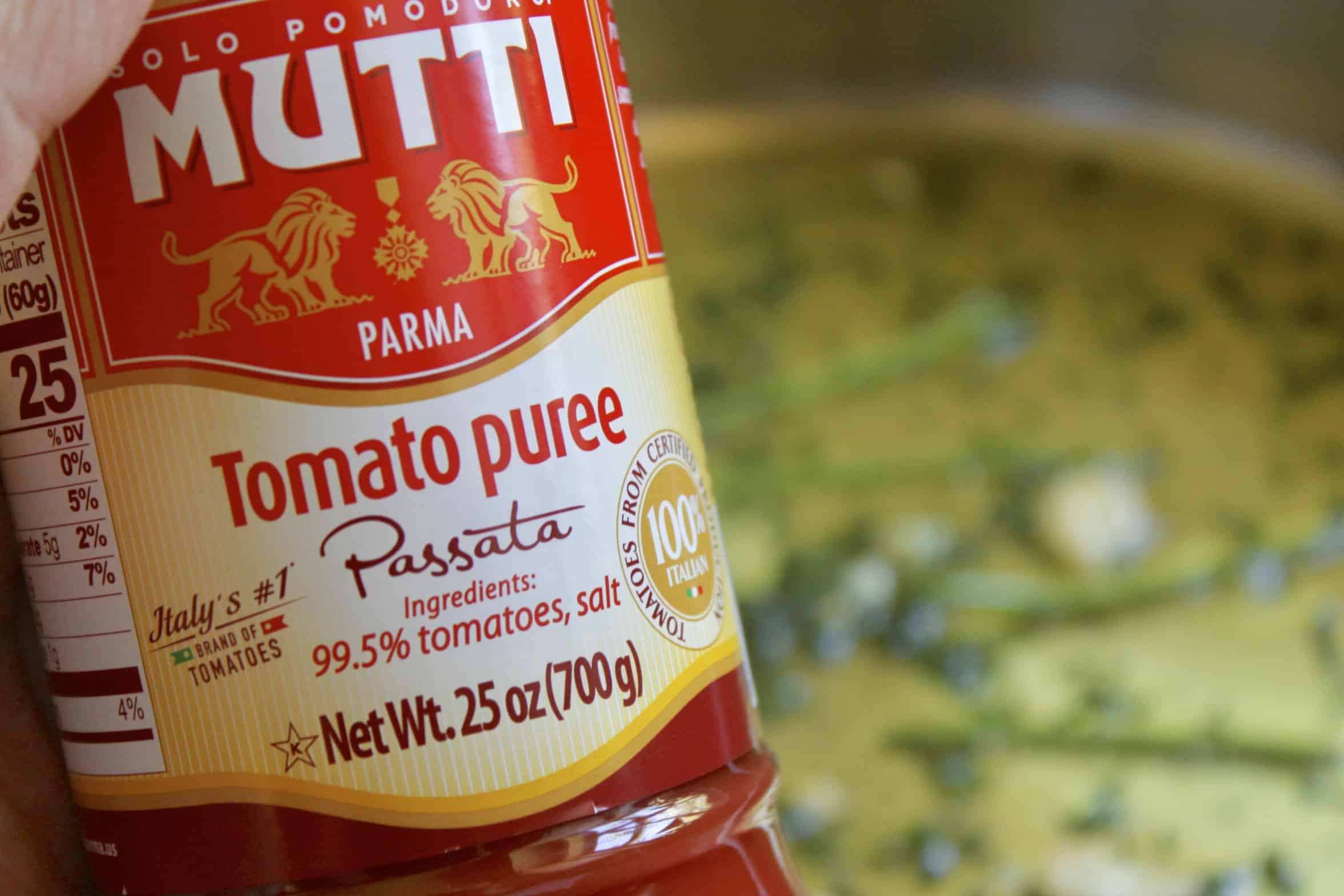 Does it taste good? If you made a sour face, they're probably not going to make a great sauce. If the answer is "Yes, they're sweet and tasty!" then you've found the right tomatoes, and they will make a great sauce!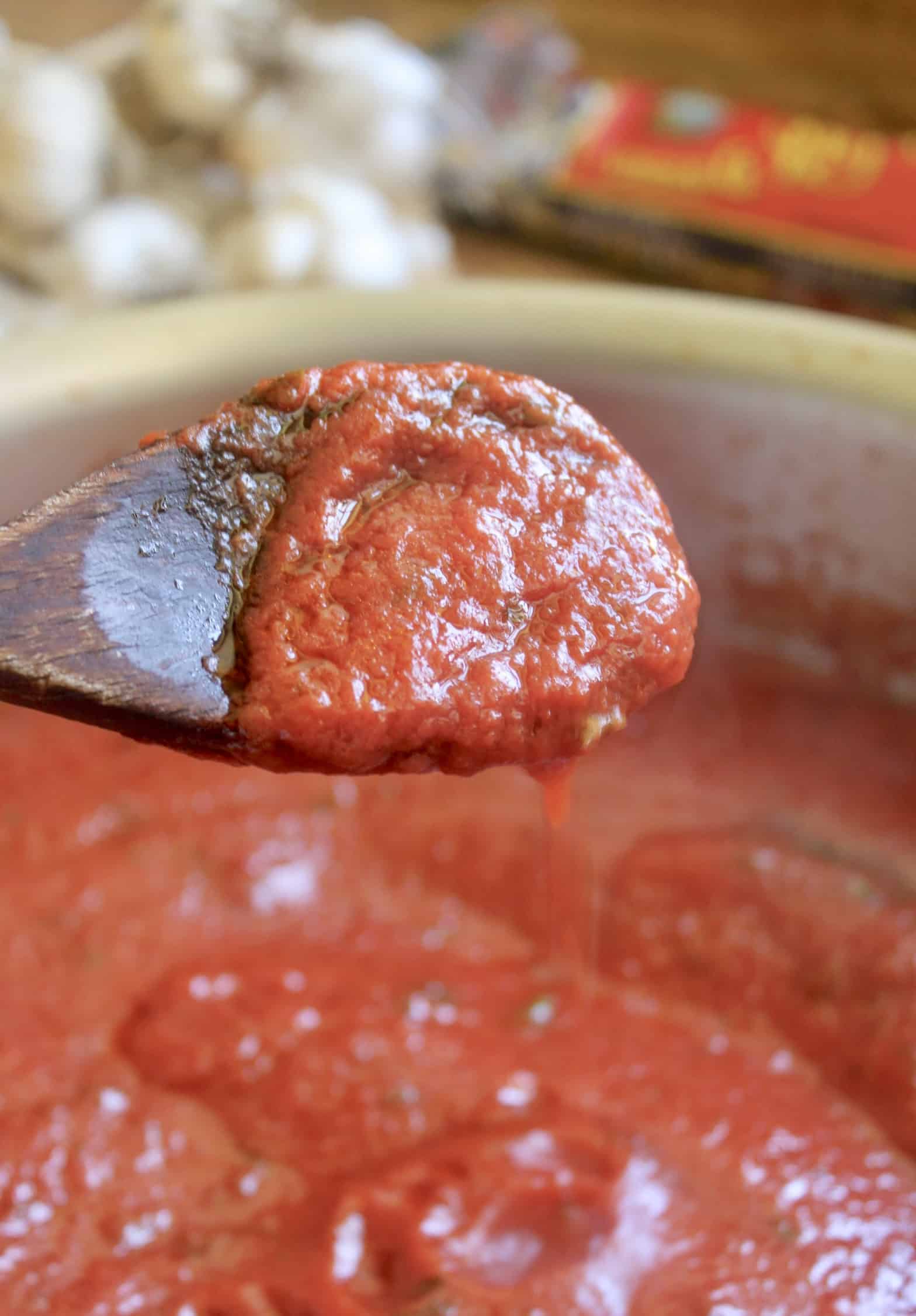 TIP: allocate one wooden spoon for making your Italian tomato sauce. Don't use it for other dishes, especially something like a white sauce, as it can flavor more delicate recipes. Here's mine; can you tell I've made quite a lot of tomato sauce over the years?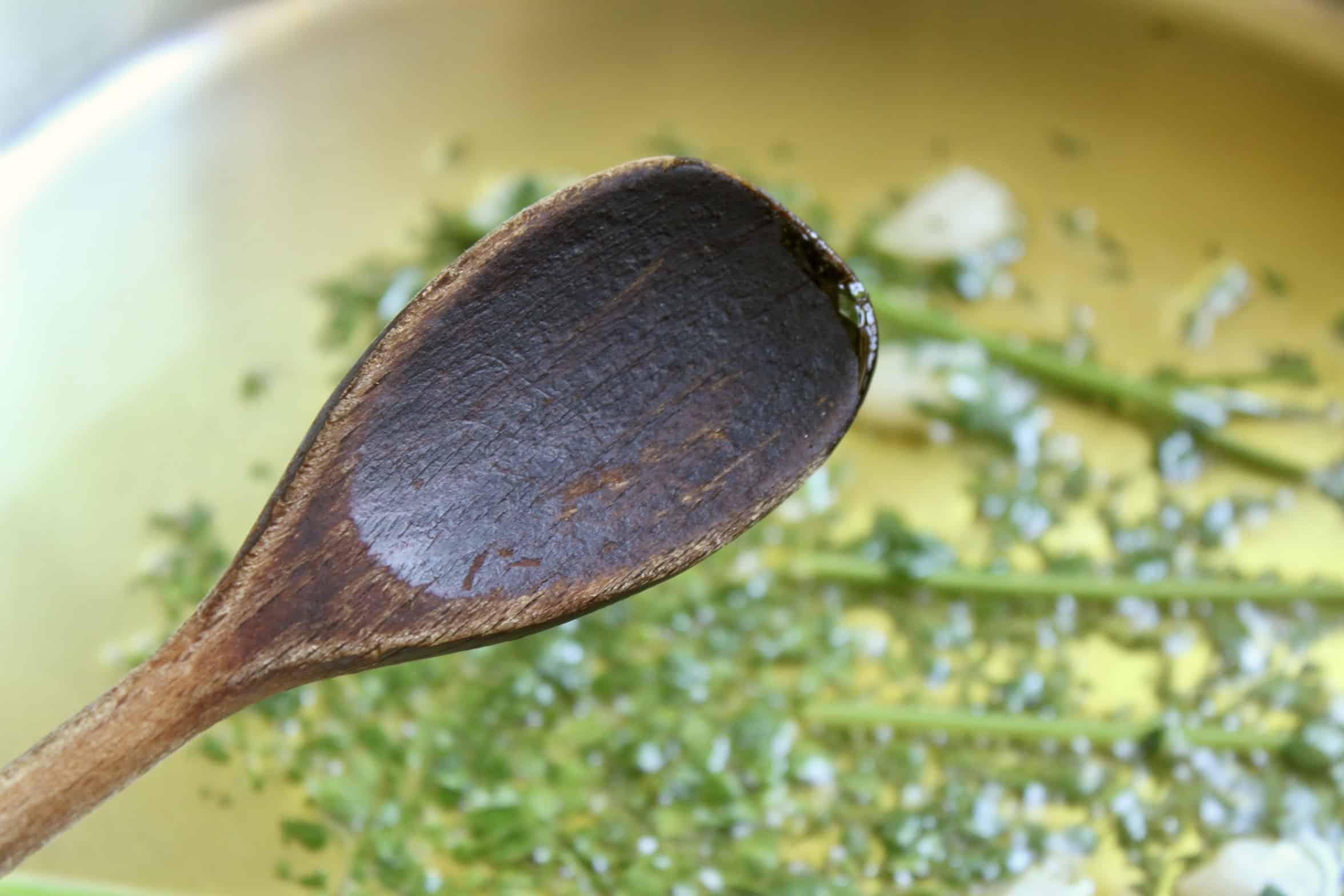 If you're looking for an authentic bruschetta recipe, I have that for you, too!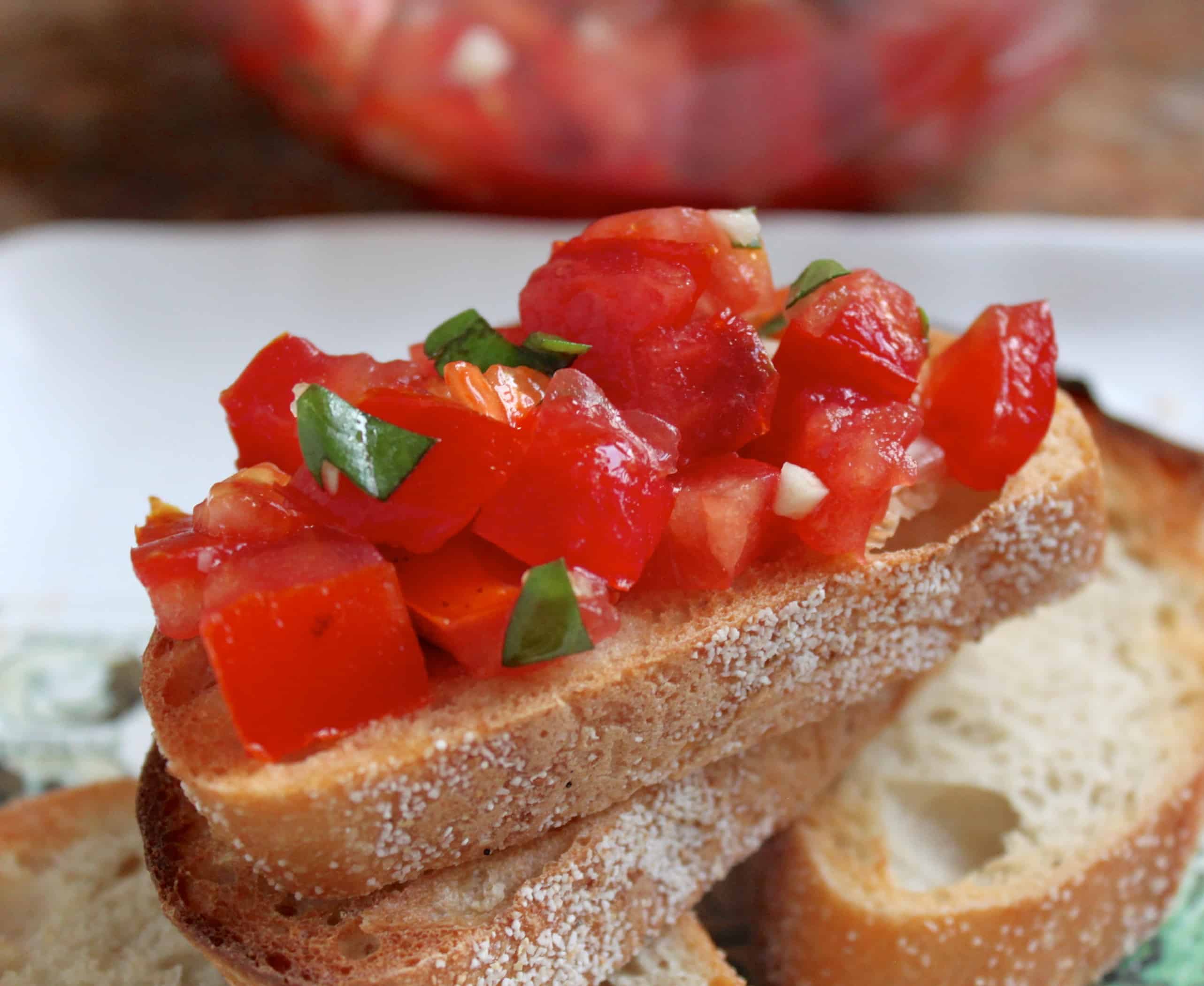 How to Freeze Italian Tomato Sauce
This will answer any question you may have about freezing this sauce. It freezes beautifully, and all you have to do is cool it to room temperature, place in a freezer-proof container (preferably not plastic) and refrigerate until cold. Then you can label and transfer it to the freezer. It will keep for at least 6 weeks, but I don't know who can go 6 weeks with this wonderful sauce in their freezer and not use it before then!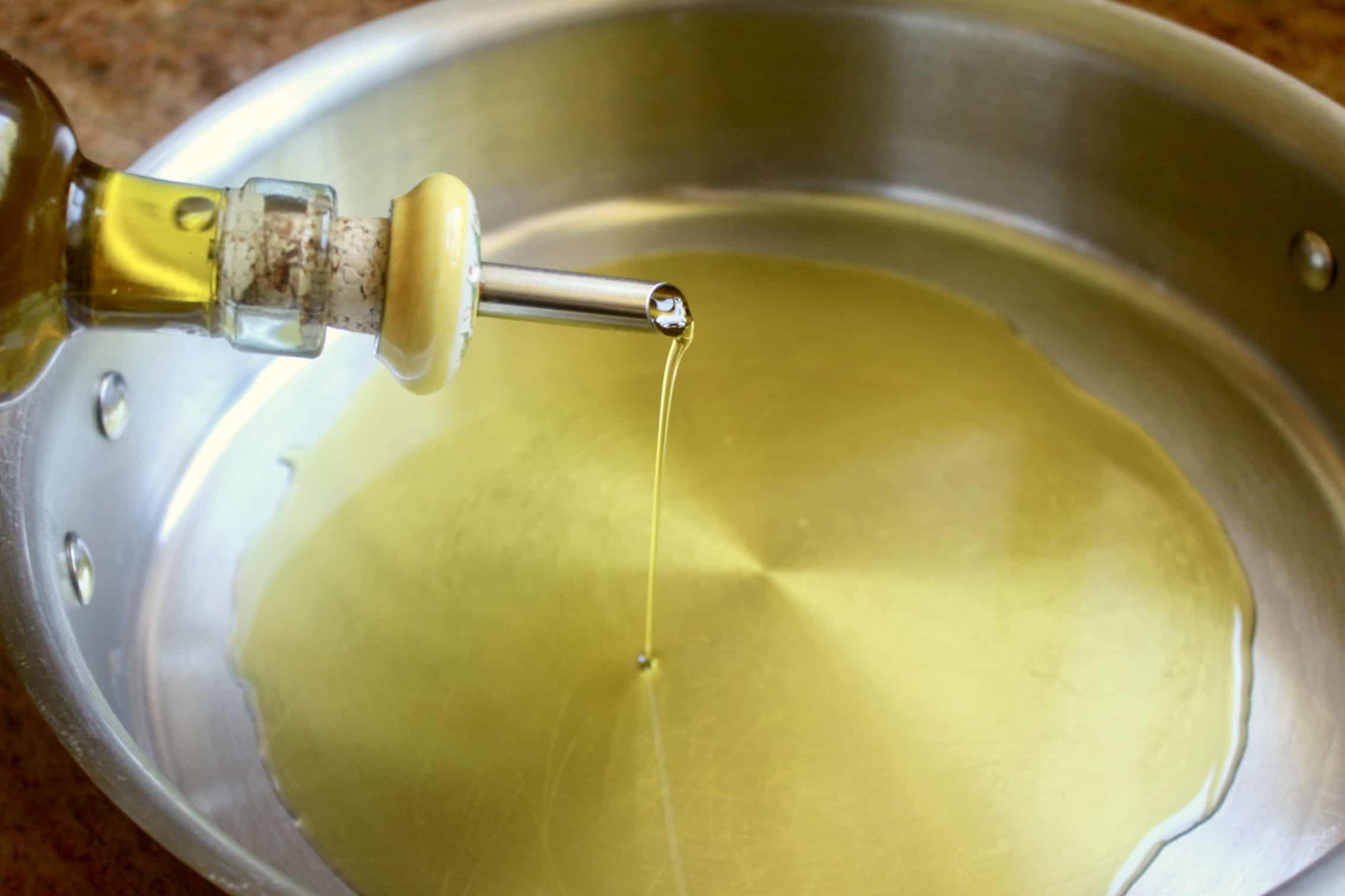 Crush the garlic and add it to the oil (if you want a spicy sauce, you can add some hot pepper, fresh or flakes, at this point). Sauté the garlic until it just starts to brown, then add the parsley. Notice I put the thick parsley stems in? You can pull these out later, but they add to the flavor of the sauce.
Turn the heat up to high. Now, add the quality puree (passata) or chopped tomatoes, and quickly cover with the lid for about 30 seconds, until the squirting subsides.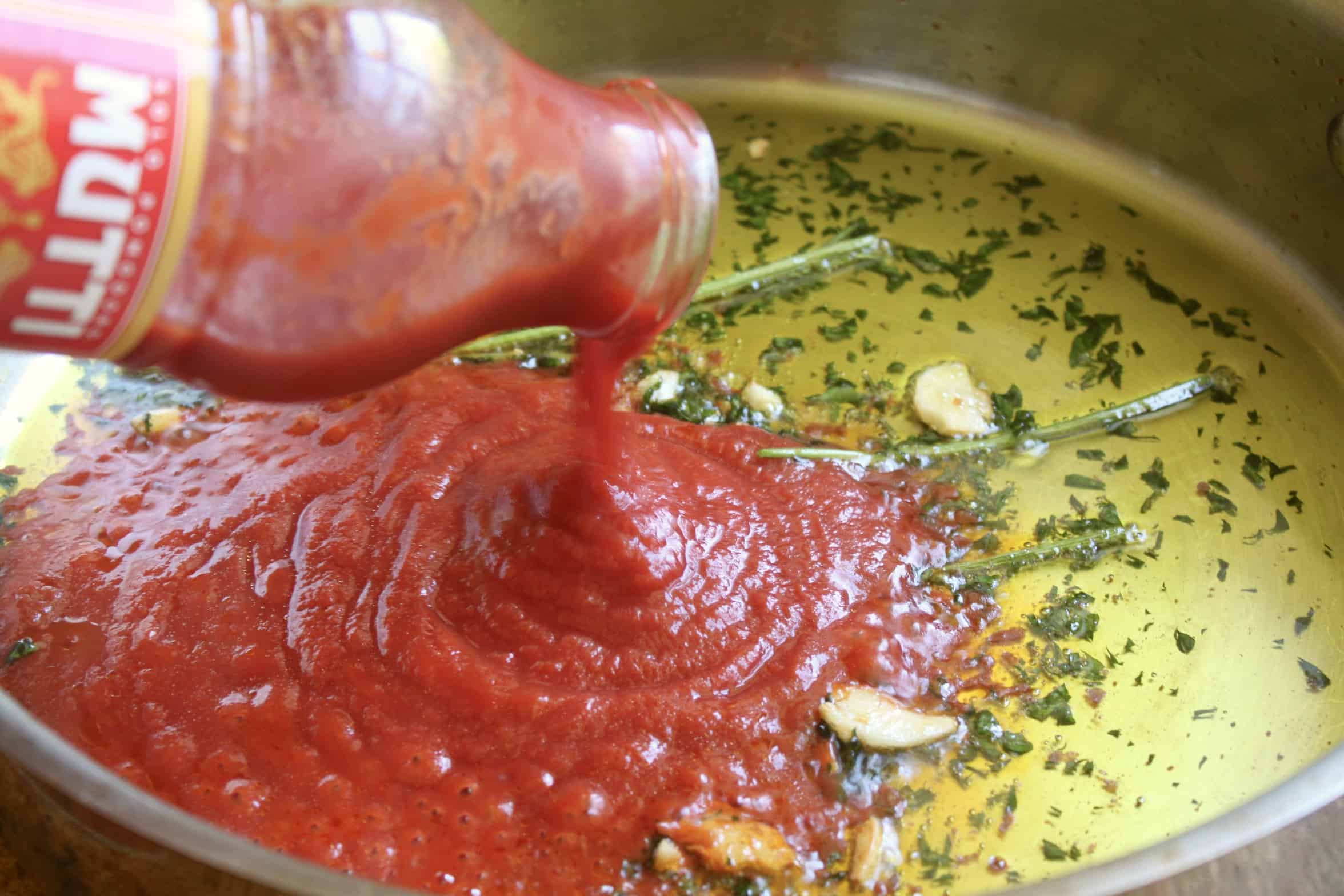 Stir with a wooden spoon and lower the heat a little. It is important that this sauce is cooked at a fast simmer, as it is cooked briefly. Add the salt and continue to simmer at a fast pace, and stir often, WITHOUT THE LID.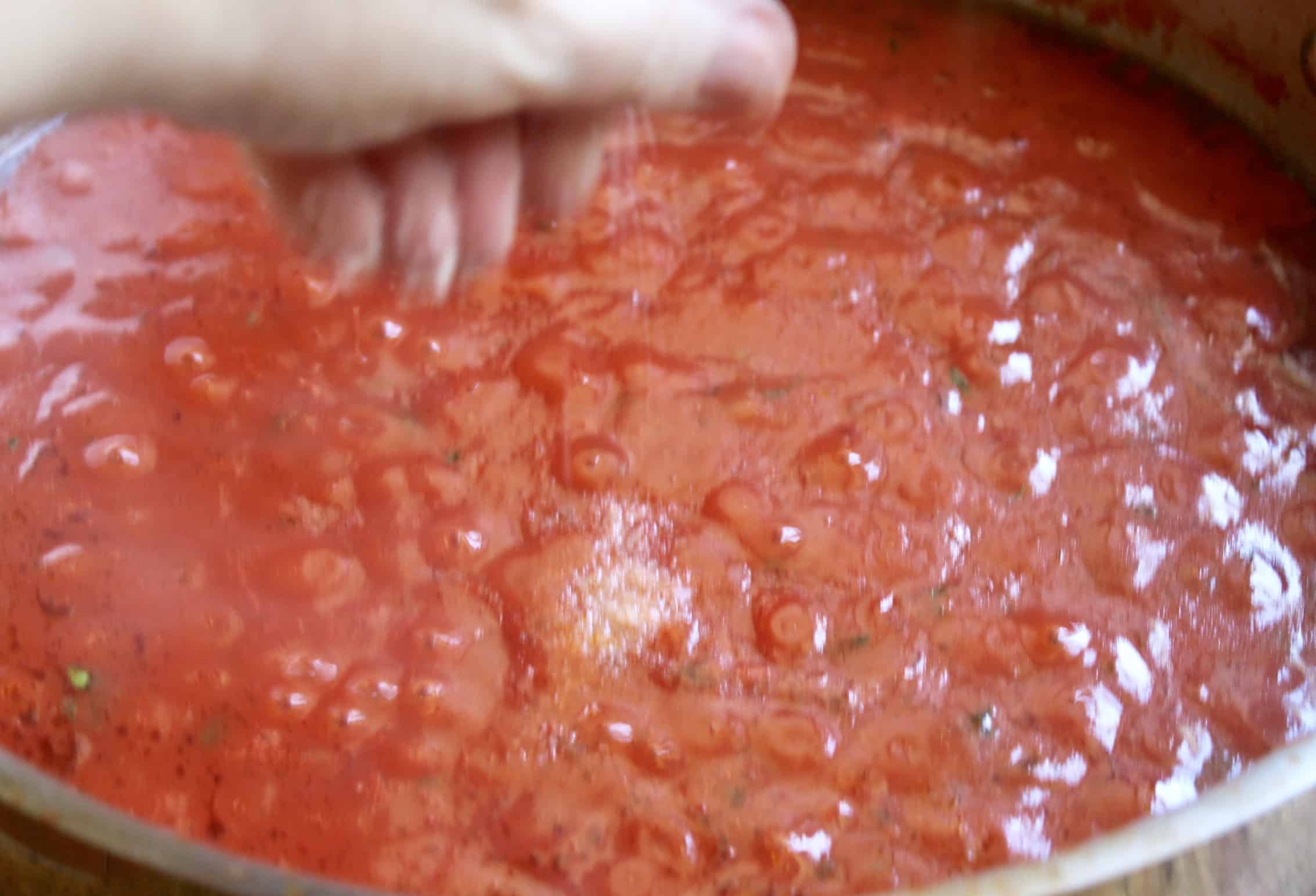 Read more: Mie Goreng (Mee Goreng – Indonesian noodles) | Family Cuisine
The sauce will thicken quickly, so do not overcook it, and have it become too thick; about 5 to 7 minutes should be sufficient.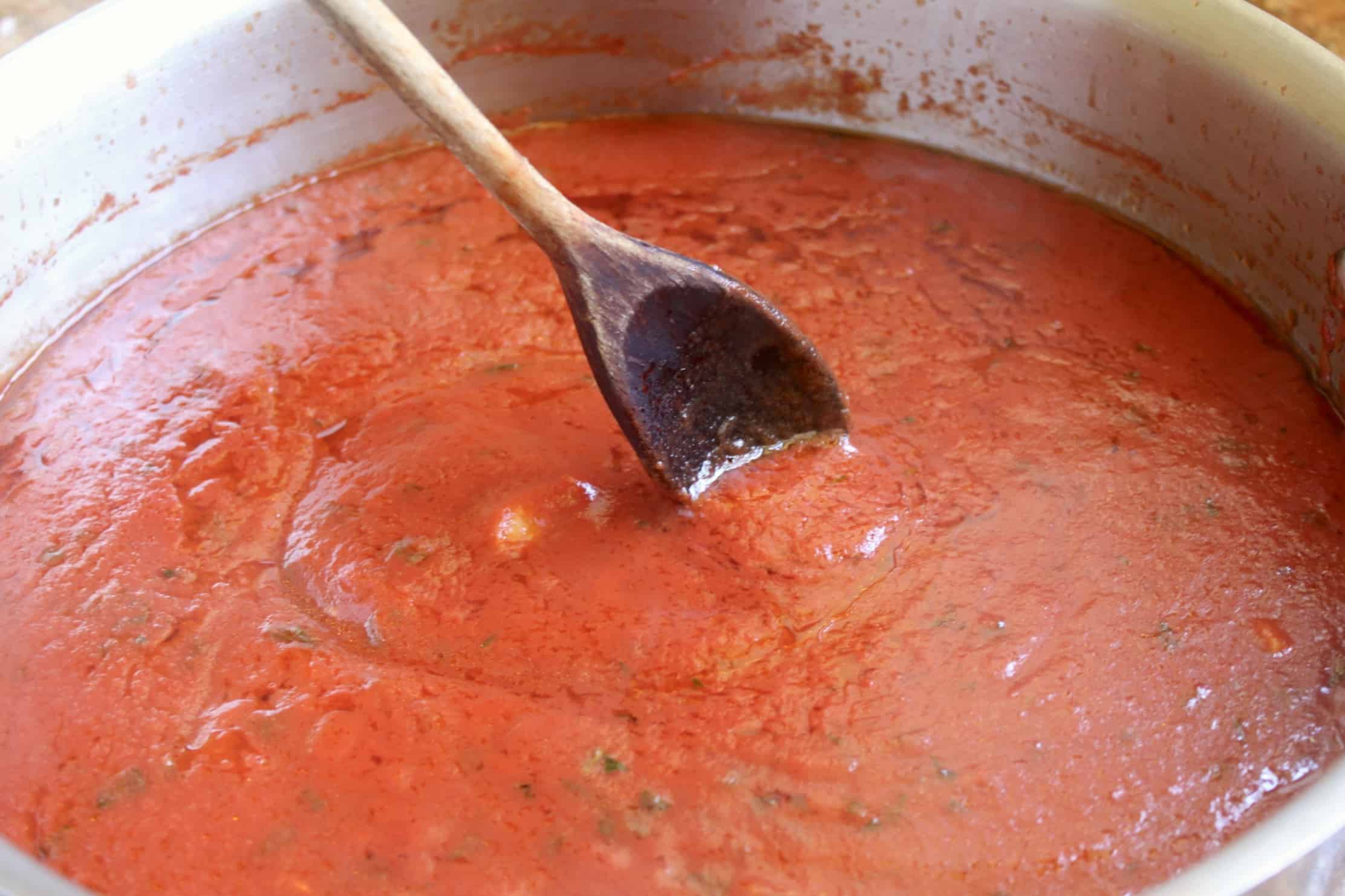 Taste the sauce, if it doesn't taste delicious, it probably just needs a little more salt and you can add some black pepper if you like. Turn off the heat and add the fresh basil (I tear mine into pieces) and stir well. Also, unless absolutely necessary, do not wash your basil. Wipe it with a damp paper towel instead so the water doesn't ruin the flavor and aroma of the basil.
You can put some sauce in a bowl and set it aside at this point. This way you can add more to the pasta if it needs it (some people like less sauce, and some like more.) When the pasta is almost al dente, start adding it to the sauce in the pan.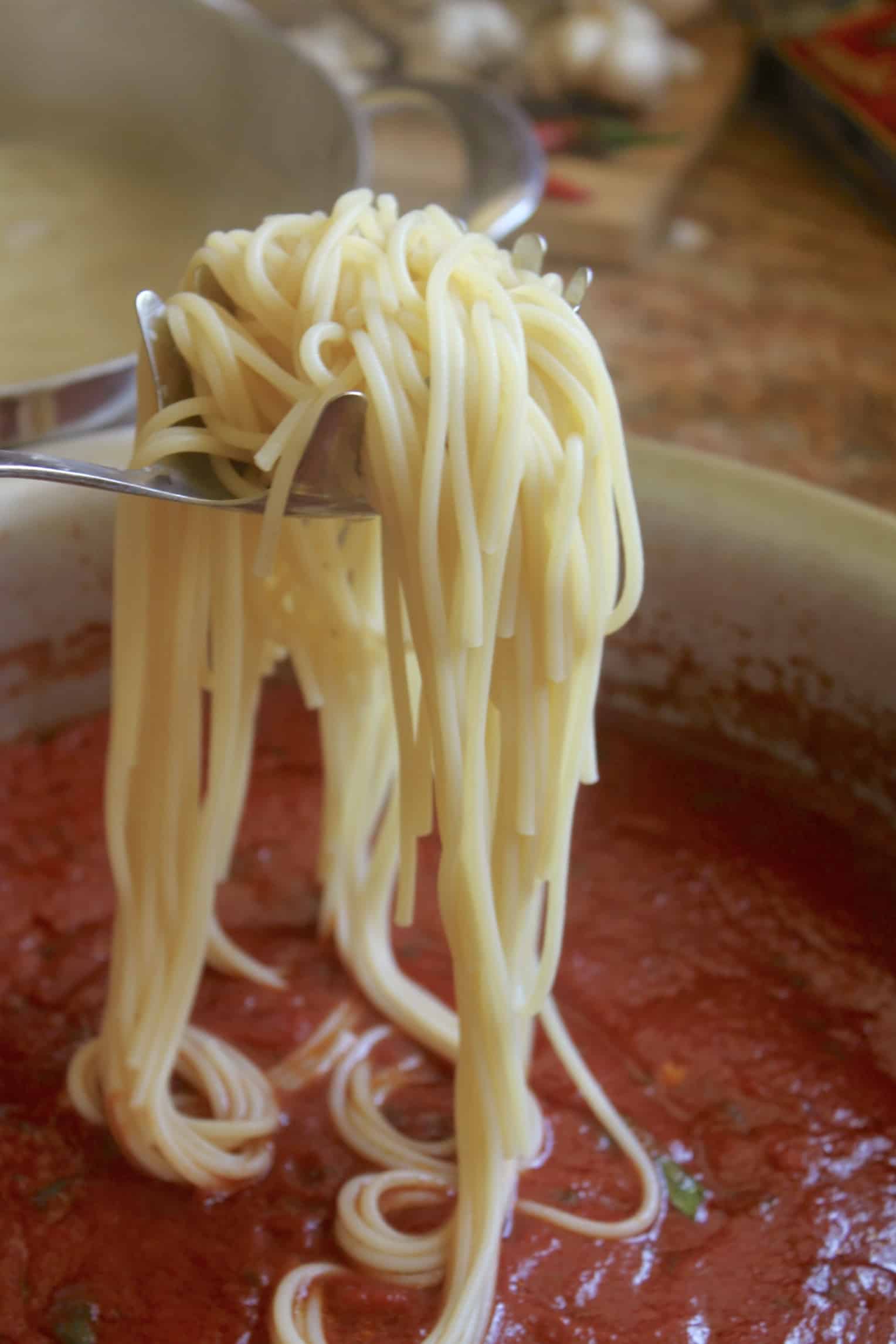 If you drain your pasta in a colander, reserve some of the pasta water to add back into the pasta in case it's too dry, or needs to cook longer in the sauce (turn the heat on and add more water.)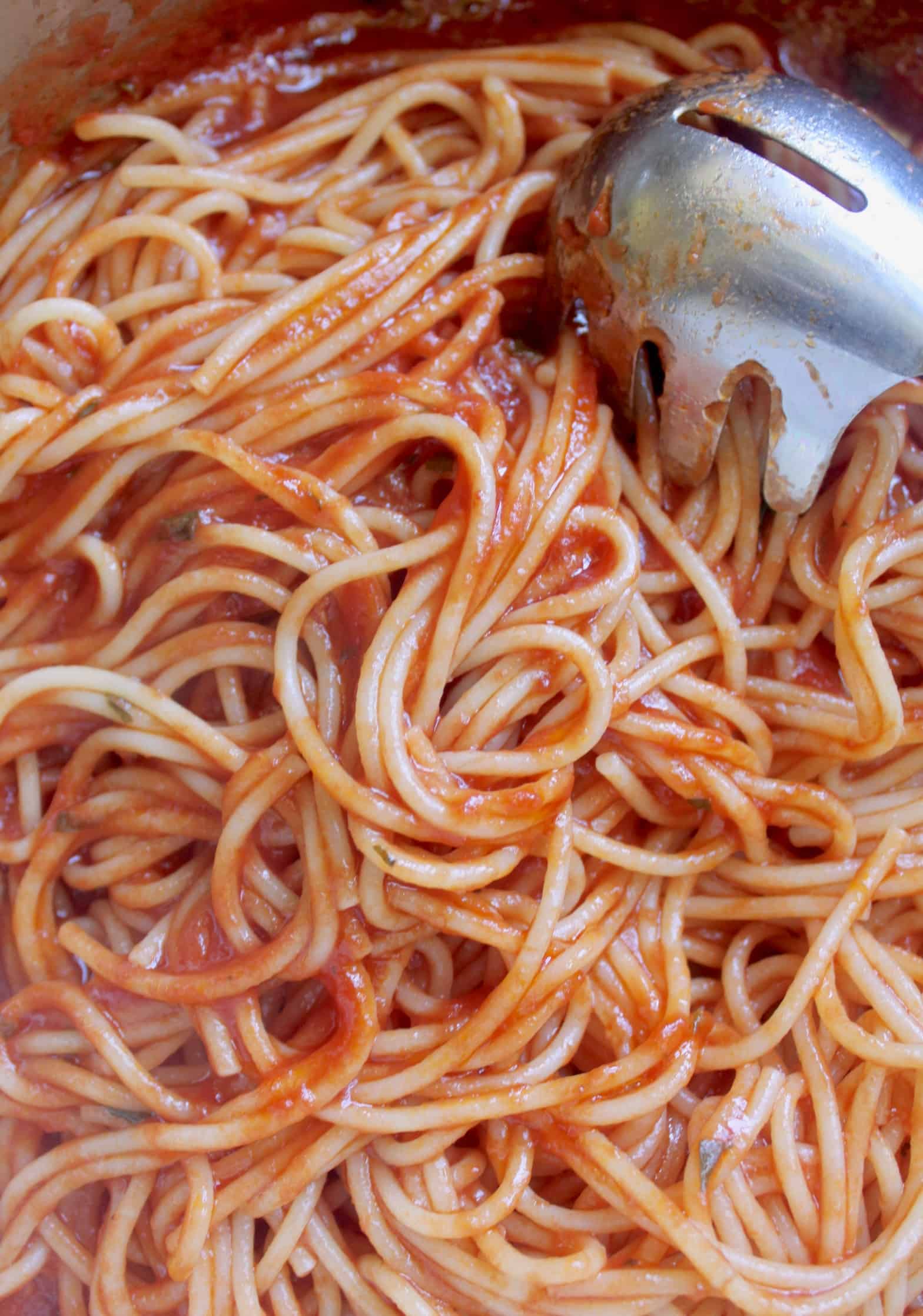 Serving pasta in a bowl, instead of a plate, keeps it hotter. I served it on a plate here as it's nicer to show in photos, but I always serve pasta in bowls (this is the norm in Italy, too.)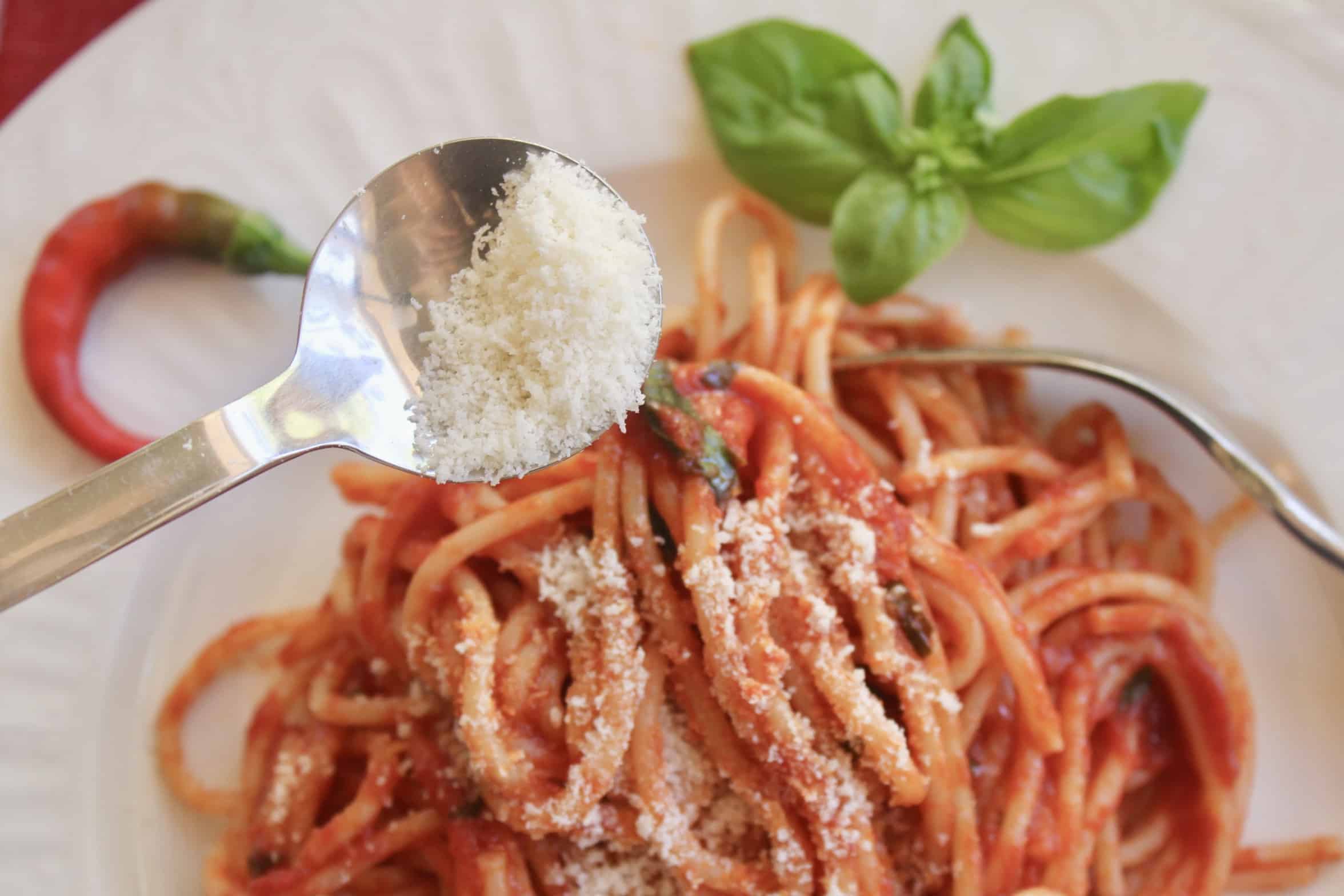 Top with some freshly grated authentic Parmigiano Reggiano cheese or Pecorino Romano. I like to eat pasta with a fresh cayenne pepper; do you like them? You now have an authentic Italian tomato sauce to use as you please!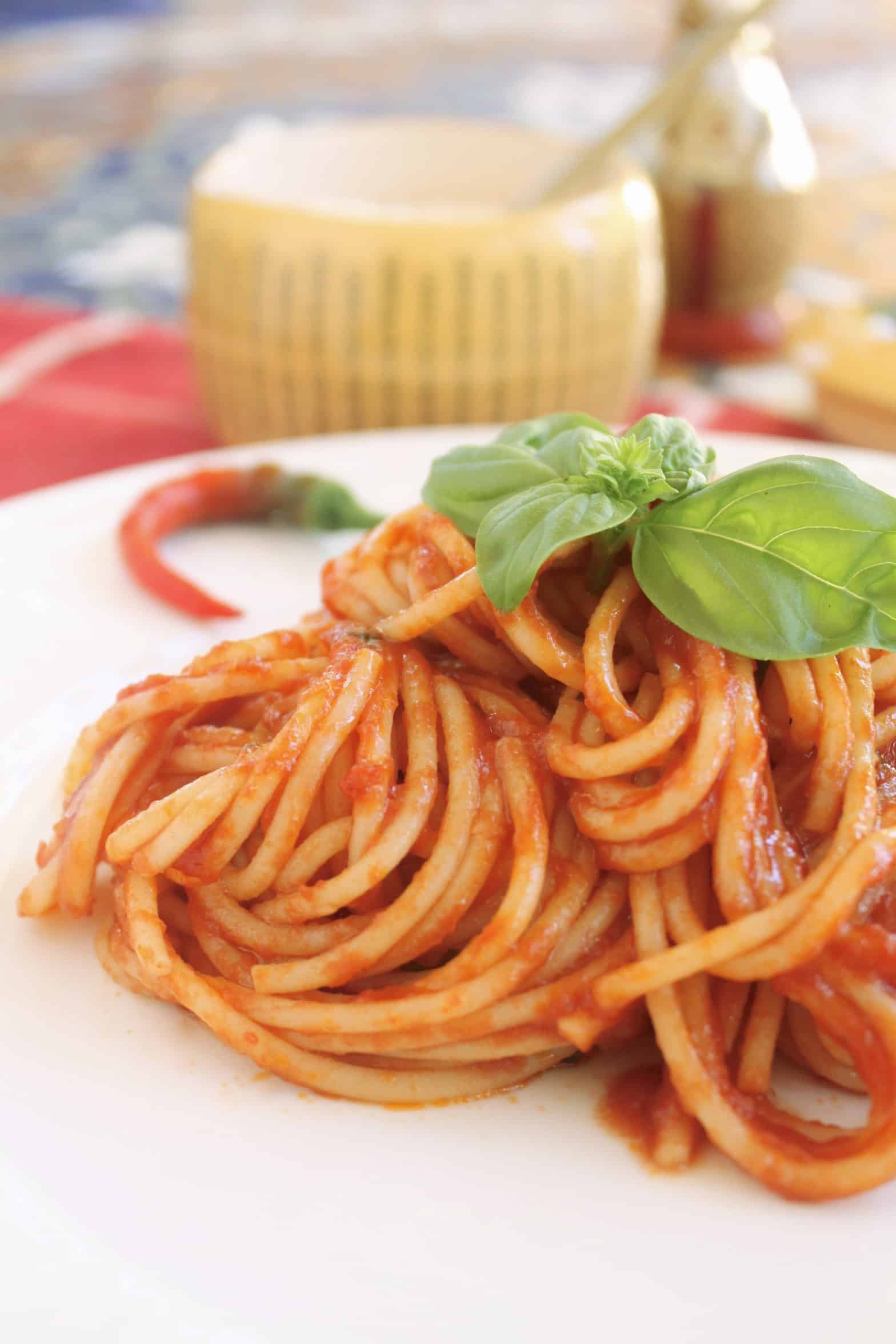 For example, you can make this same sauce in a deep pot, cook it longer and add meatballs for a different sauce. And I just happen to have an authentic Italian meatball recipe for you. That's what happens when your mother is born in Italy!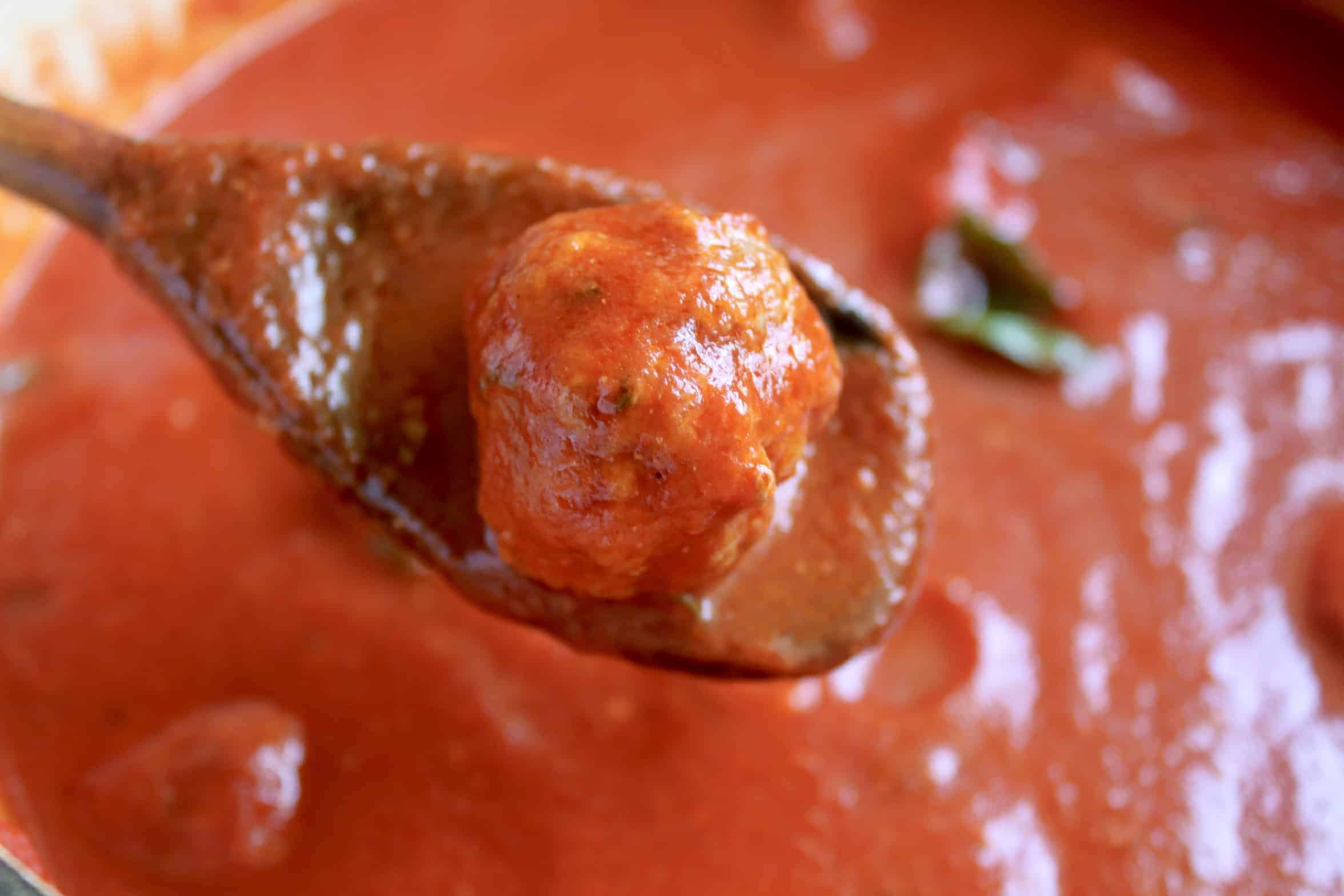 How NOT to Serve Pasta!
Also, if you've been plating pasta in a bowl, then topping it with sauce like the emoji 🍝, this is American-style. It honestly doesn't taste as good if served this way. (If you don't believe me, try it both ways, side by side.) You're welcome!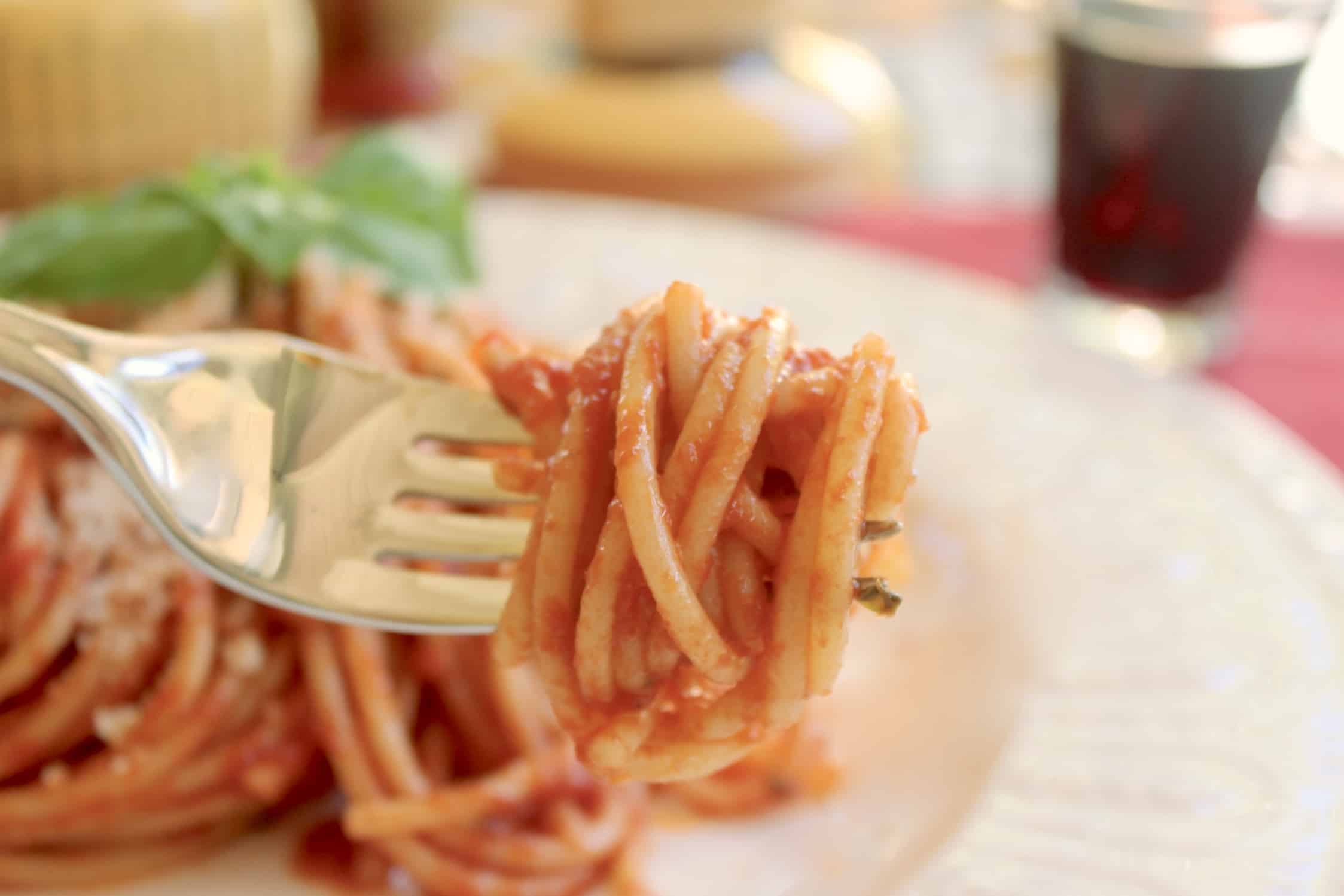 If you want to serve it the way they do in Italy, mix the sauce in with the pasta and then plate it. Domenica Marchetti, who is an authority on Italian cuisine and the author of six Italian cookbooks explains this on her site, also. If you'll notice, she also has a simple Italian tomato sauce recipe which is almost identical to mine.
BUON APPETITO!
Don't miss another post! Sign up for my free subscription at the bottom of this post ⬇︎
You can't get a simpler, better tasting Italian tomato sauce!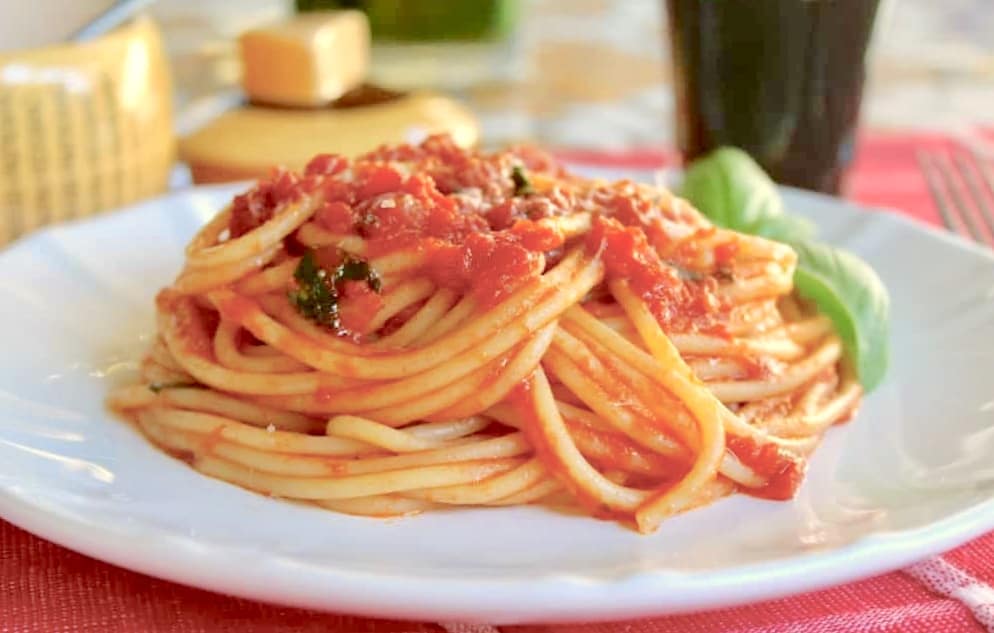 Christina's Cucina is a participant in the Amazon Services LLC Associates Program, an affiliate advertising program designed to provide a means for sites to earn advertising fees by advertising and linking to familycuisine.net.
Read more: Easy Homemade Marinara Sauce (VIDEO) | Family Cuisine