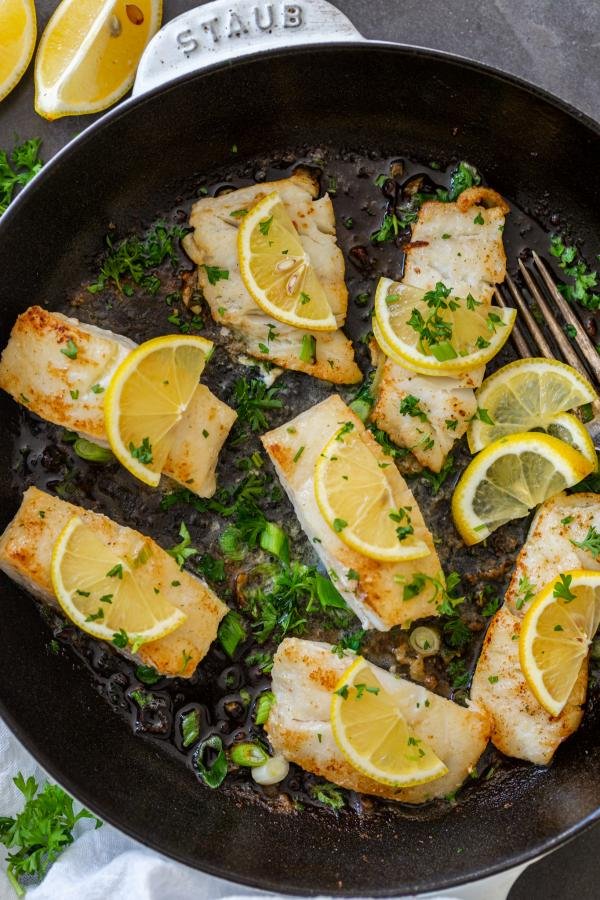 Have a bunch of cod fillets hanging out in your fridge or freezer? Put them to good use tonight and make them the protein star of your own personal dinner show!
There are so many different methods to make awesome cod. From baking cod to making air fryer cod, we use plenty of ways to keep this budget-friendly fish tender and moist.
Pan-fried cod pairs wonderfully with so many different side dishes. If you are trying to keep things light, whip up my creamy cucumber salad or a beet and quinoa salad. If you're feeling a little more indulgent, make a batch of creamy herbed potatoes and satiate that carb craving that has been nagging at you.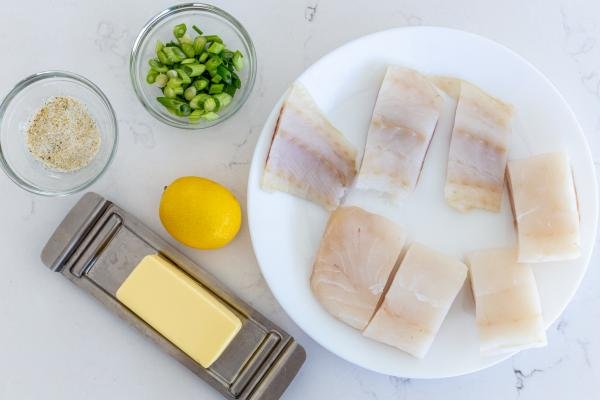 How to Cook Cod
The last thing you want is dry cod. It happens to the best of us, but follow these step-by-step instructions for some absolutely moist cod:
Heat a pan over medium-low heat (don't cook cod on high heat, it will burn and cook unevenly!) with two generous pats of butter.
Place cod in the pan. Season generously with garlic parsley salt. Cook for two minutes.
Flip over and cook for another 4 minutes. Season this side with garlic parsley salt.
Remove from heat. Immediately drizzle lemon juice all over the top. Sprinkle with freshly chopped green onion.
Can I Pan Fry Frozen Cod?
Freezing fish is one of the best dinner hacks I have in my toolbelt. Cod is a great fish to keep on hand frozen. However, I do not like to cook my fish frozen in the pan. I find that it makes the fish tough and often results in uneven cooking. Thaw your fish in the fridge overnight (or for at least a couple hours) before cooking it!
What is the Best Fish to Fry?
Cod is definitely my favorite fish for pan-frying. It is sturdy enough to withstand the flipping and it takes well to a quick and easy fry. Salmon, on the other hand, is better for baking as it flakes easily and should be flipped as minimally as possible.
How do you Know When Cod is Cooked?
Cooking white fish can feel intimidating. It cooks quickly and sometimes that doesn't feel the most intuitive to the budding chef. Fear not, check for the following signs and you should be in the clear:
Translucent to opaque. Raw cod will be translucent and veiny. Once the cod is fully cooked, it will turn this beautiful opaque color. Once it does, immediately remove it from the heat to prevent overcooking.
Flaky goodness. Once cod is cooked, it will easily flake with a fork. You know it is too tough if you have a hard time separating it.
Other Fish Recipes You May Like
Air Fryer Salmon – This is truly one of my favorite recipes. With minimal oil, the air fryer makes salmon skin super crispy. YUM!
Baked Salmon Recipe – Baked salmon is a crowd-pleaser. If you are lucky enough to have leftovers, smear them on top of a toasted bagel with cream cheese, capers, tomato and red onion.
Ukha Fish Soup – This traditional Ukrainian soup is light, savory and satisfying.
Panko Fish – If your kids are obsessed with fish sticks, switch them over to this healthier version of the classic. These fried fillets pair perfectly with french fries and make for a super simple weeknight dinner.