Pan Roasted Okra, an easy pan fried okra recipe that's seared in a cast iron skillet on the stovetop. No deep frying, no heavy breading — just a simple cornmeal dusted crunchy okra recipe that's healthy and tasty!
UPDATE: This recipe was originally posted in September 2018 and the text was updated with new information in January 2021.
Reading: how to pan fry okra
Are you an ok lover? We are too! However, okra was a vegetable that we loved only when deep fried or cooked into gumbo, and was never something we made at home.
However, that all changed when we realized you can make deliciously crunchy okra without heavy breading or deep frying. In fact, it can be made in a skillet on the stovetop!
👉 Here are three reasons you should be pan searing okra:
It's easy. No messy breading or heavy oils, this simple skillet okra has simple ingredients you likely already have on hand.
It's tasty. The spiced cornmeal crusting provides a crunchy mouthfeel and a burst of spicy flavor.
It's healthy(ish). Forget deep fried okra, this recipe pan fries in a small amount of oil and uses cornmeal to add a crunchy fried texture.
Ready to learn how to make okra on the stovetop? Let's do it!
🥣 How to make (step-by-step photos)
1️⃣ Step One: Soak okra in vinegar and water to reduce slime
The first step is to soak okra in a vinegar and water wash to reduce the slimy mouthfeel that okra has when cooked (see the next section for further information about why okra gets soft when cooking).
Read more: Incredibly Easy Fried Perch | Family Cuisine
To do this, fill a large mixing bowl with water and about 1/2 cup white vinegar. Soak okra for 20-30 minutes.
After the okra has soaked, drain the vinegar water, rinse the okra and pat them dry before cooking.
2️⃣ Step Two: Make the spice cornmeal topping
While the okra is soaking, make the paprika-spiced cornmeal that we will use to coat the okra after it is cooked and provide a crunchy mouthfeel.
To do this, mix together cornmeal, paprika, garlic powder, sea salt, and black pepper in a small mixing bowl and then set aside until after the okra is cooked.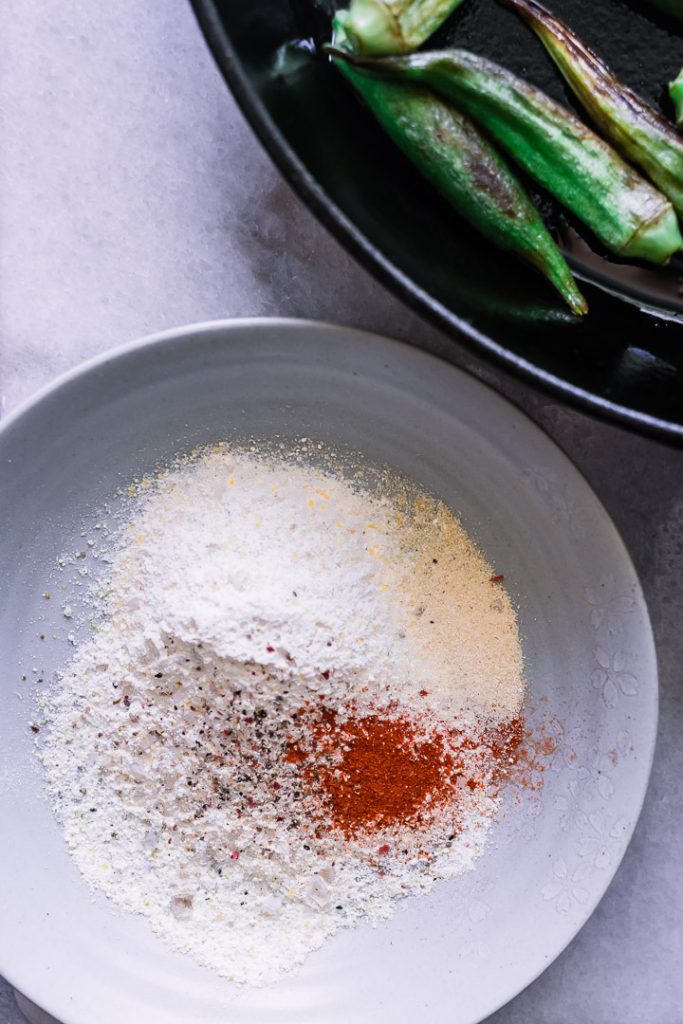 3️⃣ Step Three: Cook the okra
The final step is to cook the okra and add the cornmeal topping.
To do this, heat olive oil in a skillet over medium heat (we use and love a cast iron skillet for pan fried okra).
When the pan is heated, add the dried okra and sauté for about 12-15 minutes. Using a skillet, gently flip the okra every few minutes to make sure it is browned on all sides.
Read more: Crispy Pan Fried Ramen Stir Fry Shio | Family Cuisine
When the okra is browned and almost done, squeeze lemon juice onto the okra and then sprinkle the reserved spiced cornmeal powder into the pan and toss the okra until it is completely coated in the cornmeal.
Then remove the okra to a plate and eat immediately for best flavor.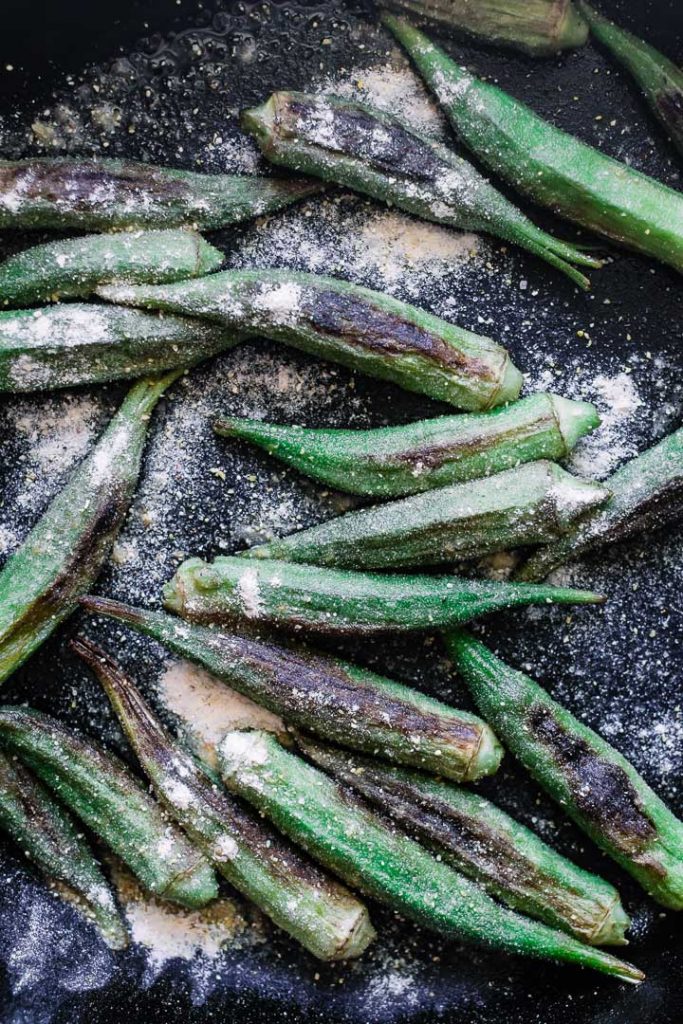 👩‍🍳 How to cook okra without the slime
When okra is cooked its seeds create a gelatinous substance, which makes it a great addition to soups and stews because it is a natural thickener (think gumbo).
When it is cooked on its own the slimy mouthfeel is a turnoff for some people. This is why okra is often fried, which make it crispy (but also makes it generally unhealthy).
👉 However, it's super simple to cook okra without the slime if you follow these steps:
Add water to a large mixing bowl and add about ¼ cup vinegar, mixing to combine
Soak okra in vinegar water for 30 minutes
Remove okra, rinse, and prepare without the slime!
By doing these simple steps you'll be able to roast okra without the frying oil and unhealthy breading. The okra will still be on the softer side as it is a naturally soft vegetable, but you'll remove the slimy mouthfeel.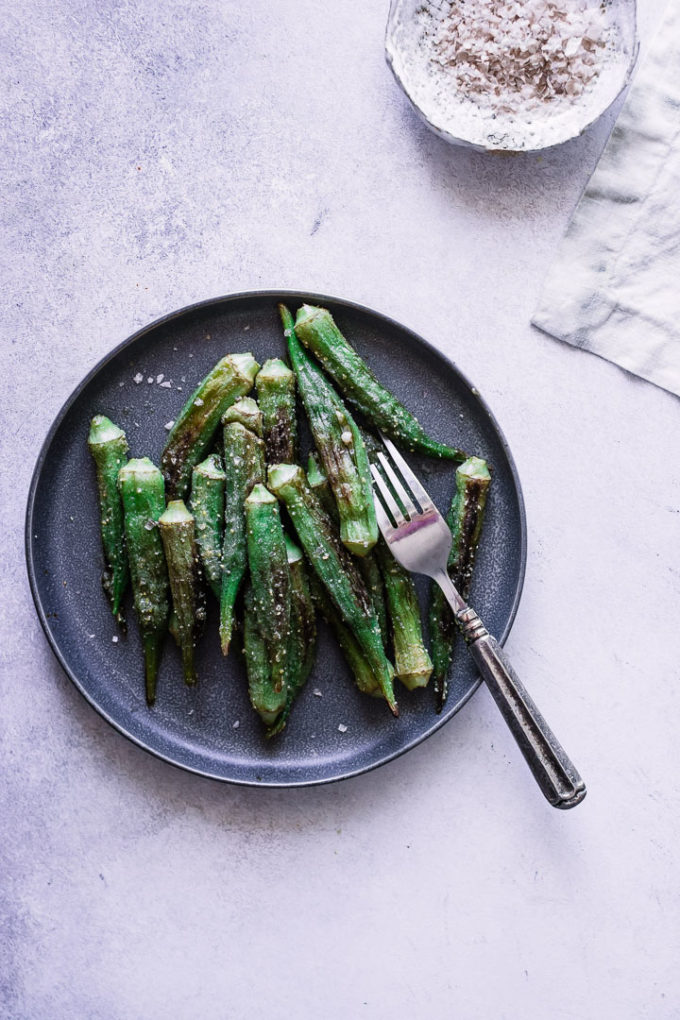 ❓ Recipe + ingredient questions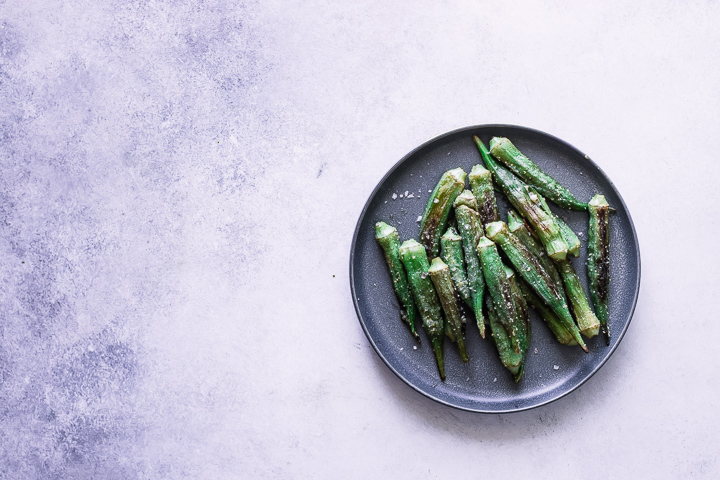 🌱 More pan-fried vegetable dishes
Looking for more simple vegetables cooked in a skillet? We've got you covered:
Read more: lee lap cheong how to cook stir fry | Family Cuisine
Skillet Roasted Shishito Peppers
Crispy Paprika-Garlic Skillet Potatoes
Maple Harissa Roasted Carrots