Sharing is caring!
Egg are one of the easiest and simplest dishes to prepare in a pinch. There are so many ways to cook eggs in the microwave – whether you prefer over easy, scrambled, sunny side up or fancy egg dishes like a frittata, there are options for everyone's preferences.
Reading: how to reheat boiled eggs in the microwave
Eggs are plentiful, affordable and easy to cook. Not only can you make eggs in a variety of different ways, but eggs are a versatile ingredient contained in many dishes for various reasons. Eggs are used in baking and cooking recipes, and they are even painted for Easter egg hunting.
Eggs go a long way, and a small meal is greatly enhanced by the available nutrition provided by the power packed ingredient.
How do you reheat eggs in the microwave? Most egg dishes reheat very well in the microwave. Confidently make egg dishes ahead of time, and reheat eggs in the microwave when the time is right. Use a microwave safe dish, nuke on medium power level and cover with a lid to trap moisture so the eggs don't dry out.
This guide will walk you through all of the details you need to know about reheating eggs in the microwave. We will cover a multitude of egg preparations, so if there is specific type you're looking for then we have you covered! From quiche to poached and everything in between, you're in the right spot!
Keep reading to learn how to reheat different kinds of eggs in the microwave.
Ultimate Guide to Reheating Eggs In The Microwave
Eggs can be prepared in so many different ways. Based on your personal preference, you can customize the flavor combination and personalize any type of eggs.
A professional chef's toque has 100 folds, which represents the hundred ways to cook an egg. Obviously, we won't be covering all 100 ways today. However, we hope to cover the most popular egg dishes and provide you with the best microwave reheating tips available.
These are only a handful of ways that eggs can be transformed into delicious meals. As we continue through this guide, we will help you with techniques to use when using a microwave to reheat eggs.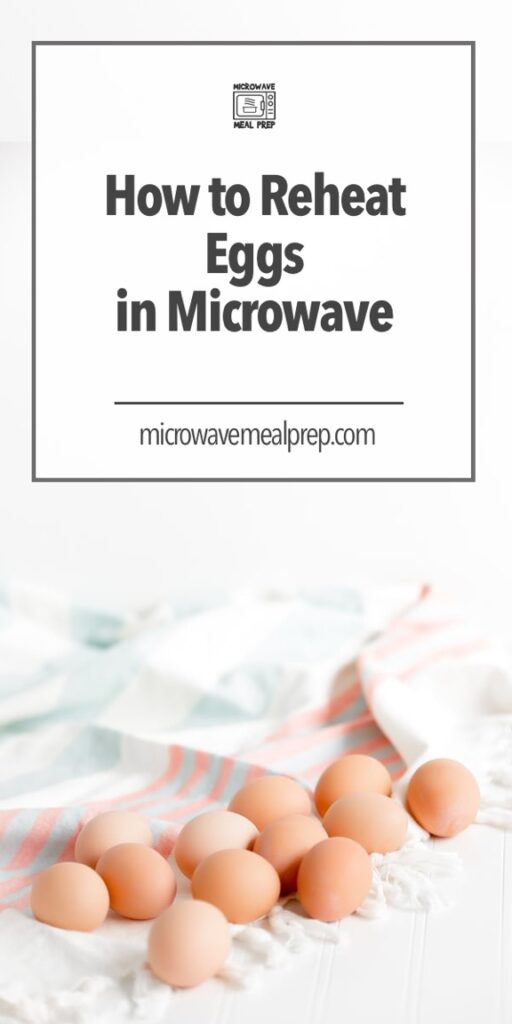 Can You Reheat Boiled Eggs In The Microwave?
Arguably one of the simplest ways to prepare an egg is making a boiled egg in the microwave. They can be boiled ahead of time, and then stay fresh when stored in the fridge for several days.
Boiled egg yolks can even be frozen with moderate success.
Boiled eggs are really easy to reheat, however there is a slight caveat. When reheating boiled eggs in the microwave, there is a risk of the egg exploding.
And trust me, that is not a mess that you want to clean up after! Although it is possible to reheat boiled eggs in the microwave, it does take a bit longer to avert the potential hazard.
When reheated in the microwave, a boiled egg can explode inside the appliance or when the yolk is poked. This is related to the superheating water inside the egg.
Do not cook the hard boiled egg in the microwave by itself, you run the risk of a very messy explosion – and you don't want that to happen.
The best way to enjoy leftover boiled egg is to eat it cold or to reheat it using hot water.
Reheating boiled eggs with hot water does take a little extra time, but it is the safest and most effective way to reheat a boiled egg. If eating a cold egg doesn't tickle your fancy, then you could leave it out at room temperature for a while if you don't want to mess round with reheating it.
Using the microwave to reheat a boiled egg, however it is not recommended. Despite our warnings, if you decide to microwave a boiled egg, then it is best to peel the egg shell before proceeding.
Wrap the peeled egg in a damp paper towel, and microwave for 10-15 second increments until the egg reaches an internal temperature of 165 degrees Fahrenheit, about 45-60 seconds total.
Following this should be sufficient and you're less likely to experience an egg explosion when microwaving a boiled egg.
Can You Reheat Fried Eggs In The Microwave?
Read more: how to substitute 1 can of tuna with boiled eggs
Fried eggs are a bit more challenging to reheat because it is easy to overcook the yolk during the heat process, especially for runny eggs.
When it comes to reheating fried eggs, the process is simple. We can't guarantee that the egg yolk will stay unbroken when you make fried eggs in the microwave, however we can share the steps to reheating a fried eggs in the microwave.
Did you know that you can even reheat sunny side up eggs in the microwave?
Fried eggs are generally cooked with oil, grease or butter. This part of the cooking process is important because it helps to prevent the egg from sticking to the cooking surface, seal the bottom layer of the egg, and keep the yolk intact.
Additionally, it keeps the egg moist so that it doesn't turn into a dry and rubbery mess.
Reheating fried eggs can be heated up in the microwave, and we also provide the best instructions for reheating sunny side up eggs in the microwave.
Reheating fried egg in the microwave is quite simple, but some care should be taken during the process to prevent overcooking the egg. Fried eggs are a bit questionable as there are multiple variations of fried eggs.
There are over easy, over medium, over hard and sunny side up. For starters, the eggs must be stored properly following the food safety guidelines, then they will be safe to reheat when you are ready for a bite to eat.
The most delicate preparation is sunny side up eggs, which are arguably the most challenging to prepare because you don't want to break the yolk until the egg is ready to eat. When reheating sunny side up eggs, the microwave method is the best!
Can You Reheat Scrambled Eggs In The Microwave?
Scrambled eggs are perhaps the easiest type of egg to make and reheat in the microwave. You can do almost anything you like to personalize scrambled eggs, they are so versatile that you can't go wrong.
When you make scrambled eggs in the microwave, try adding toppings or mix-in such as mushrooms, peppers, tomatoes or onions when making scrambled eggs. Some people add milk, but it is best to make fluffy scrambled eggs by using water instead.
Customizing scrambled eggs is entirely up to you. That being said, reheating scrambled eggs in the microwave shouldn't vary by much regardless of the ingredients that were originally added into the egg dish when it was first prepared.
Scrambled eggs are very easy to reheat in the microwave. As long as the leftover scrambled eggs are properly stored, there should be zero concern about reheating.
Reheating scrambled eggs is super easy and it is almost impossible to mess it up when you follow the process of reheating scrambled eggs in the microwave.
Scrambled eggs also freeze well. You can follow these exact same reheating steps if you store scrambled eggs in the freezer and want to reheat them from frozen.
Additionally, scrambled eggs are less likely to dry up and turn rubbery. The fat from the yolk is blended into the watery whites, which helps scrambled eggs retain their moisture and avoid a crispy or crunchy crust forming over the surface when reheated.
Can You Reheat Poached Eggs In The Microwave?
Poaching an egg can be a bit intimidating, and that's understandable because cooking in water is a slightly different that the typical method of high heat on a hot cooking surface.
With the challenges at hand, it can be understandable how poached eggs in a microwave can be a bit more difficult. However, a bit of practice goes a long way and the best poached eggs are achievable with little effort.
Poached egg are another simple preparation method to reheat. As mentioned above, poached eggs are commonly made in the microwave or on the stovetop.
Poached eggs are another type of egg that is simple to reheat. You can even make poached eggs in the microwave initially if you want to. Of course, you have to know the secrets to be successful with your poached eggs.
Poached eggs can be cooked in boiling water with a hard yolk or soft yolk, depending on you personal taste preference. The end result being a cooked egg white with a runny yolk or solid yolk on the inside.
Read more: instant pot steaming how to use sealing | Family Cuisine
However, poach eggs are lighter and fluffier than fried eggs and there is no oil or butter required in the cooking process. If you are not already familiar, poached eggs are best stored in water to preserve the soft and subtle texture of the delicate egg.
When it comes to reheating poached eggs, the microwave is the best method. The process is easy and efficient, providing the best results for reheating.
Multiple eggs can be cooked in the water at one time, and the results turn out just fine. Make sure that the eggs are fully submerged and there is enough water to maintain a hot temperature.
This process is quite similar to the initial egg poaching method, however the amount of time is reduced to gently heat the egg and not cook it. Several poached eggs can be reheated at one time without any concern.
Poached eggs reheat very well because they are light and fluffy, and not overly burdened with cooking oil or butter. It is nearly impossible to tell whether the poached egg was made ahead of time and simply reheated.
Can You Reheat Omelets In The Microwave?
An omelet is a variation of a scrambled egg dish, where as the eggs are vigorously whisked but are not stirred while being cooked. Instead, the eggs are flipped over and then folded in half to finish cooking.
As described, there are certain art to cooking omelettes with toppings and mix-ins. Making omelettes in the microwave can be quite challenging, but is accomplishable.
After going through the effort of making an omelet, or buy one worth saving, you will most defiantly not want your effort to go to waste.
For best results, reheat omelets in the microwave. The eggs will remain moist as the ingredients help preserve moisture that steams the omelet from the inside out.
The paper towel helps to retain the moisture so the egg remains moist and does not dry out or become rubbery.
Can You Reheat Quiche In The Microwave?
A quiche is a fancy egg dish that uses a pastry crust to hold the egg mixture. Quiche can be made with multiple variations of ingredient combinations, but the primary ingredient is eggs.
Quiche often contains mix-in ingredients such as cheese, milk, meats and vegetables. Honestly, how you make a niche is totally up to up.
Quiche is a baked dish that requires browning the pastry crust before the egg mixture is poured inside. The crust is then used as a vessel to hold the egg, cheese, milk, meat, vegetables and seasonings while baking to perfection.
When it comes time to reheat quiche, we recommend using the microwave. Transform leftover quiche into a quick and delicious meal.
Quiche can be stored in the fridge or freezer, and you can heat slices for a simple solution. No matter how it is stored, leftovers can be microwaved in the same way.
If the quiche is frozen, then it will take slightly longer to heat up in the microwave. With a little extra time, the rewarmed egg dish will be ready to serve when it reaches an internal temperature of 165 degrees Fahrenheit.
Don't be intimidated about reheating a quiche in the microwave. If you do not have a microwave crisper pan, then preheat a microwave safe plate for 15-30 seconds and then proceed with the same instructions.
Preheating the surface and placing the quiche on the hot area will help prevent the crust from becoming soggy. If the quiche was properly stored, then there shouldn't be any problems when you go to reheat it in the microwave.
Reheating Eggs in Microwave: Final Thoughts
Eggs can be prepared in so many different ways, and everyone has their own favorite type of egg dish that they enjoy. Eggs are quite simple to cook, and the microwave is the easiest way you can reheat eggs in just a few minutes.
Eggs can be fresh, refrigerated and frozen, the results are nominal when it comes time for cooking. The exception to this rule is boiled eggs, which the yolks freeze well while the whites really don't.
Whether you are reheating eggs that were just cooked yesterday, or that have sat around for a few days, the microwave method will reduce effort with minimal mess and just a few minutes of heating.
Read more: How to make hard boiled eggs in ninja foodi | Family Cuisine