Roasted Broccoli is a very easy side dish to serve with dinner! This post explains how to roast broccoli in the oven or toaster oven. Plus, it gives tips on how to flavor roasted broccoli! Roasting broccoli, rather than boiling or steaming, adds a delicious nutty flavor that when paired with a little bit of olive oil, salt, and pepper is perfect in its simplicity.
Oven Roasted Broccoli Recipe
One of our favorite vegetables to have alongside dinner is roasted broccoli. Luckily, it is a vegetable that we can all agree on.
I've been roasting broccoli for a while, but lately I have been thinking about trying to be greener in the kitchen. I started to think about how much energy it takes to heat the oven up on regular basis for roasting broccoli.
It isn't such a big deal if I am cooking other things, like our favorite Easy Honey Mustard Baked Chicken. But, if we are having something cooked stovetop or a leftover main dish it does seem a little wasteful.
I decided to start experimenting with using our toaster oven to roast broccoli. It is a much smaller space so logic tells me that it takes less energy to preheat and maintain the cooking temperature. I thought that it also might possibly cook faster in a more enclosed space.
Our toaster oven has several settings – toast, bake, roast, and defrost, to name a few. On the roast setting, I can even select the temperature that I would like to use. Perfect!
Follow these quick tips for roasting broccoli, with my notes about how to do so in a toaster oven. I have also tried roasting potatoes, cauliflower, asparagus, and onions in the toaster oven and that all works great, too!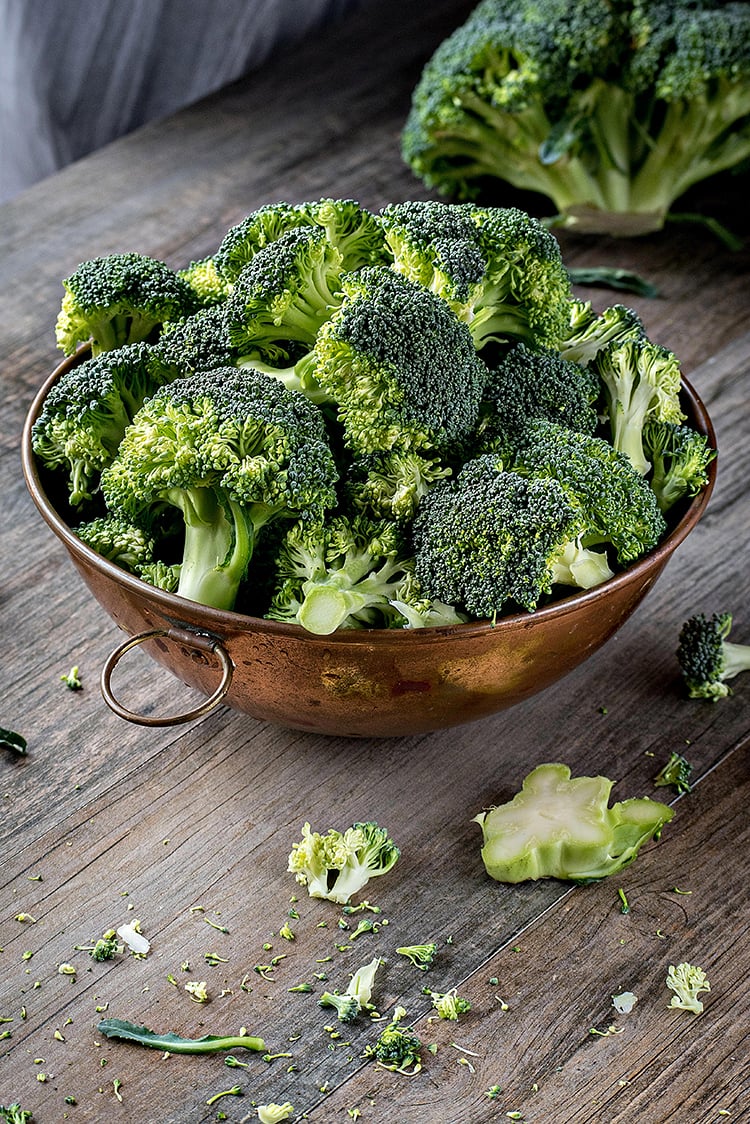 Click HERE to save this recipe on How to Roast Broccoli!
Roasted Broccoli Ingredients
When learning how to roast broccoli, you really only need three key ingredients:
Broccoli florets
Extra virgin olive oil
Sea Salt
Black Pepper
For the complete ingredient list and detailed instructions, scroll to the bottom of this post for the FREE printable recipe card.
How to Roast Broccoli
Unsure how to cook broccoli in the oven? Here are the basic steps to making oven roasted broccoli:
In a bowl, toss together the broccoli florets and oil.
Spread the broccoli over a parchment paper-lined baking tray.
Sprinkle with salt and pepper.
Roast the broccoli until the broccoli is cooked and browned.
Tip: I also have a post that explains How to Roast Cauliflower!
The above is simply a quick summary of this recipe. Check out the full recipe in the free printable recipe card at the bottom of this post for all the detailed instructions.
What is the Best Temperature to Roast Broccoli
Roasting any vegetable requires a hot oven, so you'll need to use a higher temperature than most foods are baked at. My favorite way to roast broccoli is in a 425 degree F oven.
How Long to Roast Broccoli?
For this crispy roasted broccoli recipe, 1 pound of broccoli florets will need to roast for roughly 15 to 20 minutes.
Tips for Making the Best Roasted Broccoli
Here are some of my best tips for making this easy roasted broccoli recipe:
Give the broccoli a good rinse, but make sure you dry the broccoli before roasting it. Dry broccoli will yield crispy broccoli much better than wet broccoli. A salad spinner works great to get most of the water off. After that, I like to let it air dry on a paper towel lined baking sheet.
Cut the broccoli in uniform pieces. If the florets are all about the same size, the broccoli pieces will cook evenly and you won't end up with some that have crispy edges and some that are still hard.
I normally discard the broccoli stems but you can slice the stems and roast them too if you like. We just don't care for them as much as the florets
Make sure the broccoli is in a single layer on the sheet pan. You might need to use a larger pan or use two pans instead of one. You'll get crispier broccoli if the pieces aren't overlapping.
How to Make Fancy Roasted Broccoli
I always start by lightly tossing the broccoli in extra virgin olive oil and seasoning it with salt and pepper, but you can make things a little more exciting with a few simple changes or additions – just use your personal preference!
Here are some of my favorite ways to dress up this simple roasted broccoli recipe:
Garlic Parmesan Roasted Broccoli: for garlic parmesan broccoli, season with garlic powder in addition to salt and pepper, or use fresh garlic cloves, and sprinkle with parmesan cheese when it gets out of the oven.
Lemon Roasted Broccoli: for lemon broccoli, squeeze a wedge of fresh lemon juice over the crispy roasted broccoli just before serving. Alternatively, use lemon pepper seasoning in place of the salt and pepper.
Roasted Balsamic Broccoli: for balsamic broccoli, drizzle a little balsamic vinegar on this roasted broccoli recipe after cooking it.
Roasted Asian Broccoli: for an Asian roasted broccoli twist, substitute 1 teaspoon of the olive oil with sesame oil, sprinkle with some sesame seeds, and drizzle with soy sauce after cooking.
Spicy Roasted Broccoli: for a spicy flavor, sprinkle the broccoli with red pepper flakes in addition to the sale and pepper.
Can You Roast Frozen Broccoli?
I believe you can, but I highly recommend using fresh broccoli florets if possible. When roasted correctly, fresh broccoli retains some of its crispness. I'm not sure if frozen broccoli would turn to mush in the oven or not!
What to Serve with Roasted Broccoli
This recipe for roasted broccoli is an easy vegetable side dish to serve with your main course. Here are a few of our favorite main dishes to serve when we are having roasted broccoli for dinner:
Roasted Broccoli with some potato salad goes great alongside this recipe for Easy Smoked Chicken.
Apple Cider Pork Chops with Caramelized Apples is the perfect fall meal. Try serving the pork chops with a side dish of roasted broccoli and mashed potatoes.
This Easy Honey Mustard Baked Chicken is probably one of the very first dinners that I started serving roasted broccoli with. It is a hearty and easy dinner that always gets great reviews.
Try this Easy Roasted Broccoli at Home!
Next time you're looking for a healthy side dish, give this roasted broccoli a try! Did your family love it? Leave a comment below and give it a review for others to see what you thought of this simple side dish.
On Instagram? Share your photo and tag me with @goodlifeeats and #goodlifeeatsrecipes. I'd love to see your photo of this roasted broccoli!
More Easy Vegetable Sides:
Who doesn't love Oven-Baked Seasoned Fries? Serve these with burgers, sandwiches, and more!
This Cilantro Lime Kale Slaw takes a bit more prep work than roasted broccoli, but it's easy to prepare nonetheless and is packed with flavor.
When in doubt, make Classic Baked Potatoes. In this post, I share my top tips for baking potatoes fast — perfect for busy weeknight cooking!
During the cooler months, I love making batch after batch of Apple Cider Roasted Squash. It's so simple to throw together and pairs with almost any main dish.
I've yet to meet anyone who doesn't love these Garlic Bacon Sautéed Green Beans. It's the perfect side dish year-round!
Don't see what you're looking for here? You can always head over to check out the recipe index to look for more recipes.
Get More Recipes via Email
Did you love this recipe? Sign up to receive Good Life Eats Email Updates and never miss another recipe!
For more information, please see more information about What temperature to roast broccoli
Detail: 🔗