No need to heat up the oven – you can roast garlic in your air fryer! It's quicker than using the oven and simple for air fryer beginners. Making roasted garlic has never been easier! Here's How to Roast Garlic in an Air Fryer.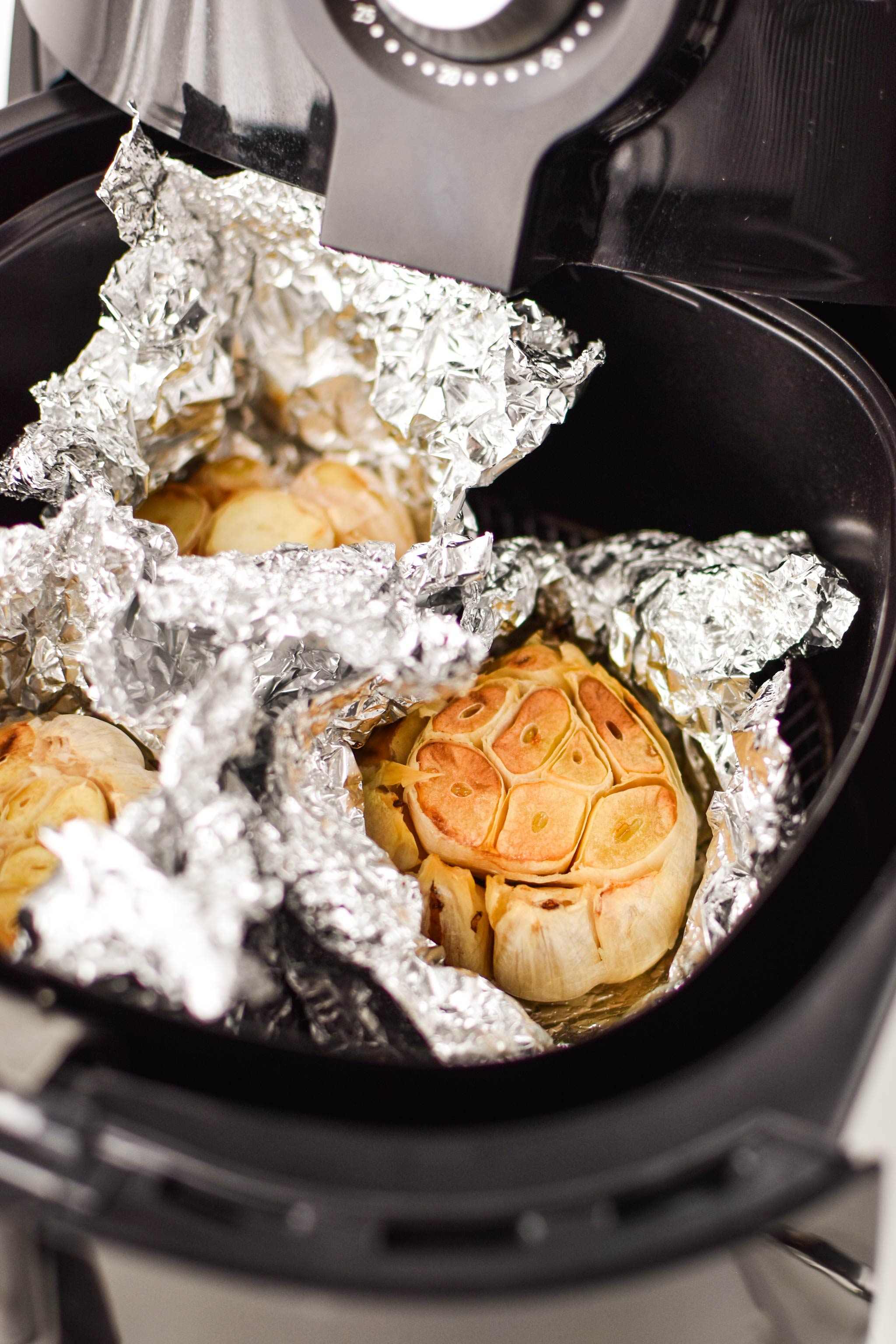 The smell of roasted garlic makes me feel like I'm at a super classy Italian restaurant or like it's Thanksgiving at my aunt and uncle's house (uhm hi roasted garlic mashed potatoes).
Roasting garlic has always seemed like a treat, until recently when I went on a garlic roasting spree in my air fryer!
I never like heating up the oven for one small thing. And a head of garlic really does feel like one small thing.
Normal recipes don't call for roasted garlic, so it's just not something I even felt the need to make. But now, I will make it all the time.
Can you roast garlic in an air fryer?
Yes! You can "roast" garlic in your air fryer. Nobody get mad that I'm calling it roasted garlic.
Air fried garlic just does not have the same ring to it, and honestly sounds like a different kind of thing altogether. Everyone knows what you're talking about if you say roasted garlic, and it's used in the same ways.
My absolute favorite use of roasted garlic is spreading it on to sourdough bread. OMG.
Second favorite way to use it: Mashed potatoes.
Third favorite way is to just mix it into recipes in place of regular garlic! Can you tell I'm into garlic!?
What kind of air fryer do you use?
I (used to!) own the Philips 2.75 qt Viva Air Fryer (affiliate link!), and I liked it! Frozen things that are normally baked or fried come out crispier than I've ever tasted. It also seems to work for drying ingredients out (like apples in my recipe for How to Make Apple Chips in an Air Fryer!).
Plus you always save time by not having to heat up the oven, so that's definitely a win. There's a digital version of this air fryer that's a bit more expensive.
Update 11/18/21: I recently upgraded to a larger air fryer, the Cosori XL 5.8 qt Air Fryer (affiliate link!), and I love it even better than the Philips I previously owned. Browse through all my latest air fryer recipes to see the newer air fryer in action!
How do you roast garlic in an air fryer?
Essentially, you're following the same method as you would with the traditional oven roasting way, except you're doing it in an air fryer.
This means you'll need some oil (I use avocado oil for high heat cooking but olive oil would work too!), and some aluminum foil.
Chop the top 1/4 inch or so off the garlic head so the cloves are exposed. Place the head of garlic in the center of the foil, drizzle with oil, and then wrap up the garlic, all edges of the foiling meeting at the top to completely close the foil around the garlic.
Place the foil wrapped garlic heads into the air fryer basket, making sure the foil is not above the max fill line (you don't want it to be touching the heating element).
Up to four heads of garlic would fit into my air fryer at once, but you can stick with one if that's all you need!
Air fry at 390F for 20-30 minutes. Smaller heads of garlic will take about 20 minutes, while larger heads of garlic will take up to 30 minutes. When it's done, unwrap, squish the garlic out of the skins, and mash it up or use it however you please!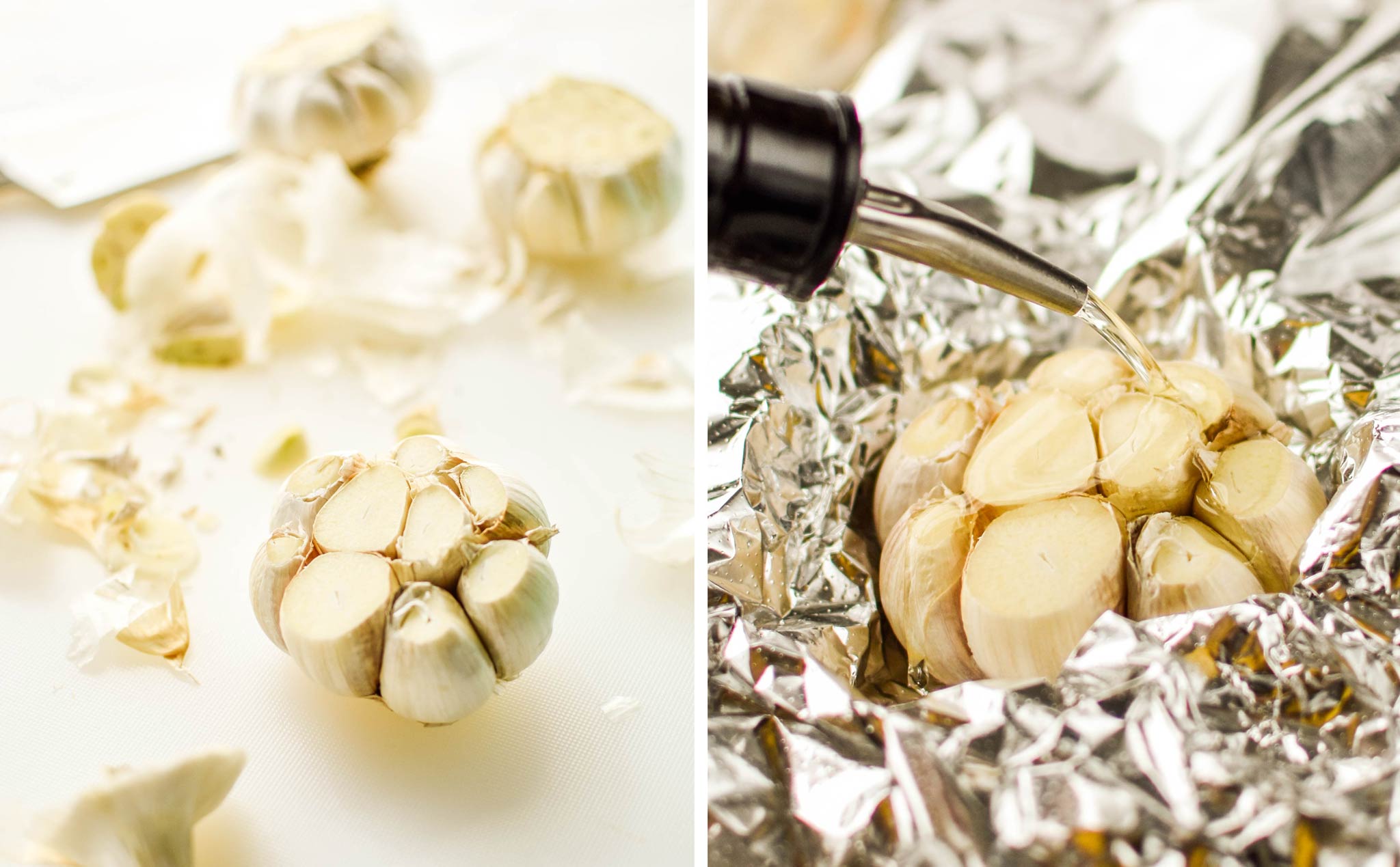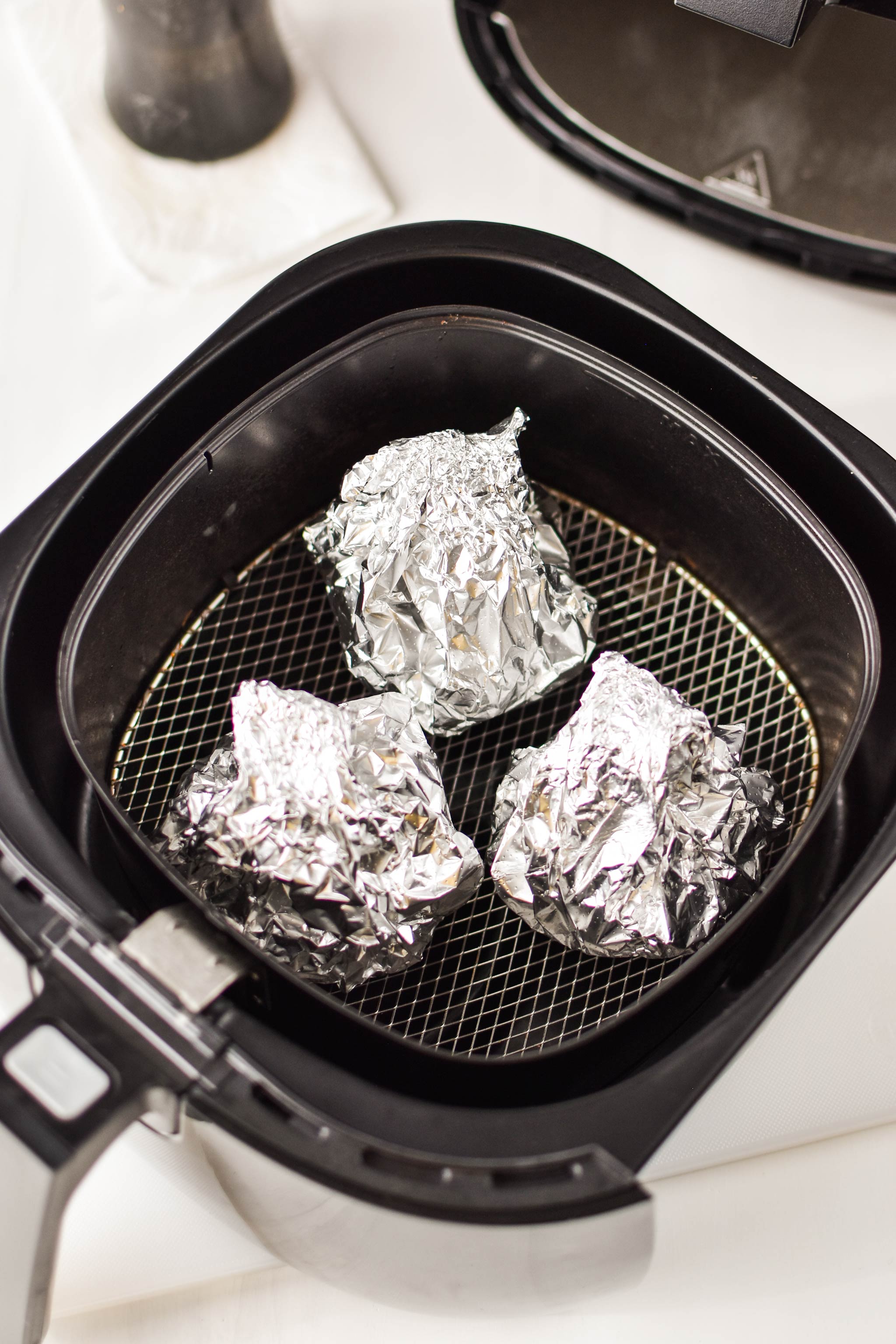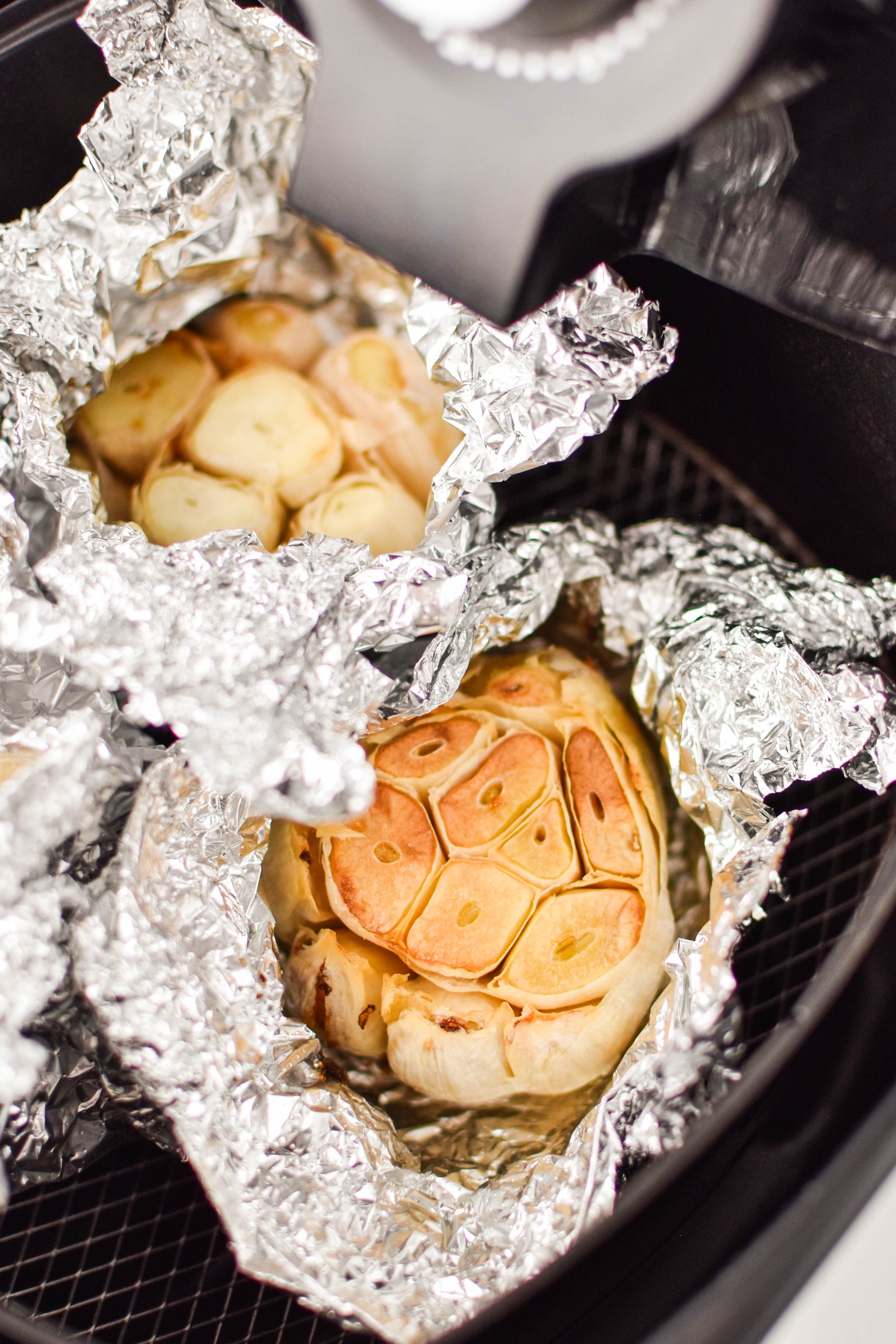 Roasting Garlic in an Air Fryer vs an Oven
Oven takes 7-10 minutes to preheat up to 400F. That's 7-10 minutes longer than required with the air fryer. Preheating your air fryer can help with quick cooking items, but it's not required here. The manual of my air fryer says "add 3 minutes to cook time if using a cold appliance". So it will save you around 3 minutes if you preheat your air fryer, but it's not a requirement.
Oven roasted garlic recipes at 400F take about 40 minutes of cook time. Plus 10 minutes to heat up, equals 50 minutes with the oven on, compared to maximum 30 minutes for a large head of garlic.
Ovens are large, and they probably take more energy to operate on a per minute basis compared to my small air fryer. Not to mention the additional preheat and cooking time.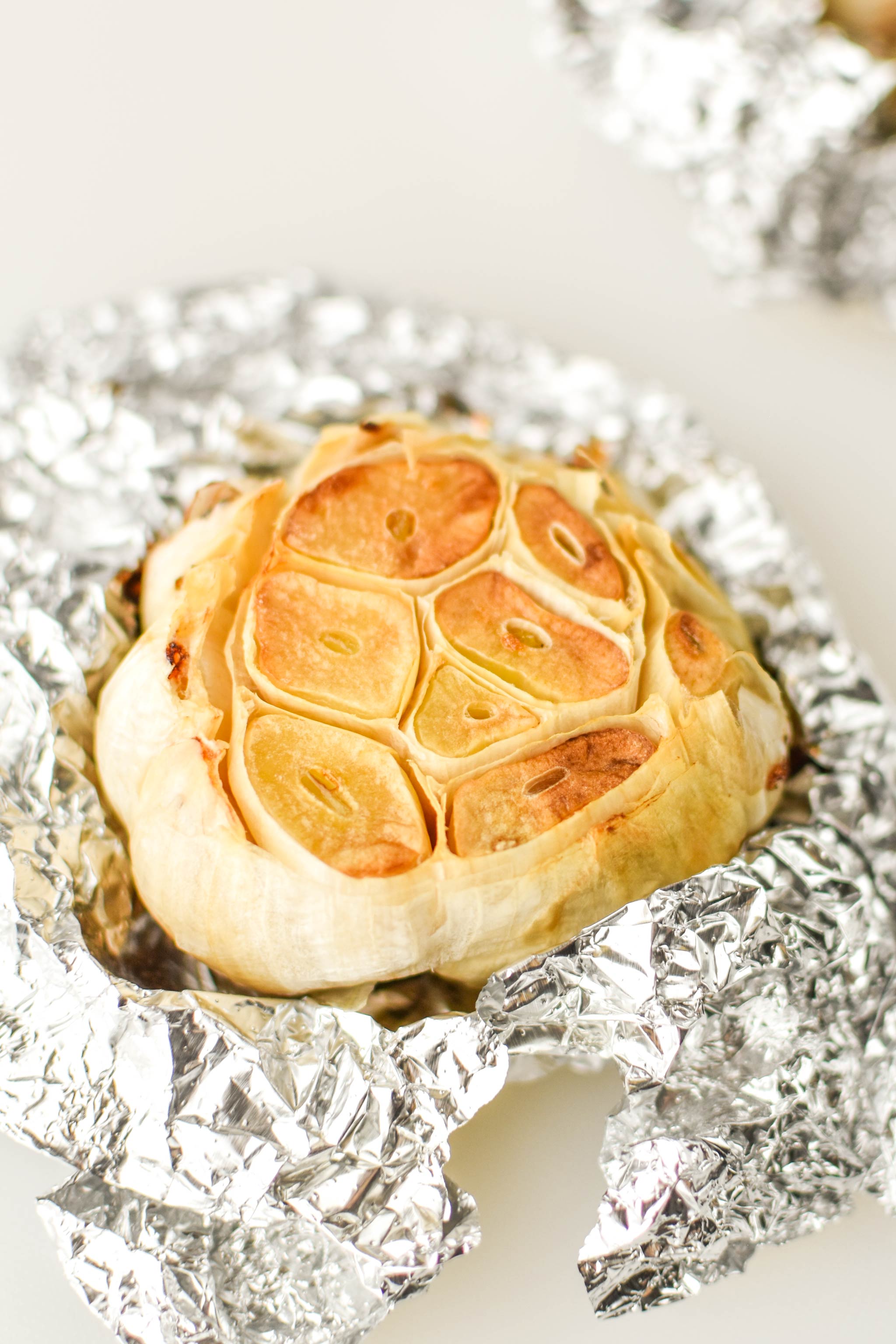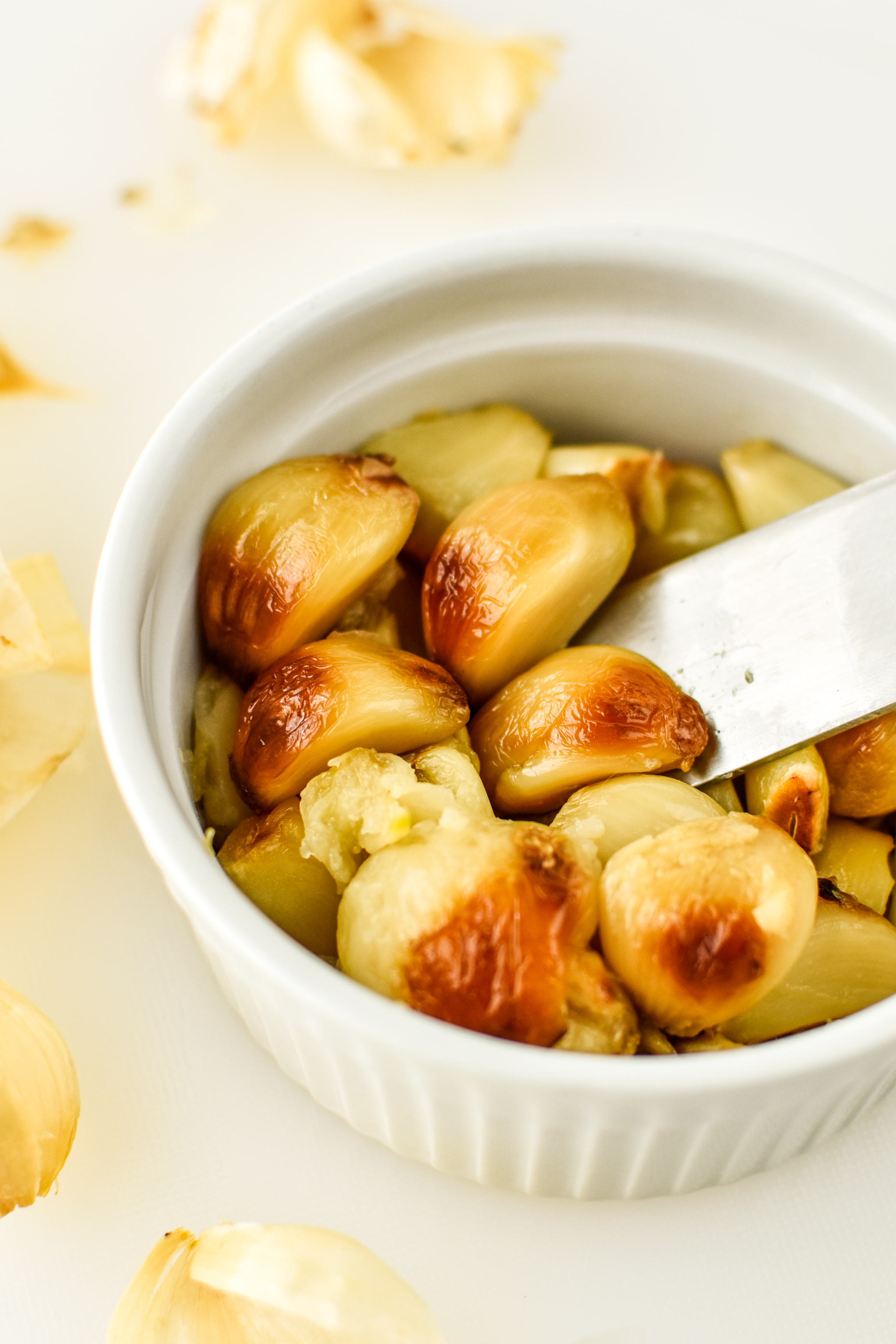 What are some ways to use roasted garlic?
Garlic mashed potatoes: A special treat made by my aunt on some holidays. Mix roasted garlic cloves into your regular mashed potatoes for a good time!!
Appetizer with bread or crackers: Some people are garlic obsessed (hello!) and you can really impress those people by having some bread and roasted garlic around as an appetizer. Super easy to make and use up if there are leftovers.
Add to mayo: For quite possibly the best mayo variation I've ever thought of. Roasted garlic mayo turkey sandwich I'll take three.
Use in salsa and dressings: I'm craving everything on this list by now, so let's throw in some chips and salsa like any good feast. YUM.
Add in place of regular garlic: Instead of sauteing some garlic in a soup or stir fry, I've been straight up adding gobs of roasted garlic to our dinners. It's a thing and I'm into it.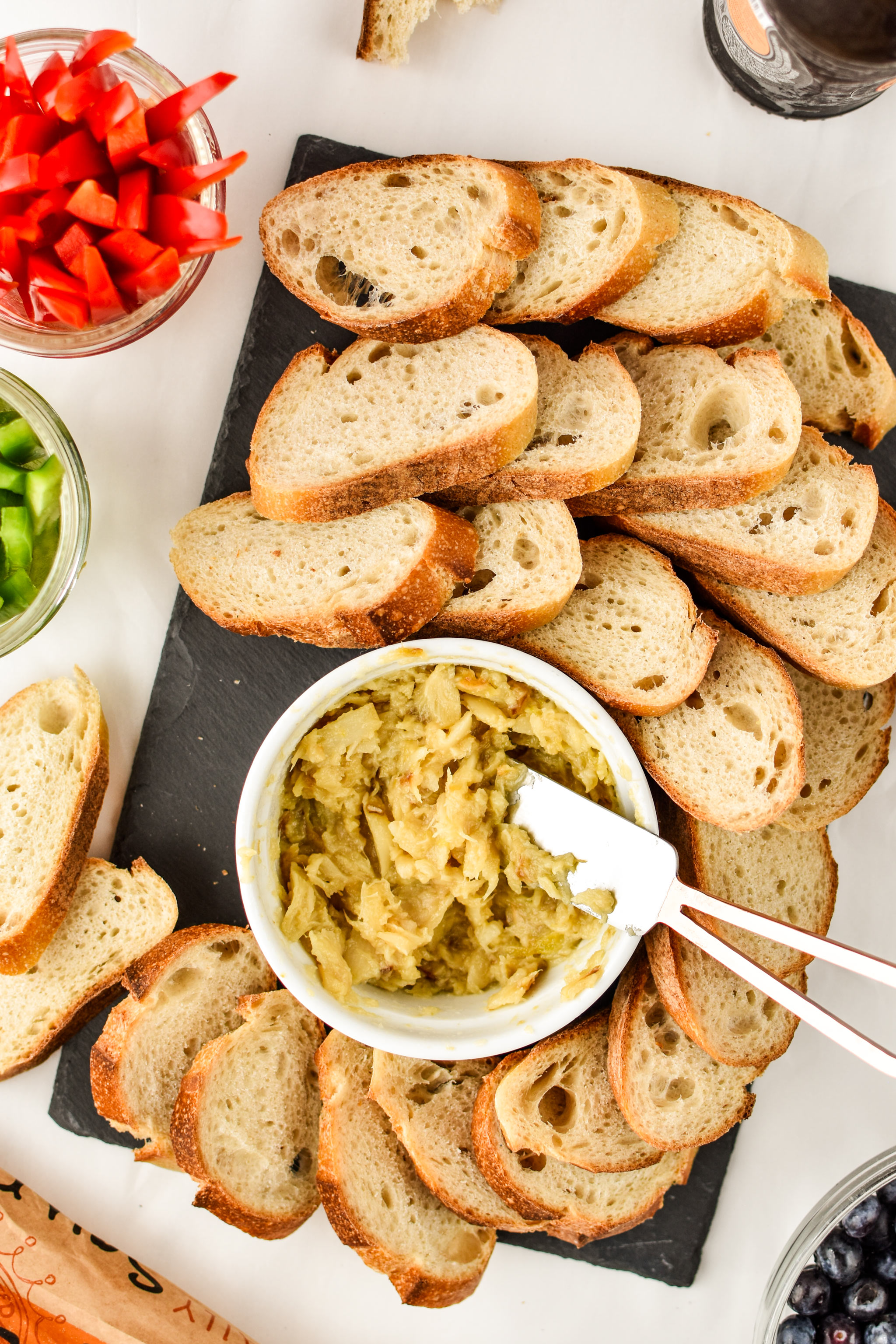 How to store roasted garlic:
Leave cloves in the bulb and wrapped in foil and store in the refrigerator for up to one week, removing roasted garlic cloves as needed.
Store mashed roasted garlic cloves in an airtight container in the refrigerator for up to 4 days.
How to freeze roasted garlic:
Freeze roasted garlic in trays such as the Souper Cubes 2 Tablespoon Freezing Tray (affiliate link!) and then store in an airtight container and use within 6 months.
Please see more list about How to roast garlic in air fryer
Detail: 🔗