How to Roast Garlic – bake a whole bulb until each clove is butter-soft, sweet and nutty. Check out our list of ways to use this roasted garlic!
Use this delicious roasted garlic in mashed potatoes, cauliflower pasta sauce or homemade hummus.
ROASTED GARLIC
If you never had or made roasted garlic, you are seriously missing out. This is my favorite way to turn a whole garlic bulb into a soft, sweet, nutty cloves that can be used in so many dishes or enjoyed warm on a toast. I love adding garlic to pasta, pizza sauce or simply rub a piece of warm toast with it. I always have a small jar of minced garlic in olive oil in my fridge. It saves me time (no more peeling and grating!) and lets me add just the right amount of it to the dish. But roasted garlic is a whole new ball game! It's sweet and nutty and absolutely amazing! You roast it once, store it in a jar and use it whenever you need it. No peeling single cloves required!
Ingredients Needed:
fresh garlic, in whole bulbs
olive oil
How to Roast Garlic?
Prepare small squares of aluminum foil, one for each garlic bulb.
Remove the outer layer of the garlic bulb skin. You should see the cloves in their individual shells.
Cut off the top of the bulb.
Place garlic on prepared aluminum foil squares and place on a baking sheet.
Drizzle with olive oil.
Bring the edges of the foil together and close the bulb inside.
Place the baking sheet in an oven. Roast for 30 to 35 minutes or until the cloves are soft.
Remove sheet from the oven and let the foil packets cool.
Remove the bulbs from foil. The cloves are soft and should pop out from their shells with a help of a small spoon or butter knife.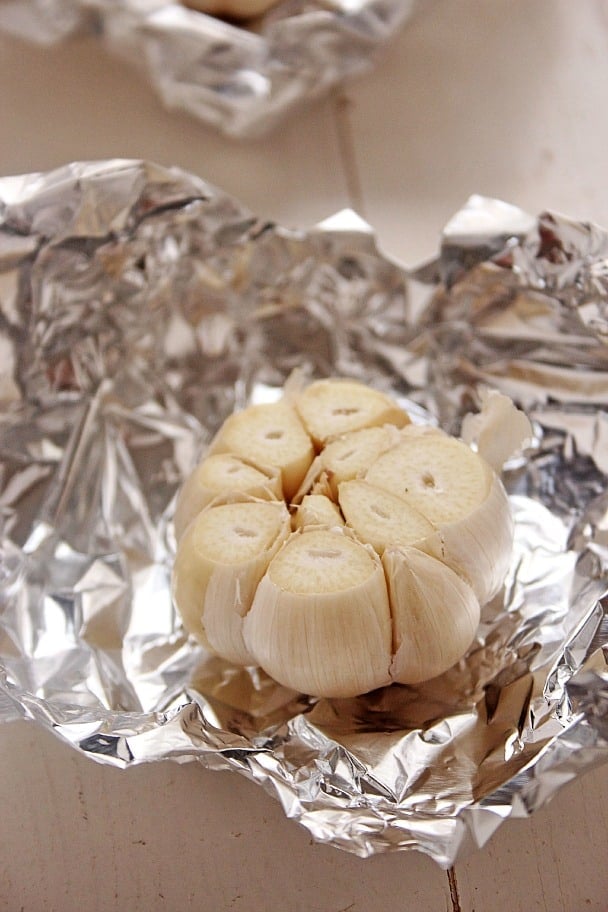 Can I roast it without the foil?
Yes! If you don't want to use aluminum foil, use parchment paper. You can easily make a little pouch and place the garlic inside, then fold the sides to close. You can also purchase garlic roaster. Many are available online.
Can I roast it on the grill?
Absolutely! Pop it onto t a grill, away from direct heat and roast for 25 to 30 minutes.
Can I roast it in the microwave?
If you are using a microwave, you won't be roasting the garlic per se. You will be steaming it. Remember not to use the foil! Simply place garlic in a bowl, drizzle with oil and add about 1/2 cup of water. Cover it with microwave-safe lid and cook for 3 minutes.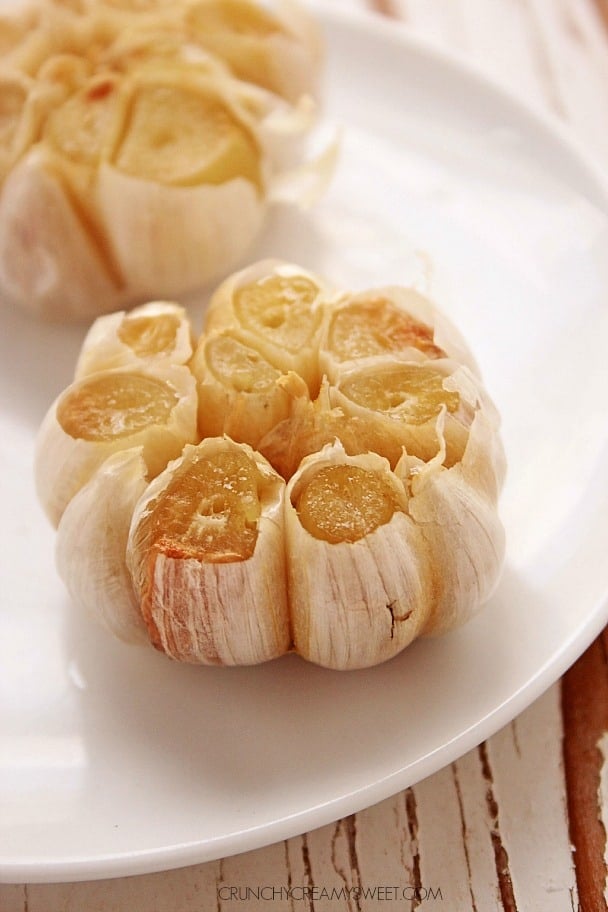 How to store roasted garlic?
I always roast a few bulbs at a time and store the roasted cloves in a small jar and use them throughout the week or so.
How long does it keep?
I keep my roasted garlic in a jar in the fridge and it stays good for up to 1 week.
How to Use Roasted Garlic:
spread warm cloves on a bread toast
spread over a pizza crust, right before adding toppings
add to pasta sauce, like this Roasted Garlic Cauliflower Alfredo Sauce
add to mashed potatoes
add to creamy soups
add to casseroles
use in skillet sauces
mash with butter and spread over corn on the cob or baked potatoes
use in a dip, like homemade hummus
add to pasta sauce

If you like this recipe and make it, snap a photo and share it on INSTAGRAM! Tag me @crunchycreamysweet so I can check it out and leave a comment! 😀
Please see more list about How long to roast a garlic
Detail: 🔗