Roasted Red Peppers – Learn how to roast bell peppers, whole or sliced, on the oven, in the oven, or on the grill – plus how to steam, peel and store your freshly roasted peppers.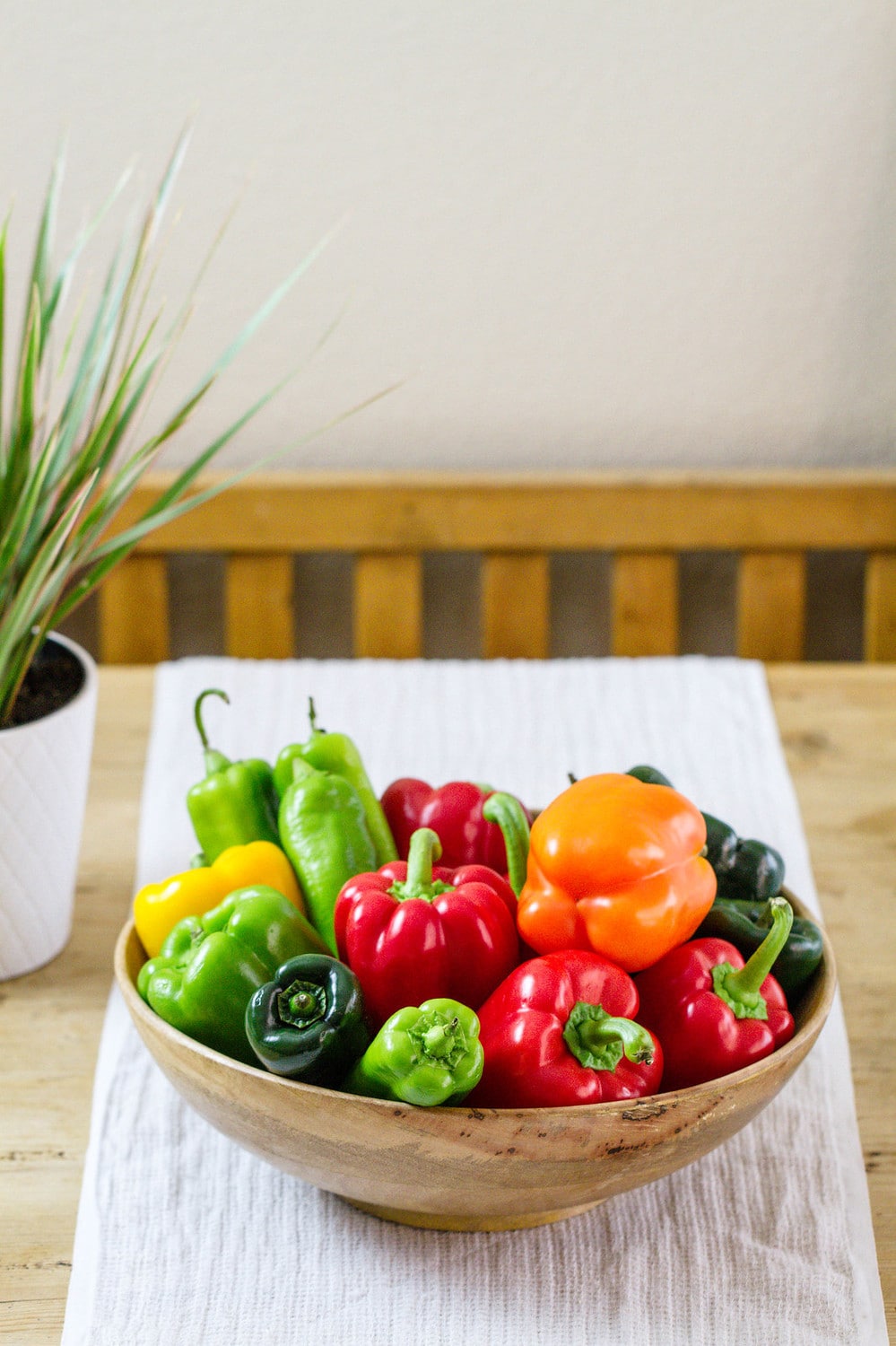 Reading: How long to roast bell peppers
Roasting peppers enhances their sweetness, and adds a wonderful smoky char depth and silky texture. This is your guide to the different methods roasting peppers. Whether making a few or a large batch, this guide will make your roasting experience a good one!
I've used bell peppers, but you can easily adapt these methods for all kinds of peppers. The only adjustment you may need to make is watching the time, smaller peppers like jalapenos and mini-sweet peppers will cook faster.
Over the last week, I've had the opportunity to try a few ways of prepping and roasting red peppers and in the end all the peppers were equally delicious, but the methods of prepping vary greatly. I hope this guide will help you decide which way is best for you.
(Note – The full printable recipe and instructions are at the bottom of this post)
How To Roast Whole Peppers – Oven Method
For my first try, I roasted them whole in the oven. This is how I've always done it in the past. I like this method of roasting and think it's great if you are planing on making a whole bunch of roasted peppers and saving some for later.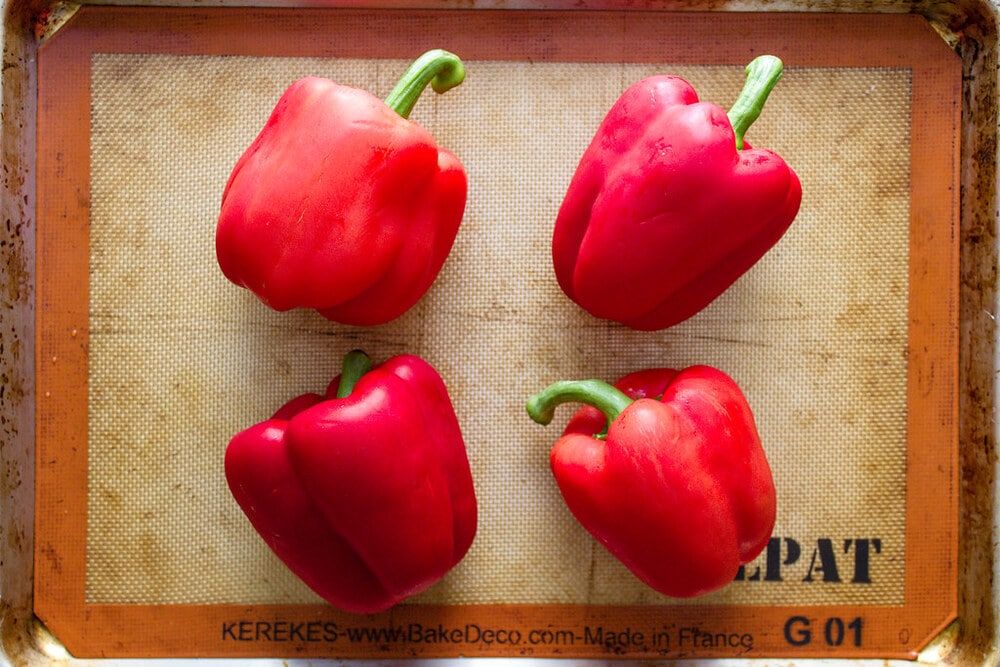 First, wash and dry the peppers, and place them on rimmed baking sheet lined with a silpat or parchment paper, as shown above. Lining the baking sheet will make clean up a lot easier!
Next, place in the center of the oven and roast for about 40 minutes, or until soft, puffy and charred.
When done, your peppers will be puffy from the air inside, but once removed and cooled a bit they will deflate and become wrinkly, as shown below.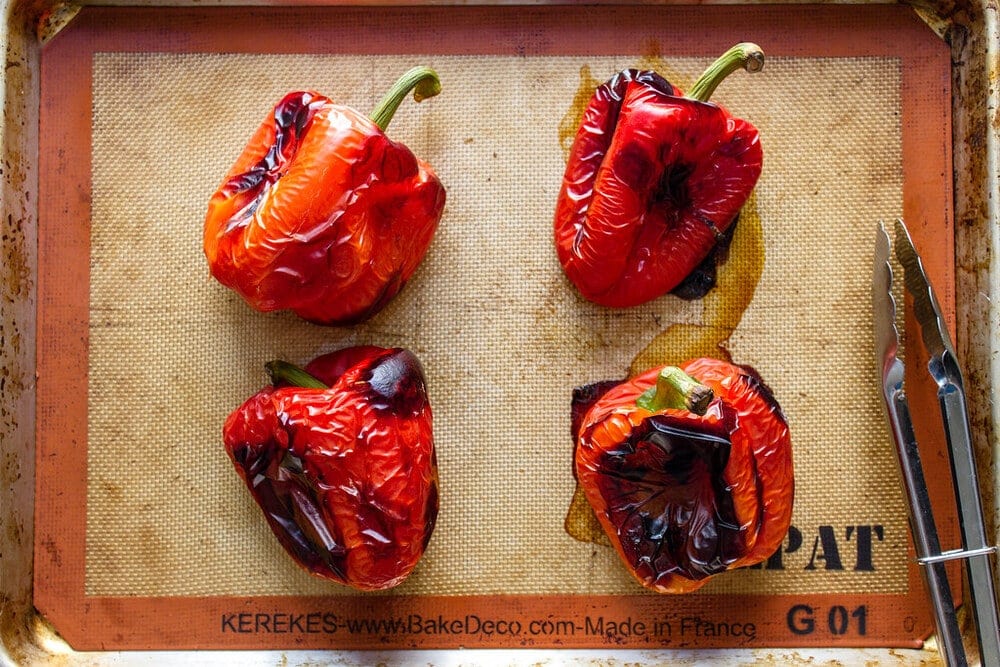 THE PROS: You can get 8 whole peppers on a standard size baking sheet (maybe more depending on the shape and size), and when steaming you'll get a lot more pepper juice at the bottom of the bowl to use for storing in mason jars.
THE CONS: You'll still need to remove the seeds. It's not a terrible thing but it puts this method as my 2nd favorite way to roast peppers.
Jump To Top
How To Roast Sliced Red Peppers – Oven Method
The next method I tried was to slice the peppers in half, remove the seeds and stem, and place cut-side down on the baking sheet. This is my first try with this method and I'm in love with it. Where have I been? It is so easy with much less mess!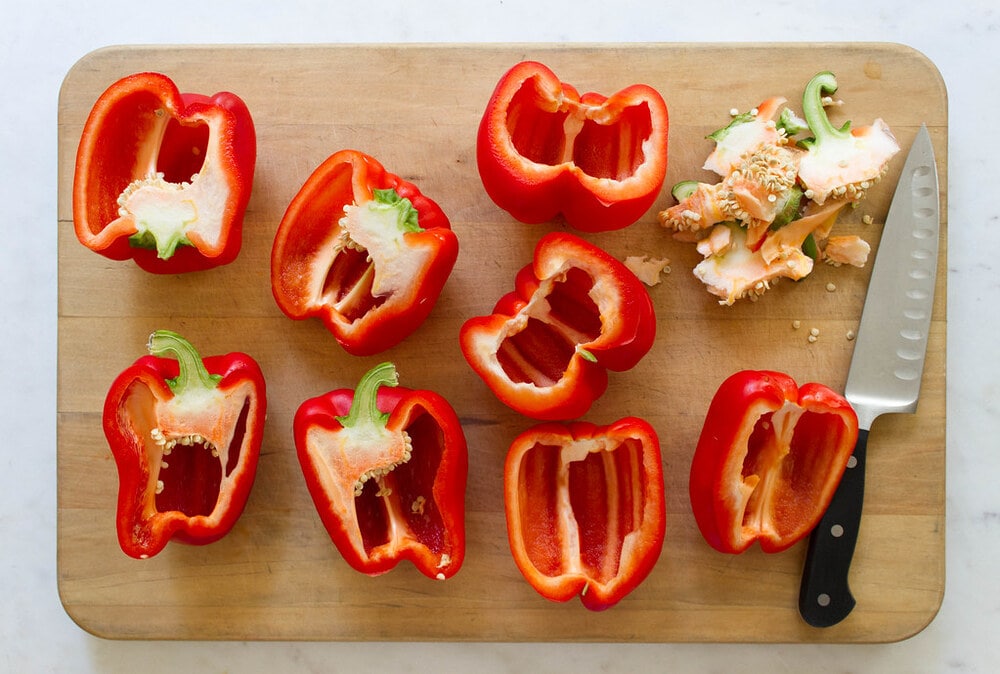 Start with washing and drying the peppers. Slice them in half lengthwise, and remove the core and seeds, shown above.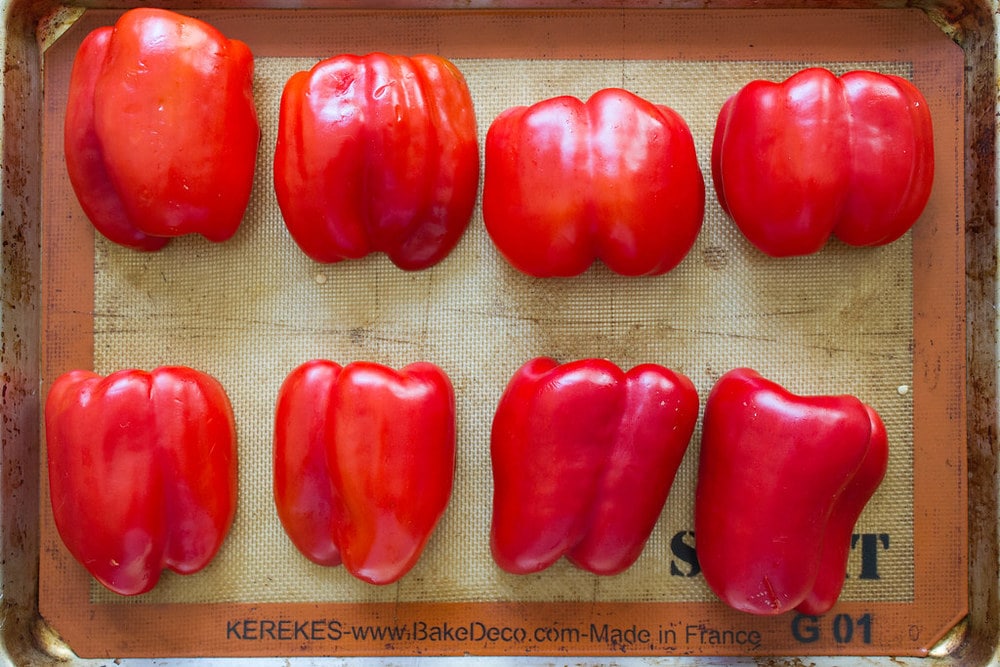 Next, place the peppers, cut side down, on a lined rimmed baking sheet lined with parchment paper or silpat, as shown above.
Read more: Sous Vide Pulled Pork Shoulder
Place in preheated oven set at 475 degrees for 40 minutes, until soft and nicely charred, as shown below.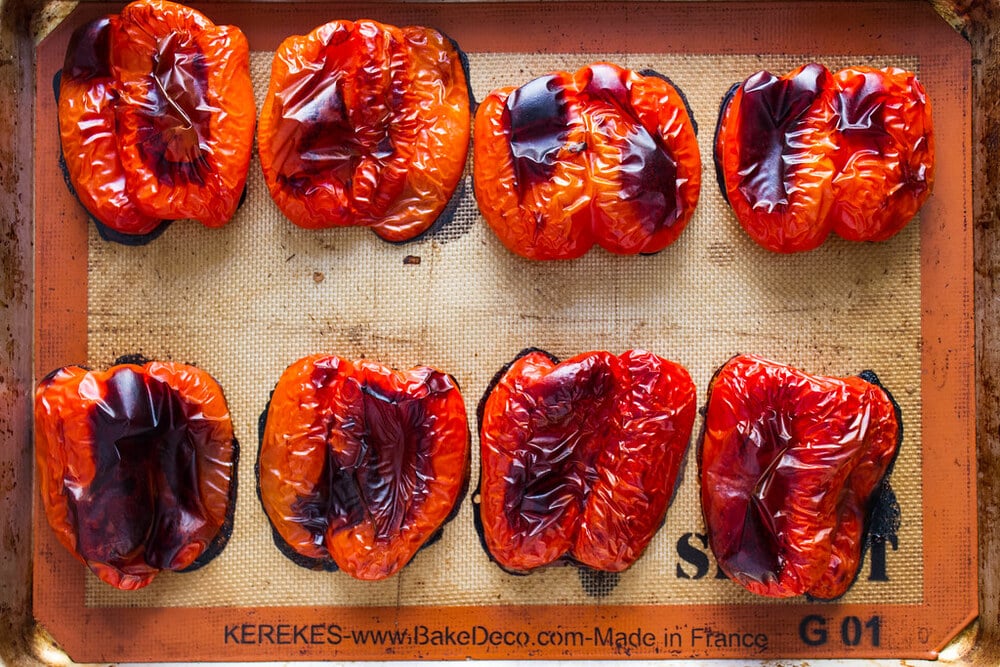 THE PROS: You can do at least 4 peppers, maybe more depending on the shape, no need to flip while roasting, and you only have to remove the skins making the next step so much easier. This is an efficient method and great for most home cooks. It is my new favorite way to roast peppers when not storing for long-term.
THE CONS: You will not get much pepper juice for storing and you can't fit as many peppers at one time.
Jump To Top
How To Roast Peppers On The Stove
The method of charring peppers on a gas stovetop is simple, but you do need to keep an eye on them.
STOVE TOP: If roasting just 1 or 2 peppers, you can roast it over the gas burner of your stove (I suppose you could do 4 peppers utilizing each burner). Place pepper on its side and adjust the flame so it just 'licks' the peppers. Keep an eye on it and turn it as needed to blacken and char, about 15 – 20. This tends to be a more time consuming method since you have to be so watchful.
PROS: One less dish to wash.
CONS: You have to be very watchful and juices may drip all over.
The oven method is more to my liking, but I've added instructions for these methods in the recipe card as well because I want this to be a fairly complete guide to roasting peppers. I encourage you to try whatever sounds best for you and your situation.
Jump To Top
How To Roast Peppers On The Grill
Using a gas grill to roast your peppers is simple and easy. Since I don't have an outdoor grill I couldn't try this method, but here are instructions for the grill.
OPEN GRILL: Place whole peppers on their sides over an open flame on the grill, turning every now and then until nicely charred all over. Depending on how big your grill is will determine how many you can do at one time.
PROS: One less dish to wash.
CONS: Can't think of any.
Jump To Top
How To Steam Roasted Red Peppers
Once you've roasted or grilled your peppers, the next step is to cover and steam them while they are still hot for 30 minutes or so. This step is optional, but it really helps the skin peel away easily!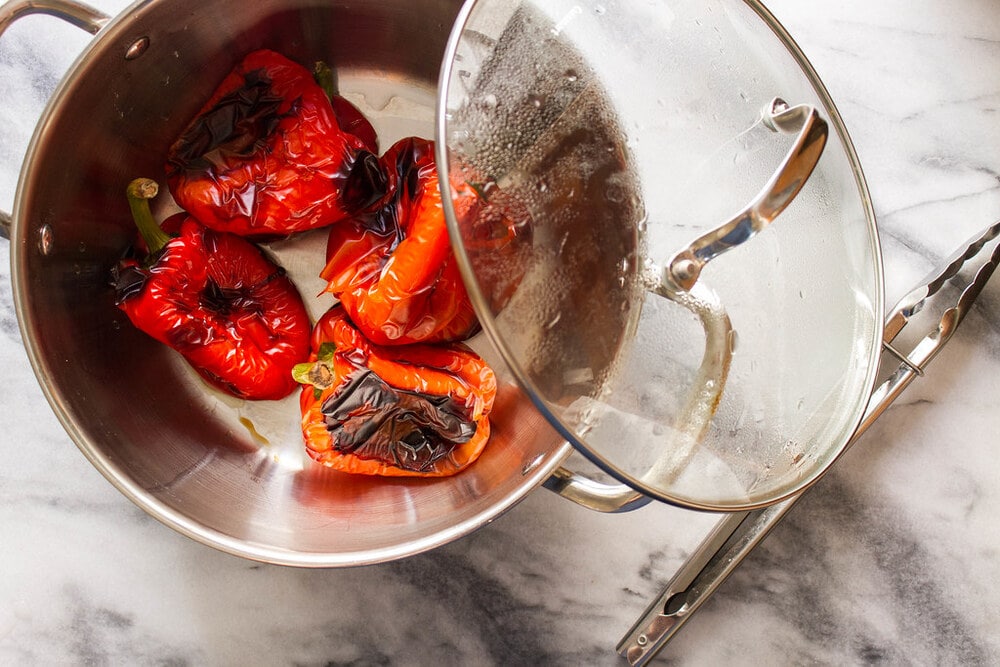 No matter how you roast them this step will greatly help with the skin removal. You can do this process a few different ways, fitting into whatever works best.
In the scenario above, I placed my freshly whole roasted peppers in a pot to steam with the lid on. Since I was going to cook pasta for the same recipe I was using roasted peppers it made sense. I could simply rinse the pot and use it without creating more dirty dishes.
As shown below, you can also place the warm roasted peppers in a bowl and cover it with a plate, or use a small container with a lid, to seal in the moisture.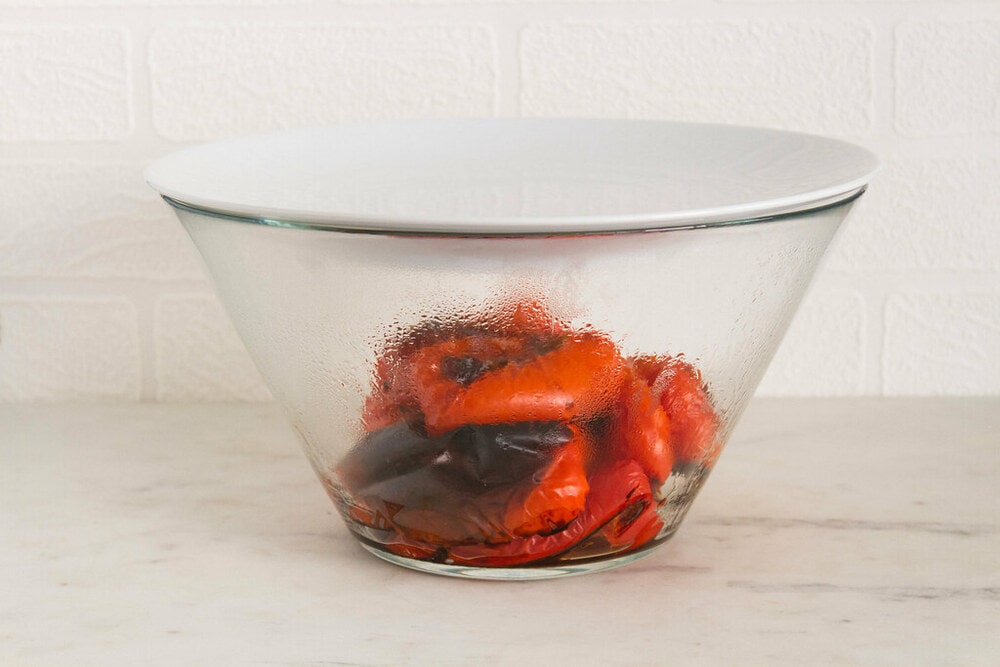 Read more: How To Make Philly Cheese Steak With Roast Beef?
You get the idea. However you choose, let them steam for about 30 minutes. But if you're really in a hurry, you can still peel your peppers without steaming, it just may take a little more effort. Just be sure to let your peppers cool down before peeling so you don't burn yourself.
Jump To Top
How To Peel Roasted Red Peppers
The last step is peeling your roasted peppers. Here I'll share with you how I peeled whole and halved red peppers.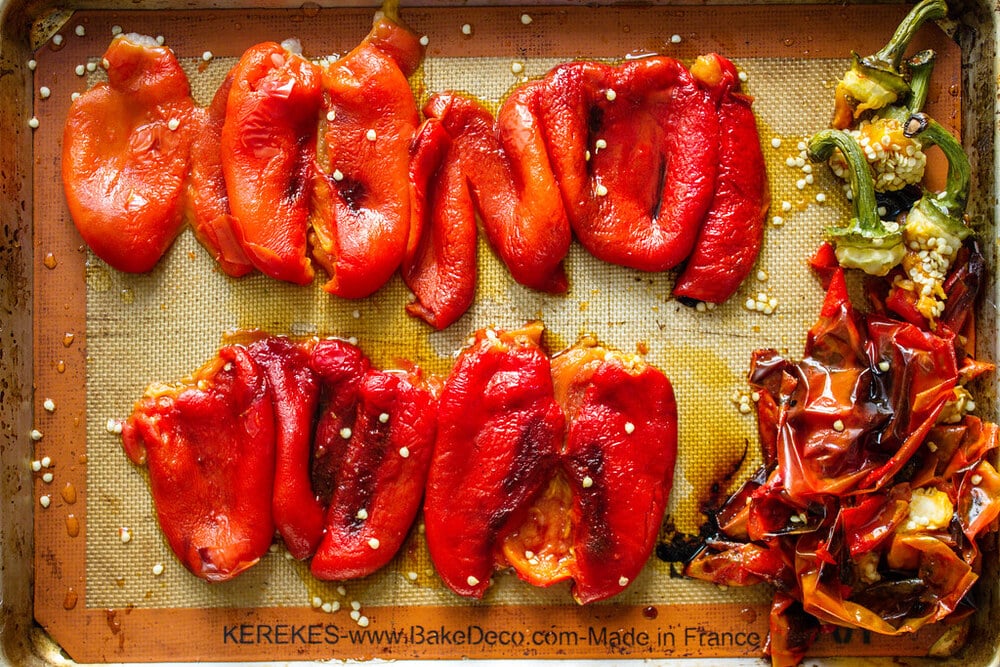 Above the peppers were roasted whole. They have had the stem, seeds and skin removed. Once steamed, I brought them back to the baking sheet to finish the final steps (again saving a dish to wash).
This is a fairly easy and juicy process. Do refrain from cleaning your peppers under running water to clean or you'll remove much of the wonderful roasted flavor you've worked so hard to get. If you don't remove all of the seeds, it's ok.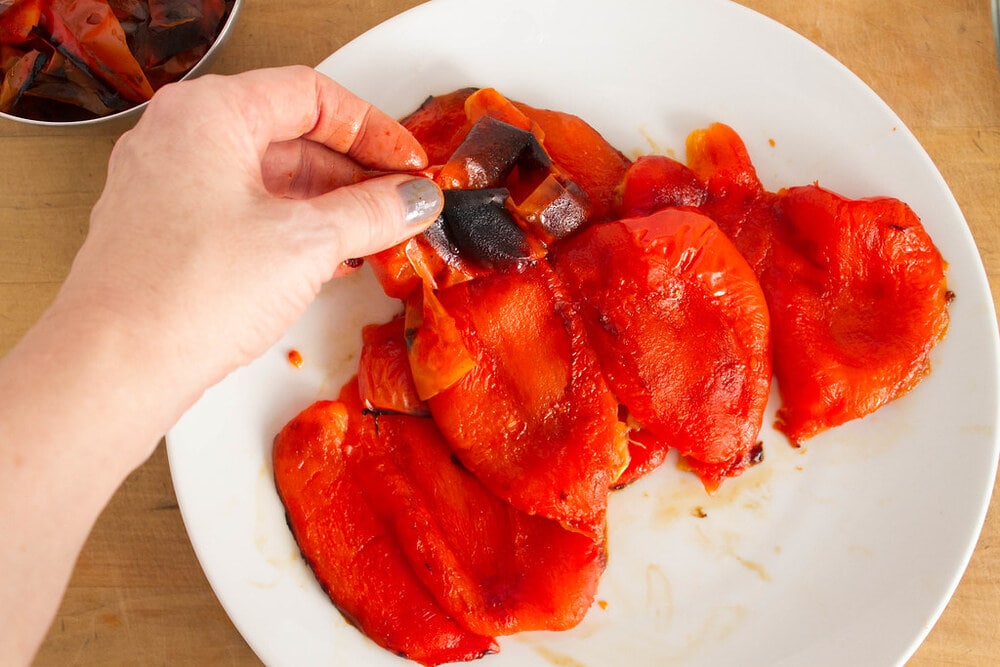 Here you see the peppers that were halved and roasted. I've used the plate that I covered the bowl with to steam. This was the easiest of all, not a lot of juices and no seeds to deal with. Just peel the skin and you're done. It's ok to sneak in a few bites too. 🙂
Once peeled, cut the peppers into sections, maybe 4 – 6 sections per pepper depending on what you'll be using it for. If canning, save the pepper juices.
Jump To Top
How To Store Roasted Red Peppers
Your freshly roasted and prepped bell peppers can be store in the refrigerator, freezer, or canned. This guide to storing roasted peppers will break it all down for you, and you can use whatever method best suits your needs!
Refrigerator
Storing roasted peppers in the refrigerator is great for short term storage, depending on the way you store them they will stay fresh up to 2 weeks.
Keep leftovers in an airtight container in the refrigerator for up to a 5 – 6 days.
If you coat them with a little oil they will stay fresh for up to 2 weeks. You can even add some of the pepper juices to the container.
To always be safe, at the first sign of mold or spoilage, throw away immediately.
Freezing
Freezing is my favorite method of storing roasted peppers for long term storage, as it's super easy to do and they thaw out amazingly well! This method of storing is a neutral way of keeping the full roasted flavor intact as they won't be tainted with any other flavors.
Freeze your peppers in a tightly sealed, freezer safe container. I would suggest cutting and placing a small piece of parchment paper between the peppers for easy removal.
To thaw, leave on the counter for a few minutes or let thaw in the refrigerator. They thaw out pretty fast once removed from the freezer.
Peppers can be kept in the freezer for up to 2 months.
Vinegar Method
This method requires storing your peppers in a jar with a pinch of salt, vinegar and pepper juices. The result will leave your peppers with a little bit of tang from the vinegar, in some cases it may overpower them, but it's a great way to store roasted bell peppers for long periods. Use these peppers for sauces, dips, and soups.
To do this you'll want to sprinkle your peppers with a generous pinch of mineral salt and mix well.
Place 1/2 inch of vinegar at the bottom of your pint sized mason jar, add peppers leaving about 1 1/2 inches headspace.
Using the handle of a spoon or fork, poke along the inside edges of the jar to release air bubbles (this is important), pour reserved pepper juices over top so peppers are completely covered, leaving 3/4 inch room. If you don't have a lot of pepper juices, use vinegar.
Add about 1/8 inch of olive oil over top to keep air out, leaving 1/2 inch headspace.
Seal and place towards the back of the refrigerator. Peppers will be good for up to 2 months, maybe even a little longer.
If you see any sign of mold or spoilage, throw away immediately!
Jump To Top
How To Use Roasted Red Peppers
Once you're all finished, here are a few great recipes using roasted peppers!
Roasted Red Pepper, Hummus and Avocado Sandwich
Pasta & Peas + Red Pepper Romesco Sauce
Gather your peppers and get roasting!
Print
FOLLOW TSV on Facebook, Instagram, Pinterest or RSS for more healthy & delicious vegan food!
Read more: Boston butt pork roast recipe
Through this article, we hope to help you understand How long to roast bell peppers