Learn the art of cooking lion's mane mushrooms with this simple yet delightful method that highlights the meaty and thick texture of this incredibly nutritious fungi.
What Are Lion's Mane Mushrooms?
You've probably come across this peculiarly named mushroom before, perhaps as a mushroom powder or a coffee blend known for their adaptogenic effects. These days, whole lion's mane mushrooms are becoming more readily available in farmer's markets and grocery stores, albeit at a slightly higher price. You can even order a kit to grow them yourself at home.
Appearance
The lion's mane mushroom is a white fungus with a shaggy hair-like exterior that closely resembles a lion's mane. It is also referred to as a pom pom mushroom or hedgehog mushroom, both of which accurately depict its appearance. Unlike typical mushrooms, it grows in clumps and does not have the traditional features of a stalk and cap.
Origins
Lion's mane mushrooms are native to North America, Europe, and Asia.
Health Benefits
Not only do lion's mane mushrooms taste amazing, but they also offer several health benefits. They are often used in powder form or supplements to enhance brain health and are believed to have protective effects against dementia and Alzheimer's. Lion's mane mushrooms may also help reduce symptoms of anxiety and depression while boosting focus, cognition, and productivity. (source)
Exploring the Unique Taste of Lion's Mane Mushrooms
Opinions on the taste of lion's mane mushrooms vary. Some claim it has a seafood-like flavor reminiscent of crab meat, while others disagree. Personally, I do detect a hint of seafood in the mushrooms, but it's not off-putting in any way. However, what sets lion's mane mushrooms apart is their meaty, hearty, and chewy texture, making them an excellent meat substitute and a standout ingredient in any dish.
When we're looking for meatless meals without resorting to fake meat products, lion's mane mushrooms fit the bill perfectly. We often serve them as a side dish alongside main courses, like these air fryer mushrooms or caramelized mushrooms with pesto guacamole. However, they are substantial enough in both taste and texture to shine as the star of the show.
Ingredients for Cooking Lion's Mane Mushrooms
To make these sautéed mushrooms, you only need a handful of simple ingredients. It doesn't take much to bring out their deep umami flavor.
Lion's mane mushrooms – thickly sliced or chopped
Ghee or butter – while you can substitute oil, butter is preferable in this recipe
Tamari or coconut aminos – soy sauce works fine if gluten isn't a concern
Minced garlic – fresh is best!
Salt – coarse sea salt
Fresh parsley – chopped for garnish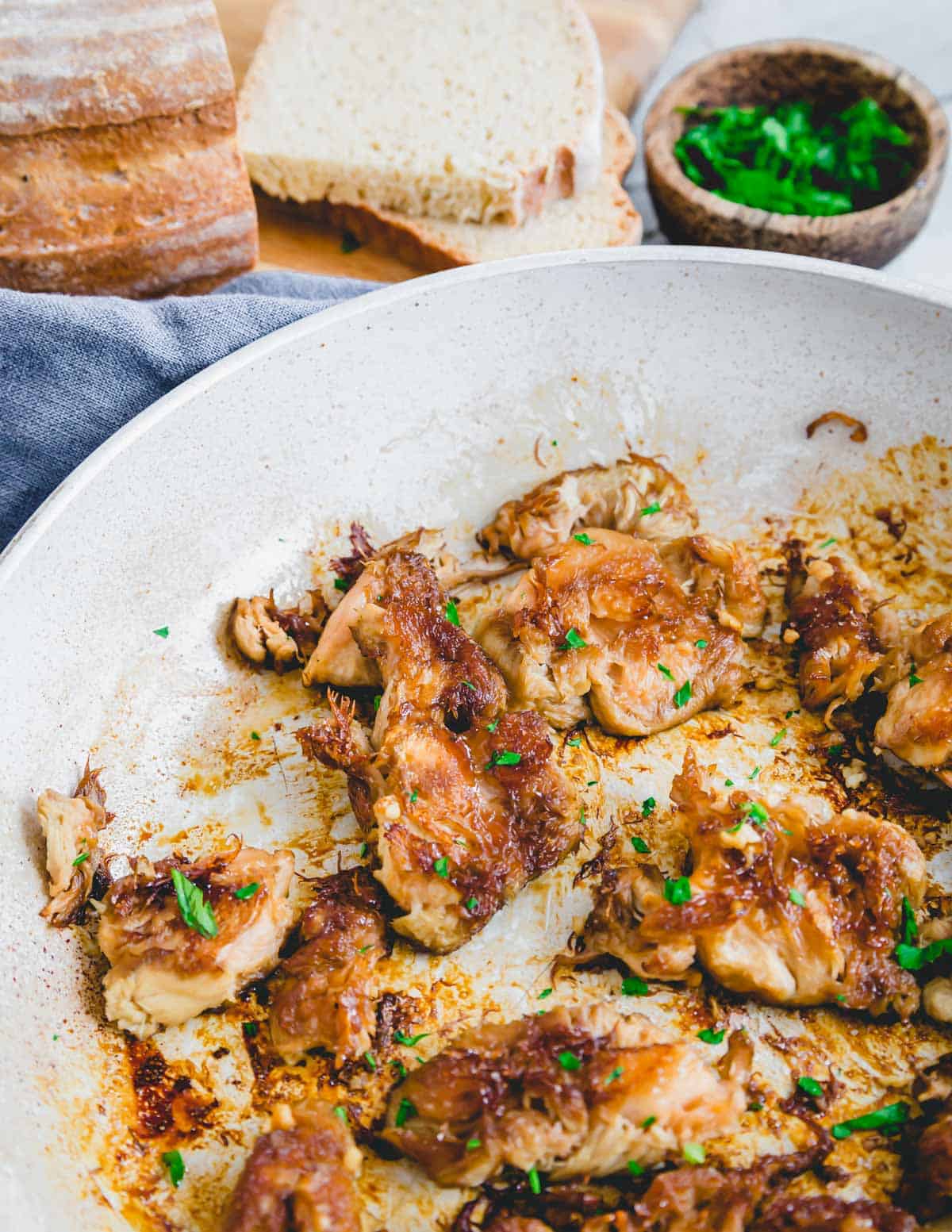 How to Cook Lion's Mane Mushrooms
Here's a quick overview of the steps to transform these fun and shaggy mushrooms into a savory delight. For the full recipe, refer to the end of this post.
Prep the mushrooms by gently cleaning them to remove any dirt or debris. Cut off the tough bottoms, then slice or chop them into thick pieces.
Sauté the mushrooms by melting the butter or ghee in a hot skillet. Once melted and hot, add the mushrooms and toss briefly to coat them in the butter. Let them cook undisturbed until they turn a golden brown color on the bottom. Flip each piece and cook the other side until golden brown as well.
Add the tamari and garlic about 30 seconds before the mushrooms finish cooking. Toss them to combine. Turn off the heat once the liquid has evaporated.
Garnish with a pinch of coarse salt and fresh parsley before serving.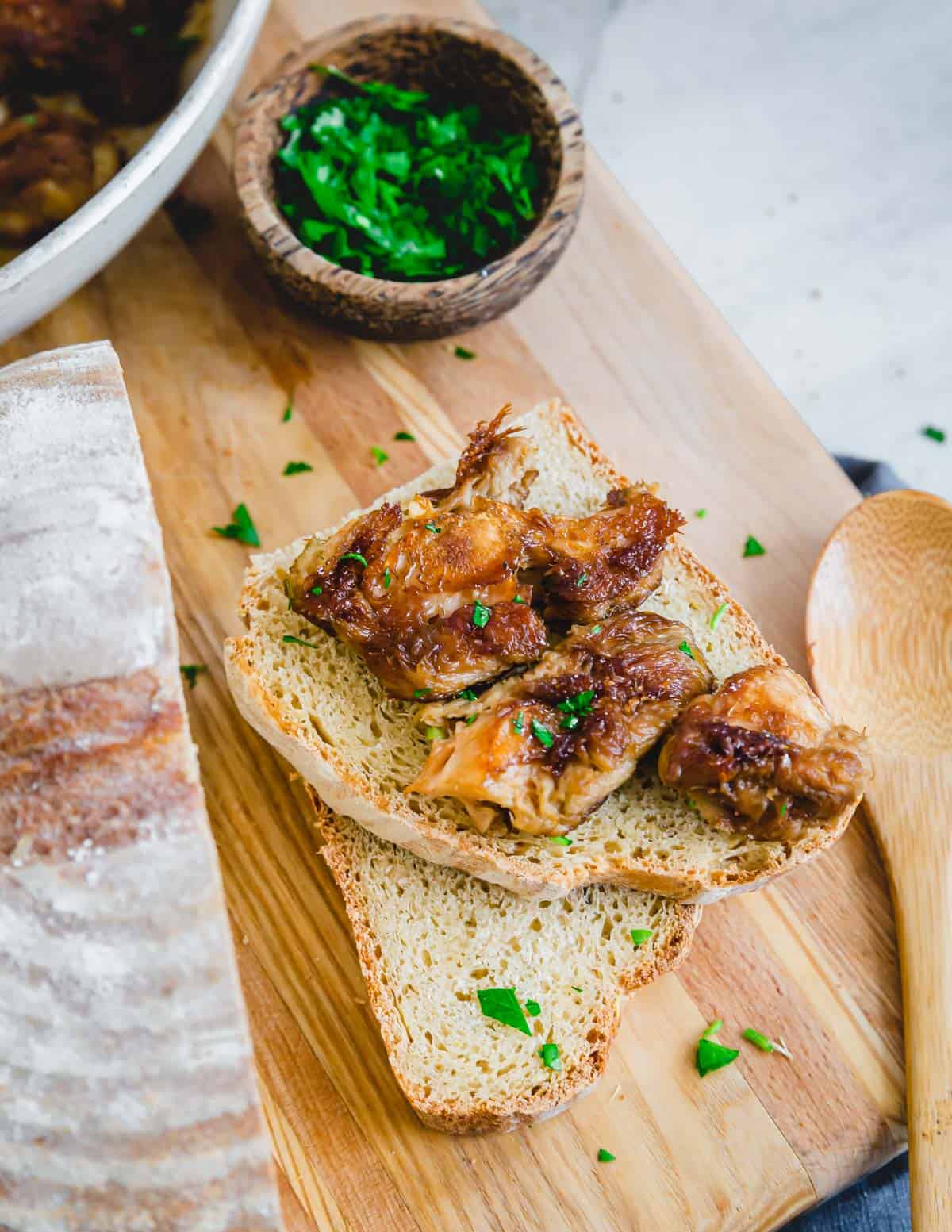 Exciting Ways to Enjoy Lion's Mane Mushrooms
There are numerous ways to savor these fascinating mushrooms, but here are some of our favorites:
On top of some crusty bread, drizzled with balsamic vinegar or glaze. Rustic sourdough loaf or savory options like kale and feta bread work wonderfully.
In a sandwich, replacing the traditional meat with sautéed mushrooms. They are so meaty that they easily take center stage as the main ingredient.
In a stir fry, substituting regular button mushrooms with lion's mane mushrooms. Try them in recipes like pork and cabbage stir fry or ground beef stir fry.
As a star ingredient in mushroom pasta dishes. For example, a venison stroganoff over noodles would be the perfect way to showcase them.
As a side dish to any chicken, fish, pork, or steak dinner, sticking to the traditional approach.
How to Store Lion's Mane Mushrooms
To ensure the best quality and freshness of your mushrooms, store them in a paper bag at room temperature for up to two days or in the refrigerator for up to five days. Once the mushrooms have been cooked, keep them in an airtight container in the refrigerator for up to five days.
Watch the web story – Lion's mane mushrooms