Are you looking for a simple and flavorful side dish? Look no further! Sauteed mushrooms and onions are the perfect addition to any meal. Not only are they creamy and delicious, but they are also vegan and gluten-free. Say goodbye to boring side dishes and hello to a burst of flavor!
Ingredients for Sauteed Onions and Mushrooms
To make this delectable dish, you will need:
Mushrooms: Swiss Brown, White Button, or any other variety you prefer.
Brown onion: Adds a delicious sweetness to complement the mushrooms.
Garlic: Because garlic makes everything better!
Olive oil: A healthier alternative to butter for sauteing.
Parsley: Adds a vibrant pop of green and freshness.
Optional: white wine, soy sauce, worcestershire sauce, or balsamic vinegar for extra flavor.
How to Serve Sauteed Onions and Mushrooms
The versatility of sauteed mushrooms and onions allows you to enjoy them in various ways. Some popular serving options include:
Mushroom Tart
Pizza topping
With eggs for breakfast or brunch
On jacket potatoes
Mushrooms on Toast
In stir-fries or rice dishes
With mashed potatoes or baked potatoes
In burgers
With pasta, such as Pappardelle Pasta
As a side to your favorite protein, like Crispy Tofu, seafood, chicken, or steak
At a barbecue
In a mushroom sauce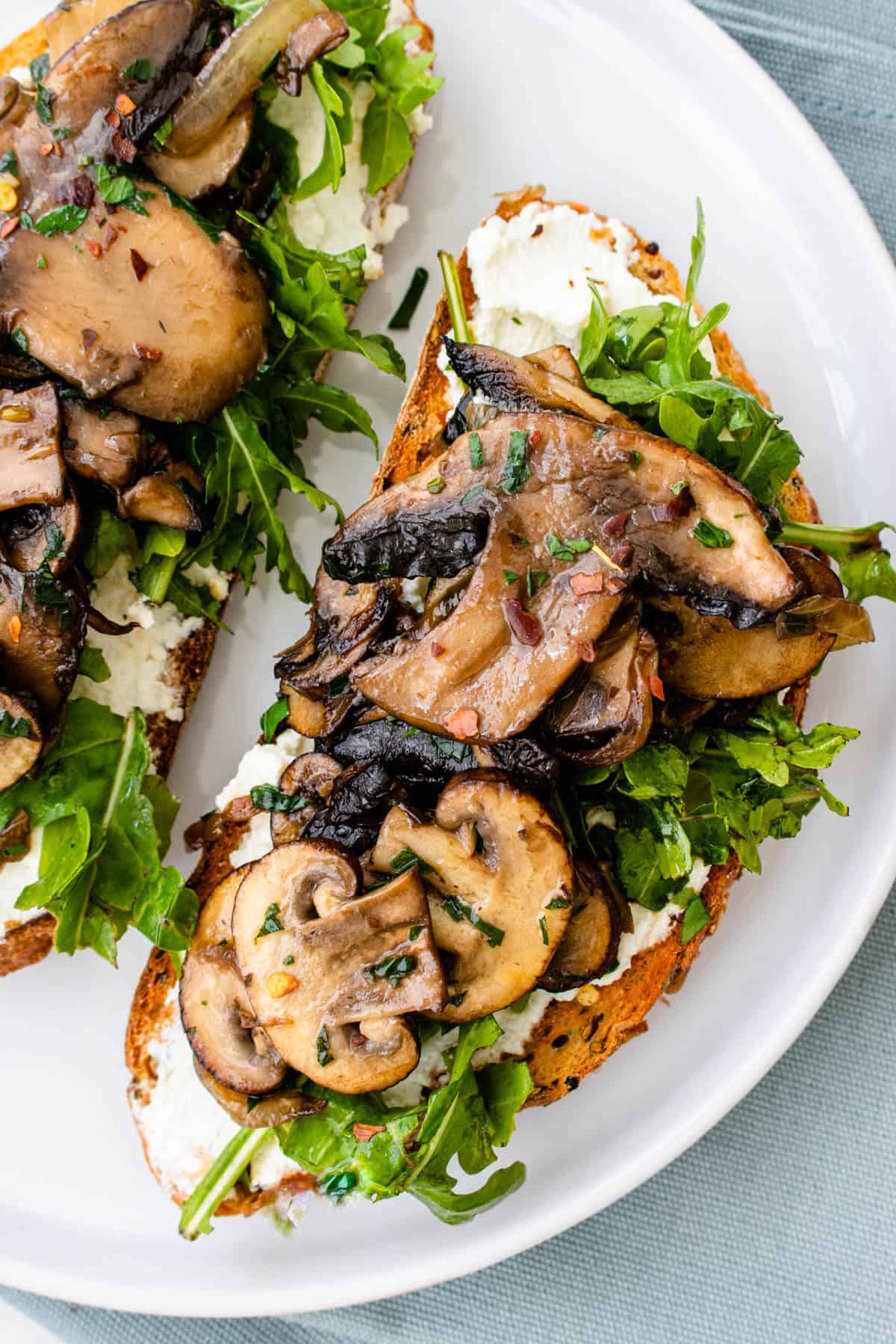 How to Make Sauteed Onions and Mushrooms
Heat olive oil in a pan over medium heat.
Saute the onions until they caramelize and turn golden brown.
Add the garlic and cook until fragrant.
Add the mushrooms and increase the heat to high. Saute until they are tender and slightly browned.
Sprinkle with parsley for a fresh touch.
Serve hot and enjoy!
Tips for Sauteing Mushrooms and Onions
Here are some tips to ensure your sauteed mushrooms and onions turn out perfectly:
Adding a pinch of salt when sauteing the onions helps them caramelize without burning.
Experiment with different mushroom varieties for unique textures and flavors.
To clean mushrooms, use a damp paper towel or a cooking brush to wipe off any dirt. Avoid rinsing them with water to prevent them from becoming watery.
Slice mushrooms to a similar thickness for even cooking.
Saute the onions first before adding the garlic, as onions take longer to cook.
Increase the heat to high when sauteing the mushrooms to avoid excess moisture.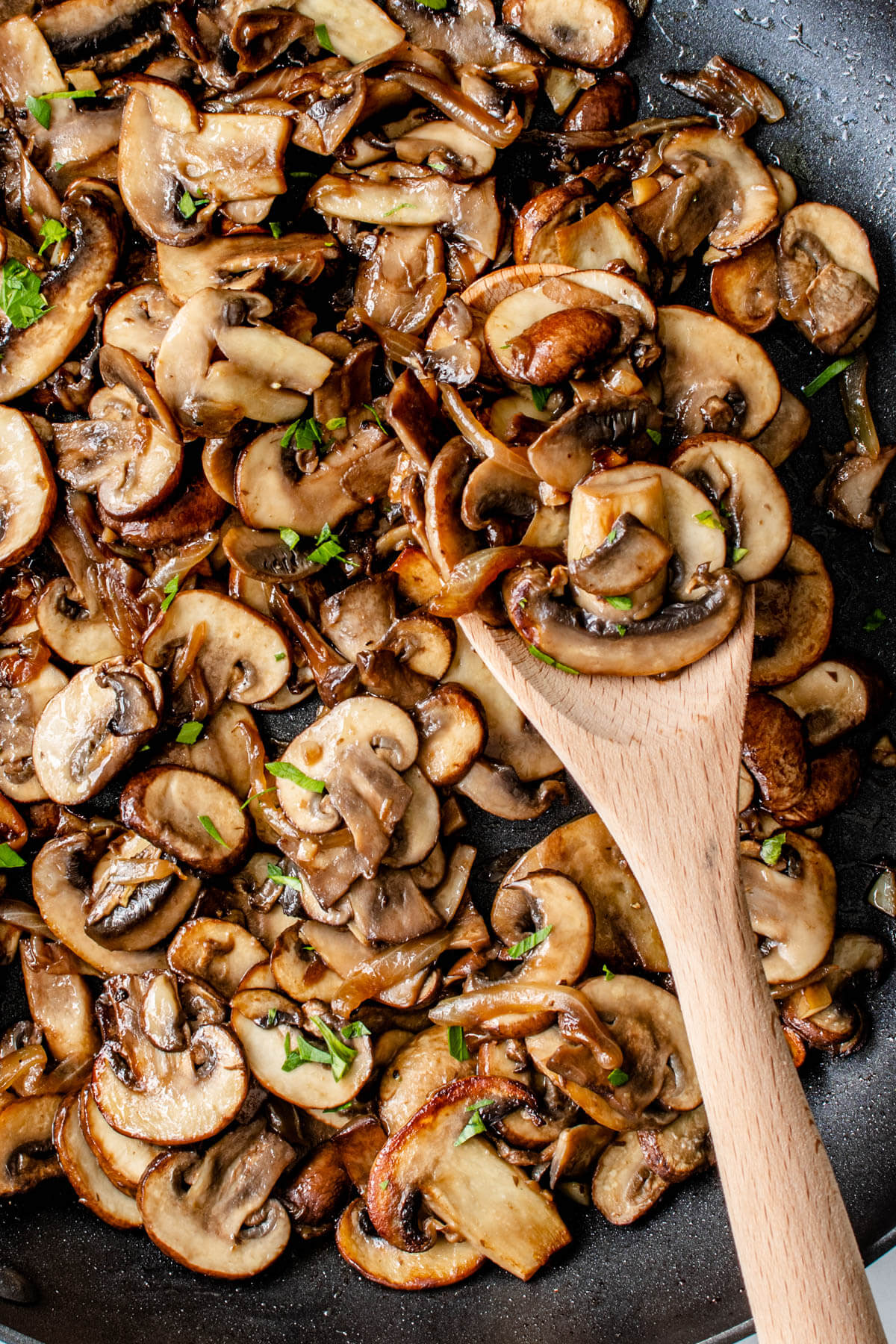 More Side Dishes and Mushroom Recipes
Looking for more culinary inspiration? Try these mouthwatering side dishes and mushroom recipes:
Side Dishes
Crispy Parmesan Carrots
Oven Roasted Vegetables
Shirazi Salad
Cauliflower Steaks
Mushroom Recipes
Baked Feta Pasta with Mushrooms
Shiitake Mushroom Soup
Vegan Chicken Sandwich
Stuffed Mushrooms
Mushroom Carbonara
We love seeing your culinary creations! Don't forget to tag @cookingwithayeh on Instagram and share your Sauteed Onions and Mushrooms photos. Let's spread the love for delicious vegan and gluten-free dishes!
Recipe
Family Cuisine has a fantastic recipe for Sauteed Onions and Mushrooms. Check it out here!