Learn to shred chicken in Kitchenaid. Using your Kitchenaid you can take cooked chicken and shred it perfectly in under a minute.
Have you ever spent way too much time shredding chicken with two forks or pulling it apart with your hands? If so, try shredding chicken in your KitchenAid. You are going to be very surprised (and a little frustrated you didn't do this before)!
WE ARE A PARTICIPANT IN THE AMAZON SERVICES LLC ASSOCIATES PROGRAM, AN AFFILIATE ADVERTISING PROGRAM DESIGNED TO PROVIDE A MEANS FOR US TO EARN FEES BY LINKING TO familycuisine.net AND AFFILIATED SITES.
Since chicken dishes are a weekly staple at my house, I decided I needed a new way to shred chicken. Shredding chicken with a mixer has saved me SO much time.
Also read: how to dye boiled eggs green | Family Cuisine
Knowing how to shred chicken in KitchenAid mixers is going to be one of your best tricks. All you have left to do is learn How to Cook Frozen Chicken Breasts in the Instant Pot and your dinner routine is set 🙂
CAN I SHRED CHICKEN IN MY KITCHENAID MIXER?
Absolutely! It is honestly the quickest & easiest way to shred chicken in my opinion. In under a minute, you can have perfectly shredded chicken.
Check out How To Poach Frozen Chicken Breasts in Instant Pot for step-by-step instructions to cooking instant pot frozen chicken in under 10 minutes. Then, you can add this poached chicken directly to your KitchenAid mixer.
Watch this video to learn How To Shred Chicken In Kitchenaid in under 60 seconds!
HOW DO YOU SHRED MEAT WITH A KITCHENAID MIXER?
Place chicken into the bowl of your Kitchenaid.
Using the paddle attachment, turn the mixer onto low.
Mix until the chicken is shredded.
Refrigerate or freeze for use in your favorite shredded chicken recipes.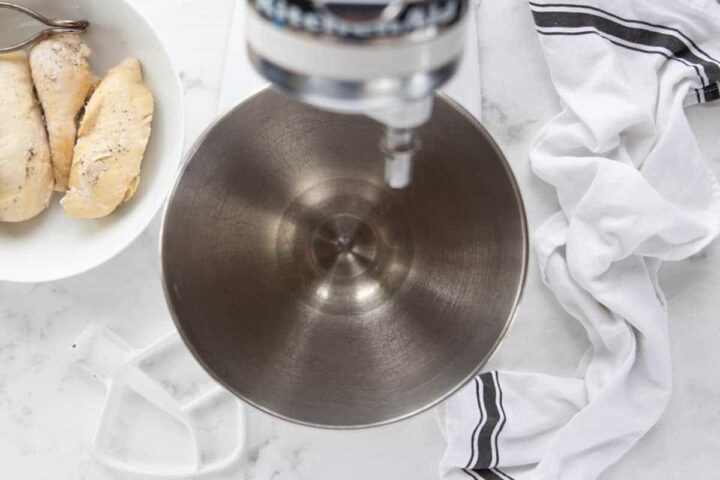 SHREDDED CHICKEN RECIPES:
Shredded Chicken Quesadillas
Chicken Tostada Recipe
Chicken and Bacon Pasta
Crustless Chicken Pot Pie
Creamy Chicken Enchiladas
CAN YOU SHRED CHICKEN WITH A HAND BLENDER?
Also read: how to make boiled egg for dog | Family Cuisine
Yes. In my experience, it will take a little longer & make a larger mess but is still quicker than shredding by hand.
PRO TIP: If using a hand blender, shred 1 chicken breast at a time to minimize the mess and maximize the shredding.
CAN I SHRED CHICKEN IN A FOOD PROCESSOR?
Yes, you can. The technique and blade are important when using a food processor. Otherwise, you will end up with crumbled or pureed chicken.
You will want to use the "slicer blade" that came with your food processor.
Also read: The list of 10+ easy crock pot beef stew recipe
PRO TIP: Instead of pushing the chicken onto the blade, pulse your processor and let the chicken shred through the blade with gravity. If you push, the chicken will end up sliced – not shredded.
Now, I know you might not have believed me at first…but I hope you are happy that you tried shredding chicken in your KitchenAid. It truly is a game-changer!
The best part about shredding chicken in a Kitchenaid is being able to use it immediately or freeze for later. If freezing, simply store in a freezer storage container & save for 2 to 6 months. Want to learn the guidelines for storing food? Click HERE.
If you enjoyed this post or made any of the recipes, make sure to leave a comment below! Then follow me on social media and tag #createkidsclub.