How to Smoke Boston Butt, aka Pork Shoulder.
A good smoked Boston Butt is incredibly tender, juicy, and flavorful. Smoke it for hours on low for pork that is fall-off-the-bone tender!
Big Daddy's on the smoker! He's a great cook, he's even better on the grill. "Paula, it's not a grill…. It's a smoker!" Ok, it's a smoker and we smoke Boston Butts, which is actually not a butt, but a shoulder…. Grilling/Smoking… shoulder/butt… to-may-to, to-mah-to. 😉
HOW TO SMOKE BOSTON BUTT
My smoker holds more meat than I want to buy! It holds about 12 slabs of spare ribs, or about 20 baby back ribs, or 18 Boston Butts or 25 chickens!! It's approximately 2 and 1/2 feet by 5 feet.
The firebox is the opening at the bottom of this picture. The cooking surface is punched steel. It is built on an 8×12 boat trailer frame making it easily transportable.
I start with about 5 lbs of charcoal, shown here, just coming up to temperature. I control the burn rate by adjusting the smoke stack openings and opening the stacks to various degrees of the firebox door. Next, I feed charcoal as need to maintain the desired temperature.
I inject the shoulders with apple juice for extra flavor and moisture.
I rub the shoulders with seasonings that have brown sugar, paprika, salt, black pepper, garlic powder, and/or cumin. The rub adds robust flavor and creates a nice dark bark, or crust, on the outside of the meat.
I use all kinds of wood for smoke flavor. I chose Hickory chunks in this application because of the extended cooking time required. Be sure to soak the chunks in water, so the chunks smolder slowly.
WHAT WOOD DO I USE FOR SMOKING RIBS OR BUTTS
Fruit woods like apple and cherry are good.
Oak is another alternative and will have a slightly meatier flavor.
Pecan wood gives a mild flavor without being like a campfire.
Add the water-soaked chunks to the coals in the firebox to create smoke. Smoke adds another layer of flavor to the Butts.
Monitor the coals to maintain a constant temperature. Continue adding wood chunks as needed to maintain smoke level.
I cook between 225-250°F for 5 to 8 hours for Boston Butts depending on the size.
These Butts have about two hours of smoke on them.
INTERNAL TEMPERATURE FOR PULLED PORK
Once the meat reaches an internal temperature of 180 F to 190 F, take it off the grill. Keep in mind that the pork shoulder will continue to cook internally by 10 degrees even after it's been removed from the grill. For pulled pork, the ideal temperature is 205°F. The high internal temperature allows collagen to break down, making the meat very tender. You can serve the meat once it reaches 165 F, but it won't be tender enough to pull apart properly.
RECOMMENDED MEAT THERMOMETERS FOR GRILLING & SMOKING
Instant Read Meat Thermometer
Grill Thermometer Clock Timer with Stainless Steel Probe
Wireless Digital Meat Thermometer with 4 Probes & Meat Injector
Smart Meat Thermometer with Long Range Bluetooth Connectivity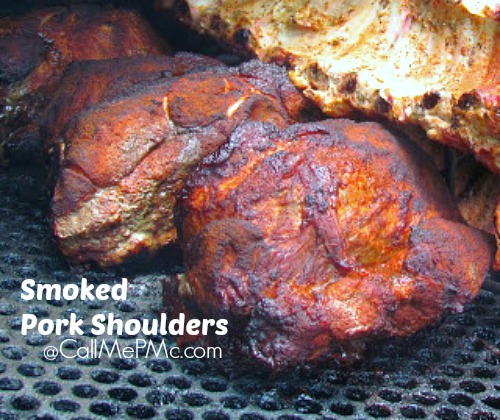 BOSTON BUTT (aka pork shoulder)
Apple juice
Meat injector
BBQ rub for ribs and butt
charcoal
Hickory chunks
Prep the Meat: Set the meat out before you begin preparing the smoker so they'll come to room temperature. Then inject them in order to maintain moisture. I use apple juice. Then rub the meat with a dry rub or spices. I use this recipe for BBQ seasoning rub, there are many rubs on the market to suit your taste.
Start Smoker: Begin soaking wood in water, I use Hickory chunks. Light the coals, when they're smoldering add the water-soaked wood chunks. Adjust the grill opening to bring temperature up to 225 to 250°F. It may take 45 to 60 minutes to reach this temperature.
When it comes to temperature, place the Boston Butts on the grill grate fat side up and be patient. Maintain a temp of 250°F for about 5 hours or until it reaches an internal temp of 190 degrees.
You can make a lot of meals with leftover smoked pork. Nachos and Pulled Pork Quesadillas are two that we enjoy. Pulled pork sandwiches are the most common way to enjoy smoke butt. Be sure to make my Alabama White Sauce for your sammie!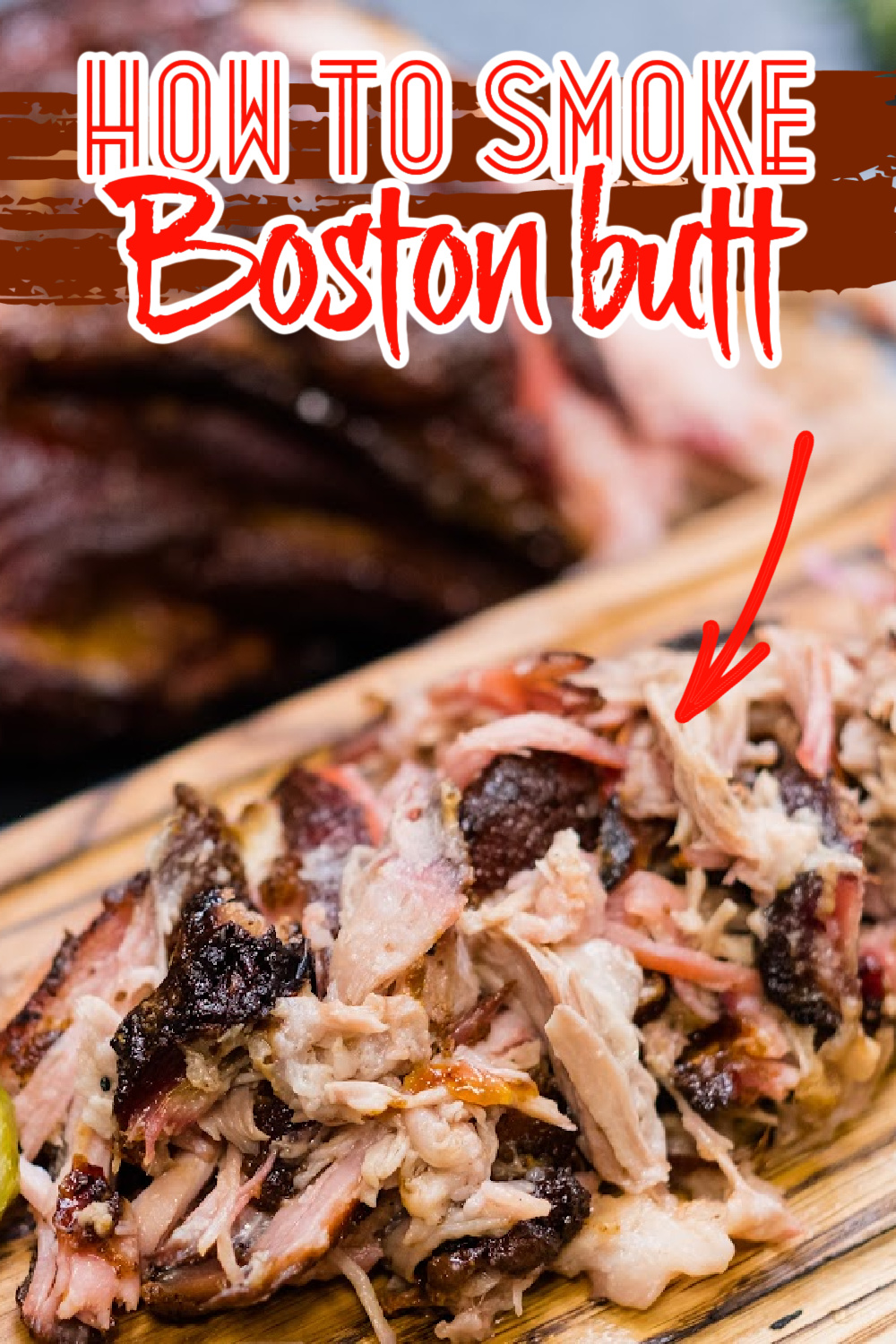 YOU'LL ENJOY THESE TOO
Favorite Short-cut Baby Back Ribs
Famous Potato Salad
Twice Baked Potato Casserole
Bacon-Wrapped Potato Wedges
Bacon Ranch Twice Baked Potato Salad
Best Traeger Recipes
Hashbrown Potato Casserole No Cream Soup (Funeral Potatoes)
I updated this post from an earlier version dated June 18, 2012. I made new photos and simplified the recipe instructions.
For more information, please see more information about What temperature to smoke a boston butt pork roast
Detail: 🔗