Recipe: $5.35 | Per Serving: $1.34 | Yield: 4
This delicious, flavorful, and super easy ground pork stir fry is sure to become an instant favorite at your dinner table! There aren't a lot of ground pork recipes on the Internet, but I LOVE using it, especially in stir-fries like this.
Reading: how to stir fry ground pork
Ground meat is probably my favorite go-to easy meat for the following reasons:
You don't have to touch ground pork if you don't want to.
It's super cheap
It's already prepped for you.
It cooks super fast.
You almost can't overcook it.
You can get high quality pastured ground pork from Moink! (Affiliate link for $20 off your first order!)
You can find grass-fed ground beef for a great price (try Costco, Trader Joe's, or Sprout's)
It makes some of my favorite foods: miso meatballs, homemade bolognese, breakfast sausage, burgers, American-style tacos…and this! Gingery, easy, cheap, ground pork (or beef) stir fry!
Here in Japan they sell mixed ground meat – pork and beef – and that's usually what I use for this recipe (and for most) because it's so good! If you can manage to get ground pork and beef, I highly recommend you do so, then just mix it together before starting this recipe. You could also use turkey or chicken, but you'll probably need to add a bit of oil to cook it.
Pin this recipe here!
How to Make Stir Fry with Ground Pork
It's so easy! I love regular ginger pork stir-fry dishes as much as the next ginger-lover, but I've always struggled to find that perfect balance where the pork is cooked all the way, but still tender. Plus, meat is really expensive in Japan, so I've gotten very used to using ground pork and ground beef. And this recipe is so so easy! One large pan (or wok) is basically all you need.
Read more: how to make stir fry ramen noodles vegetables | Family Cuisine
In most stir-fry recipes you cook the meat, remove it from the pan, cook the vegetables, then add sauce and return the meat to the pan. With ground pork, you don't have to remove the meat. Just brown it, then add the seasonings and vegetables.
With the higher marbling of ground pork, you can just keep it in the pan to continue cooking while you add and quickly cook the vegetables. Easy!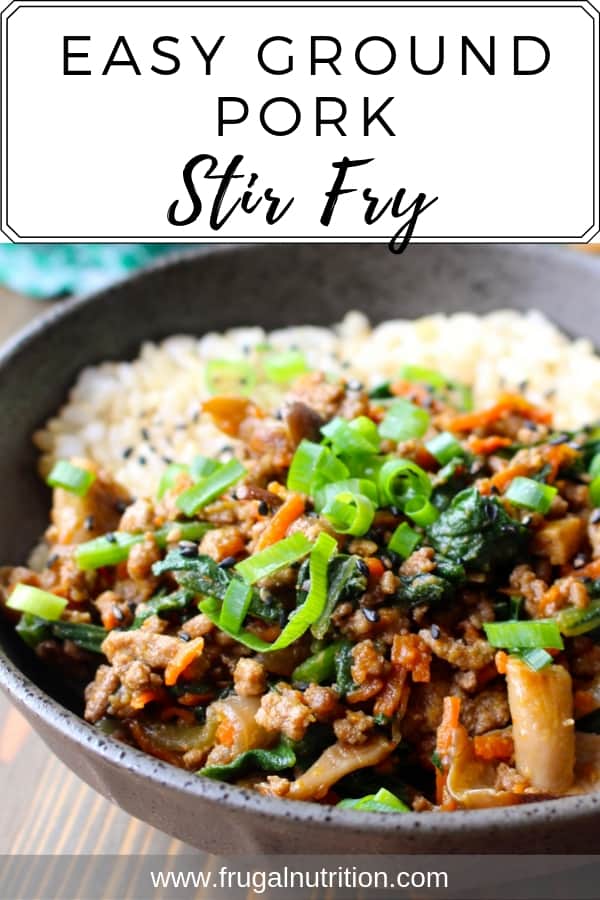 How Do You Make Lean Ground Pork?
Pork is fatty – and that's one of the reasons why so many of us love it! If you've got poor quality pork, or you just aren't interested in the fat, you can definitely cook the pork and strain off some of the fat before adding the sauce and vegetables.
Be sure to drain it into a paper-towel lined bowl or some other vessel. If you dump it straight into the trash it will likely burn a hole through your bag or at the very least, get everything else super greasy, which is awful if the bag does split at some point in its journey! You can also get grease bags, or use a grease saver or an old jar to save grease in the fridge. When it's full – just toss it!
Tips for Making Healthy Ground Pork Stir Fry:
Read more: how to cook chicken stir fry with frozen vegetables | Family Cuisine
If you want to make this dish even healthier, here are a few tips!
Buy the best pork you can afford! Fewer toxins in the fat and the meat = healthier ground pork! Again, I have found the best pork from Moink, but you can ask at your local farmer's market or just go for higher-quality brands.
Use half ground pork and half ground turkey or chicken. As I mentioned, they often sell pork and beef mixed together in Japan, so I know this recipe works great with other meats. It's relatively easy to find organic ground turkey and chicken these days so feel free to mix it up.
Add more vegetables. You know I'm all about easy ways to eat more vegetables, and this is a great opportunity to add in some cauliflower rice or other riced vegetables.
When I first came to Japan, I ate this every week. I'd just buy meat and mushrooms and whatever vegetables were cheapest, so the price will vary based on your available vegetables. If you want to make it Paleo, swap out the rice for cauliflower rice, roasted kabocha squash or baked sweet potatoes, and trade in the soy sauce for coconut aminos.
Enjoy!
Paleo: Not as written, but you can swap the soy sauce for coconut aminos and fish sauce, and then use some other starch or base besides brown rice. Vegetarian: No, but I'm sure you could omit the pork and try some other protein source! Print
Read more: how to cook chinese broccoli in stir fry | Family Cuisine