Jump to Recipe
Deliciously caramelized sauteed peppers and onions are a crowd-pleasing side dish for just about any meal! Made with herbs, seasonings and a splash of red wine vinegar. (gluten free, paleo, vegetarian, vegan)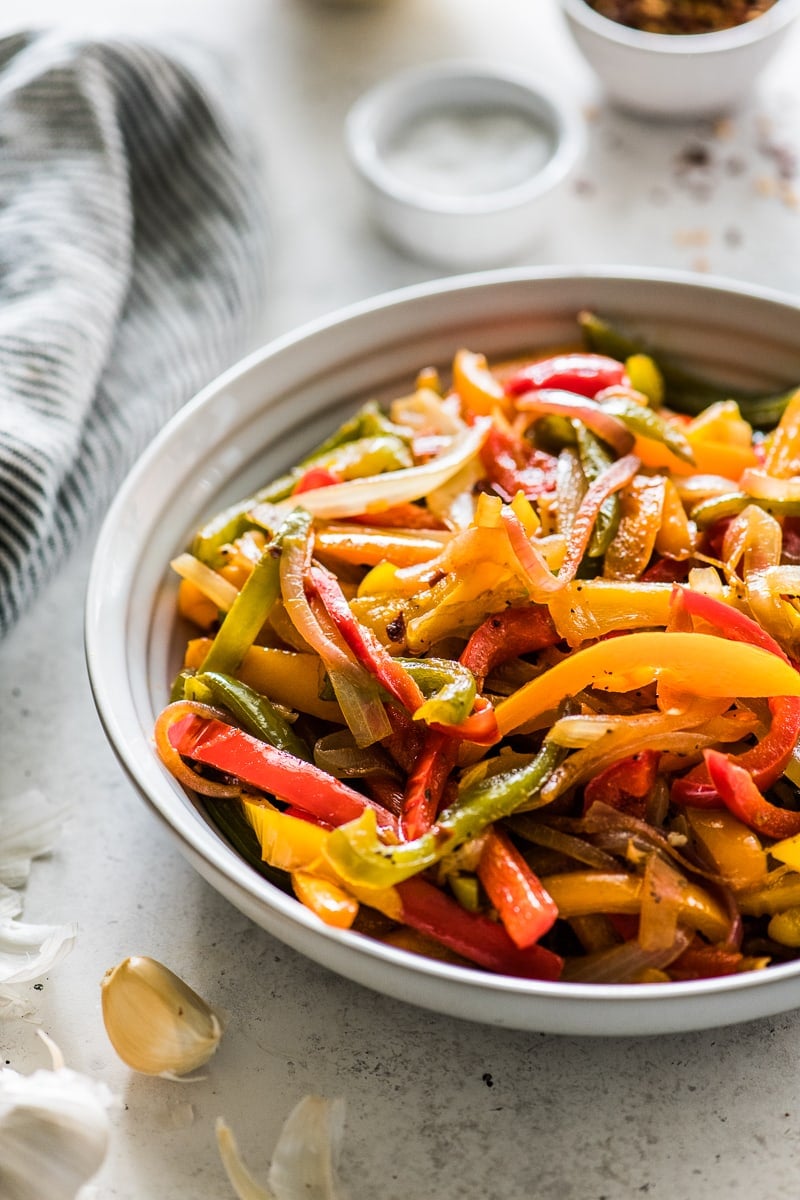 Sauteed peppers and onions are the perfect side dish to go with just about every meal. Made from sweet bell peppers, red and yellow onions, a touch of olive oil and flavorful herbs and spices, this quick and easy vegetable recipe will add beautiful colors to you dinner plate.
And don't even get me started on how healthy and nutritious they are. Just one serving of these veggies is filled with healthy fats, fiber and an impressive amount of vitamin C!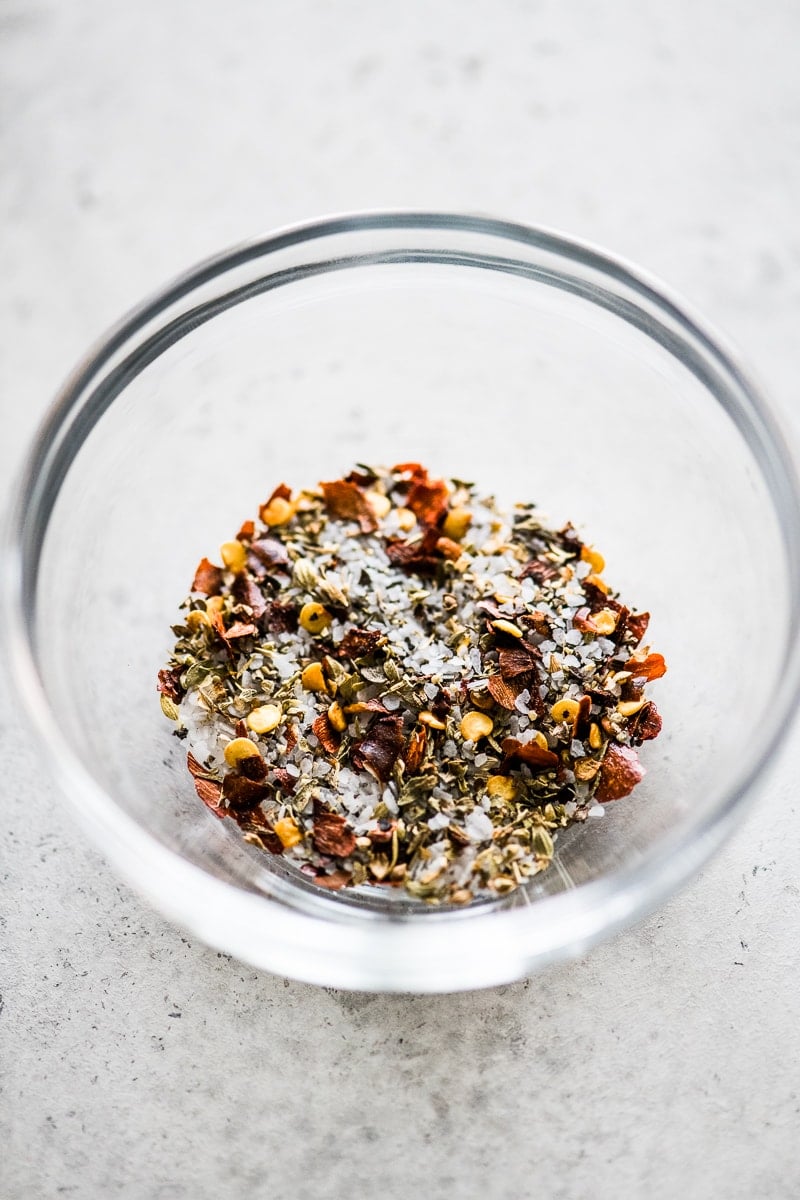 Also read: Cornmeal Crusted Crappie | Family Cuisine
Besides the typical salt and pepper seasoning in most peppers and onions recipes, I've added in some red pepper flakes and dried oregano for extra flavor.
The end result isn't spicy at all, so don't worry if you're sensitive to spicy foods. If you prefer a little spice, I recommend doubling the amount of red pepper flakes.
How to make sauteed peppers and onions
Slice 4 bell peppers, 1 red onion and 1 yellow onion into strips. (photo 1)
Add them into a large nonstick skillet over medium-high heat along with 2 tablespoons of olive oil. (photo 2)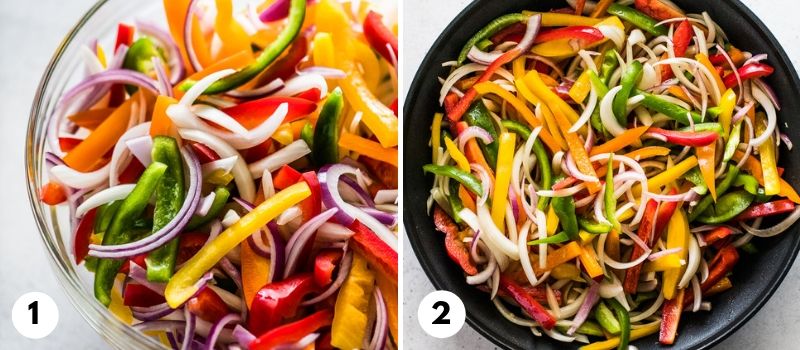 Also read: how to deep fry potato wedges | Family Cuisine
Add in the salt, black pepper, red pepper flakes and dried oregano. (photo 3)
Stir everything together and cook for 15-17 minutes, until the veggies are softened and caramelized. Add in 1 tablespoon of red wine vinegar, 1 teaspoon of minced garlic and cook for 1 more minute. (photo 4)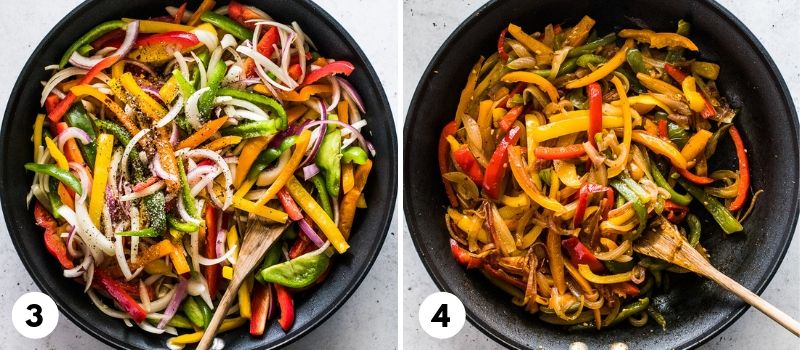 Remove from heat and serve.
Tips and Tricks for the best peppers and onions
If the peppers and onions are starting to burn, turn down the heat on your stovetop just a little and adjust from there. We want caramelized peppers and onions, not burned peppers and onions.
Also read: How to Season Stainless Steel Pans Quickly and Easily | Family Cuisine
If you're not using a non-stick skillet, you may need to add in a little more olive oil. The veggies shouldn't really stick to the bottom of the skillet, so add in more olive oil if needed.
Make sure to add in the minced garlic at the end so it doesn't burn. If you add it in the beginning with all the seasonings, it'll burn and that's no bueno!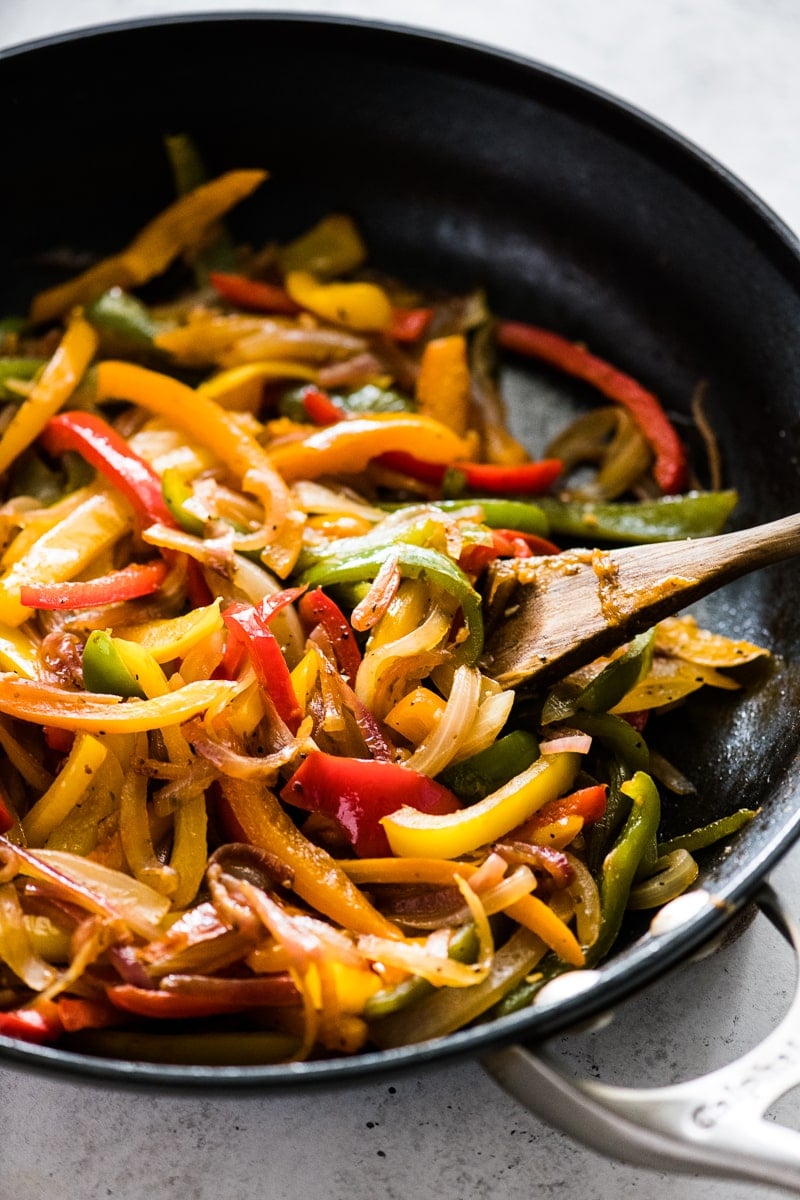 Ways to use Sauteed Peppers and Onions
Looking for different ways to eat these veggies throughout the week? Here are some of my favorite ideas!
in burrito bowls with chipotle chicken and cilantro lime rice
on burgers like this sweet potato black bean burger
in tacos like these easy chicken tacos
I hope you love this recipe as much as I do! To get more easy Mexican recipes delivered straight to your inbox, sign up for my weekly email newsletter. You can also follow Isabel Eats on Facebook, Instagram and Pinterest!