This zucchini stir fry is quick dinner recipe ideas that you want to put it up on your weekly menu plan. It's easy to make with minimal pantry ingredients. All you need is 20 minutes or less time to bring a healthy, vegetarian dinner to the table.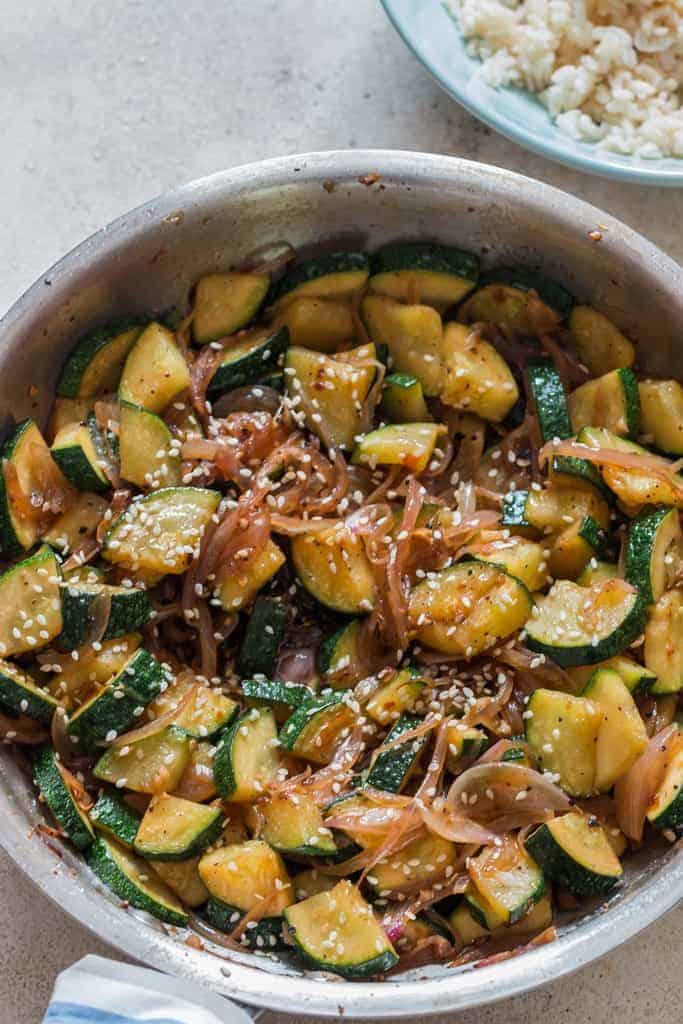 Why Should You Try This Recipe?
This Asian style stir fry recipe using zucchini is truly an easy to make perfect summer lunch or dinner meal. And the flavors packed in this dish are simple, comforting flavors. We promise you to bring all the bold and amazing Asian flavors to the dish.
Reading: how to stir fry zucchini chinese style
If you are a fan of Stir fry recipes, this dish has a sauce that is packed with the essential Asian flavors of ginger, garlic, soy sauce, vinegar and sesame oil. This savory Chinese dish will blow you away not just with flavors but with the simplicity as well. The recipe is easy and quick to make.
A vegetarian dish perfect not just during summer when squash is available fresh and in abundant, but all year long. It can be served as side dish or as main over a bed of rice.
Like any Asian stir fry recipe, this dish turns out great when cooked in wok. But you can use a skillet as well if you don't own a wok.
Recipe can be customized as per your taste preference. You can make it spicy by adding in more chili flakes and pepper or reduce the spice by controlling the amount of chili flakes and pepper.
To enhance the flavors and make it more authentic, add a teaspoon of oyster sauce and one tablespoon of mirin to the recipe.
If you are a fan of squash, then this recipe is perfect for you. It's easy to make and healthy too just like this baked zucchini chips and zucchini salad.
Ingredients Needed
All the ingredients needed for the recipe is shown in below pic: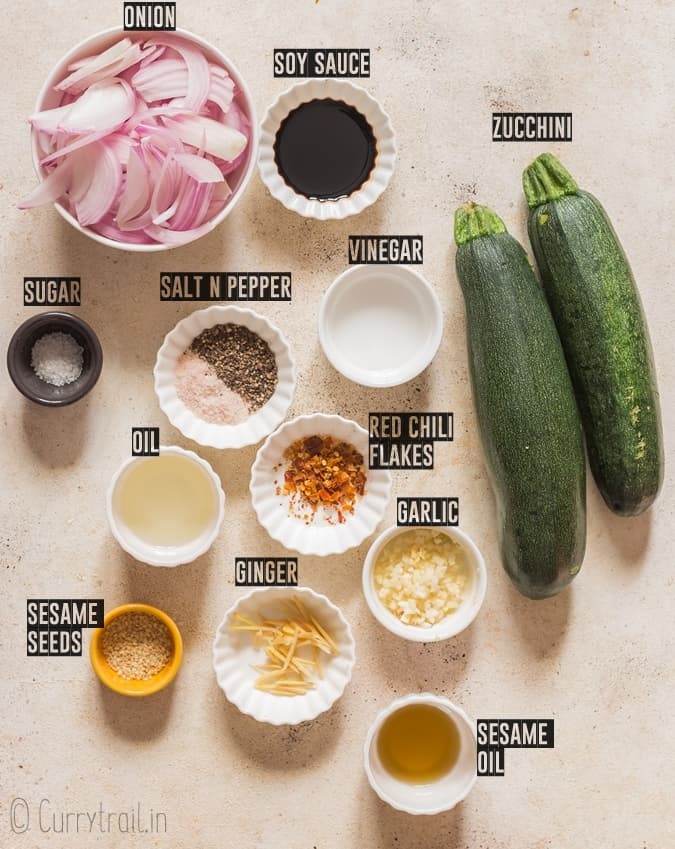 Read more: how to deep fry prime rib | Family Cuisine
Red chili flakes: Note you can reduce the spice levels by adjusting the amount of chili flakes. Feel free to substitute red chili flakes with Thai red chilies or dried red chilies if you have in your pantry.
Asian flavors: You get the bold and amazing Asian flavors by using ginger, garlic, soy sauce and sesame oil. You dish is as delicious as your ingredients quality. Make sure to use good quality soy sauce (for better health options use low sodium soy sauce) and toasted sesame oil in the recipe.
Balancing flavors: Since I prefer my dish on the spicier side, I always use red chili flakes and ground pepper together. And to balance out heat, add small amount of sugar to the dish. Balanced spice and sweet flavors along with saltiness and sour taste from soy sauce and vinegar makes it amazing.
For Authentic taste: add teaspoon of oyster sauce and one tablespoon of mirin to the recipe.
How To Cut Zucchini For Stir Fry
You don't have to peel zucchini for this stir fry recipe. Green zucchini works best for the recipe.
Trim away both the ends of zucchini.
Cut zucchini lengthwise into half, cut again each half of zucchini lengthwise into half in the middle.
Lay each piece on the cutting board and cut into ¼-inch thick slices.
Or alternatively
Read more: how to stir fry fresh ramen | Family Cuisine
You can cut a zucchini into half lengthwise. Lay each piece on cutting board and cut into ¼-inch thick half-moon slices.
How To Stir Fry Zucchini (Step-By-Step)
Heat oil in a wok or skillet. Wait till oil is nice and hot. Saute onion slices, minced garlic and ginger julienne in hot oil. Saute for a minute.
Add in salt-ground pepper, red chili flakes, soy sauce, vinegar, sugar and continue to saute for 30 seconds. Note: Do not brown or burn the ingredients. Cook it just until fragrant.
Add cut zucchini slices, cook for 2 minutes or more until zucchini is tender crisp. Pro-Tip: Do NOT overcook zucchini. You want to cook until it begins to turn tender but still has that crunch.
Add in toasted sesame oil and toss for 20 seconds.
Turn off familycuisine.netish with toasted sesame seeds and scallions.
Serve hot over a bed of rice.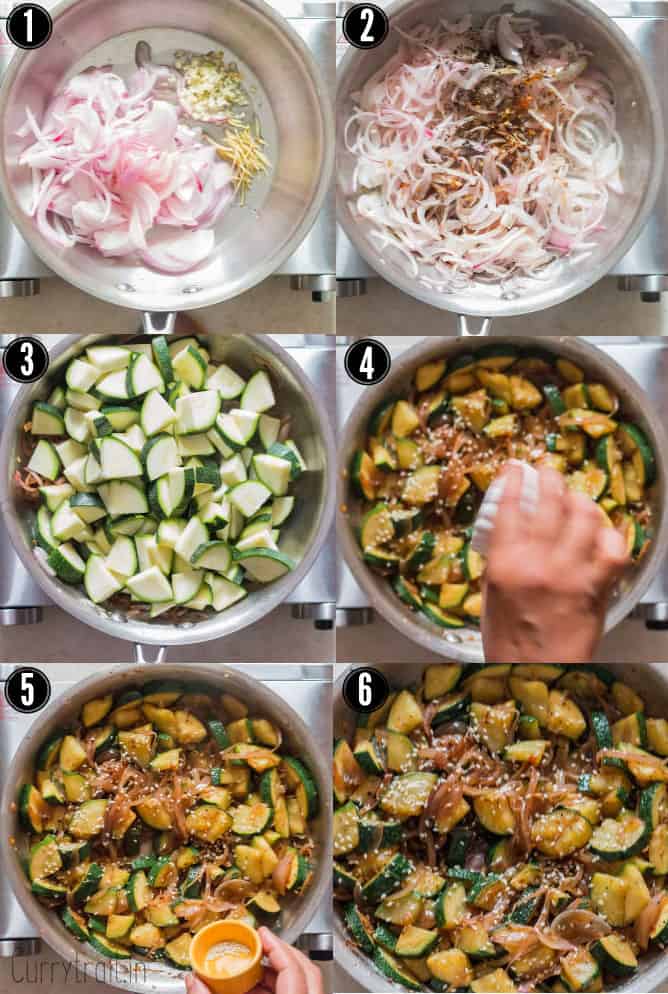 TRY OUR OTHER FAVORITE ASIAN SIDE DISHES:
Grilled Pineapple Shrimp Skewers
Shrimp Stir Fry
Thai Basil Chicken
General Tso Chicken (Instant Pot)
General Tso Tofu
15 Minutes Broccoli and Chicken Stir Fry
Don't forget to Subscribe to CurryTrail Recipes below to get our newest recipes delivered straight to your inbox.
LOVE THIS RECIPE? KEEP IN TOUCH AND DON'T MISS OUT ON ANY OF CURRYTRAIL RECIPES! FOLLOW ME ON INSTAGRAM, PINTEREST, FACEBOOK, TWITTER.
Read more: how to make fried rice nigerian | Family Cuisine