Quick and easy Asian-style zucchini stir fry cooked in under 15 minutes. Vegan, Gluten-free, and low carb side dish that can be served on noodles, rice, or cauliflower rice.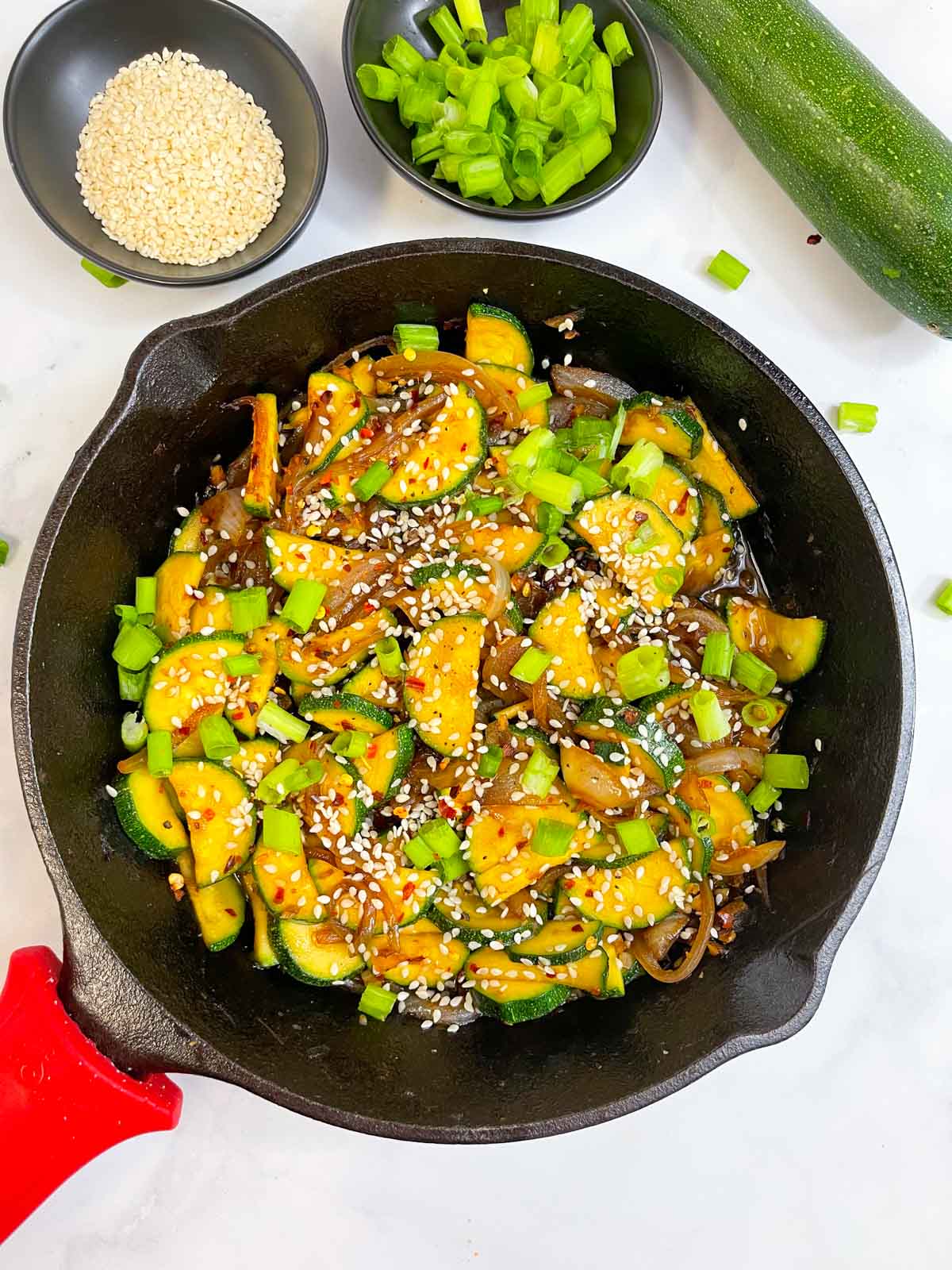 I love Zucchini and is one of my favorite summer vegetables. This Vegetarian Zucchini Onion stir-fry has the aromatic flavor of sautéed onion, garlic, and sauces that raises the umami flavor of the dish.
I also love to add baked or stir-fried tofu for protein. This dish is ready within 15 minutes and can be enjoyed as a side dish with rice or cauliflower rice.
Also read: how to make black pepper beef stir fry | Family Cuisine
I hope you give this easy zucchini stir fry recipe a try this Summer. Do not forget to comment back if you enjoyed the dish. Also, check out my Indian style Zucchini Stir fry.
If you are on a Keto or Low Carb Diet. Check out Keto Indian Food Recipes Collection.
How to Cut Zucchini for Stir Fry
Trim off the ends of the zucchini. Do not peel the zucchini as they are thin.
Cut each zucchini lengthwise and then into ¼ inch thick half moon slices. Since the zucchini vegetable has high water content, cutting into thin slices will make them cook faster and not turn them soggy.
Zucchini Stir Fry Ingredients
Zucchini: I have used fresh and firm zucchini, cut into half moon slices.
Onion: I have used yellow onion and sliced them legthwise.
Ginger and Garlic: Garlic adds a great flavor to the dish so don't skip it.
Sauces: I have used soy sauce and vinegar. Use tamari or coconut aminos for gluten free option. Feel free to add hot sauce of your choice to make it spicy.
Sesame Oil – To get best and authentic Asian flavor, use toasted sesame oil.
Olive oil: Use extra virgin oil for the best flavor. You can also skip it if you are on diet.
Sugar: is added to balance the taste. Its optional. You may also use maple syrup or honey.
Red chili flakes, Salt and black pepper: Are added for seasoning. You can also substitute red chili flakes with thai red chilies.
If you want to prepare saucy stir-fried zucchini, then mix 1 tablespoon of cornstarch with ¼ cup water in a small bowl and add along with the sauces and cook until the sauce thickens (about 2 minutes).
How to Make Zucchini Stir Fry
Trim off the ends of the zucchini. Cut in half lengthwise, and then cut into half-moon slices.
Also read: how to make fried mozzarella at home | Family Cuisine
Heat oil in a skillet or wok. Add onion slices, minced ginger, garlic, and saute for a minute.
Then, add in soy sauce, vinegar, sugar, salt, ground pepper, red chili flakes and continue to saute for 30 seconds until fragrant.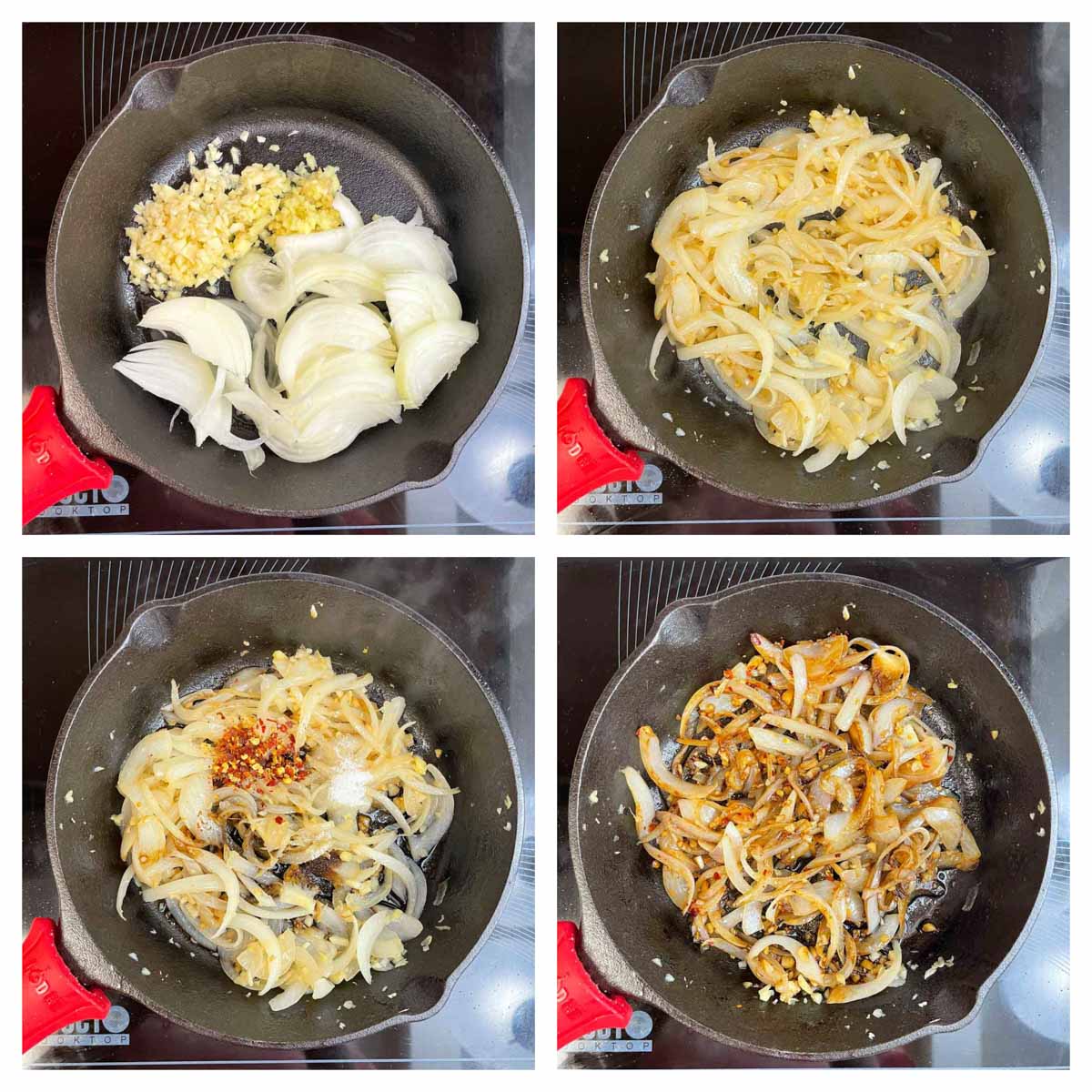 Add zucchini slices and continue to cook until zucchini is tender but still crunchy (about 3 minutes).
Next, add toasted sesame oil and toss for few seconds. Turn off the gas.
Also read: how to reheat chicken teriyaki stir fry | Family Cuisine
Garnish with toasted sesame seeds and green onions and serve hot with steamed rice.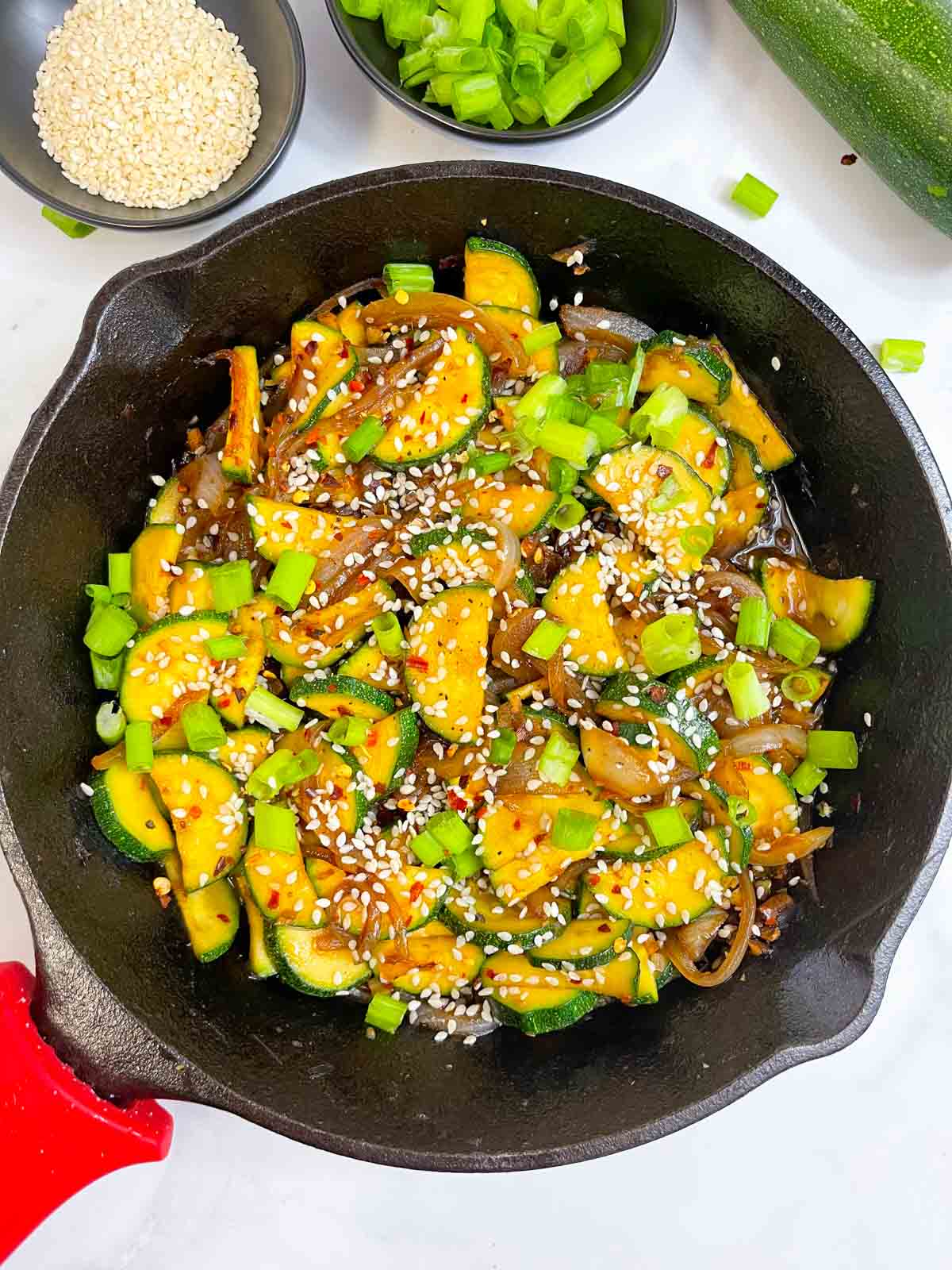 Serving Suggestions
Stir-fried zucchini can be served over steamed rice, quinoa. If you are on a low carb or keto diet serve it with cauliflower rice. Pair it with baked or stir-fried tofu to make a complete meal.
You can also serve it with garlic noodles or fill in your wraps.
Variations
You can add other vegetables like bell peppers, broccoli, eggplant, mushrooms, carrots, edamame in the same sauce.
Leftovers can be stored for up to 2-3 days in an airtight container in the refrigerator. However, I do not recommend freezing as the zucchini gets soggy after thawing.
Make Ahead. You can chop the zucchini, onion, ginger, and garlic 1 day in advance and store them separately in an airtight container in the refrigerator until ready to use.
More Zucchini Recipes
Zucchini Pasta with Avocado Sauce
Chocolate Zucchini Bread
Cream of Zucchini Soup
Zucchini Dal
Carrot Zucchini Paratha
Zucchini Besan Sabji
Zucchini Pakoda
Subscribe to my Youtube Channel for healthy & tasty video recipes