Loaded with bell peppers, broccoli and snow peas, this ginger garlic veggie tofu stir-fry with brown rice is an easy meal that makes great leftovers you can even eat cold from the fridge.
Leftovers are a way of life for me.
Reading: how to tofu stir fry
Unless I am not home, which hasn't been the case for the past year, I cook at least one meal a day. These days it's most likely to be dinner because I don't count my blueberry breakfast smoothie.
On some weekends we will order food from one of our favorite restaurants, but it can be tricky because Saturday and Sunday are prime recipe testing time.
I crank out a lot of food!
By Sunday night our fridge is stacked high with containers of leftovers that will last through most of the week.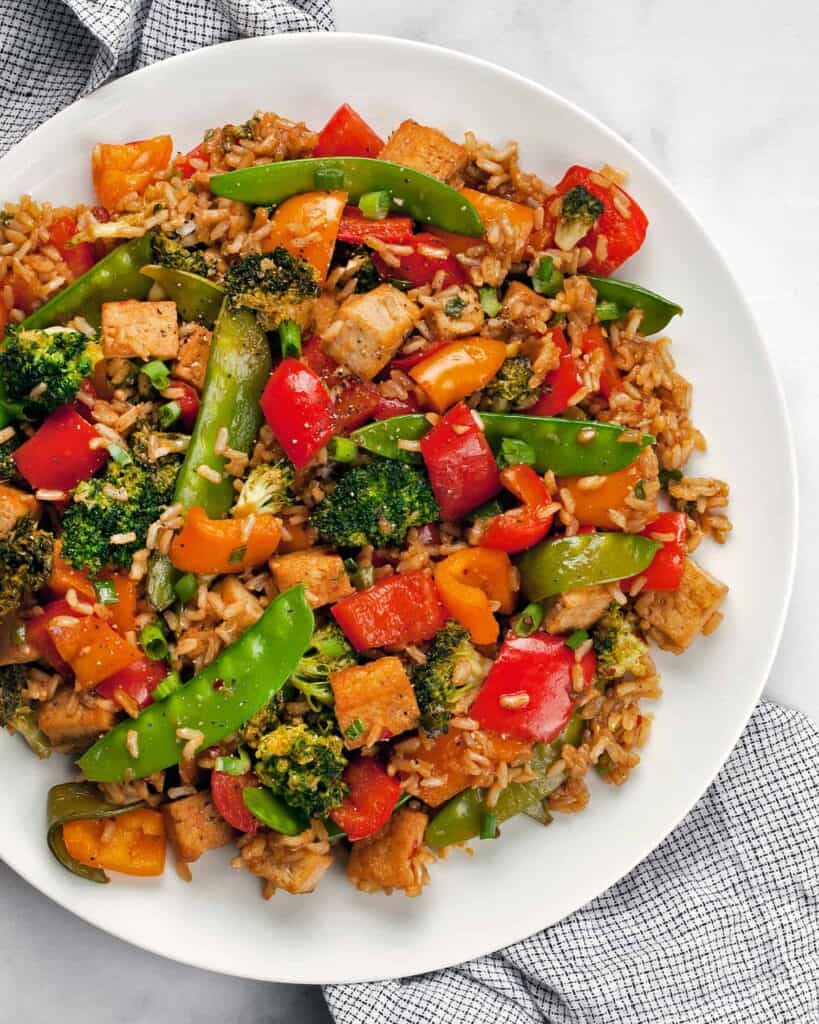 The freezer ends up fuller, too. My latest purchase was this clever silicone vessel to store soup.
It is basically an ice cube tray with big sections that allow you to freeze a bowl of soup in a cube.
I love a space-saving storage container.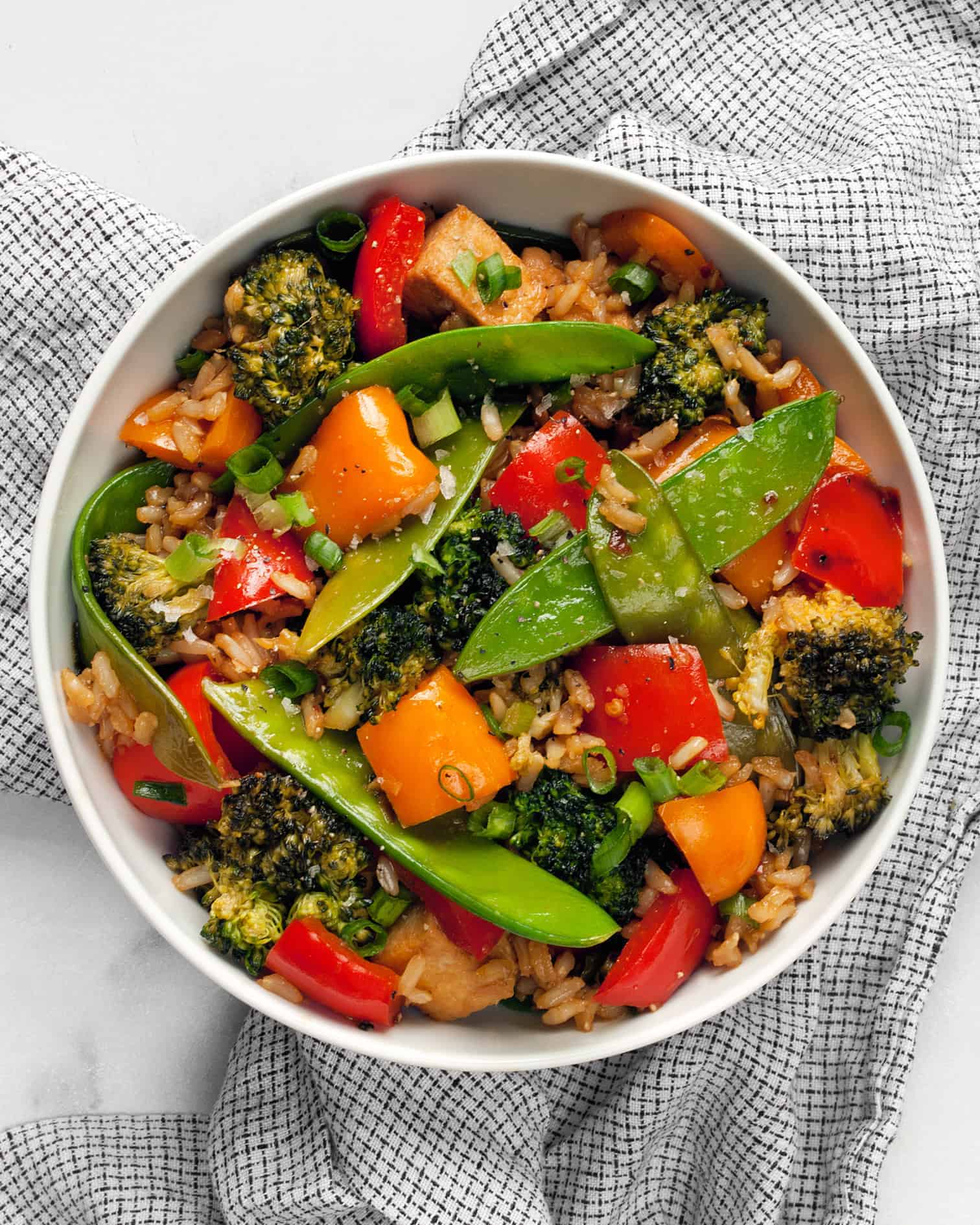 Try Cold Leftovers
These leftover meals typically end up being my lunch. With a busy workday, and a split school-day of in-person and remote for our 1st grader, a quick stovetop or microwave reheat is all I can manage to fit in.
Read more: Fried Goat Cheese Salad | Family Cuisine
And that isn't always the case, so lately I have been trying to make things that taste good when they're hot and just cooked as well as consumed cold the next day.
Everyday I don't want a lunch salad, which would be the obvious choice.
Pizzas and pasta dishes make fantastic leftovers and are tasty chilled, too.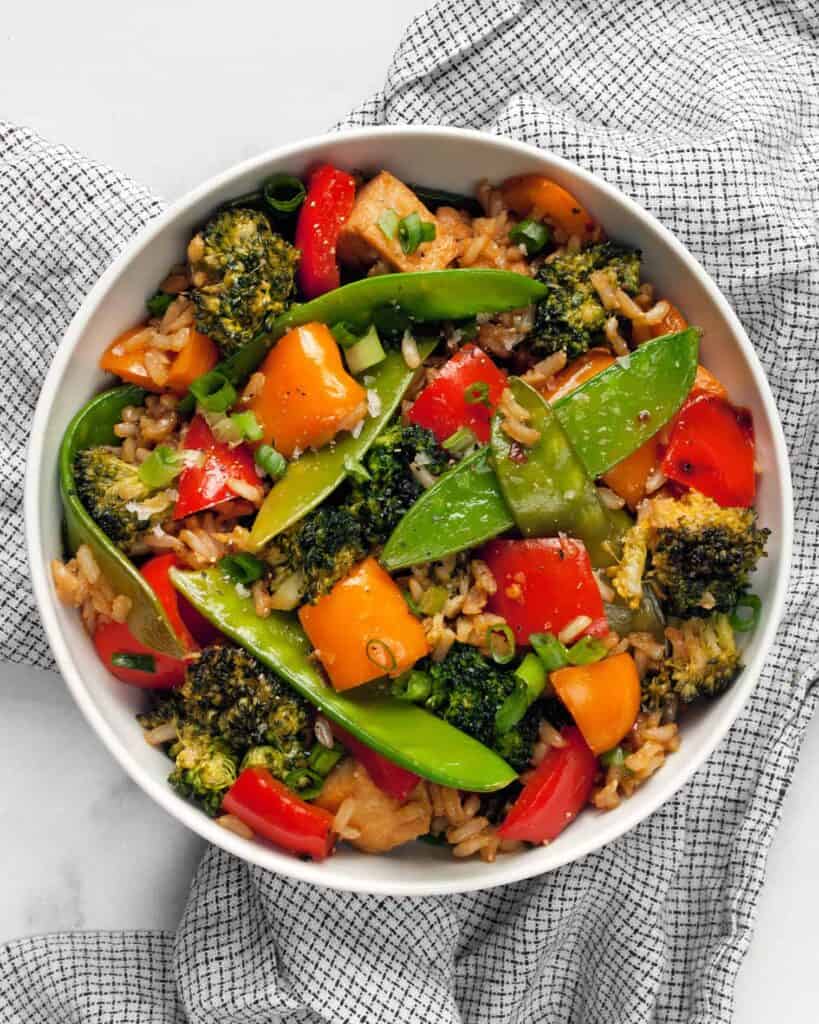 Packed with vegetables, stir-fries are just as easy to eat the moment they finish sizzling in the pan as they are from a carton in the fridge.
It doesn't matter if they have noodles or rice.
With this ginger garlic veggie tofu stir-fry, I reach for brown rice in my pantry and broccoli, peppers and snow peas in the fridge.
Rice vs. Vegetables
It doesn't matter if it's stir-fry or pasta, I always go heavy on veggies.
Grains and noodles serve their purpose as a base, but that doesn't mean they should take over.
I would much rather have bites that are all broccoli, peppers or another vegetable instead of just rice.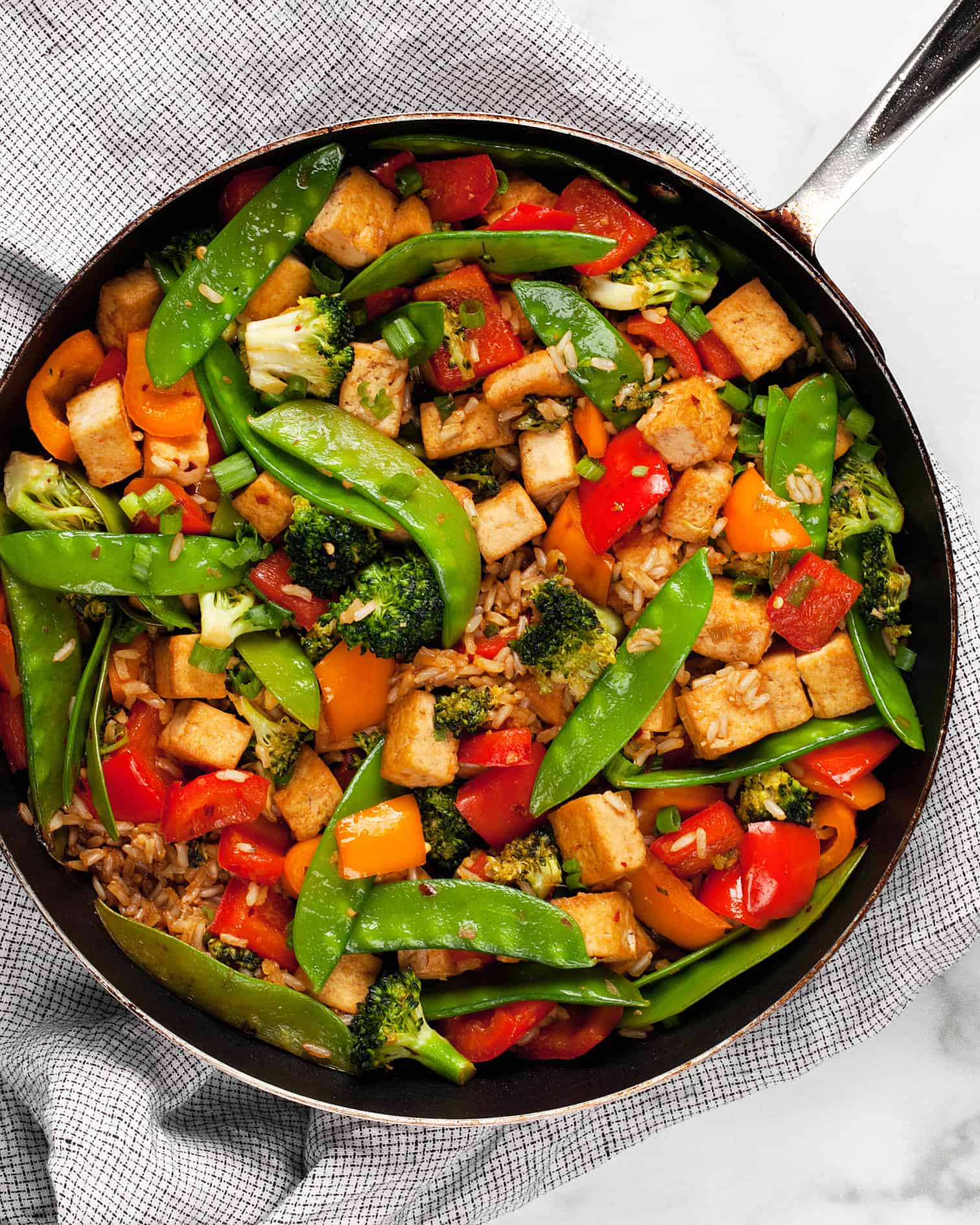 The night before I am planning to do a stir-fry with rice I always cook the rice. If you use freshly made rice, it tends to get mushy.
And when it is time to cook the stir-fry, I have all the ingredients ready before I start.
Read more: how to make stir fry with rice and ramen noodles
Stir-fries go fast, which is a great thing, but just be prepared.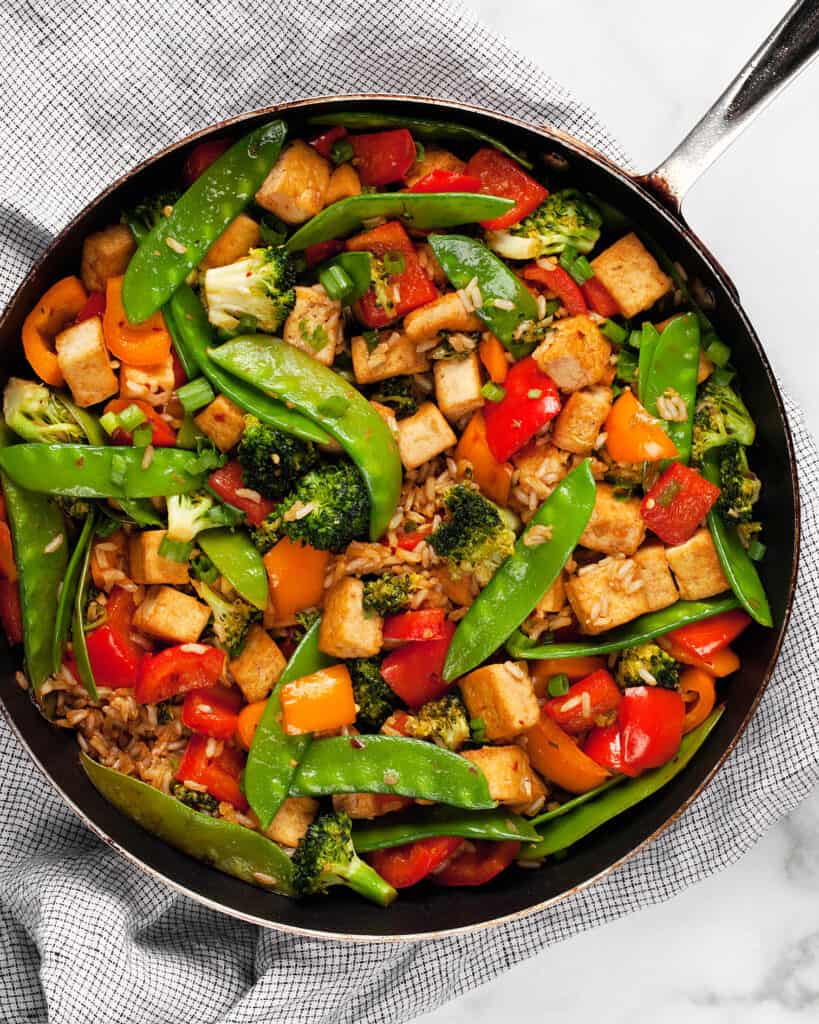 How To Make Ginger Garlic Veggie Tofu Stir-Fry
First, I press the water out of a block of tofu by wrapping it in a towel and then stacking a heavy pot on top of it.
I let the tofu drain for 15 minutes before cutting it into cubes.
Then I whisk together the sauce. It's a mix of soy sauce, water, rice wine vinegar, honey, sesame oil, garlic, ginger, red pepper flakes, salt and pepper.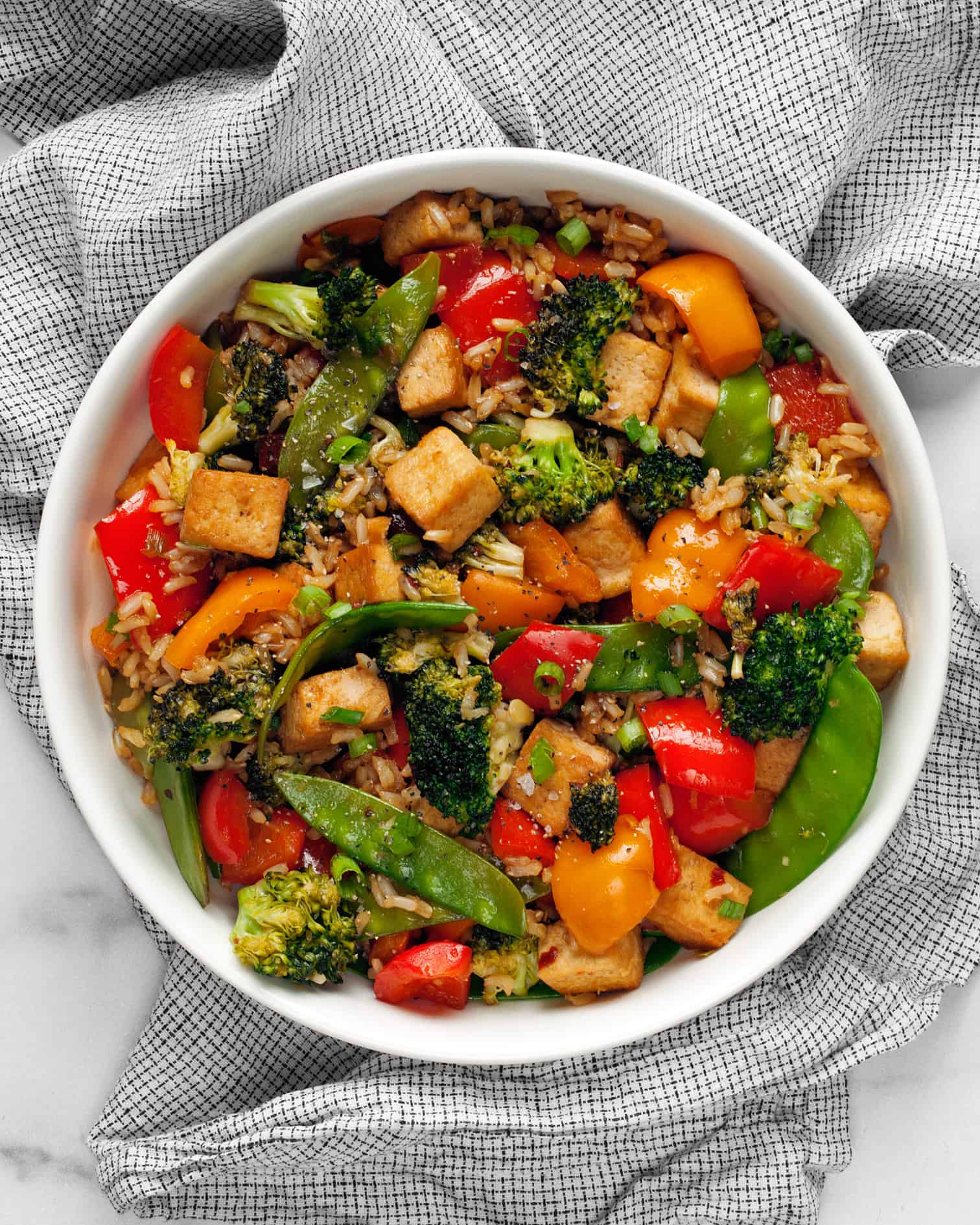 With the tofu and sauce prepped, I heat oil in a big skillet on the stovetop.
To start, I sauté the tofu lightly browning it all over. I pour in about a quarter cup of sauce to coat the tofu. Then I take it out of the skillet, so I can focus on the vegetables.
Next, I cook sliced scallions for a minute and then add the peppers followed by the broccoli and snow peas. I like the veggies to turn out bright and crisp.
After that I pour in the sauce, let it bubble and finally fold in the rice and tofu.
It doesn't take long for the vegetables, tofu, rice and sauce to come together.
I finish the ginger garlic veggie tofu stir-fry by sprinkling on sliced green scallions.
If you are looking for another quick rice and veggie dish, try this frozen vegetable stir-fry.
Read more: how to make beef fried rice at home | Family Cuisine
Print