Bought a brand new Traeger grill, but don't know how to fire it up? If you are new to grilling or are more used to gas or electric grills, switching to a Traeger can be a little nerve-wracking. But while you might find starting Traeger grills difficult, these appliances are among the best out there.
Besides using a Traeger grill for preparing burger patties, cooking juicy ribs, and grilling steaks, you can also use them to smoke sausages, cheese, and even herbs and spices. But before getting that far, you need to know the 101 on Traeger startup and assembly.
Reading: how to use a traeger grill
In case you've never used this kind of grill before, let this article be your Traeger grill manual. We will show you how to start a Traeger grill, use it the right way, and take care of it for the long haul. Since there's a lot of ground to cover, let's get started!
What is a Traeger Grill?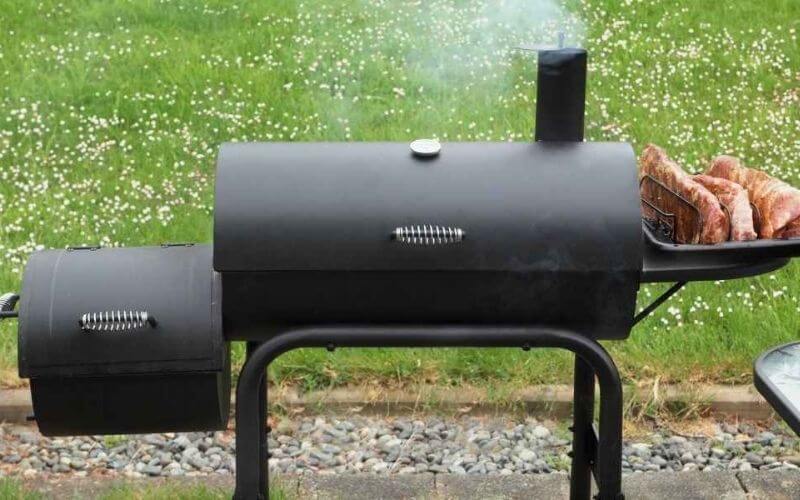 Let's start with the introductions. The Traeger is a wood pellet grill.
To use it, pellets are drawn from a side-mounted hopper to a central burn chamber using an auger, then lit by a hot metal rod. This mechanism runs on electricity, so you need to plug it in before use.
The use of wood pellets to produce heat/smoke has the added benefit of infusing your meat or veggies with an exquisite smokey flavor. This flavor can be altered depending on the kind of pellets you use (check out any Traeger pellets guide!).
It also provides precise, digital temperature control as the regulator is integrated with meat thermometers. This means that you can set the desired temperature easily by choosing a setting on the dial. At the same time, Traeger grill assembly instructions are easy to follow.
In short, Traeger grills are much simpler to use when compared to old-fashioned charcoal grills. They also give you the benefits of unique smoke-infused meat, combined with easy temperature control. This makes it a great choice for grill novices!
How to Start a Traeger Grill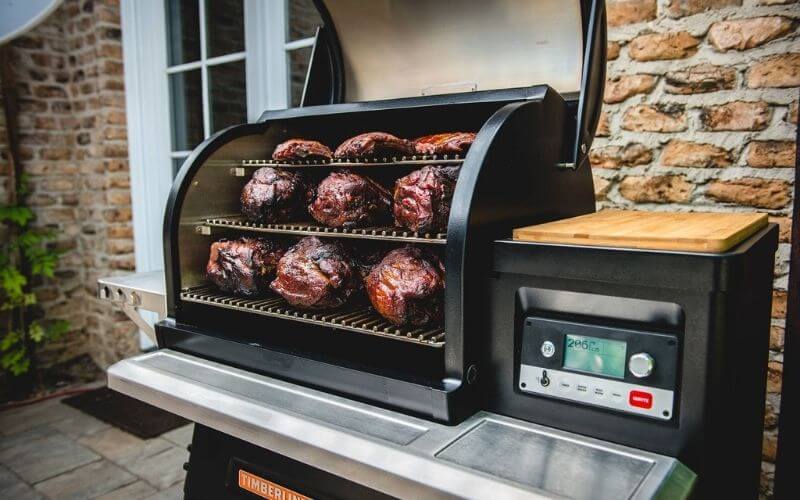 There are 2 main ways to start a Traeger grill, depending on the model you are using. A Traeger not igniting can be fixed by following these steps.
For Closed-Lid Models:
Read more: how to use searing burner on grill | Family Cuisine
This may be the simplest way to set up your grill. Check your model number to see if this model applies to your grill.
When you are ready to grill or smoke, just set your Traeger grill to the preferred temperature, using the knob on the control panel.
Preheat the grill for 15 minutes with the lid closed to bring it up to temperature.
Then open your grill lid and add food, as the unit is ready for use!
For Open-Lid Models:
To start, assemble the grill according to the make and model, as instructed by the manufacturer in the manual.
If you are igniting your grill for the first time, take out the grill grates, grease drain pan, and heat baffle. This will make any Traeger grill troubleshooting and other start-up issues easy to deal with.
Start by plugging your grill into an electrical socket or outlet. This is because the internal fan, thermostat, and igniter are all powered by electricity.
Add the wood pellets to your grill's hopper. This is the large metal box attached to the main body of the grill. If your Traeger ran out of pellets while cooking, you can add more from the hopper.
Then, preheat your grill. To do this, open the grill's lid and switch it on. This can be done by toggling the power switch found on your unit's control panel to the On setting.
Then, look for the Traeger smoke setting. There is a small temperature control dial on the grill's control panel. For instance, the Traeger Pro 780 smoke familycuisine.net the knob on the dial to the Smoke setting. If your grill doesn't have this option, set the Traeger smoke setting temp to between 160F (71C) and 200F (93C).
Let the grill come up to temperature by letting it sit for around 5 minutes.
Once the grill starts making a lot of noise, it is a sign that it has reached the target temperature. At this point, shut the lid until you are ready to start adding food to preserve heat and smoke.
You can also increase the temperature at this stage, before adding meat if you want to sear your food.
If your Traeger won't turn on, check the auger, fan, or hotrod for malfunctioning. If any debris or dust is clogging up these components, your grill won't be able to start properly.
Using a Traeger Smoker:
These steps will help you make sure that smoking on your Traeger grill is a success every time.
Start by plugging in your Traeger and selecting the smoke setting. Or set the temperature to 190F.
Make sure the auger is spinning. The auger feeds the pellets from the pellet hopper into the burner.
Ensure that air is blowing out of the burner and that it is heated through.
You should be able to feel the air blowing out of the pellet burner with your hand. The firepot will smoke a little, and then begin to glow red as it heats up.
Replace the baffle, grease pan, and grill trays into the smoker, and then pour the pellets into the pellet hopper.
Shut the lid, and then set the smoker temperature to high.
Allow it to smoke on high, with the lid closed, for 45 minutes if using it for the first time to season the smoker.
If you have a Traeger not smoking, the temperature might be too high, or the pellets not hard enough.
Then add your meat to the grill, lowering the temperature to your desired heat. For the best results, follow the Traeger meat temperature probe instructions as this will give you even better temperature control.
If you want to smoke food perfectly, use a pellet smoker tube to convert your grill into a Traeger electric smoker to better infuse the smoke into the meat or choose.
Just cram it full of pellets, light one end with a blowtorch or lighter, and set it on the grate in your Traeger. It will then burn for around 4 hours. Yup, smoking with a Traeger is really that easy.
How to Clean a Traeger Grill
Keeping your Traeger is the best way to make sure it keeps working properly for a very long time. It also prevents your food from tasting odd and also stops unexpected charring and even fires.
Start with a cold or slightly warm grill. Take the grates apart and separate the other internal familycuisine.net a strong degreasing grill cleaner to get rid of remnants of food, debris, and grease from the cooking grates. Don't use a wire brush as this can scratch the enamel.
Once the grill is cold, remove the drip pan, porcelain grates, and heat baffle. After 3-5 grilling sessions, use a vacuum attachment to remove excess ash from the firepot, and then replace the drip pan and other parts.
Take out the grease pan and use something like a spatula or wooden spoon to scrape the congealed grease from the bucket. Clean the drip pan the same way. Then, clean the remaining oil with paper towels.
Every couple of months, clean the smokestack and get rid of any debris stuck there.
Do not use liquid cleaners on the inside of your grill. Either use a vacuum attachment to get rid of charred bits and ash, or use a cloth to wipe down the inside.
Spray a mild degreaser on the outside of the grill and allow it to soak through, before wiping it away with a cloth.
Reassemble the grill as specified by the manufacturer.
Maintenance Tips for Your Traeger
Besides cleaning your grill after each use, and spring cleaning it every grilling season, you also need to focus on maintaining it. This will prevent serious issues from taking over your Traeger and even slow down rusting, corrosion, and exposure.
Invest in a grill cover, and use it to cover the Traeger whenever it isn't in use.
Keep your grill grates clean by removing grease and debris after each use. Once in a while, fire up the grill and keep it going on high for 10 to 15 minutes, burning out any bits of food and debris. Once it has cooled down again, vacuum the ash out from the grill.
Store your grill in a cool and dry place during the winter. Make sure it isn't kept in humidity or damp conditions.
Use a grill mat to minimize mess and simplify cleanup.
Periodically get rid of old foil lining the drip trays and other components.
To keep your grill looking new and shiny wipe down the exterior of your grill after each cooking session.
Make sure the wiring isn't frayed and that the plug has all the screws attached. Replace worn-out wiring as soon as possible.
Avoid using bleach, steel wool, wire brushes, and other harsh and abrasive materials when cleaning your Traeger.
Frequently Asked Questions
Below you'll find answers to questions we get asked the most about starting and using a Traeger grill.
01. How Does a Traeger Grill Work?
Traeger units are pellet grills, which means they work by burning wood pellets that are lit by a HotRod. The wood pellets are placed in the hopper and are then moved to the firepot by an auger. The entire unit needs to be connected to an electrical outlet for it to work.
02. Why Doesn't My Traeger Not Turn On?
Read more: how to cook bacon on a traeger grill | Family Cuisine
If your Traeger doesn't start it may be due to a blown fuse, a faulty plug or socket, or even because the firepot doesn't have enough wood pellets. Follow the troubleshooting methods on the instruction manual to identify why your grill won't light up.
03. How Long Does It Take to Warm Up a Traeger Grill?
After turning on the grill and setting it to the desired temperature, it should take your grill 10-15 minutes to get it to warm up completely.
04. How Does a Traeger Ignite?
When the Traeger is switched on, a HotRod ignites the wood pellets, causing them to smolder and produce heat and smoke.
05. How Do I Get My Traeger To Produce More Smoke?
Using lots of dry wood pellets and grilling at a slightly lower temperature is the best way to build up more smoke in your grill.
06. Is There a Fuse on a Traeger Grill?
Like most electrical devices, Traeger grills have a fuse added for safety. This fuse can be found on the back of the grill's controller board.
07. Can I Use My Traeger Grill in the Rain?
Yes, contrary to popular belief, you can use this grill in the rain. Just make sure your pellets don't get dampened in the rain and that your food doesn't end up soaked.
08. Do I Have to Season a Traeger Grill?
Before using your grill for the first time, you need to season your grill. This involves burning off the empty grill at high temperatures to get rid of any chemicals, cleaners, debris, and other residues on the inside of the grill.
09. Can I Leave My Traeger Outside in the Winter?
While you can use your Traeger in winter, you shouldn't leave it outside, as moisture can get into the pellet hopper and this can cause your grill to malfunction.
Conclusion
A Traeger is a unique sort of grill, as it combines the efficiency of an electric grill with the flavor and smokiness of an old-fashioned charcoal grill. Whether you use hickory, maple, or applewood, you can be sure that your food will have a fantastic smoked-out flavor.
The first step to getting all this done is knowing how to start a Traeger grill. Once you get that out of the way, you can take your grilling to the next level with this amazing unit!
Read more: how to get wood chips to smoke on gas grill