Are you ready to dive into a whimsical world of ice cream? Prepare yourself for an extraordinary experience at the Museum of Ice Cream (MOIC) in San Francisco. This pop-up exhibit is not your typical museum; it's an art installation that will transport you to a vibrant and playful universe. Recently, I had the pleasure of visiting MOIC with my high school friend, Danielle, and let me tell you, it was absolutely amazing!
A Unique Concept
While some people may be unfamiliar with MOIC, it's worth exploring for its sheer joy and creativity. Located in several major cities, including San Francisco, Miami, and Los Angeles, this imaginative museum invites visitors to indulge in a fusion of art and ice cream. Housed in a historic bank building constructed in 1910, the juxtaposition of the old-world architecture and the vibrant, fun colors of MOIC is a visual delight in itself.
Expect the Unexpected
I have to admit, I was initially skeptical about visiting MOIC, especially after reading some mixed online reviews. However, all doubt vanished the moment I stepped inside. The experience was nothing short of incredible, allowing me to tap into my inner child. With ice cream surprises lurking around every corner, how could anyone not enjoy themselves?
The Adventure Unfolds
The museum ticket costs $38 ($45 after tax) and grants you unlimited time to explore the exhibit at your own pace. With around 10 enchanting rooms to discover, you'll find plenty to see and do. Danielle and I spent a delightful two hours immersed in this magical world. Interestingly, as we journeyed through the museum, we noticed that we were encountering different groups of people than those we started with, as everyone moves through the exhibit at their own pace.
As you explore, prepare to be treated to a variety of delectable snacks. From soft serve ice cream to fruit bars, mochi, pop rocks, and cotton candy, MOIC ensures that your taste buds are as satisfied as your sense of wonder.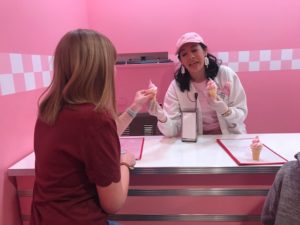 Each Room Is a Delight
MOIC offers a range of interactive rooms that engage and entertain. One room invites you to toss rings onto a table filled with whipped cream cans, while another is adorned with countless magnet letters on the walls, begging for your creative touch.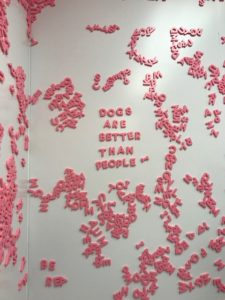 Not all rooms are interactive, as some delicate items need to be preserved. Nevertheless, rooms like the cherry room and the gummy bear room exude charm and excitement. Every room in MOIC is a feast for the eyes, radiating brightness, uniqueness, and fun.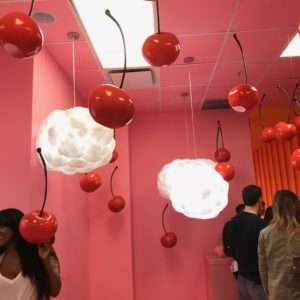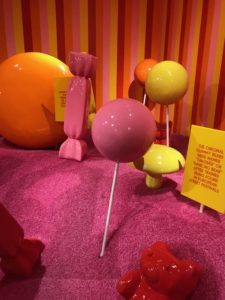 An Ever-Changing Experience
What sets MOIC apart is its ability to surprise and delight visitors, even upon repeat visits. Not only does each location have rooms unique to its setting, but MOIC also introduces new rooms from time to time. For instance, just a week prior to our visit, they unveiled the Circus Animal Cookie Room. Picture two enormous circus animal cookies, resembling a merry-go-round, that you can sit on and control with the push of a button. Pure magic!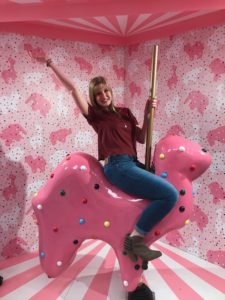 The Sprinkle Pool: A Blissful Dive
And finally, the crown jewel of MOIC – the iconic sprinkle pool! This room has a time limit due to its immense popularity, but trust me, it's worth the wait. Picture yourself surrounded by a small "pool" filled with four feet of plastic sprinkles. They allow approximately 10 people in at a time for a delightful five-minute splash. Be warned, though: the sprinkles have a tendency to find their way into unexpected places, like your shoes and pants!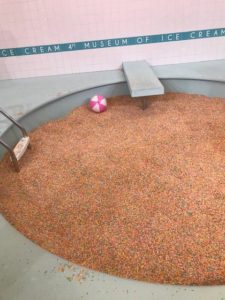 Plan Your Visit Wisely
As a temporary exhibit, MOIC operates for limited periods, and tickets sell out quickly. My top tip is to visit the MOIC website and sign up for their newsletter. This way, you'll receive timely updates about additional dates and ticket availability. Don't miss out on this extraordinary experience!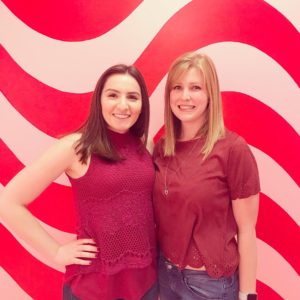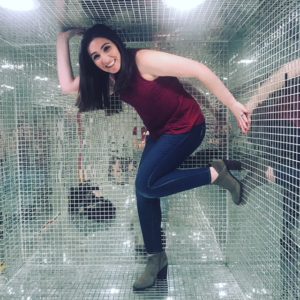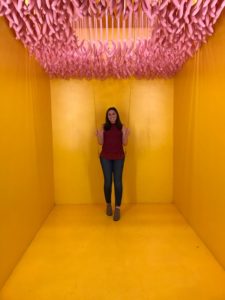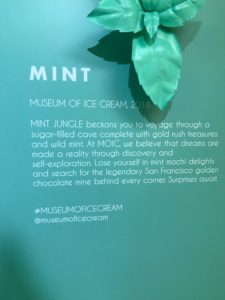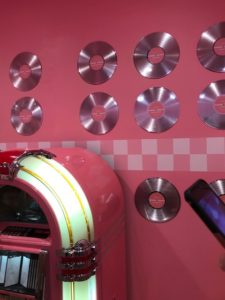 With even more captivating rooms that I haven't mentioned in this post, you can easily spend hours at MOIC, taking selfies, and laughing while enjoying delicious snacks. It truly feels like stepping back into childhood and experiencing pure joy. So, grab your friends, indulge your sweet tooth, and make unforgettable memories at the Museum of Ice Cream!