This beef and mushroom stew made in the Instant Pot is a hearty, comforting, stick to your ribs kind of meal that's perfect for winter.
Made with three different kinds of mushrooms (white button, shiitake and cremini) and stew beef that gets incredibly tender in the pressure cooker, it's a straight-forward recipe with a simple ingredient list yet tremendous savory flavor.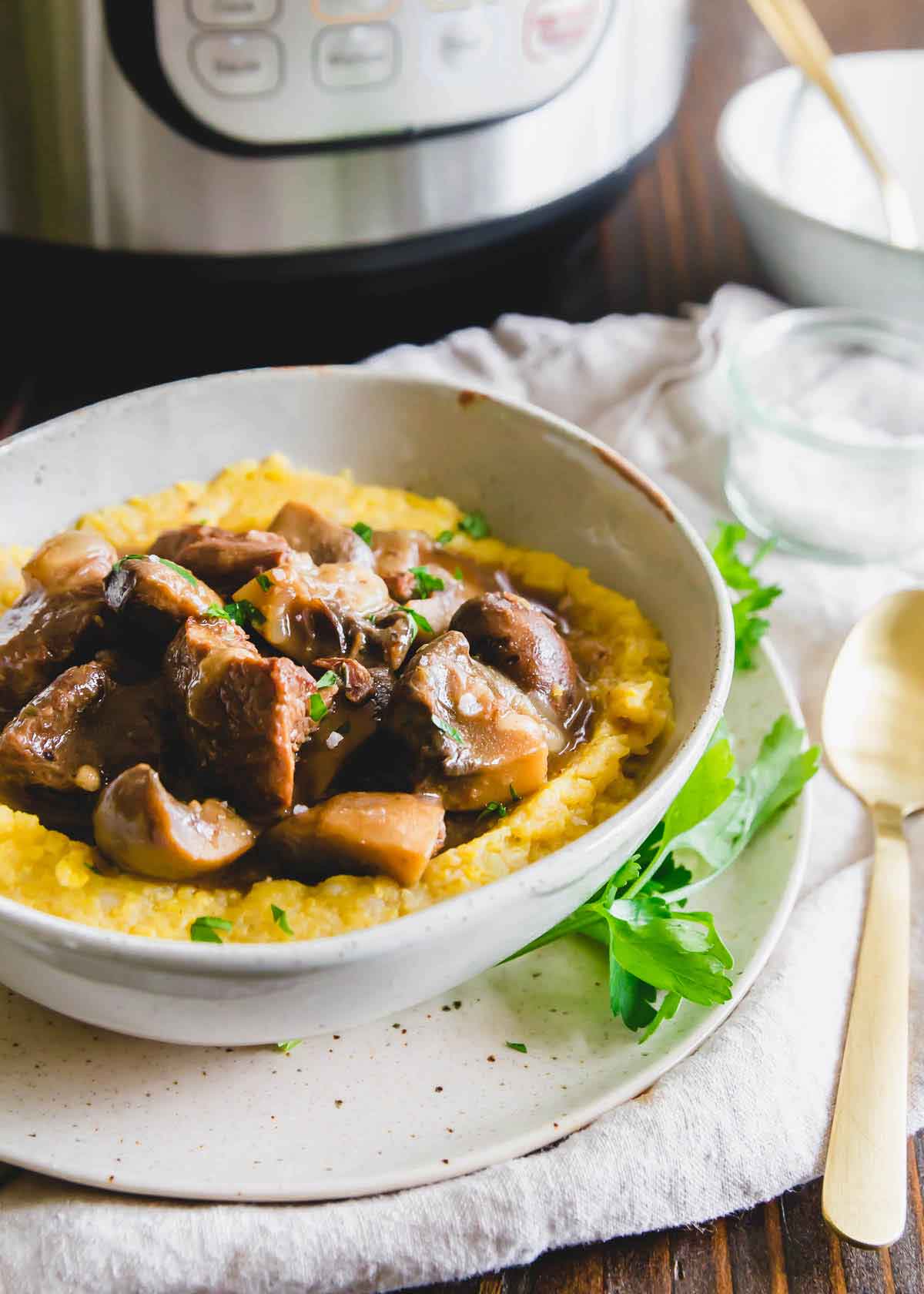 I grew up eating two kinds of stews:
1- beef stew with big hunks of potatoes, carrots and onions
2- veal stew with carrots, tomatoes and onions
Both always served over white rice (Uncle Ben's to be exact).
That was it. No other variations for all 18 years I lived in my parents' house.
I liked them both, don't get me wrong, but I don't think I realized the versatility of stew until many years later.
I've more than made up for it with recipes like this Slow Cooker Lamb Stew, Turmeric Lentil Stew and Moroccan Lamb Lentil Stew to name just a few and now, this beef and mushroom stew made in the Instant Pot.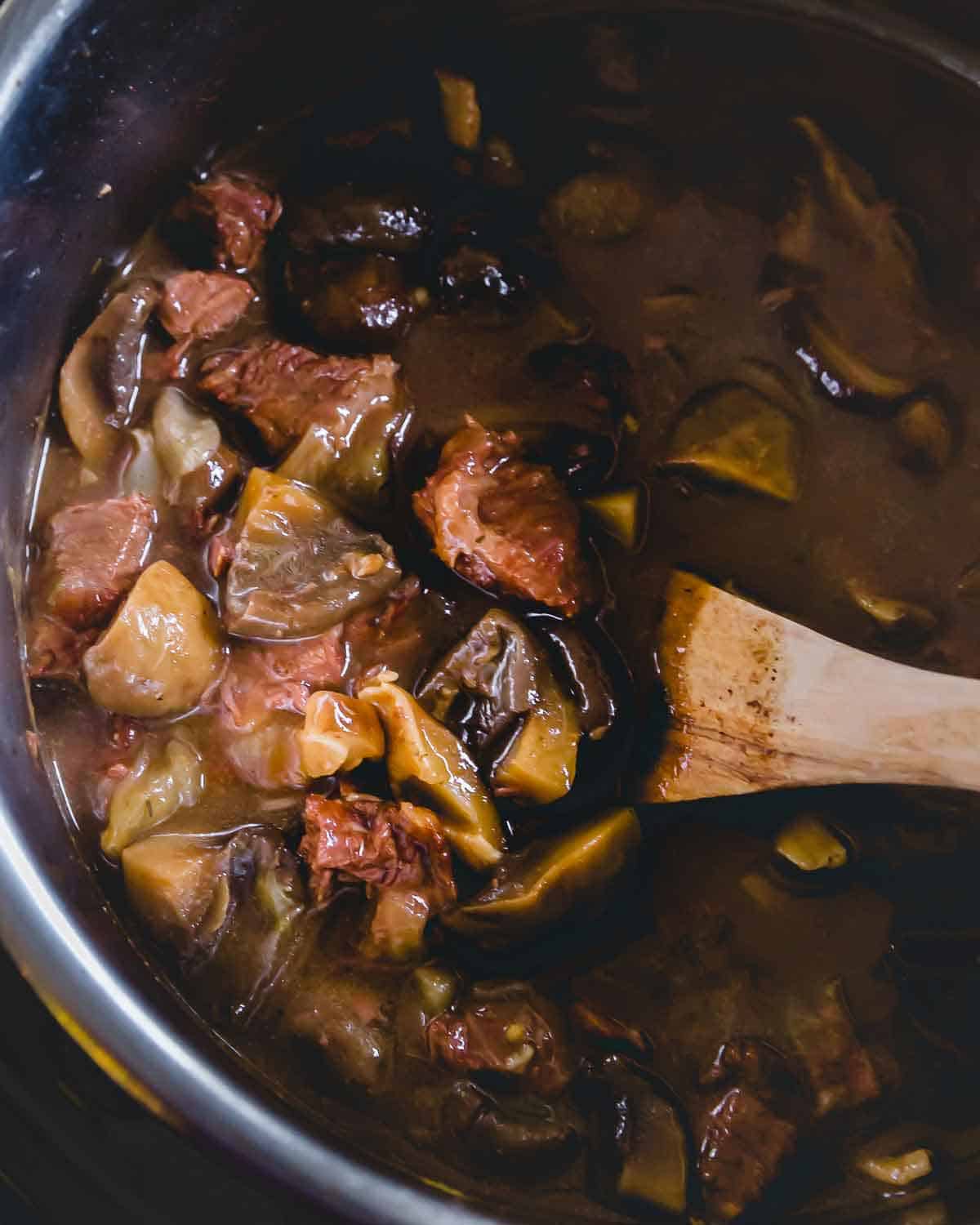 I've talked about eating more plant based a lot recently (especially if you follow me on Instagram and with recent recipes like Instant Pot Bean Soup and Vegan Picadillo) but on the opposite side of that spectrum, here I am with a stick to your bones kind of winter beef stew.
But that's reality.
I'll never be 100% plant based, especially as long as I live in NY during the winter. I literally crave red meat sometimes stronger than any chocolate craving I've ever had.
And that's saying something, believe me…
Have you ever looked into the blood type diet? I always chuckle when I read into that as my blood type (A+) basically tells me I should be vegan. Hahahaha.
I love plants and vegetables and no doubt advocate that we all should eat a lot more of them than typically included in the standard American diet but, there's just no way I'll ever give up meat, beef in particular.
And that includes venison too because I love this Instant Pot venison roast recipe as well!
Sorry, blood type diet, it ain't happening.
In my opinion, beef and mushrooms are the perfect pair. So much so that you don't even need a slew of other ingredients in this stew recipe for it to taste "right".
This beef and mushroom bolognese recipe is another example of just that.
Mushrooms, beef stew meat and some pearl onions. That's it.
Well, besides the spices obviously.
Mushrooms, of course, are always delicious on their own too.
My creamy vegan mushroom risotto recipe is the perfect example and a great fully plant-based meal option with all the same coziness of this stew.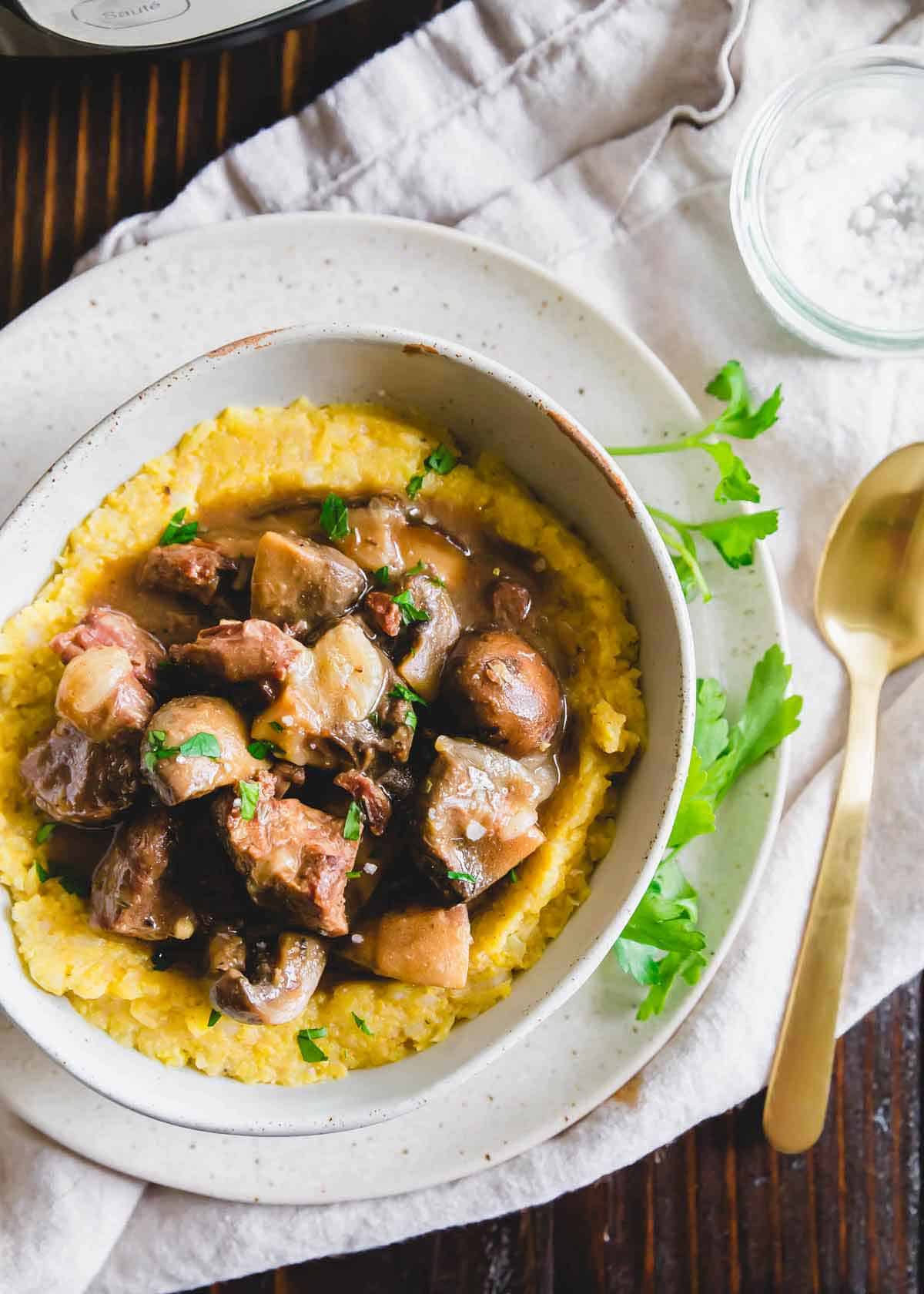 HOW TO MAKE BEEF AND MUSHROOM STEW
I've talked before about how a pet peeve of mine is Instant Pot recipes that really have no business being made in a pressure cooker.
Things like cheesecake, pasta, etc. Ugh, imagine me rolling my eyes as I type this because I am just thinking about those dumb recipes that take something easy and make them harder just because people want to use their Instant Pot.
Stew is not one of those recipes.
Stew is perfect for a pressure cooker like the Instant Pot. It makes for the most tender pieces of beef in a fraction of the time it'd take to achieve that on the stove.
This Instant Pot bolognese recipe is a great example of this as well as Instant Pot brisket. They're both two recipes improved by using the pressure cooker instead of the stove-top.
To make this beef stew with mushrooms:
Brown the beef in the Instant Pot on sauté mode.
Remove the beef and add a splash of broth to the pot to scrape up the browned bits.
Add the onions to the pot and cook for a couple of minutes.
Turn off sauté mode and add the remaining ingredients to the pot.
Cook on manual mode for 30 minutes and let the pressure naturally release for 15 minutes before releasing the rest manually.
Thicken with an arrowroot powder slurry if desired (this is optional) and serve garnished with fresh herbs over whatever grain/starch/vegetable you like.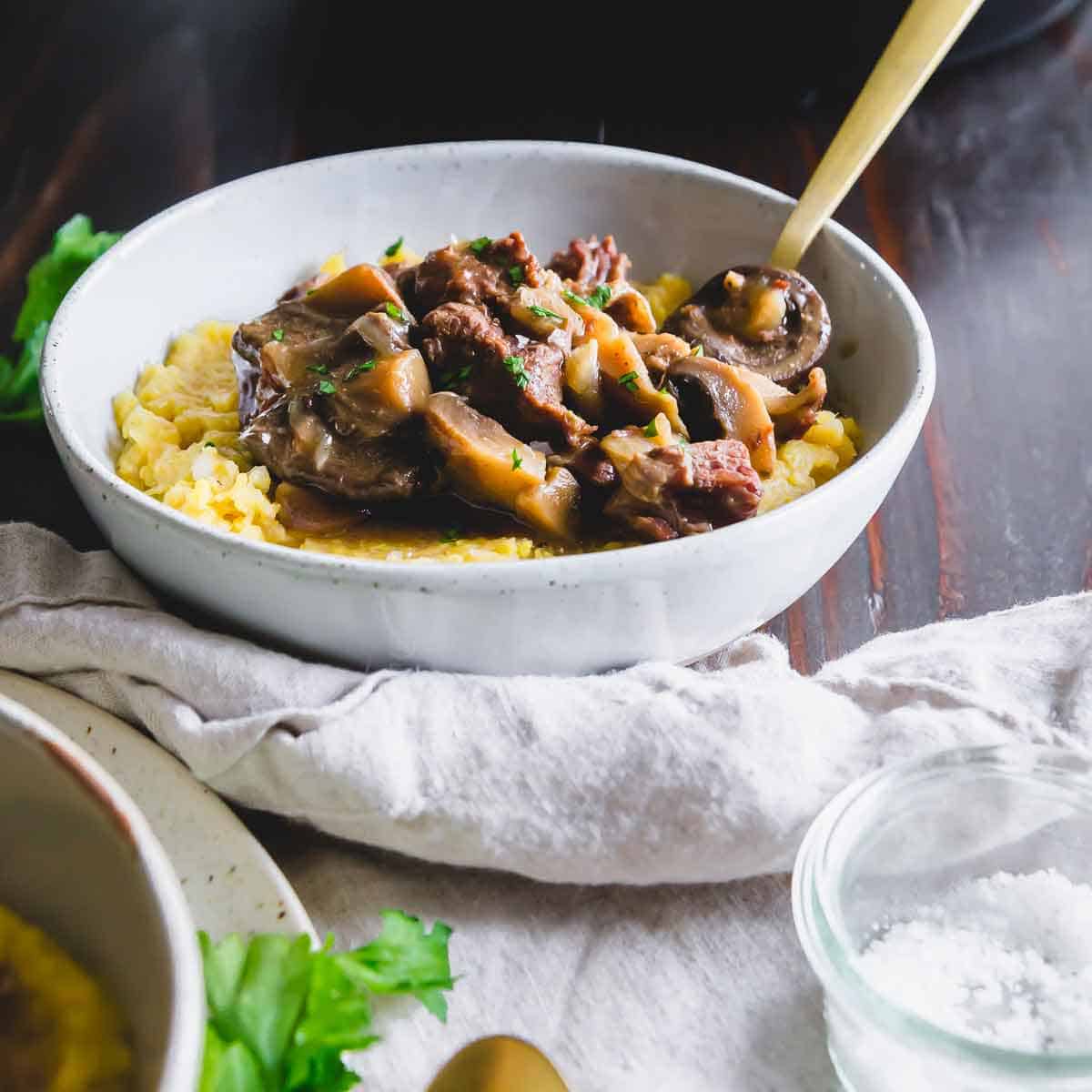 WHAT KIND OF MUSHROOMS SHOULD I USE?
I used three types of mushrooms in the beef stew: white button, shiitake and cremini for a total of 24 ounces of mushrooms.
You can absolutely use different varieties and the ratio of each is up to you. Some oyster mushrooms would be great in here too and if they weren't exorbitantly priced when I was shopping, I would've picked some up!
WHAT IS STEW MEAT?
Most grocery stores will sell "stew meat" already packaged. It's basically just cut into chunks already for you (although I always end up cutting those chunks in half). I prefer the size of the beef in the stew to be about a 1″ cube. Basically bite-size.
If you can't find beef pre-packaged as stew meat, purchase a chuck roast and cut it into cubes yourself. I like to trim most of the fat off the beef before cooking.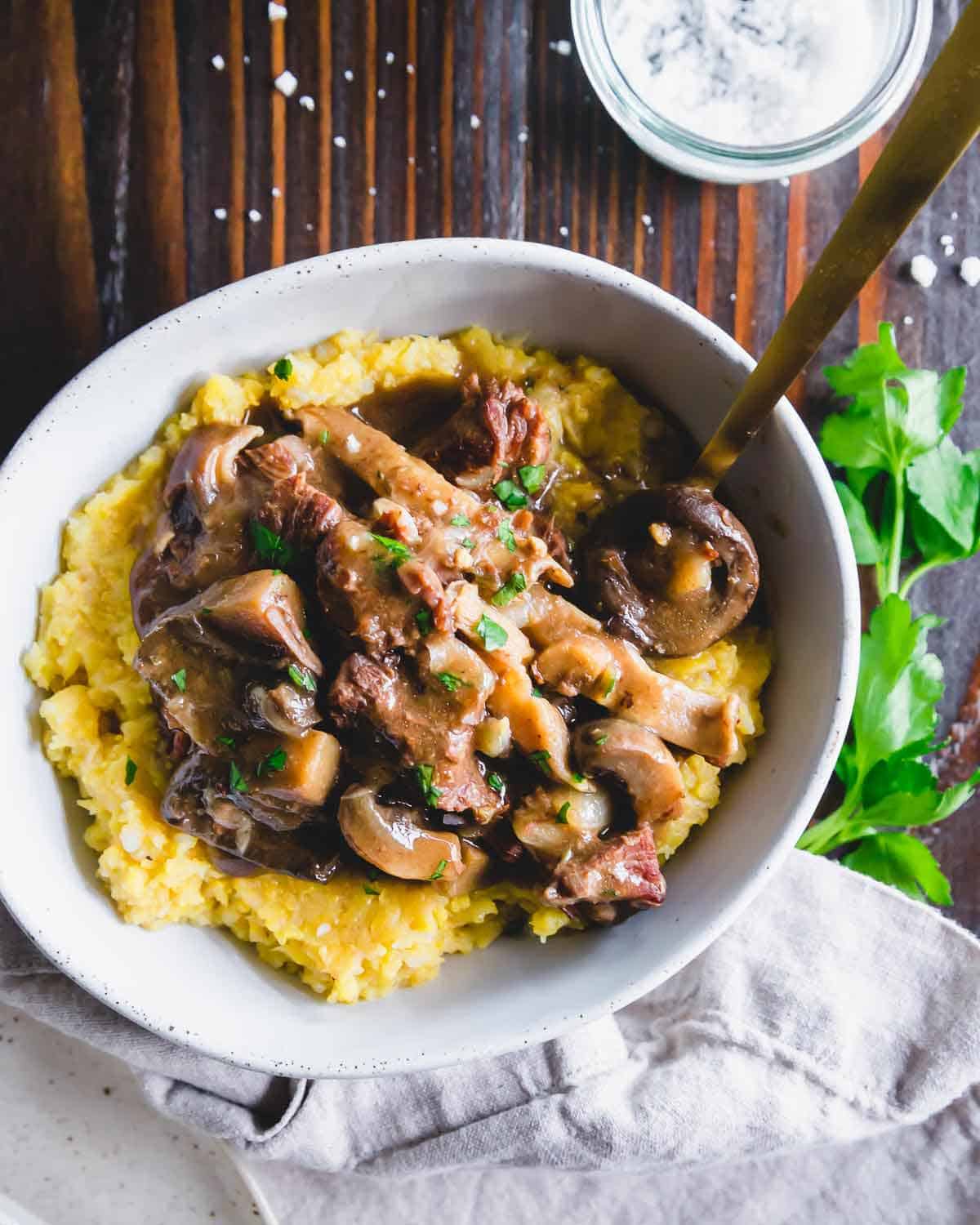 WHAT DO I SERVE WITH BEEF MUSHROOM STEW?
I made an orange cauliflower and potato mash to serve underneath the stew. But any of the following would be great to go with it:
mashed potatoes
Creamy Cauliflower Pumpkin Mash (without the topping)
pasta/noodles
rice (brown or white)
quinoa
barley
farro
grits/polenta
CAN I MAKE THIS IN THE SLOW COOKER?
Yes, although I would still suggest browning the beef first on the stove top as that helps develop important flavor in the recipe.
To make this in the slow cooker, follow steps 1-5 in the recipe directions then transfer to the slow cooker. Add the remaining ingredients and cook on low for 8-10 hours. Add the arrowroot slurry (if using to thicken) at the end while the slow cooker is still on and stir until thickened.
CAN I MAKE THIS ON THE STOVE-TOP?
Yes, you can also make this on the stove-top but it will take a lot more time.
Follow the recipe as stated except after adding all the ingredients to a large Dutch oven or heavy bottomed pot, bring the mixture to a boil then reduce to a low simmer and cover with a lid. Cook, stirring here and there for 3-4 hours until the beef is tender.
You may need to use a little more broth if you make the stew on the stove top as the longer cooking time will evaporate some of the liquid.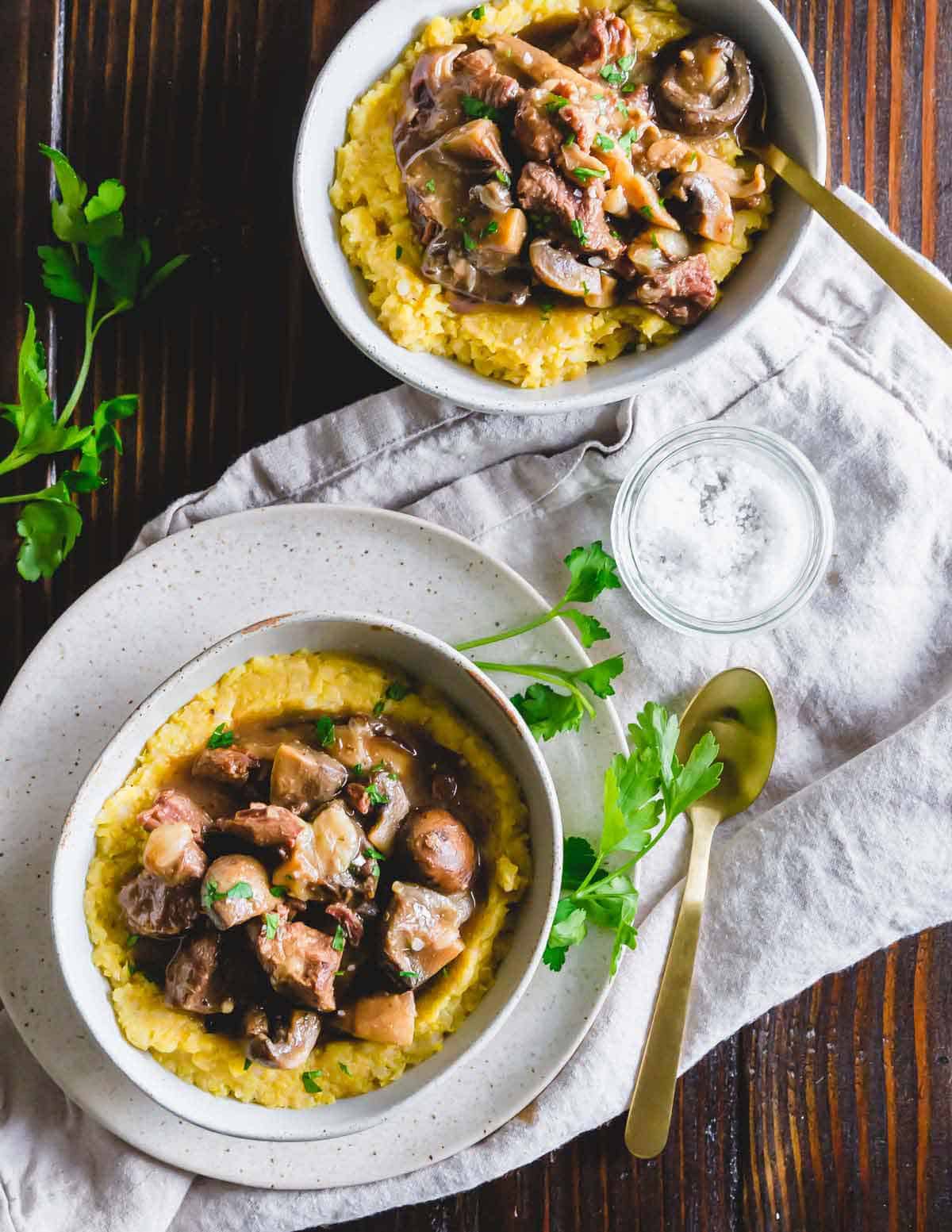 WHAT DOES THE STEW TASTE LIKE?
Umami is the best way to describe the savory taste of this beef and mushroom stew. It's hearty, thick, cozy and comforting with simple yet satisfyingly savory flavors of herbs, garlic and onion.
It's really everything you could want in a winter meal and if you're a mushroom lover like me, you will totally dig this recipe.
You'll also love turkey stew for this reason. It uses leftover turkey meat along with potatoes and mushrooms for a great post-Thanksgiving type of meal.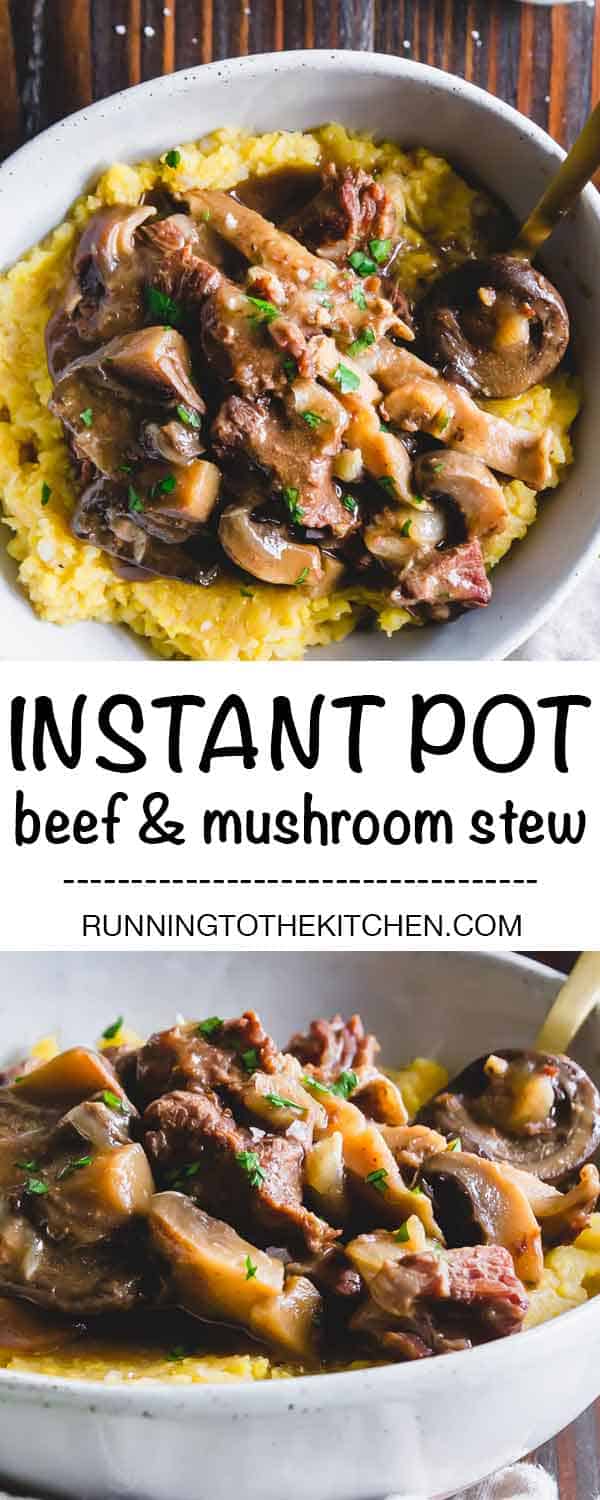 Love this beef and mushroom stew? More beef recipes to try:
Chocolate Red Wine Beef Stew Stuffed PotatoesSpicy Beef and Red Pepper Rice BowlBeef and Mushroom Bolognese (the Italian cousin to this recipe!)Spicy Orange Beef CarnitasBeef Pesto Quinoa Bake
For more information please see the list of Instant pot beef and mushroom stew
Detail: 🔗