Instant Pot Beef Pot Roast is an excellent family dinner. Beef chuck roast turns out juicy, tender and super flavorful in the Instant Pot. Then the veggies and gravy cook in that same pot. You will have the pickiest eaters licking their plate.
To make this in your oven pop over to this recipe for Beef Pot Roast with Gravy. Or if you love this Instant Pot Roast recipe, try this Instant Pot Pork Roast with Veggies & Gravy next.
Reading: Instant pot roast and vegetables
Why It's SO Good
There are a lot of Instant Pot Pot Roast recipes around, you will find that this one gives you all the tips and tricks to make it the very best:
If you have time, let your chuck roast set at room temp for about 30 minutes. This is called tempering and is a great way to have really flavorful beef.
Searing the beef after seasoning makes a really flavorful crust that everyone will rave about.
Adding onion powder to the initial seasoning adds depth of flavor in this recipe.
Cooking the veggies in a "second cook" makes sure your veggies are not turned to mush.
Fresh herbs, rosemary and bay leaves, flavors the gravy so much more than dried herbs will.
What is Beef Pot Roast
Some people think that "pot roast" always refers to beef. However that is not the case. Pot Roast actually means that it is slow roasted in a heavy pot, usually in the oven, as in the case of my Chicken Pot Roast.
But a "Beef Pot Roast" is obviously beef, usually chuck roast or round roast. It is generally slow braised with some broth and surrounded by herbs, potatoes, carrots, onions and sometimes mushrooms.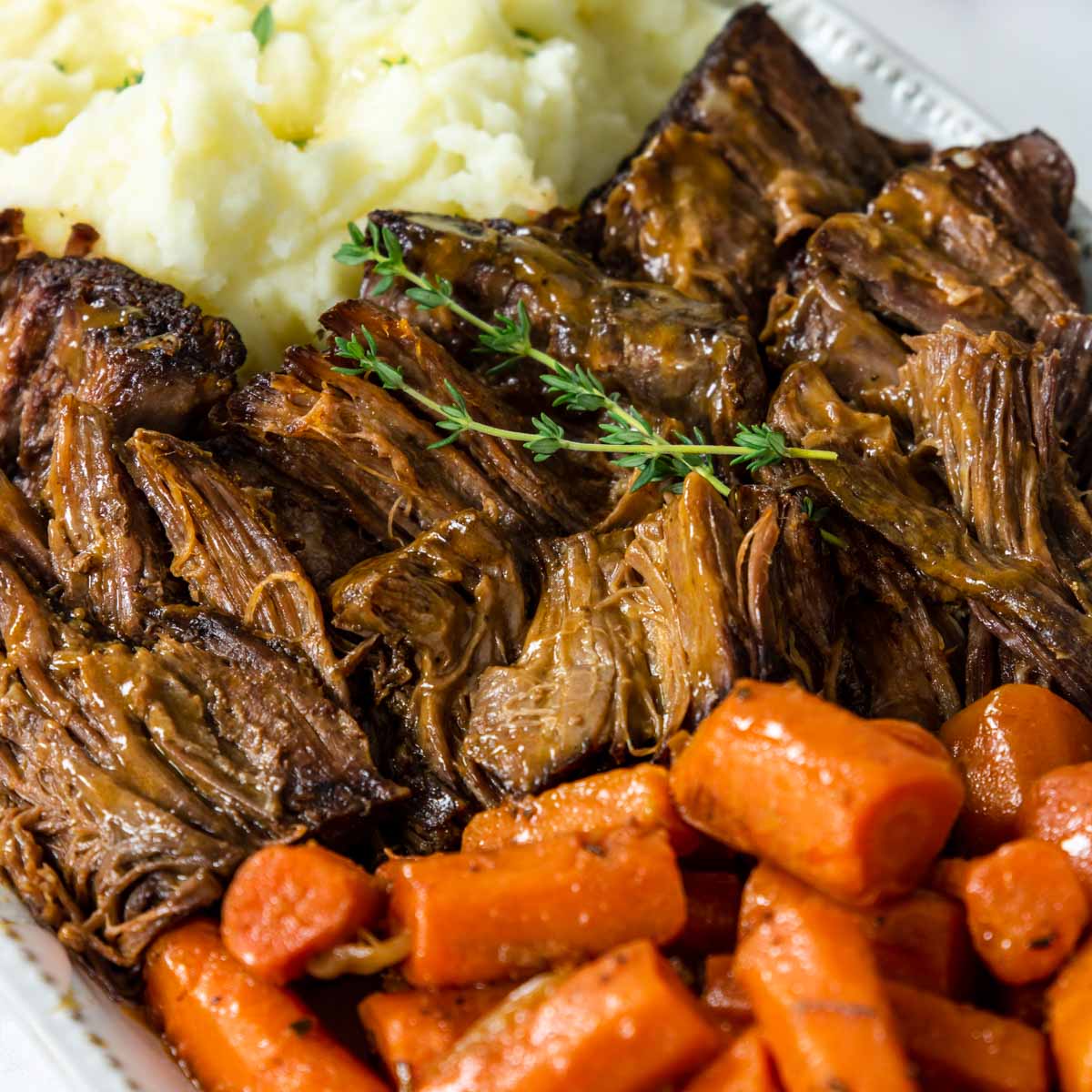 In this recipe we are braising a little faster with the help of pressure and steam in the Instant Pot (Electric Pressure Cooker).
Ingredients
Pictured are the ingredients you need to make Instant Pot Beef Pot Roast, plus some tips on a few key ingredients: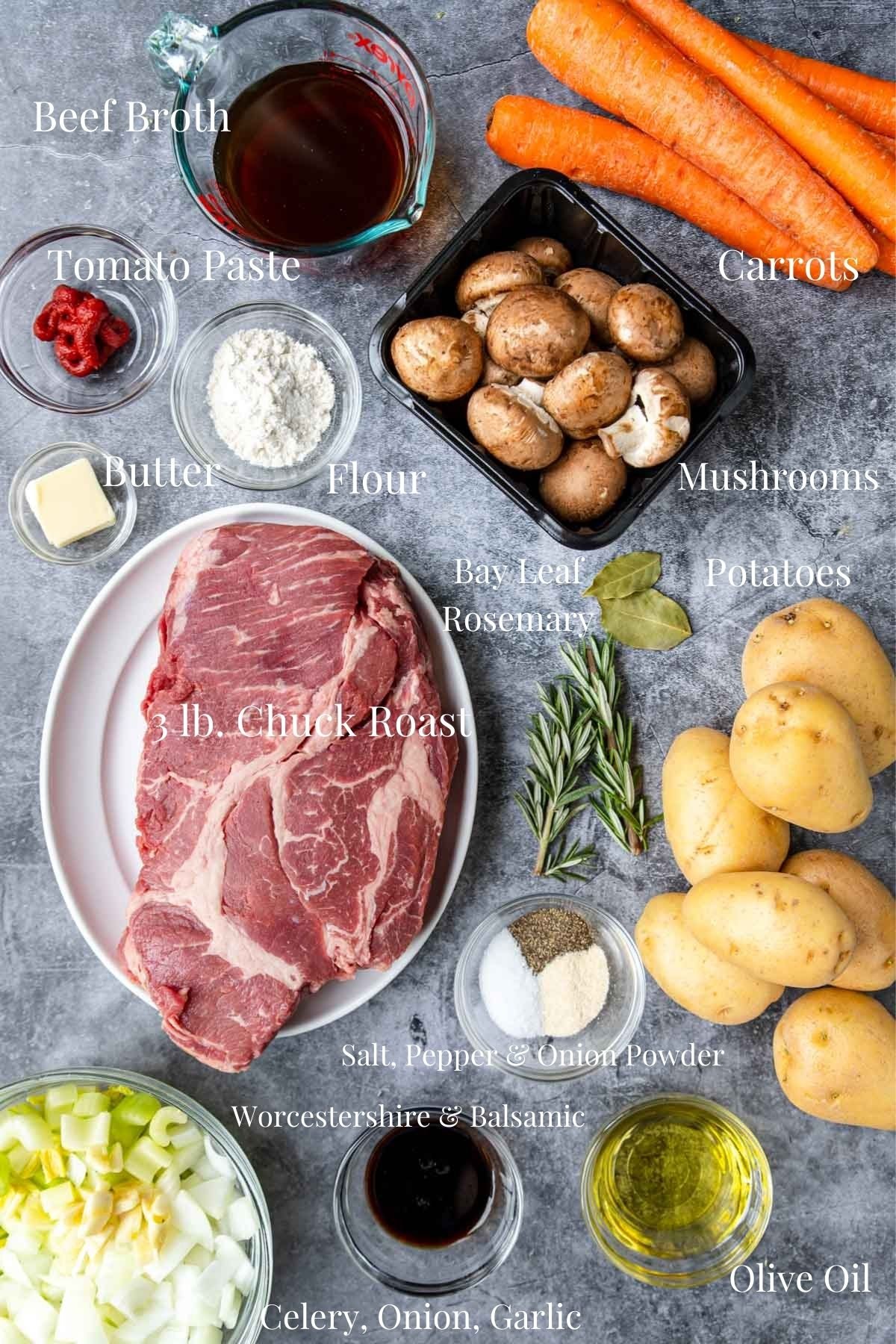 Read more: Pellet Grill vs. Gas Grill vs. Charcoal Grill
Potatoes – you can use Russet or Yukon Gold potatoes.
Russets will hold up a little better to the pressure cooker, but Yukon golds soak up the cooking liquid.
Carrots – make sure to cut your carrots a little bigger (about 2 inches) so they do not over cook.
Mushrooms – we like a Baby Bella Mushroom for this recipe as they have a stronger earthy flavor that holds up to the beef and gravy. However, you can use button mushrooms if that is what you have or prefer.
Cut really large mushrooms in half, but the smaller ones can stay whole to stand up to the pressure cooker.
Chuck Roast
Chuck Roast is a cut of beef that is traditionally used for Beef Pot Roast. It is cut from the shoulder and is known for its rich beefy flavor. It is a tougher cut that does well being slow roasted or braised.
When picking a chuck roast you want one that is a nice red color with some marbling.
Cook Times for Chuck Roast in Instant Pot
Read more: Grilled Whole Red Snapper (Oven Grilled)
It is recommended that you cook your fresh chuck roast for 20 minutes per pound in the Instant Pot. Most chuck roasts weight between 3-5 lbs..
No matter what size your chuck roast is you will want to do a 10 minute natural release at the end of the cook time. This is a "resting" period for the meat before you do a quick release.
Avoiding the Burn Warning
You should not have troubles with the burn warning in this recipe, there is plenty of liquid to protect the bottom of the pot.
However, you will want to make sure you FULL DEGLAZE the bottom of the pot when you pour in the beef broth. Leaving any bits on the bottom may trigger the burn notice.
Step by Step Picture Instructions
Follow these steps for the Best Instant Pot Beef Pot Roast!
Pat the roast dry and season all sides with salt, pepper and onion powder.
Sear on sauté mode, in oil, in the Instant Pot. About 7 mins. per side. Remove to a plate.
Add more oil and sauté the onions, garlic and celery for a minute.
Pour in the beef broth and fully deglaze the bottom of the pot.
Stir in the tomato paste, balsamic vinegar, Worcestershire sauce, rosemary, and bay leaves.
Add the chuck roast and any juices back to the pot.
Lock the lid in place and set to cook on manual/pressure setting for 20 minutes per pound.
Do a 10 minute natural release, then finish with a quick release.
Veggies
Remove the roast from the pot and set aside, cover with foil to keep warm.
Place all the veggies in the pot – potatoes first, then carrots and top with mushrooms.
Lock the lid in place and set to cook on manual/pressure setting for 5 minutes.
Do a quick release. Spoon the veggies to a serving plate.
Gravy
Strain the remaining liquid and then pour back into the pot.
Turn on sauté mode. Add the flour/butter mixture and whisk in to make the gravy.
It will thicken as it simmers.
Serving
Pot Roast is such a classic Sunday Family Dinner! Serve your roast sliced or pulled into tender chunks then drizzle with gravy. Serve with potatoes, mushrooms and carrots on the side.
Dinner rolls and butter are a great accompaniment too. Any of these dishes would also make a great side to Instant Pot Pot Roast:
Storing
Store leftover Pot Roast, veggies and gravy in the fridge, in a covered container for up to 5 days.
Read more: List of 8 resurfacing a flat top grill
Tips for the Best Pot Roast
Dry your chuck roast with some paper towels before seasoning and searing. By removing the moisture content you will get a better sear/crust.
Use all the salt, pepper and onion powder to season the roast, it sears into the crust and creates a ton of flavor!
Don't skimp on the searing…7 minutes will feel like forever, but it creates the most beautiful crust.
Use fresh herbs! The dried stuff will not give you the same punch of flavor.
Taste the gravy before serving, you may want more salt, pepper, Worcestershire or balsamic. Season to your taste!
More Instant Pot Chuck Roast Recipes
Through this article, we hope to help you understand Instant pot roast and vegetables